Now you can create pokemon that are according to your liking with the help of Nokemon. Create unique pokemon that you want because your imagination has no limits. If you don't like any type of pokemon in the whole cartoon series, you can use it to generate pokemon according to your liking. Go beyond your imagination and create your pokemon with the help of Nokemon. Use the power of artificial intelligence and create various pokemon within a few seconds with Nokemon AI.
What Is Nokemon?
Nokemon is an AI generator that works on machine learning intelligence and creates pokemon of your choice. Generating a pokemon is like a kid's work when you have Nokemon. A machine learning engineer has harnessed the power of machine learning intelligence and created this Nokemon AI. Now you can generate awesome and unique pokemon of your liking without effort. Machine learning technology has developed a web application that allows you to create a fake pocket monster that resembles pokemon of the cartoon series, as pokemon cartoons and games are trending worldwide. So now, Nokemon AI has been made to match the trend of pokemon and allows you to create new Pokemon.
The results of Nokemon are hilarious people are using it to create more and more pokemon regularly. The nokemon generator uses AI technology as an advantage that does not require manual effort and generates unique pokemon designs for you. It is effortless to operate as we all know that Ai works automatically and does not require manual human effort. AI has helped a lot in generating pokemon. It was used to create fake monsters type cartoons, but it was resembling with pokemon; hence it got the name Nokemon which generates pokemon. 
Processing Model
The nokemon generator has DALL-E, an AI program well-known in the field of AI. It was used to create images by typing text, but the developer of nokemon AI modified it, and they used this system to create fake pokemon. It was trained on a proper pokemon dataset and all their attribute types. They used the accrued knowledge of pokemon and combined it with DALL-E to create a new AI machine-learning system known as the nokemon generator.
Copyright
If you are a pokemon fan and are bored with the same pokemon in the cartoon series, then you can use the nokemon generator to create pokemon. Create a pokemon that has 100% actual resemblance with the original Pokemon, but they are not in there. Use Nokemon as enjoyment and entertainment as it creates fake pokemon but not makes them move. If you are an expert in animation and you would like to create your own animation series rather than pokemon, then you can use this. Create new and unique pokemon and generate a new series of pokemon with your animation without any copyright issues. 
How to Use Nokemon to Generate Fake Pokemon?
If you have no knowledge about the usage of Nokemon and it's your first time using Nokemon, then here is a complete guide you can follow to create your unique pokemon.  A complete step-by-step guide that you can follow to create your unique pokemon easily.
Step 1
First of all, you would have to open the official webpage of the nokemon generator. Go to your browser and search nokemon AI. Open the webpage of nokemon AI and start making your own pokemon. If you are in a hurry, you can immediately click on this link Nokemon AI to open the page.
Step 2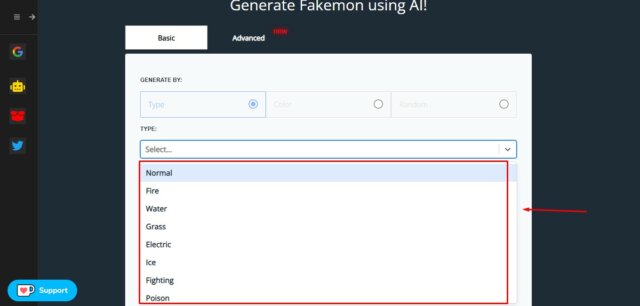 After you have opened the official webpage of Nokemon, you can select the type of pokemon you want from the options given above. There will be a lot of types of pokemon, among which you will choose your favorite one. Fire, water, grass, electricity, and many more. If you have any minor details about pokemon, you will understand what they're talking about.
Step 3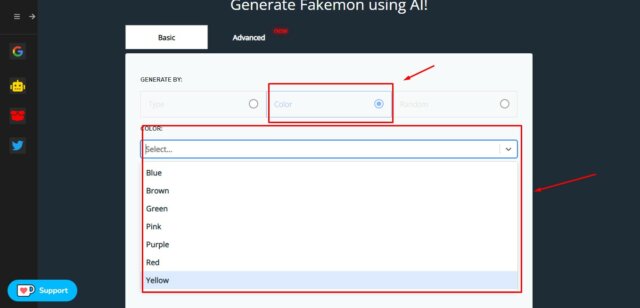 After you have successfully selected the type of pokemon that you want to generate, click on the color option as with type, you would also like to choose a proper color that suits the type of pokemon. Choose the type from various options like green, pink, purple, red, yellow, and many more.
Step 4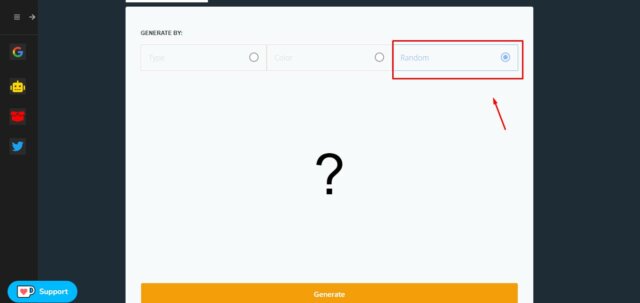 if you have no proper information about your type and color, then you can simply click on the random option given on the top right. Click on it and generate random unique pokemon with the help of a machine learning intelligence system.
Step 5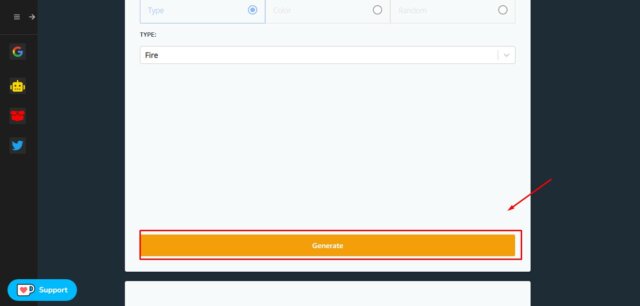 Suppose you have selected one of the options given above and given your criteria related to pokemon properly. Then you can click on generate so that the nokemon generator can automatically generate a unique pokemon for you within a few seconds.
Step 6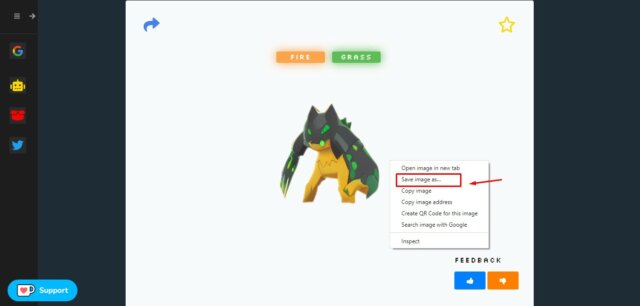 Your pokemon will be generated within a few seconds, and you can observe the pokemon as it is displayed in front of you. If you are unsatisfied with the result, you can give feedback about the creation. You can also generate a new pokemon by clicking on generate option again, and you can easily download the image of the pokemon by right click on the picture with your mouse and clicking on the save image button. Save the image to your device right away.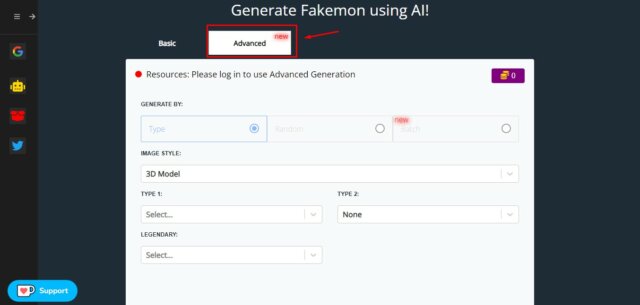 Suppose you are an expert and want to continue the generation of pokemon or characters. In that case, you can choose the advanced option if you want to work on generating pokemon professionally. This area is for only special people who are using these tools and will like to create proper animation. They can adopt these tools and generate pokemon by using the nokemon AI generator.
Pokemon Fans Opinions
As a fan of the pokemon series, there can be two aspects considered about it. Some people think it is good as you can now have more pokemon. But others believe it is not a good idea because the original is always actual. It does not give the vibe of an original pokemon. If you are a pokemon fan, then you might have an idea about cartoons that they are mixing and creating new Pokemon. There is no proper background about the new pokemon, but they have a story that brings life to them.
People are enjoying it, too, as they are taking it as a source of entertainment. They can create pokemon that are not even in the original series. If you are a fan of pokemon and you have watched all the series of pokemon cartoons, and there is no upcoming series, then you will love to create new Pokemon. When you observe the real cartoon series of pokemon, you will probably notice that they are also creating new and new pokemon in every new series. If the creator of the original series of pokemon is not keeping it up to just those simple original and old pokemon, then why should fans?
Fans are also eager to create new Pokemon for themselves. One thing about nokemon AI about which fans are concerned is that it does not create a proper pokemon like it does not match the level of the original cartoon series. Even if you can create a new pokemon, you cannot imagine it as real because you have not watched it in the movie.
Conclusion
In general, we can have an idea that people are going to generate their pokemon from now on. The real cartoon series will lose its importance as now everyone can easily create pokemon of their own choice without restriction. People who are watching pokemon from the beginning as a child might keep their interest in the original series. If they saw this tool, they can generate new upcoming generations with the help of a nokemon generator. Then the real pokemon series will be devalued onto some level. However, as we all know, the original is original, and a copy is a copy.
There are some faults with the tools as it is not able to generate good-quality pokemon accurately. It only mixes up some monsters and creates a new design. Most of the time, if you generate a pokemon with a nokemon AI generator, you will not be content with the result as they match up to the level of the original. This means you can only take it as an enjoyment as it does not properly copy a pokemon with all the features of the original series.
Recently post: Top 10 Tools to Add Video Effects Online