Say goodbye to your manual text to speech conversion tool when you can use AI text to speech conversion that instantly converts text into speech. A natural reader that has the performance level of a professional. Many people face issues while performing certain tools as they are very complex and difficult to use for beginners. The user interface of Fliki is quite friendly for its users and people who have just stepped into the field of text-to-speech conversion. The sounds and editing features are amazing that will get the job done in no time.
What is Fliki?
Fliki is an AI text to speech converter that converts any form of text into speech. You can make videos by using AI voice. Add more details to your content and create short youtube videos with proper details about your project. It is a natural reader that uses AI to read any kind of text you provide it.
The AI deeply analyses the text as it is programmed with reading AI algorithms that can read anything in text form or in handwritten form. It doesn't matter if you don't have text in the English language, as it provides more than then 75 languages that will make text to speech conversion easier for you. The user can convert it into his own language and use certain AI voices that read the data in your chosen language loudly and correctly, which is better than any speaker.
Fliki Review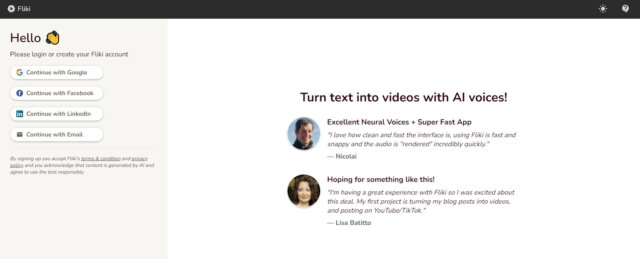 Fliki is a platform that allows users to convert text into video format and adds a special AI voice to the video. The Fliki AI text to speech convert interface is user-friendly, and the quality of videos you can make with it is also top. One more important quality of this tool is that its customer support is also good and provides full support to its users. Whenever you want to ask a question or need any help, the Fliki team is always there to assist you properly. The customer support is friendly, and they communicate in a proper manner and go beyond to make sure that their customer is happy with the performance of the tools.
If you want to have a natural reader that uses AI voice and reads any kind of text for you, then you should use Fliki. Even if you don't have any kind of experience or skills in operating AI tools, you can become a professional at AI text to speech conversion with Fliki's simple interface.  It gives you full authority as you simply need to provide any kind of text you want, and it will automatically convert that text into speech form in no time. The user is able to select or choose different types of AI voice for the there videos. Not only it lets its user select different voices, but among those many English voices, you can also choose specific accents and styles for your video.
Additional Information
The user can use this software to convert any kind of flat text file into proper and appealing videos. Students and graduates who want to make their presentations or projects can easily portray their research to the audience accurately. It has all the features that you can use to make attractive video content for your social media platform like youtube, Facebook, and Instagram. It makes Not only short stories but also long videos. The platform's workflow is one of the best you can get if you're looking for an AI text to speech converter. The user will not have to face any kind of problems or issues in figuring out how to process it. Here are some of the features you can use to turn text into videos with AI voices.
Features
Some main features with their details are given below.
Blog to Video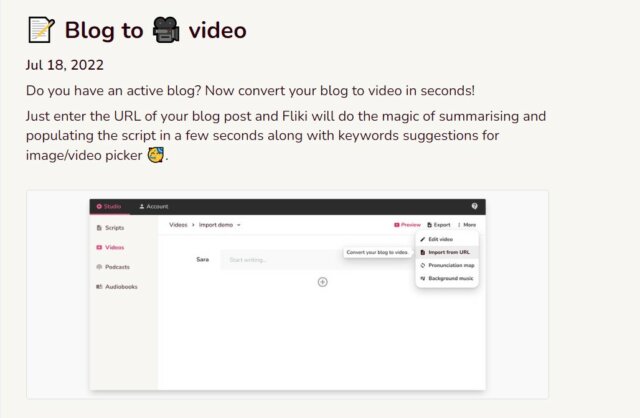 The user can transform your blog articles into engaging videos with Fliki AI. You can easily convert any kind of blog that is available in text form into unique videos. Select the required language for your video, and then choose your favorite AI voice among 800 neural voices. You can type, paste, or imp[ort your blog from the Url into the Fliki project. Your blog will be converted into video in no time and will be available for your to download on your device.
Text to Speech
The user can convert any kind of text into speech without any effort. Just provide the text to Fliki and choose the required AI voice to convert it into speech within a few seconds. Fliki provides about 75 plus languages, so you won't have to face issues with your language while using it.
Voice Overs
You can make voiceovers for your videos in no time. Even if you're not speaking in your video and you would like to tell the details of your video with speech. Then add any kind of speech you like by using Fliki.
Voice cloning

You can clone your voice or anyone's voice with Fliki. Just provide the voice to the platform, and it will create the realistic cloned voice of that person.
Here are some pros and Cons of Fliki.
Pros
Create short videos and other story formats.

The workflow of Fliki is one of the best for creating stories.

Convert text to speech without any issues.

The customer support is quick.
Cons
Not enough transitions for videos.

The auto-population of video and image is missing.

The text configuration and video clip editing are not good enough.
Who Should Use Fliki?
People who are properly working on their social media platforms and are creating unique content. If you don't have enough confidence to speak in front of your audience, then you can use this tool as it converts text into speech. People who make proper podcasts can also add voiceovers to their videos with Fliki. Even if you have made your video with your own voice, you can add another AI voice to your video to make it more appealing. People who make documentary videos about something can also use this by adding captions and AI voice to their videos to explain the details about it easily.
The user can amplify the details of their presentation by using AI voices that speak the details of their data, and then they can further explain it to the audience by themselves. The user can explain the things that he is representing to his audience more clearly while using Fliki, as there is something that you might miss. The AI text to speech converter can care for things you miss.
Is Fliki worth it?
Fliki is worth it as it properly converts text into speech according to your desires. One of the next things about it is that the customer support is responsive towards their users. Whenever you need any kind of help or if you have some questions get yourself customer support. As far as its features are concerned, then, it is worth it because its main purpose is to convert text2speech, and it is good at it. 
Rather than text2speech conversion, other features might have some issues, but it is quite good at other features too. If you use any other tools to convert it, you may face issues related to your voice as they cannot understand the text properly. The Fliki accurately analyses the text and converts it into speech using a powerful AI system. Now text to speech conversion can be easily done with a few simple clicks.
Conclusion
AI has taken almost all the manual task and effort from people. Enjoy the capabilities of AI by using this AI text-to-speech converter that converts your text into speech in no time. It helps you create audio and video content for your work in no time. You can select different AI voices that are available not just in different languages but also in various accents.
The tool is easily accessible that does not need any kind of experience in editing or in voiceovers. Just simply select and choose your requirements and convert any text into speech with one click. Stop wasting your time on complex manual methods when you can automatically perform that manual task like a professional. You can perfectly create a professional podcast with Ai voices of your required accent. If you're looking for a simple tool that fulfills all your requirements related to text-to-speech conversion, then this is the best option for you.
Also read: TOP 10 AI Video Generators Review