This list review discusses the 10 best image format converter apps that provide high-end performance at low cost and can be used by any user.
Webp to PNG conversion may seem niche but it can actually bring about many key advantages across multiple creative industries. The reason for this is: PNG image formats are simply more popular, easier to deal with, and better for image editing. This holds true for graphic designing, photography, e-commerce, and more.
With that said, a Webp to PNG converter can convert your images to a high-quality format within seconds. In this list, we will take a look at the best tools to convert webp to PNG with.
Top 10 Webp To Image Converter Review
1. CloudConvert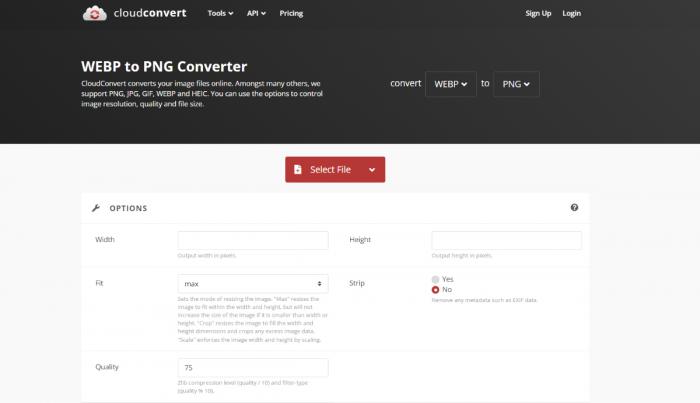 Price: $17 for a one-time package of 1000 conversion credits. The same in subscription mode would be $9 per month.
Batch Process: Yes. Users can batch process 5 images at once on a free account.
Supported Output Formats: You can convert Webp to PNG, PSD, JPG, PDF, and many more.
Key Features:
Cloud Storage: CloudConvert offers seamless integration with popular cloud storage services such as Google Drive, Dropbox, OneDrive, and Box. This feature streamlines the process of accessing and converting files stored in the cloud.
Quick Processing: Due to its fast servers and responsiveness, users can easily batch process multiple files and get high-quality results in no time.
Pros:
Quick to process.
Wide range of formats.
Cons:
Certain conversions can take more credits.
 2. ezGIF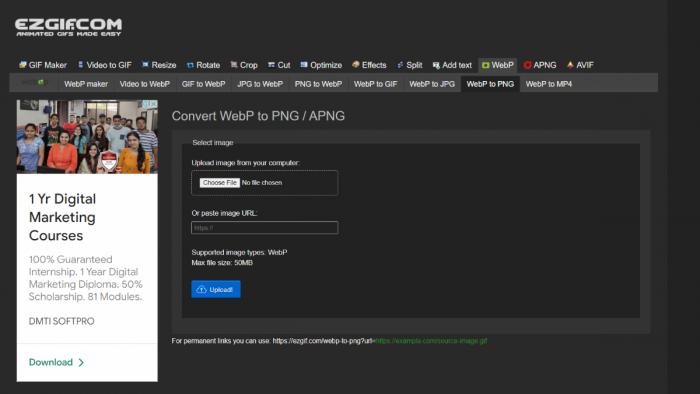 Price: ezGif is free to use.
Batch Processing: No batch processing for certain tasks, including Web to PNG.
Supported Output Formats: Webp to PNG, GIF, JPG, and more.
Key Features:
Multiple File Functions: ezGIF is a Webp to PNG converter and much more, as it also deals with videos, GIFS, etc.
Quick Turnover: ezGIF has a responsive website that delivers results quickly. The Webp converter can be used by anyone on-the-go.
Pros:
Unique features such as converting Webp to GIF and more.
Free to use Webp converter.
Cons:
It can include more features for image conversions, such as image converter to PNG.
The UI is a bit cluttered.
 3. Convertio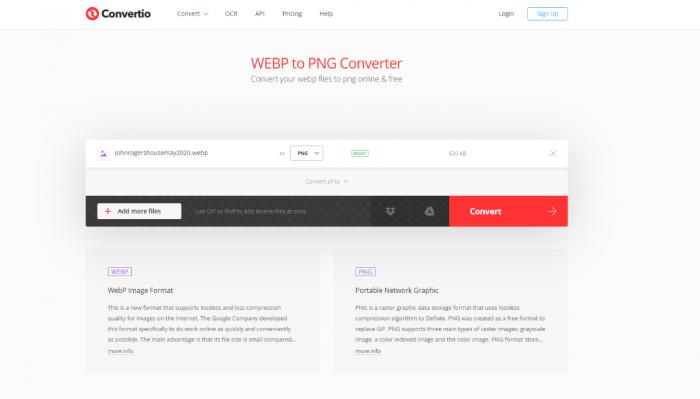 Price: Convertio has multiple subscriptions, starting from the Light version at $9.99 per month.
Batch Processing: Yes. Convertio allows up to 2 files to be processed concurrently on a free account.
Supported Output Formats: You can convert a Webp file to PNG, JPEG, GIF, PSD, and more.
Key Features:
Smart UI Design: The UI design in the Webp to PNG converter tool is excellent and intuitive. Even new users will be able to get started immediately and get their work done.
Upload Options: Similar to CloudConvert and other Webp to PNG apps, Convertio enables users to upload their images from various sources, such as local devices, Google Drive, Dropbox, etc.
Multiple Tools: Besides image conversion, this platform also offers other features such as JPG to Excel conversion.
Pros:
Quick results.
High quality UI.
Cons:
 4. FreeConvert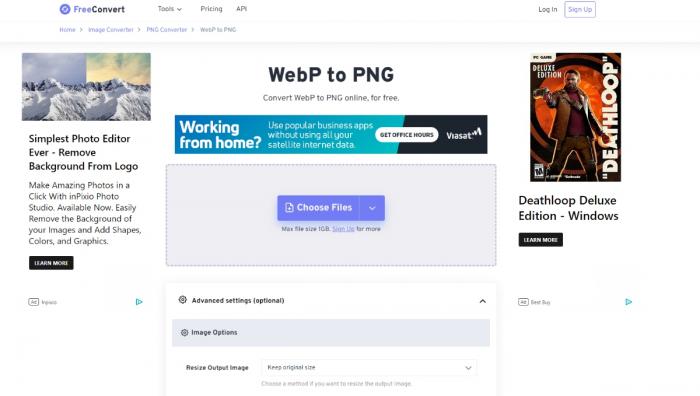 Price: The Basic plan costs $9.99 per month.
Batch Processing: Users can batch process 5 files at once in the free version.
Supported Output Formats: You can transform Webp to PNG and other formats, including text.
Key Features:
Customization Options: Depending on the type of conversion, FreeConvert provides customization options, such as image quality settings, document formatting, and more.
Cross-Platform Accessibility: FreeConvert operates within web browsers, ensuring accessibility on various devices and operating systems with internet connectivity.
File Editing: In addition to conversion, FreeConvert offers basic file editing tools, such as image resizing, cropping, and rotation, as well as PDF editing features like merging and splitting.
Pros:
Easy to use with quick solutions.
Available on mobile devices for both Android and iOS users.
Cons:
It has too many ads.
The UI can be cleaner.
 5. Canva Free WebP to PNG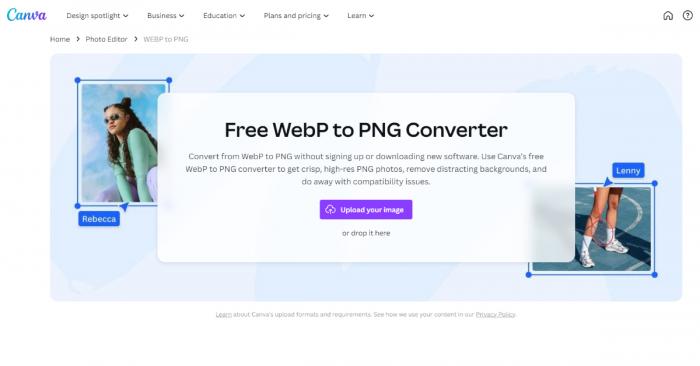 Price: Canva Webp to PNG conversion is free, but for full access, you can buy the Pro version for $14.99 per month.
Batch Processing: You can convert multiple files of Webp to PNG, though the number is unspecified.
Supported Output Formats: You can convert Webp to PNG and other popular formats.
Key Features:
Massive Editing Platform: Users can easily upload their Webp images and edit them as they like. They also have creative options, so you can photo to sketch or something similar.
Design Templates: Canva offers a vast library of design templates that users can customize to create visually appealing content. Users can import and convert images as part of their design projects.
Image Editing Tools: Canva provides basic image editing tools within its platform, allowing users to crop, use filters & effects, resize, etc.
Pros:
Highly useful platform.
Great features.
Cons:
Not many conversion options.
Slightly expensive tool.
 6. Pixelied Webp to PNG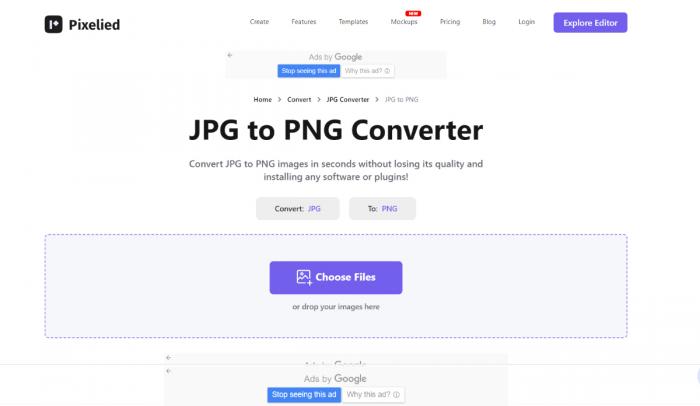 Price: The Pro version costs $3.90 per month.
Batch Processing: You can convert more than 5 images at once in the free version.
Supported Output Formats: You can turn Webp to PNG, AVIF, PDF, and more.
Key Features:
Online Graphic Design Platform: Pixelied is an online graphic design tool that empowers users to create various visual content, including social media graphics, marketing materials, presentations, and more.
Image Import and Conversion: Users can import images in various formats, such as WebP, and convert them to other commonly used formats like PNG or JPEG directly within the design editor.
Collaboration Features: Pixelied offers collaboration features that enable multiple users to work on the same design project simultaneously, which is beneficial for teams and collaborative design efforts.
Pros:
Offers many tools and features besides Webp to PNG conversion.
Very easy to use.
Cons:
The supported output formats are lesser than other apps.
 7. Online-Convert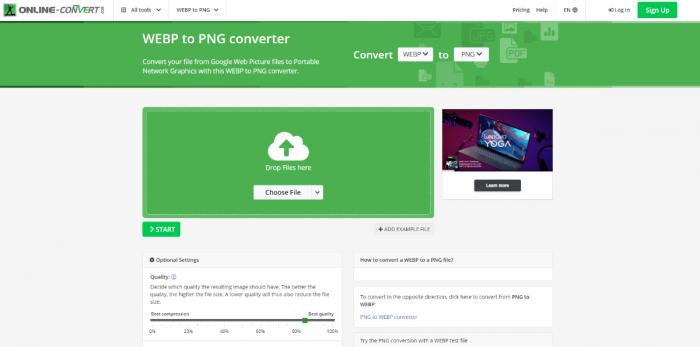 Price: Online-Convert's professional edition costs $6.42 per month.
Batch Processing: Not supported for free users. You will need a paid account.
Supported Output Formats: Webp to PNG and various other formats are supported.
Key Features:
Customization: Compared to many other similar apps, Online-Convert offers many customization options for users to finetune their images beforehand.
Wide Range of Supported Formats: Online-Convert supports an extensive variety of file formats for conversion, including documents, images, videos, audio, e-books, and more. This makes it a versatile tool for different conversion needs. Additionally, it is a platform that offers image to text converter features.
Mobile Access: Online-Convert can be used on mobile devices, both on Android and iOS. Professionals who consistently deal with images may find this application useful.
Pros:
It offers good customization options.
A vast list of conversion features and tools.
Cons:
The ads can be intrusive.
Limited free use.
 8. Anyconv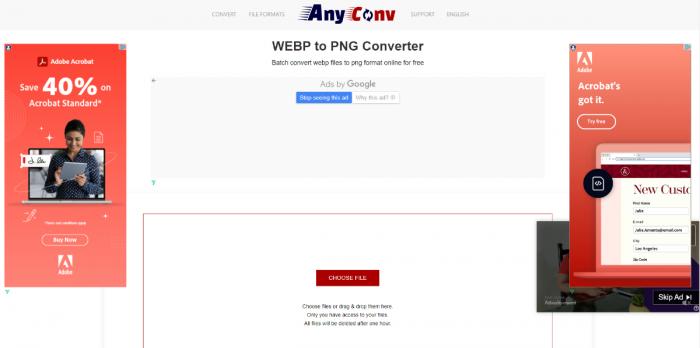 Price: This Webp to PNG converter platform is free to use.
Batch Processing: You can convert and process up to 60 files in an hour.
Supported Output Formats: Supported formats are Webp to PNG, PNG to Webp, and more.
Key Features:
Support for Encrypted Archives: AnyConv has the capability to convert encrypted archive files. This is a unique feature that can be valuable for users who need to extract or convert files from password-protected archives.
Free Use: This platform is completely free to use, which is incredibly useful considering the amount of conversion tools it provides.
Customization Options: Depending on the type of conversion, AnyConv provides customization options, such as video settings, image quality, document settings, and more.
Pros:
It is fully free to use.
Provides plenty of conversion tools.
Cons:
 9. Onlineconvertfree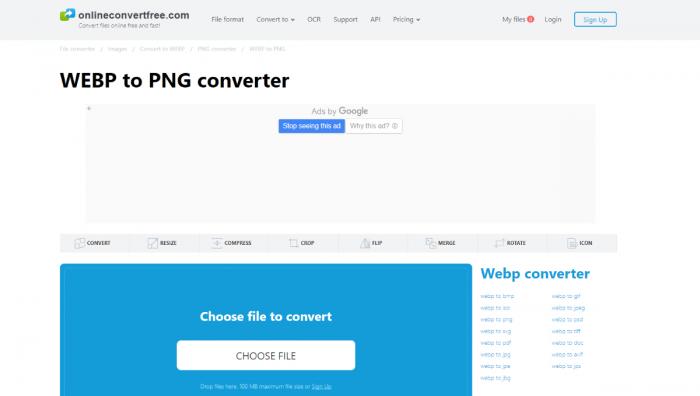 Price: The Light version costs $8.99 per month, which is the starter plan.
Batch Processing: Free users can do 3 concurrent conversions.
Supported Output Formats: There are many formats to choose from, such as Webp to Doc, PSD, SVG, etc.
Key Features:
OCR-Based Conversion: The Onlineconvertfree provides OCR-based conversion for documents. This means it can recognize and convert text from scanned documents or images into editable text formats like Word or TXT.
Audio Editing: Onlineconvertfree allows users to perform basic audio editing tasks, such as cutting, merging, and adjusting audio parameters like bitrate and sample rate.
Format Descriptions: When a user selects a particular file format for conversion, Onlineconvertfree often provides detailed descriptions and information about that format. This can include explanations of what the format is commonly used for and its typical characteristics.
Pros:
Provides basic image editing features besides conversion tools.
Provides results quickly.
Cons:
It has different subscriptions for two sets of tools.
 10. Zamzar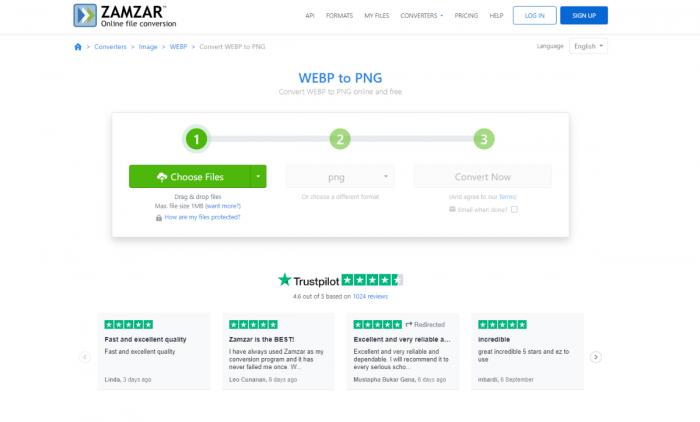 Price: The Basic edition costs $18 per month.
Batch Processing: Batch processing of 5 images is supported in the free version.
Supported Output Formats: Users can convert their Webp images to PNG, MDI, JPEG, and more.
Key Features:
Email Notifications: Zamzar provides a unique feature where users can choose to receive email notifications once their conversions are complete. This is convenient for users who want to be alerted when their files are ready.
Integration with Cloud Services: Zamzar allows users to integrate with cloud storage services like Google Drive and Dropbox, enabling direct access to and conversion of files stored in the cloud.
Pros:
It provides special features such as the email notification one.
It offers multiple ways to upload files.
Cons:
How to choose?
Product

Price

Sign Up

or Not

Easy to

Use

Bulk

Conversion

Speed

Overall Rating

CloudConvert

ezGIF

Convertio

FreeConvert

 

Canva

Pixelied

Online-Convert

AnyConv

Onlineconvertfree

Zamzar
These ratings should work for any user who works with images regularly and needs editing, converting, and other features. Such users would typically be graphic designers, image editors, content creators, and more. While we will discuss our final picks in the next section, we can say that Pixelied and CloudConvert are excellent platforms that users must consider.
However, pretty much all of the tools listed in this guide perform really well and can easily get the job done. They are consistently improving and expanding their set of tools in order to offer more solutions to users.
Editor's Picks and Suggestions
Considering the user types, we think the three Webp to PNG conversion applications that users must try are Pixelied, CloudConvert, and Canva. In practical terms, image conversion is often accompanied by image editing and Pixelied is a platform that offers both. However, another major reason to pick Pixelied is its absolutely affordable price plans.
If you are a user who wants to creatively edit their images as well, you should check out Pixelied and Canva. In fact, it features in our Tools Directory as well.
If we simply focus on image format conversion, then CloudConvert takes the lead. It is affordable, offers a vast library of image file formats, and is easy to use.
FAQs
What is a Webp File?
A WebP file is a type of image file format used on the internet. It's designed to make images load faster on websites. As such, they are one of the best image file types one could use for their websites. Not to mention that despite their smaller sizes, Webp images tend to look really good.
What is the difference between PNG and JPG images?
PNG (Portable Network Graphics) and JPG (Joint Photographic Experts Group) are extremely common image file formats currently. PNG images usually have a larger size, but are also considered to be high-quality. On the other hand, JPG images are smaller in size and quality, but perform better on websites.
Conclusion
Image file format conversion, such as converting WebP to PNG, holds immense significance for users, particularly those engaged in design projects. Fortunately, with the availability of well-performing apps like CloudConvert and Pixelied, this conversion process has become more accessible and convenient than ever before. These applications not only allow users to convert between various image formats but also offer a suite of powerful features for editing and enhancing images.
What's especially appealing is that many of these services come with minimal costs or offer free basic versions. Moreover, as online tools, they provide users with quick access to their conversion needs.