Creating mockups for internet promotion is made simple with these Best 10 Smart Mockups Generators. From apparel to technology to packaging and more, these tools simplify the process of designing high-quality mockups.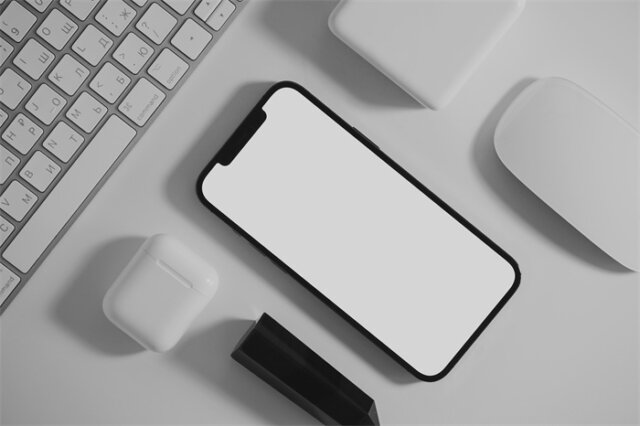 Mockups of the product are excellent for internet promotion. T-shirt designs may be shown on sales sites, social media graphics like Pinterest can be used to show promote your app or website, and so on. The issue is that they're a headache to put together. For the most part, individuals either use a professional graphic design program or a Photoshop equivalent or resort to their 'go-to' designer. In this article, we are going to review the Best 10 Smart Mockups Generators.
Best 10 Smart Mockups Generators
| Products | Price | Easy to Use | Variety of Categories | Quality of Mockups | Customization Options |
| --- | --- | --- | --- | --- | --- |
| Smartmockups | $9/month | √ | √ | ★★★★★ | √ |
| Visily | $29/month | √ | √ | ★★★★ | √ |
| Designs.AI | $0/month | √ | √ | ★★★ | √ |
| Vexels | $14.99/month | √ | √ | ★★★★★ | √ |
| Rotato | $19/month | √ | √ | ★★★★ | × |
1. Smartmockups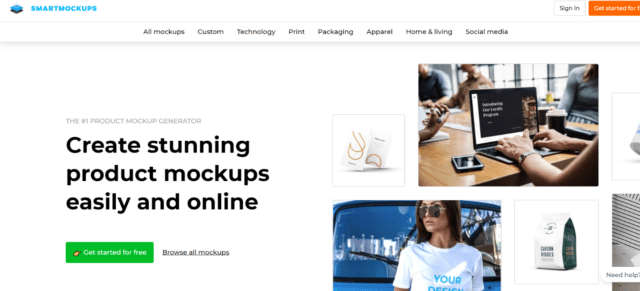 Smartmockups is a simple desktop tool for casual and professional users who do exactly what it says on the tin. Their user interface is easy to use and is compatible with Mac and Windows computers. Additionally, Smartmockups can now be used in your browser, thanks to a recent upgrade.
Mockups can be created in a variety of categories thanks to this tool. The options you have encompass anything from technology to clothing to social media to packaging and more. For a more customized look, you may upload or create your layouts.
2. Visily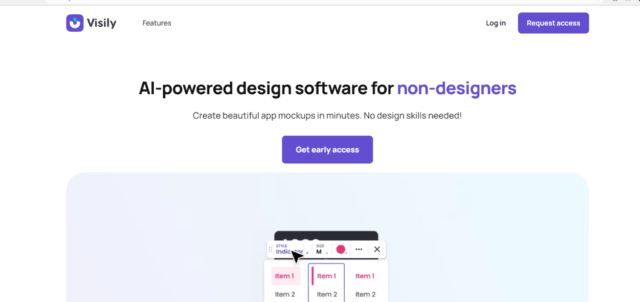 Create high-fidelity mockups quickly and effortlessly with a simple drag-and-drop interface with an automated theme generator, comprehensive component library, and design assistance. You don't need to hire designers to iterate rapidly on your ideas. Sketch up app screens on paper and then let our AI turn them into stunning, high-fidelity mockups in a matter of seconds with Visily software.
3. Designs.AI

Agencies and freelancers may spend more time on client interaction, creativity, and strategy when using Designs.ai. Fast turnaround and high-volume creation make scaling across channels much simpler as well. This tool also allows agencies and freelancers to expedite client communication by instantaneously sharing progress on their work-in-progress and soliciting comments from those who see it. Free, Basic, Pro, and Enterprise are the current subscription levels available for the whole suite.
4. Vexels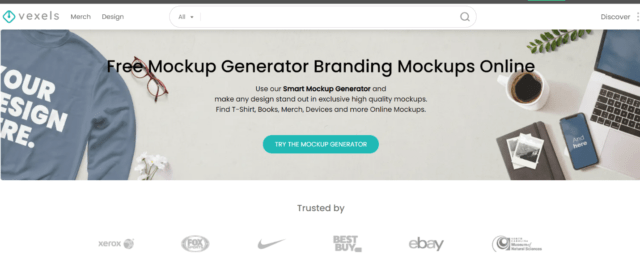 Vexels Mockup Generator is unquestionably your best option. Many of the mockups are of good quality, and you can see that they are working hard to become the go-to design platform for print-on-demand and eCommerce retailers worldwide. Even if video mockups aren't ready yet, they've got Design, Seasonal, and Branding mockups in their arsenal. You can anticipate their collection to increase as they add new mockups every week.
5. Rotato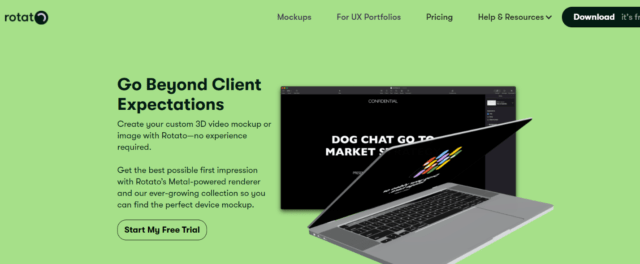 You're too busy to study After Effects and 3D since you're tired of searching for PSDs. When it comes to making your design stand out, Rotato has you covered. Now it's your time to speak out.
Make your app store graphics and videos stand out with these eye-catching mockups. Present your concept as though you're serious about it.
6. Mediamodifier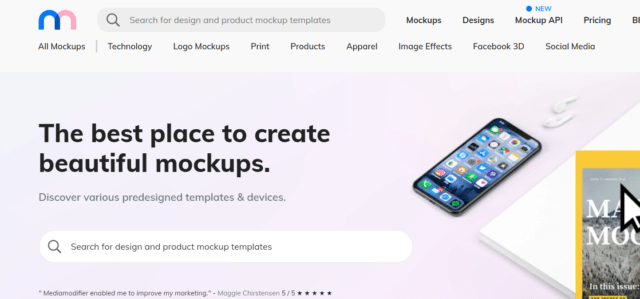 Mediamodifier is a website that creates realistic-looking mockups of various products, including apparel, book covers, iPhones, and mugs. There are over 2,000 mockups to choose from, and they're all of varying quality. Even for first-timers, our service is fast and straightforward to use. You need to drag and drop your chosen mockup onto a template picture.
After that, you may make changes and save your mockup in various formats for later use. Keep in mind that specific file formats, like PDSs, are pricier and need the help of additional software. Users of Adobe Photoshop, on the other hand, will like having this functionality. Despite their unattractive website, they offer an impressive library of mockups to choose from. All users that are logged in may also download thumbnails of their work. A watermark is also missing from the photographs. You can download a high-resolution picture if you have an active membership, but it's not free.
7. Printful.com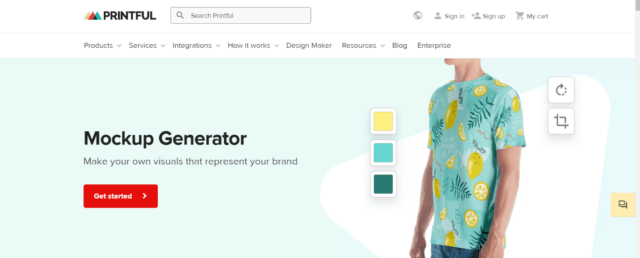 A website called Printful.com provides on-demand printing and embroidery mockups. There were almost 800 distinct product mockups available. Your designs could be printed on various items, including T-shirts, posters, phone covers, sweatshirts, pillowcases, and leggings. When creating mockups, consider including embroidered patterns. To make your mockup design more appealing, you may also use clipart, fonts, shapes, and symbols. You'll also get access to Getty Images' photo libraries, which you may use in your mockups. As a bonus, you'll be able to connect to a wide range of online retailers, including Shopify, Etsy, WooCommerce, eBay, and many more with ease. They discover a complete print-on-demand system.
To reach new markets, mockups assist in distributing a company's mission statement, vision, and brand identity far and wide.
8. Renderforest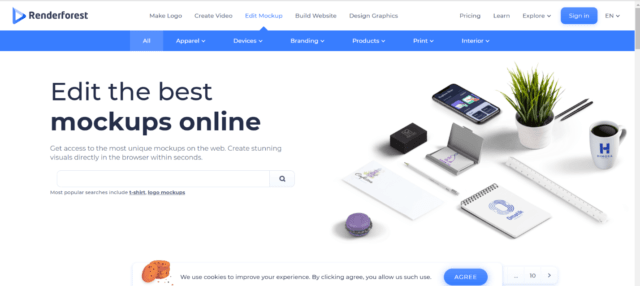 They utilized various materials, including business cards, wallpaper, promoted goods, and publications. A reputable brand name could be established in the market using product mockups and logo mockups. A professional mockup could be easily created and edited using the Renderforest tool Templates and settings are available in a wide range, so you may choose what works best for you.
9. Artboard Studio

Artboard Studio is a unique Graphic design program for producing online product mockups, and I must say that they've done an excellent job there. Artboard Studio's vast collection of templates with superior functionality makes it easy to create mockups online in a matter of clicks. A library is full of designs and mockups that you can select from and customize with your labeling, logos, and other branding elements. Artboard Studio is available for a monthly fee of $12. The FREE plan, which has restricted features and capabilities, is also open for a short period from the company. If you're interested in trying out the product, this is the way to go. You have the option to upgrade at any moment to a better plan.
10. Visme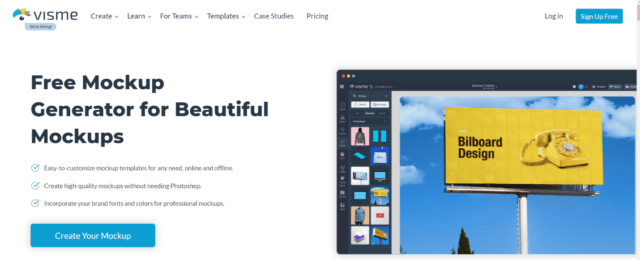 Mockup ideas and inspiration could be found in their comprehensive collection of templates. Still, you can always customize your mockup by changing the device, colors, fonts, and screen picture, among other things, to make it uniquely yours. Visme provides several mockup alternatives under the Photos tab on the left sidebar, in addition to templates. Mockups come in various shapes and sizes, and you can add your design components to make yours stand out. Create multi-device mockups, submit your photos or use our stock photo collection, apply filters, animate your design, and more by customizing your mockup backdrops and using various devices and mockup materials. Visme mockup tool makes it a breeze to build a mockup. Create your mockups utilizing a selection of electronics, garments, and décor items. Add screenshots or photographs to your design, and then share with your audience.
Conclusion
Smartmockups is an excellent tool for quickly and easily creating mockups. Unless you have a particular mockup in mind and money isn't a problem, we'd check through the collection at visily for inspiration. Designs.AI is the most excellent free alternative if you don't want sophisticated capabilities and don't mind using a smaller library. More PSD t-shirt mockups are available at prinful.com.
Also read: Top 10 AI Resume Builder Tools Review