Summary: This article provides a comprehensive review of Wombo AI, highlighting its features and capabilities. It explores how Wombo AI can transform images into entertaining lip-syncing videos with just a few taps.
Are your photos missing that extra spark to truly bring them to life? Have you ever wondered how to turn them into dynamic, entertaining videos? Well, fret no more. Wombo AI is here to revolutionize your visual memories. With its powerful artificial intelligence capabilities, Wombo AI transforms ordinary images into captivating lip-syncing videos. Say goodbye to static photos and embrace the world of animated creativity.
In this article, we will explore the wonders of Wombo AI and some of its alternatives, delving into their features, performance, and user experience. Discover how this innovative solution can unlock a whole new level of excitement for your photos.
What is Wombo AI?
Wombo AI is a Canadian AI powered lip sync app which was released in 2021. It is designed to give a selfie a deepfake of a person lip syncing to one or more songs. It uses Artificial Intelligence and it is not easy to detect that the video was made from just a selfie. It can make any photo sing and has gained a lot of popularity on social media. It is available on both Android Play store and iPhone app store.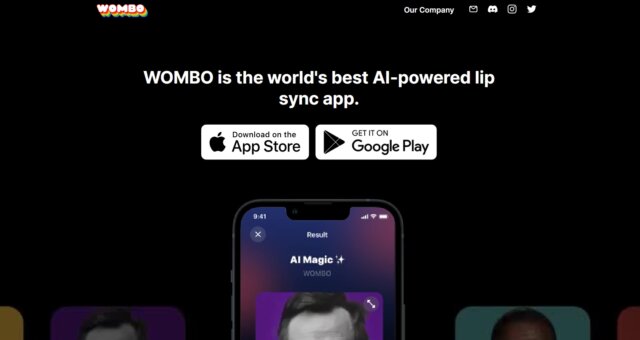 Pros:
Impressive AI lip-syncing technology for realistic results.
Vast library of songs to choose from for lip-syncing.
User-friendly interface for easy and intuitive operation.
Cons:
Occasional inaccuracies in lip syncing with certain images.
Limited customization options for fine-tuning the lip sync.
Reliance on an internet connection for real-time processing.
Limitations
The limitations of the Wombo AI lip sync app include a limited selection of songs, inability to use custom audio, potential for inaccuracies in lip syncing, lack of control over facial expressions and movements, and potential privacy concerns related to data collection.
(Note: Our ratings are based on objective assessments, considering factors such as performance, ease of use, accuracy, and overall user experience.)
How to use Wombo AI on PC?
Many people do not know this, but you can use Wombo AI on PC too. Here are the steps which will allow you to enjoy the app on PC.
Step 1
Install an android emulator on your PC. One of the most well-known is the Blue Stacks emulator.
Step 2
Open the emulator and find the Play store app in it. You will find it on the home screen.
Step 3
Now search for the Wombo AI app and hit download. Once you are done with that, just log in with you Google ID and you are ready to start!
How to use Wombo app to make picture move and sing?
After downloading the Wombo app from the Play store or the App store, you can follow these steps to make your pictures move:
Step 1
When the app opens, Wombo AI will open the camera and urge you to take a selfie. You will have to fit your face within the silhouette provided by the app. Look directly into the camera without showing your teeth and take the picture.
Step 2
After you take your picture, Wombo AI allows you to crop it. You can zoom in and out, or resize the crop box, to remove any obstacles or unwanted parts of your image. Once you are satisfied, click the green W below the picture, or hit back to do it all over.
Step 3
Now you can choose your tune. There is a wide variety of songs available to choose from, which span a wide range of genre. Whenever you choose a song, it shows a small snippet of what it is like. If you are satisfied, click the green W again.
Step 4
The app will show you a finished version of the video. You can save it to your device or share it with your friends via WhatsApp, Facebook etc.
Best 3 Lip Sync Apps that Make Pictures Move Like Wombo AI
There are many Wombo AI alternatives that you can try if you are not satisfied with its performance. Due to its popularity, many apps have started offering this option. We have listed the best three for your convenience.
1. Talkr
  
Talkr is a lip syncing app which can make your pictures talk! It is an app like Wombo AI and is available on the App Store for iOS devices. It offers two options to its users: Talkr Classic and Talkr Live. Talkr Classic allows you to use text-to-speech or any other audio to make your favorite celebrities and pets talk. It can help you create scenes with any audio you choose! Talkr Live on the other hand, is a relatively newer app and allows you to use your camera to make your images talk. Unlike Talkr Classic, you can make your own or your friends' selfies talk and sing whatever you want!
Pros
Offers the options to make celebrities and pets talk
You can make your own photos talk too!
Cons
Only available on iOS and not on other platforms
Rating: 8/10
2. Tokkingheads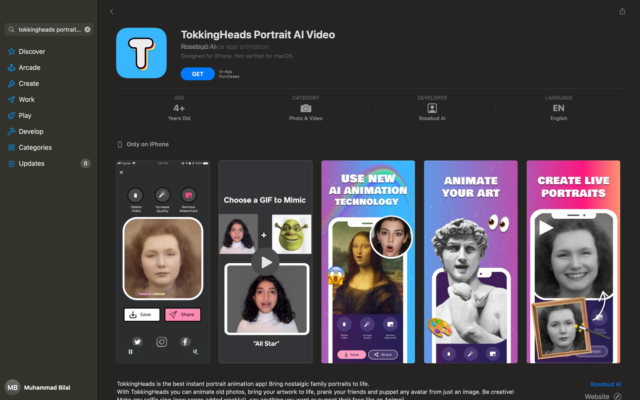 Tokkingheads is an instant portrait animation app which is available on the Appstore for iOS and MacOS devices. It is an app like Wombo AI and allows you to bring your old photos to life, animate your artwork, make an avatar a puppet from just an image etc. Use this app to make any selfie sing and you can choose from new songs every week! After you are done, you can share them through social media instantly. It can be the new way to create memes!
Pros
Has a wide variety of songs to choose from
Can make a live or old picture sing
Cons
Only available for iOS and Mac OS devices
Rating: 8/10
3. Mug life
Another alternative to Wombo.ai, Mug life is a 3D face animator available for iOS and Mac OS devices. Mug life takes your pictures and turns them into photo-real clone. You can create a singing video out of it or just play with it. After a while, it gets really addictive too! Also, you can use Mug life to create original memes, animations, and what nots. So, head over to the Appstore and give it a try!
Pros
You can play with or manipulate your face any way you want to
Allows you to make 3D animations
Cons
Not available on other platforms
Rating: 7/10
There are many other apps like wombo ai, you can search for more and choose the most suitable one.
Conclusion
Wombo AI offers a unique and entertaining experience by transforming static images into lively, singing videos. Its user-friendly interface, impressive AI technology, and extensive song library make it a popular choice for creating fun and shareable content.
While there may be occasional limitations in accuracy and song synchronization, Wombo AI has the potential to bring joy and laughter to users' social media feeds. We highly recommend Wombo AI for those seeking a creative and enjoyable way to engage with their photos and share amusing content online. However, to some extent, the Wambo AI lip syncs app, like any technology that manipulates human appearance and behavior, has the potential to perpetuate harmful stereotypes, which could have negative psychological effects on users.
FAQs
1. What's the app that makes pictures sing?
Due to fast paced technology, many apps now allow you to make your pictures sing. What started with Wombo AI, has now gained traction, and there are numerous apps which offer the same features. The above four apps and many more can be used for this purpose.
2. Is wombo AI safe?
Wombo AI is generally considered safe to use. However, it's essential to be cautious while sharing personal information or granting access to your device. As with any AI-powered app, it's advisable to review the privacy policy and terms of service before using it.
Yes, the Wombo app is free to download and use. However, they offer in-app purchases for additional features and content.