VanceAI Photo Restorer offers an effective solution for rejuvenating aged photographs. Its AI-driven technology and user-friendly interface make it the ideal choice for restoring old photos. This review will offer you everything you need to know about it.
Preserving memories through photographs is an essential part of our lives. However, these cherished images may become faded, torn, or damaged over time. In the past, we may have gone to a real store with photo restoration near me and waited for four or five days. This is obviously time-consuming and energy-consuming. Is there a new technology that allows us to restore old photos ourselves? Sure. This is where the importance of photo restoration tools like VanceAI Photo Restorer comes into play.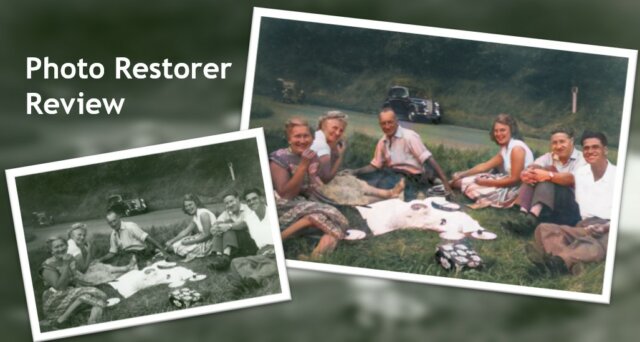 In this review, we will explore the capabilities and features of VanceAI Photo Restorer, an AI-powered solution that brings new life to old photos.
Why We Need AI Photo Restoration Tools?
Traditional photo restoration methods often come with challenges and limitations. Manual restoration can be time-consuming, labor-intensive, and may not yield satisfactory results. In contrast, AI photo restoration tools, such as VanceAI Photo Restorer, offer speed, accuracy, and ease of use, making them the ideal choice for restoring old photos. With the increasing demand for preserving memories and reviving old images, this photo restoration tool provides a convenient and efficient solution.
Who is the photo restoration application best for?
Professional photographers seeking to repair and enhance clients' old photos.
Families and individuals wishing to preserve and cherish their valuable family heirlooms.
Archivists and historians aim to restore historical photographs and preserve cultural heritage.
Review of VanceAI Photo Restorer
VanceAI Photo Restorer is a new online service for restoring old photos developed by VanceAI (you can also download VanceAI PC to use its full service), which offers a range of features are provided to make the restoration of old photos a seamless process. According to our research and experience, the development engineers of this tool have trained their AI model a lot, using tens of millions of images to make the AI algorithm smarter. The tool can now accurately recognize faces, objects, and environments, facilitating more accurate processing.

For example, scratches and folded marks on photos can be eliminated by VanceAI for you; if your photo consists of a missing, broken corner can also be repaired. What surprised us the most is its coloring technology. It is hard to imagine that a black-and-white photo becomes a colorful photo with bright colors after a few seconds of processing.
Pricing
VansPortrait offers affordable pricing plans with flexible options to suit different user needs :
These credits can also be used with other VanceAI products such as VanceAI Image Upscaler, VanceAI Image Enhancer, etc.
Key features of VanceAI Photo Restorer
AI-Powered Restoration: Utilizing advanced AI technology, this picture restoration tool effectively removes scratches, tears, spots, and other imperfections from old photos, resulting in high-quality output.
Compatibility with Various Photo Types: VanceAI Photo Restorer is designed to handle photos from different eras, including pictures from the 90s, black and white images, and faded images. It can repair the essence and detail of each image, bringing them back to life.
Satisfying outputs: This image repair tool will make your ripped pictures clearer and the smiles on people's faces more vivid. Make black and white photos into colorful ones.
User-Friendly Interface: With an intuitive user interface, this photo restoration application makes the restoration process accessible to users of all skill levels. Simply upload your old photo, let the AI heritage generator work its magic, and save the old photos restored.
Fast and Efficient: This old photo restoration application delivers fast results, allowing you to restore multiple photos in a short amount of time. The AI-powered algorithms work swiftly to restore and revive your images.
Data Safety: VanceAI Photo Restorer prioritizes data safety and privacy. All uploaded images are automatically deleted after 24 hours, ensuring the security of your personal information.
Output Comments

The images came out surprisingly well, as we had used VanceAI Photo Restorer before, when the faces of the people were not yet clearly enlarged as a result. But now the character's face is quite clear, even the wrinkles in the corners of the eyes can be seen. The color of the image is also much richer than before.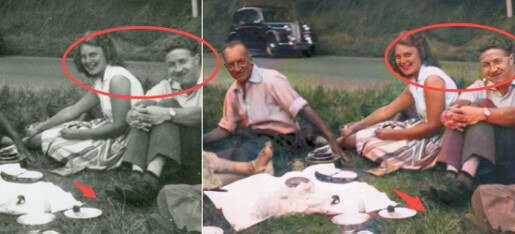 Looking at the two images, the color of the character's skin is very accurate and the wrinkles on the face are clearly visible. The clothes worn by the people in the pictures are white and purple, the grass is green, and the car is black; these colors are not only vibrant but also very accurate. We think this is a very well-repaired picture.
Pros and Cons of VanceAI Photo Restorer
Pros

Cons

AI-powered restoration

Compatibility with various

User-friendly interface

Fast and efficient

Data safety

Some limitations with complex backgrounds

Limited customization options for advanced users' phototypes
How to restore old photos?
Restoring old photos with this picture restoration application is a straightforward process. Follow these steps:
1. Upload Your Old and Ripped Picture: First go to the official service site of VanceAI Photo Restorer (You can also buy the VanceAI PC so that you can deal with images without an Internet connection). Start by uploading your old photo to this picture restoration tool platform. Ensure that the image is in a compatible format, such as JPEG or PNG.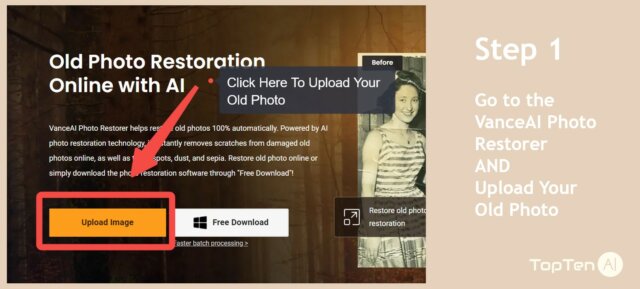 2. Choose restoration or colorize: After the photo is uploaded, you can choose the image fixing effect you want. You can just REPAIR the image, so the scratches will disappear and the image will become clearer. You can also choose "Colorize", so your faded image will turn into color. Of course, you can also choose both.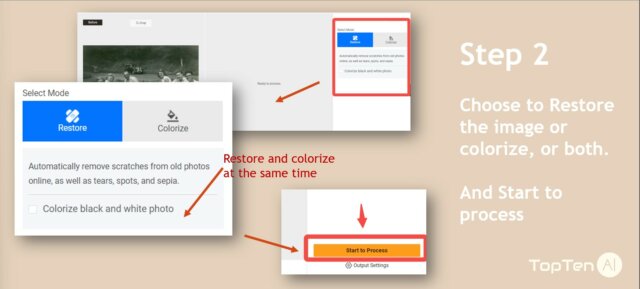 Then you can click on "Start To Process" at the bottom right and the advanced AI algorithm will analyze the image and start the restoration process.
3. Preview and Adjust: After the restoration is complete, you can preview the old photos restored. If necessary, make minor adjustments using the available tools to achieve the desired outcome. For example, you can use its object remover and use an AI brush to remove unwanted items from the image.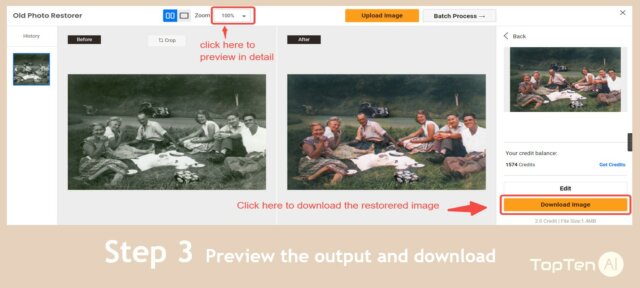 4. Save the old photos restored: Once you are satisfied with the restoration, save the image to your preferred location. You can choose from various formats and resolutions based on your specific requirements. It will cost you one credit to download.
Tips and Recommendations
From this review, we have come up with some tips on using this service:
For optimal results, use high-resolution images when possible.
Experiment with different settings and adjustments to customize the restoration to your liking.
Take advantage of VanceAI Photo Restorer's batch processing feature to restore multiple photos simultaneously, saving you time and effort.
VanceAI Photo Restorer vs Hotpot AI vs Fotor
To help you make an informed choice, let's compare VanceAI Photo Restorer with Hotpot AI and Fotor Old Photo Restoration based on several key aspects:
| | | | |
| --- | --- | --- | --- |
| Product Name | VanceAI Photo Restorer | Hotpot AI | Fotor Old Photo Restoration |
| Pricing | Affordable | Free and paid | Free and paid |
| Main Features | AI restoration, image enhancement | AI restoration, image enhancement | AI restoration |
| batch processing | Yes | No | Yes |
| Processing Speed | Fast and efficient | Moderate | Moderate |
| Output Quality | Exceptional | Good | Good |
| Customization Freedom | Moderate | Limited | Limited |
While both Hotpot AI and Fotor Old Photo Restoration offer decent photo fixing capabilities, VanceAI Photo Restorer stands out for its exceptional quality, user-friendly interface, and competitive pricing.

In addition to VanceAI Photo Restorer, there are several other popular alternative photo restorers. Adobe Photoshop is a comprehensive photo editing software with advanced restoration capabilities, albeit with a higher price and learning curve. Remini is a user-friendly AI-based app focused on enhancing image quality, including old photos. AI Gigapixel by Topaz Labs specializes in upscaling resolution and maintaining image details. Pixlr is a web-based editor offering various editing and restoration tools, accessible to a wide audience with both free and paid versions. These alternatives provide unique features and functionalities, allowing users to explore different options based on their specific needs and preferences.
Conclusion
In our experience, VanceAI Photo Restorer is an effective solution for rejuvenating aged photographs. The AI-driven technology, combined with an intuitive interface, supports a range of photo formats, setting it apart for photo restoration tasks. The ease of use of VanceAI Photo Restorer simplifies the process of safeguarding and revisiting precious memories. If you happen to have a lot of black-and-white pic, you might want to give it a try.
---
FAQs
Is there a risk to my personal data when using VanceAI Photo Restorer?
No, there is no risk to your personal data. Based on our observations and tests, the picture restoration tool prioritizes data safety and privacy. All uploaded images are automatically deleted after 24 hours, ensuring the security of your information.
Can VanceAI Photo Restorer repair restoold black-and-white photos?
Yes, it is fully capable of restoring old black-and-white pic. Its advanced AI algorithms analyze and enhance the details, effectively bringing these images back to life.
Is this old photo restoration application compatible with photos from the 90s?
Absolutely. It is designed to handle photos from different eras, including those from the 90s. It accurately restores and revives the essence and detail of these nostalgic images.