Summary: Learn to colorize black and white photos using VanceAI Photo Colorizer, an AI-powered tool that easily transforms monochrome images into vibrant, colored versions without manual adjustments.
In today's digital age, photo colorization has gained immense popularity as a way to breathe life into old black-and-white pictures. With the increasing demand for efficient and user-friendly tools, the AI photo colorizer emerges as a promising solution. This review aims to provide an in-depth analysis of VanceAI Photo Colorizer, highlighting its features, functionalities, and performance. By the end of this article, readers will gain valuable insights into the capabilities of this AI-powered colorization tool and understand its potential impact on various industries.
Overview of VanceAI Photo Colorizer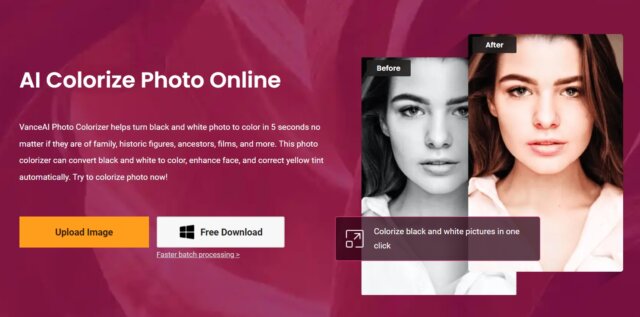 VanceAI Photo Colorizer is a leading AI-powered software designed to transform black and white photos into vivid, colorized masterpieces. With its advanced algorithms and intuitive interface, this tool offers users a seamless experience in colorizing their cherished memories. The key features of this photo colorizer include intuitive color selection, high-resolution output, automatic shading, and accurate color reproduction. Its functionalities encompass batch processing, online accessibility, and user-friendly editing tools. These impressive features make VanceAI Photo Colorizer a versatile and powerful tool for professionals and enthusiasts seeking to revitalize their old black and white photographs.
Why Do You Need VanceAI Photo Colorizer?
VanceAI Photo Colorizer caters to a wide range of users, including artists, designers, and creative enthusiasts. With this tool, artists can add a touch of realism and depth to their artworks, while designers can effortlessly infuse vibrant colors into their projects. Furthermore, creative enthusiasts can relive the nostalgia of historical moments by colorizing old family photographs.
This tool streamlines the colorization process, enabling users to save time and effort while achieving exceptional results. Whether for personal projects or professional endeavors, this tool empowers users to unlock their creative potential and bring their visions to life.
Guide to Colorize Photos with VanceAI Photo Colorizer
Colorizing black and white photos with this photo colorizer from VanceAI is a straightforward process that yields impressive results. Follow these steps to transform your black and white images into vibrant, colorized representations:
Approach One: Visit VanceAI Photo Colorizer Product Page
1. Import and Upload: Open VanceAI's AI photo colorizer product page and click "Upload Image" to import your black and white photo by uploading it into the online tool's interface.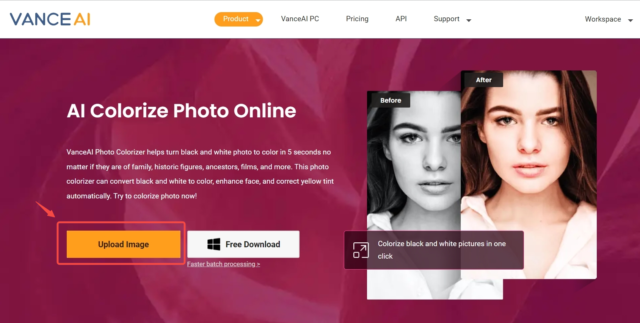 2. Start to Process: After you upload the image to the interface, choose a coloring type and click the "Start to Process" button to start colorizing your image.
3. Preview and save: After the colorization is done, you can preview the before & after comparison on the workspace and save the colorized image to your mobile or PC device.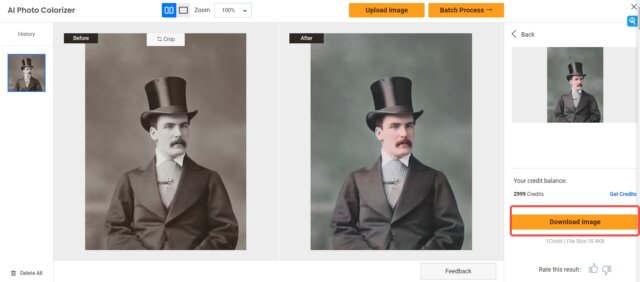 Approach Two: Colorize a Photo with VanceAI Photo Colorizer on Software
1. Click "Free Download" on the product page, download the installation package of VanceAI software, and install the software on your PC.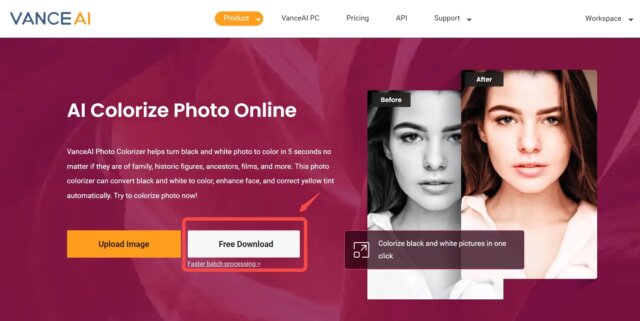 2. After the installation, open VanceAI PC and select "AI Old Photo Restorer".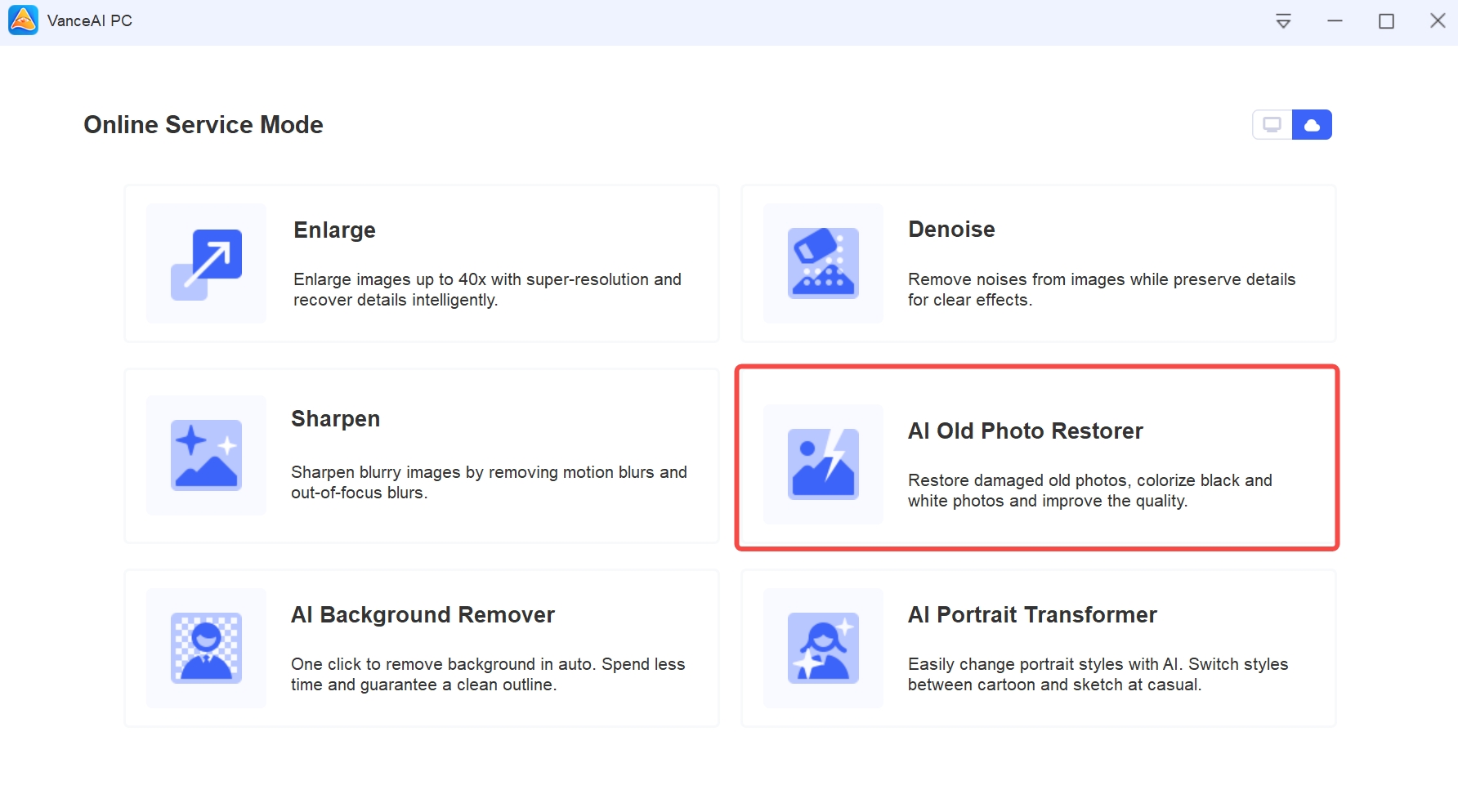 3. Drag or upload your image to the workspace, then select the "Colorize" option and adjust the color strength. And then click "Start to Process" to colorize your photo.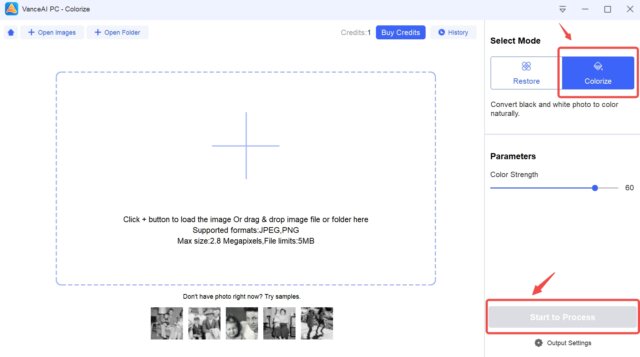 4. After the processing is done, you can preview and download the image to your device directly.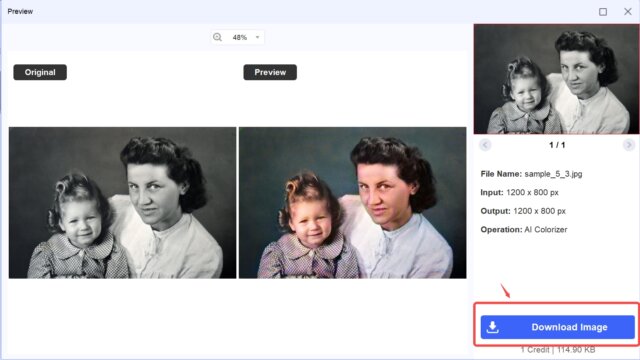 Tips and recommendations:
- During our experience, we found that starting with high-quality black and white images yields better colorization results.
- From the perspective of experience, it is advisable to experiment with different color strength and shading options to achieve the desired level of realism.
- Based on our observations while trying out the product, we recommend saving and backing up the original black and white images before colorization to preserve their historical value.
Performance and Results
VanceAI Photo Colorizer impresses with its ability to produce strikingly accurate and vibrant colorized images. During our testing, we noticed a downside to the product's performance, particularly with complex images that contained intricate details or fine textures. In such cases, the colorization process might encounter challenges in accurately rendering all the minute nuances.
However, for most black and white images, VanceAI's Photo Colorizer effectively captures and replicates the original colors, breathing new life into the photographs. The tool excels in its color reproduction, accurately replicating the intended hues and tones, resulting in visually appealing and authentic-looking colorized images. The software's interface is intuitive and user-friendly, allowing users to navigate seamlessly through the colorization process. Overall, VanceAI's Photo Colorizer delivers satisfactory results, providing users with an efficient and reliable solution for colorizing their black and white photos.
Check the following before and after effects of the black and white photo samples we tested: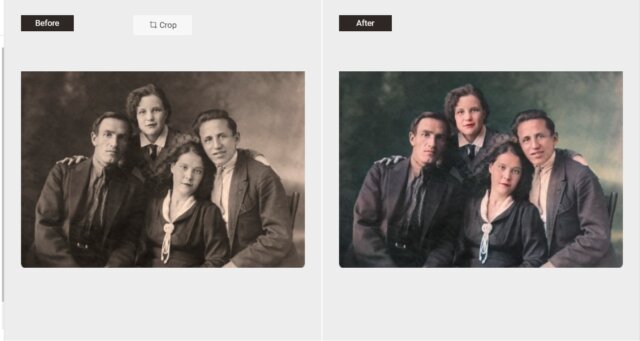 A sample of black and white photo of family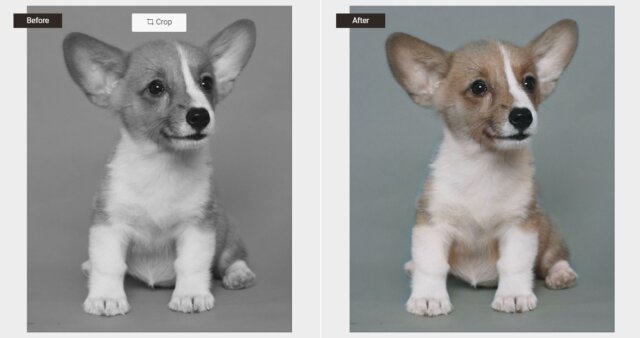 A sample of black and white photo of a dog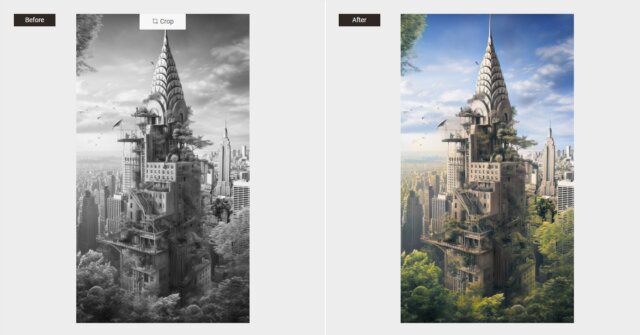 A sample of black and white photo of art landscape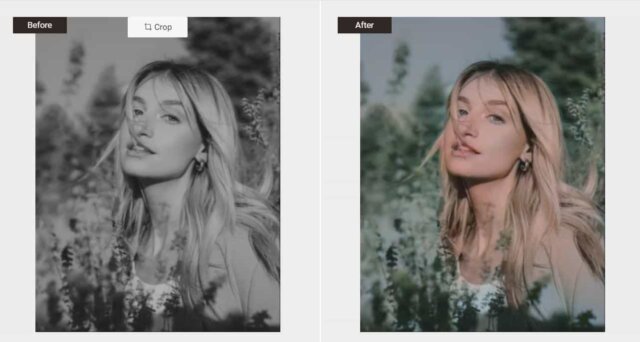 A Sample of black and white photo of a girl
Pros & Cons
Pros
Accurate color reproduction for black and white images.
Intuitive and user-friendly interface
Suitable for users of all levels
Ensure final colorized images retain their sharpness and clarity.
Cons
Free version only provides 5 free images
Lack extensive customization options
Our ratings: 9/10
Compatibility and Pricing
Compatibility
Pricing
Monthly Plan: Starts at $9.9 with 100 credits.
Yearly Plan: Starts at $4.95 with 100 credits.
For the plans with more credits, check more pricing plans here.
VanceAI Photo Colorizer Comparison
When compared with other popular AI colorization tools, such as Palette, Hoptpot.ai, and Picwish, VanceAI Photo Colorizer demonstrates its competitive edge in several aspects.
In terms of processing time, VanceAI Photo Colorizer delivers efficient results, ensuring quick turnaround for colorizing black and white images. It supports a wide range of formats, including popular image file types like JPEG, PNG, and TIFF, offering users flexibility and convenience. When it comes to color reproduction, VanceAI Photo Colorizer showcases its capability in accurately capturing and replicating the original colors, resulting in visually appealing and realistic colorized images. While other tools may offer certain unique features, VanceAI Photo Colorizer stands out for its user-friendly interface, allowing users of all skill levels to effortlessly navigate the colorization process. It prioritizes ease of use and maintains a balance between simplicity and functionality.
Here is a chart of the comparison of VanceAI, Palette, and Hotpot.ai:
| Aspect | Palette | Hoptpot.ai | VanceAI Photo Colorizer |
| --- | --- | --- | --- |
| Processing Time | Fast | Moderate | Fast |
| Supported Formats | JPEG, PNG, GIF | JPEG, PNG, TIFF | JPEG, PNG |
| Color Reproduction | ★★★☆☆ | ★★★★☆ | ★★★★★ |
| Cost | Free (with limitations) | Free (with limitations) | Subscription-based |
| User Interface | Simple and intuitive | User-friendly | Simple and intuitive |
| AI Technology | Deep Learning | Deep Learning | Deep Learning |
| Batch Processing | No | Yes | Yes |
| Advanced Features | Limited | Advanced options available | Advanced options available |
| Platform Support | Web | Web, Mobile (iOS, Android) | Web, Software |
| Community Support | Active user community | Active user community | Active user community |
| Customer Support | Email support | Email support | Email support |
Conclusion
In conclusion, VanceAI Photo Colorizer proves to be a reliable and efficient tool for transforming black and white photos into vibrant, colorized masterpieces. With its accurate color reproduction, user-friendly interface, and compatibility across different platforms, this photo colorizer from VanceAI is highly recommended for individuals in the printing and e-commerce industry seeking to enhance their visual content.
If you want other photo colorizer tools, check more in our photo colorizing software review.
FAQs
1. Can VanceAI Photo Colorizer be used for free online colorization?
Yes, VanceAI offers a free trial version of its online Photo Colorizer, allowing users to experience the tool's capabilities before making a subscription purchase.
2. Is VanceAI's photo colorizer suitable for colorizing old family photos?
Absolutely. VanceAI's Photo Colorizer is designed to bring life back to black and white pictures, making it an excellent choice for colorizing old family photos and preserving cherished memories
3. Does VanceAI Photo Colorizer support batch processing?
Yes, it supports batch processing, enabling users to colorize multiple images simultaneously and save time in the colorization process.