Summary: Learn how to convert your EPUB files to PDF format with these 10 best online tools. From Cloud Convert to PDF Candy, each tool offers unique features and pricing plans to make your conversion process smooth and easy.
If you are one of the digital books enthusiasts, then you've probably come across the EPUB file format. Although this file extension works on several devices out there, there are still significant limitations as certain devices don't have what it takes to open this format. In this situation, you should be looking forward to converting your EPUB to PDF, which is a more compatible format. PDF world across almost every device and platform, and it's easier to maintain and manage. With that said, brace yourself! In this guide, we're going to explore the 10 best alternatives to convert EPUB to PDF.
Best EPUB to PDF Tools Review
This is a general overview table made by us, if you want to see our more detailed review, please keep reading:
| Product | Price | Customization Options | Multi-Source Upload | Cloud Option | Security |
| --- | --- | --- | --- | --- | --- |
| Cloud Convert | $9/500 conversion minutes | ★★☆☆☆ | ✓ | ✗ | ★★★☆☆ |
| PDF Converter | $6 monthly | ★★★☆☆ | ✓ | ✗ | ★★☆☆☆ |
| Zamzar | $25 monthly | ★★☆☆☆ | ✓ | ✗ | ★★☆☆☆ |
| PDF2GO | $8.5 monthly | ★★☆☆☆ | ✓ | ✗ | ★★★☆☆ |
| PDF Candy | $6 monthly | ★★☆☆☆ | ✓ | ✓ | ★★☆☆☆ |
1. Cloud convert
Pricing: $9/500 conversion minutes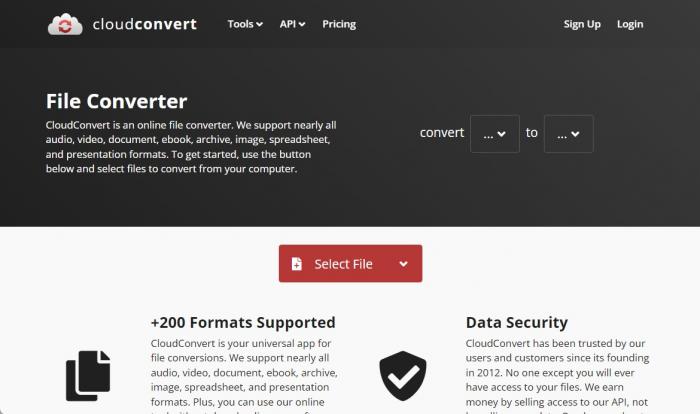 If you're looking to convert just a handful of EPUB to PDF, an online tool should serve you better than software or installable app could. And one of such online tools you should be considering is Cloud convert. This tool allows you to convert EPUB to PDF online without having to worry about quality retention or formatting. Besides, as it is predominantly web-based, you don't need to spend extra money and data on installing software on your PC.
Pros
Conversion with maximum possible attention to details and quality
Multi-source upload supported
Doesn't require daunting or time-consuming installations
Cons
Limited customization options
Limited conversion volume
2. PDF Converter
Pricing: $6 monthly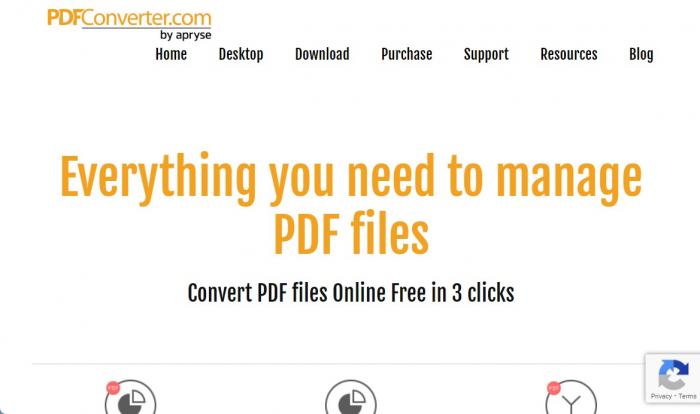 PDFConverter is yet another nice, fast, and easy-to-use online PDF converter, allowing you to convert to/from almost any format available. Of course, this includes EPUB. Using this EPUB to PDF converter, you can also access several intuitive features such as merging, compressing, splitting PDFs, and more. Best of all, it allows unlimited upload and conversion volume and as well, you can convert several EPUB to PDF online all at once. As a way to ensure data integrity, it deletes your files from its server three hours after processing.
Pros
Straightforward and easy to use
A vast range of intuitive features
Nice and clutter-free UI
Cons
It is not completely free
Subscription limits access to some features.
3. Zamzar
Pricing: $25 monthly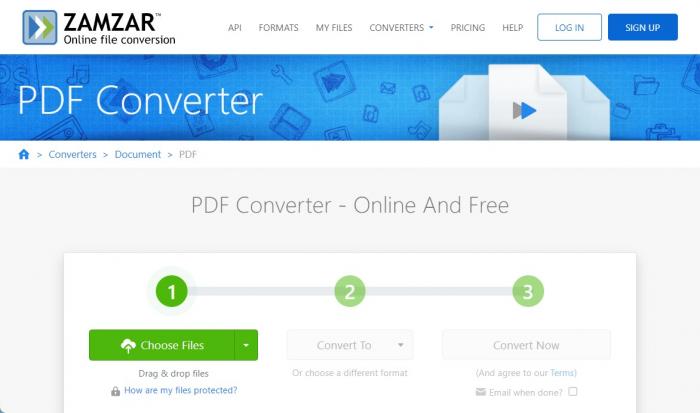 Zamzar is another song you'd always find on the lips of anyone conversant with EPUB documents. And of course, you can use it to convert EPUB to PDF online seamlessly and without so much stress. Even without prior knowledge on how to convert EPUB to PDF, this tool is pretty straightforward to use and it has grown to become quite widely recognized even to the average Joe. You may upload the source EPUB file either directly or via URL, which allows for more flexibility.
Pros
Has an easy drag and drop feature
Easily convert your EPUB to PDF and several other extensions
Features email updates, which is pretty unique
Cons
Conversion volume is limited to 50MB
Unlimited conversion is not obtainable
No cloud option is available.
4. PDF2GO
Pricing: $8.5 monthly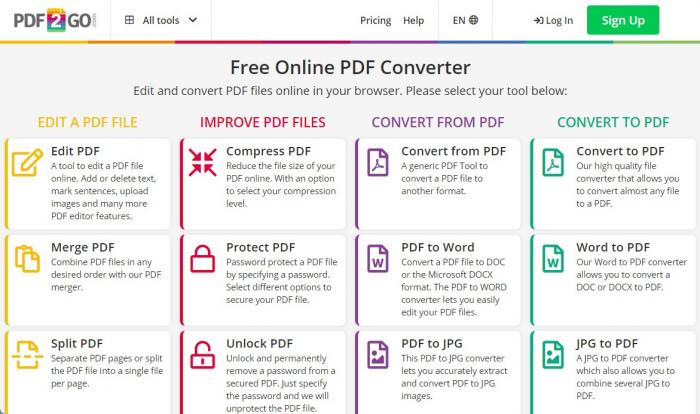 To convert EPUB to PDF online, PDF2GO definitely deserves a mention. It is a versatile EPUB to PDF converter allowing you to convert your ebooks to the PDF format so you can read on ebook reading tools like kindle. As you'd probably expect, this tool fits perfectly for every operating system, whether you use Windows, Linux, Android, iOS, among others. Besides, PDF2GO adopts a 256-bit SSL encryption framework for maximum security in the data transfer process. The tool is free for limited use, hence, you may be required to subscribe depending on your conversion volume and the features you want to access.
Pros
Easy to use
Attention to data security and integrity
Excellent UI
Cons
Most intuitive features are limited to premium users
5. PDF Candy
Pricing: $6 monthly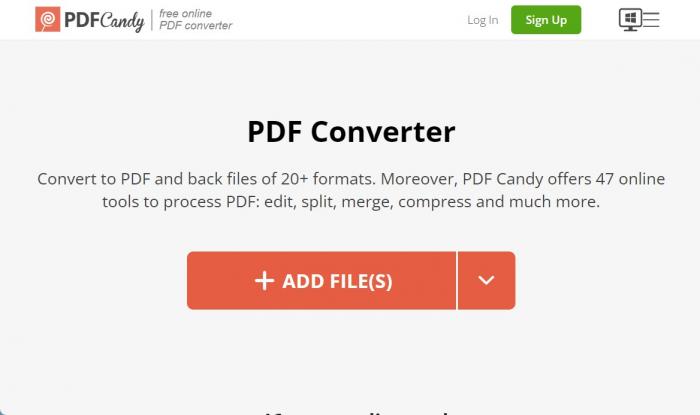 PDF Candy has almost everything you'd expect from a tool of this caliber and niche. It takes the rather minimalistic route, yet it is a very effective tool to convert EPUB to PDF. While the tool is largely online, it also features an offline version suppose you want to manage your internet connectivity. The entire conversion is pretty straightforward and shouldn't take you much time. However, processing speed may vary depending on the size of the EPUB you intend to convert.
Pros
Easy and intuitive range of tools
Excellent output quality
Reasonable range of handy functionalities
Cons
Limited customization options
Subscription is required to access some features.
6. Convertio
Pricing: $10 monthly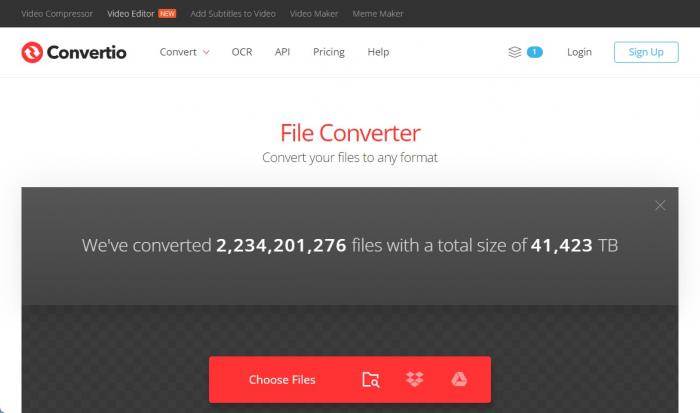 This is another intuitive web-based tool to help achieve EPUB to PDF conversion seamlessly. Its UI is pretty modern and great user-friendly offering a vast range of other conversion tools. Convertio operates largely online and as such, you can now take your mind off downloading software for the conversion process. Besides, you can also utilize its extension with Chrome for easier accessibility. Again, the conversion is quite straightforward – you only need to upload the EPUB document and hit the convert button. Within a few seconds, the tool automatically completes the process for you.
Pros
Quick and easy conversion
Free for files less than 100MB
The output quality is okay
Cons
It's not completely free.
7. Online-Convert
Pricing: $7/200mb file
No list of EPUB to PDF converter is complete without mentioning online convert. It is one of the most popular in this regard, and rightly so! Whether you want to convert media files, or perhaps, intend to turn EPUB to PDF, all these are obtainable using this web-based tool. All you need to do is upload the source file and allow the tool to convert it to your preferred output. When OnlineConvert converts your EPUB to PDF, you may decide to either download directly to your local storage upload to cloud-based storage.
Pros
Multiple upload sources
Several customization options
Fast and straightforward conversion process
Cons
Upload sometimes take quite some time
Lacking attention to conversion quality
8. Online Converter
Pricing: free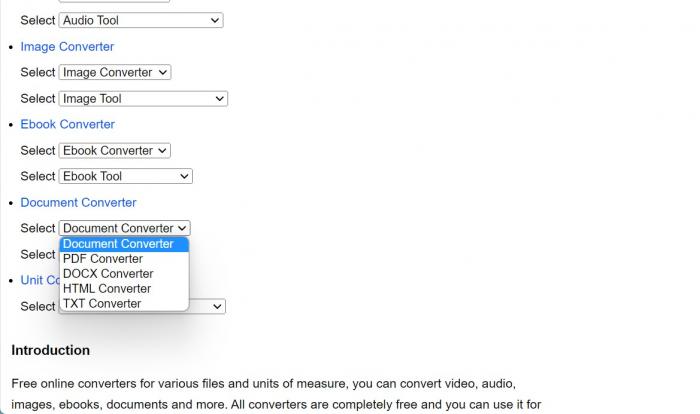 This is yet another free website for your EPUB to PDF conversions. It is largely an online tool that allows you to complete several conversions to various formats, including files, videos, and even audio. However, it doesn't allow for batch processing, and as such, you can only complete one conversion at a time. The processes are pretty straightforward with pertinent guides highlighted on the rather rowdy user interface.
Pros
The output quality is pretty reasonable
Free online tool
Pretty easy to use
Cons
UI seems rather archaic/rowdy
Upload speed is relatively slower
9. Ebook to PDF
Pricing: free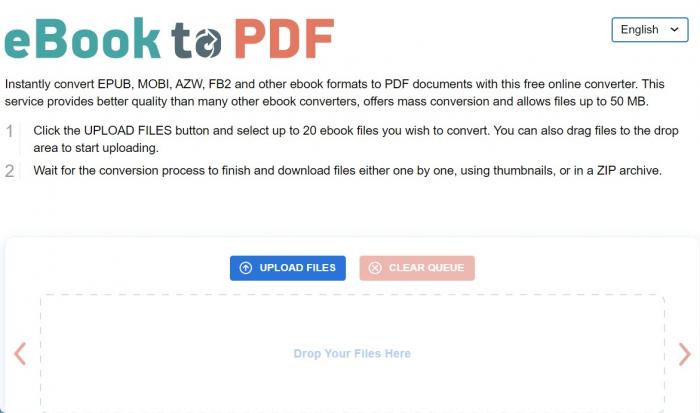 Even with no prior knowledge of how to convert EPUB to PDF, you find this tool easy to use. The name is self-explanatory as it allows you to create PDF files from several ebook formats, EPUB inclusive. This tool renders support for mass/batch conversions and allows a conversion volume of up to 50MB. To use Ebook to PDF, you only need to simply drag and drop the source EPUB, which can be up to 20, and start converting automatically. Wait for the conversion process to complete and download as either individual files or in the zip format.
Pros
Allows for batch processing
Relatively fast upload and download time
Largely free for basic conversions
Cons
Conversion volume is limited
10. FreeConvert
Pricing: $10 monthly
This rounds up this list of the best tools for EPUB to PDF conversion. The most compelling thing about this tool is its attention to output quality. This is mainly as a result of its set of advanced features, allowing users to fine-tune outputs. With free conversion, your privacy and data security are well catered to. It implements a 256-bit SSL encryption framework that safeguards your data and deletes every upload immediately after two hours. In summary, the entire tool is intuitive and you neither have to worry about format retention nor data security – it caters to them all.
Pros
Maximum attention to data security
Free to use for basic conversions
Cons
Needs your email to access some features
Requires subscription for some functionalities.
Final Thoughts
If you ever find yourself stuck with an EPUB document that won't work with your pc or mobile devices, again, converting it to PDF might be your best bet. In this regard, you can adopt any of the best EPUB to PDF converters as highlighted above to convert your EPUB file to PDF format. Once you've completed the file conversion, you can now launch the output PDF document without the need to download additional tools for your ios or windows devices. Your ultimate choice now would depend on how sensitive the subject document is as well as the volume you intend to convert.
FAQs
1. What is an EPUB file?
Essentially, EPUB refers to an ebook document format, using the .epub file extension. EPUB is simply an abbreviation that means electronic publication. The file format is supported by various electronic readers and software which are available for various devices, including tablets, smartphones, Macs, and Windows computers.
2. How do I open an EPUB file?
You can open or read files in the EPUB format using several approaches. Firstly, you can do this by downloading an electronic reader or software compatible with the type of device you hold. Conversely, you can also convert the EPUB file to PDF and open using your preferred PDF reader.
3. Can Adobe reader open EPUB?
Of course, you can read/open EPUB file formats using Adobe digital editions. All you need to do is double-click the file. Alternatively, you can open adobe digital editions, navigate to file, click on add to the library to include the EPUB into your digital editions library. Now, you can double-click the added file in the library to launch it without stress.