This iTop review proves that iTop Screen Recorder is a powerful and versatile screen recording software with high-quality video and audio recording capabilities.
As a talented content creator, you understand the significance of sharing your knowledge with the world through comprehensive tutorial videos. However, unexpected technical glitches can quickly dampen your creative spirit and leave you uncertain about recreating the same level of enthusiasm and precision in subsequent takes. But fear not! There is a solution that can save the day and elevate your screen recording experience to new heights.
With iTop Screen Recorder as your go-to solution, you can now focus on what truly matters - creating captivating content that leaves a lasting impact on your audience. Embrace the power of iTop and unlock new possibilities in your screen recording journey. No more technical hindrances, no more frustration. So follow iTop to experience the efficient and convenient life brought by AI.
iTop Screen Recorder is a cutting-edge screen recording software by iTop VPN that empowers users to capture high-quality videos of their desktop activities. Whether you need to record webinars, meetings, gaming sessions, or create compelling tutorial videos, iTop Screen Recorder provides the perfect solution. It is compatible with multiple operating systems, making it accessible to a wide range of users. The technology behind iTop Screen Recorder is at the forefront of screen recording advancements, ensuring a seamless and lag-free recording experience. One of the standout features is its ability to record both video and audio simultaneously, capturing every detail with exceptional clarity. Utilizing advanced codecs and algorithms, iTop optimizes file compression to maintain top-notch video quality without overwhelming your storage.
Its ability to seamlessly capture video and audio, compatibility with various operating systems, and specialized features like Game Mode and webcam recording make it a powerful tool for educators, content creators, gamers, and professionals alike.
Features of iTop Screen Recorder
1. Screen and Video Recording
Whether you want to capture software demonstrations, browser activities, or online meetings, iTop Screen Recorder allows you to record your entire screen or specific regions seamlessly.
2. Webcam Recording
Enrich your recordings with a personal touch by incorporating webcam footage. Use it to create training videos, lectures, or engaging presentations.
3. Audio Recording
Record system audio or external sounds with ease, ensuring the best quality for your music, podcasts, or voice-overs. The noise reduction feature ensures crystal-clear sound.
4. Gameplay Recording
Gamers can rejoice with iTop Screen Recorder's Game Mode, which enables smooth gameplay recording without compromising on frame rates.
Pros and Cons
Pros
- High-Quality Screen Recording
- User-Friendly Interface
- Audio Recording and Noise Reduction
- Cross-Platform Compatibility
Cons
- Limited time(10 min) for free version
- Watermark in Free Version
- Lack of Cloud Storage
- Limited File Format Options
What Can iTop Screen Recorder Do?
1. Creating an Engaging Tutorial Video
iTop Screen Recorder is the perfect companion for crafting tutorial videos. You can walk your audience through complex processes, software functionalities, or DIY projects with clear step-by-step instructions, making learning a breeze.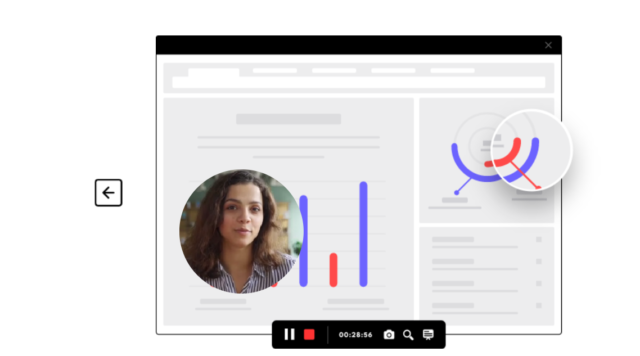 2. Record a YouTube Video
Content creators can take advantage of iTop Screen Recorder to record and share engaging videos on platforms like YouTube. Whether it's vlogging, gameplay, or educational content, iTop's versatility shines through.
3. Record a Step-by-Step Video
For businesses and professionals, iTop Screen Recorder simplifies the process of creating step-by-step guides or software demonstrations, fostering better communication with clients or team members.
How to Use iTop Screen Recorder for Screen Recording?
To start using iTop Screen Recorder efficiently, follow these simple steps:
Visit the official website and download the software. Install it by following the on-screen instructions.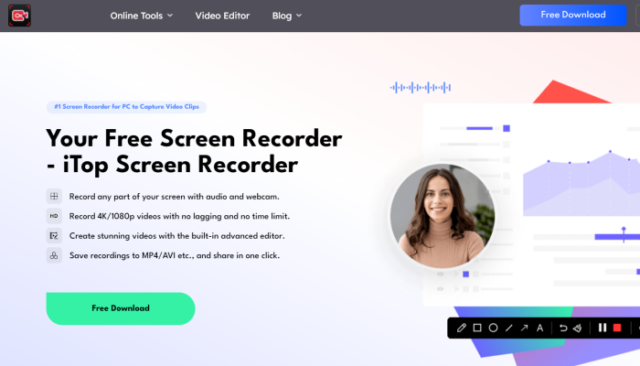 Step 2. Launch iTop Screen Recorder
Once you have installed iTop Screen Recorder, launch the program from your desktop or start the menu. You will see the main interface of iTop Screen Recorder.
Step 3. Choose the Desired Recording Mode and Adjust Settings
Select the appropriate recording mode (screen, webcam, audio, or game) and configure settings like resolution, frame rate, and audio source.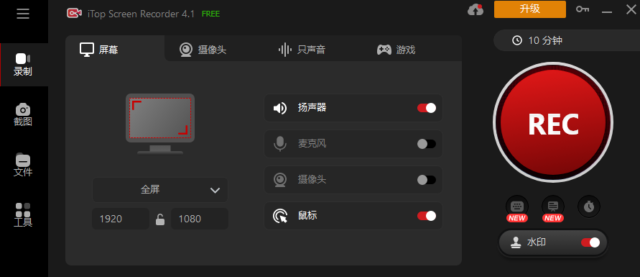 Step 4. Configure audio and video settings
Audio Settings: In this section, you can choose the audio input source and adjust the volume levels.
Video Settings: In this section, you can select the video quality, frame rate, and output format.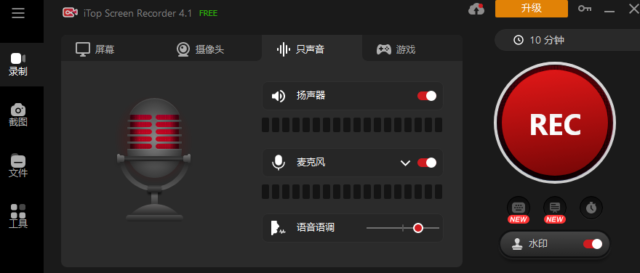 Step 5. Start and Stop the Recording Process
Click the "Record" button to begin capturing your screen activity. Highlight relevant features during the recording to enhance your video's effectiveness. Click "Stop" to finish recording.
Step 6. Save and Share
Save your recordings in your preferred format, whether it's MP4, AVI, or others, and effortlessly share them with your audience.
Final Thoughts
Throughout this article, we have explored the importance of screen recording in today's digital landscape and how iTop Screen Recorder addresses these needs. As a reviewer, I have had the opportunity to personally explore and use iTop Screen Recorder extensively. It's intuitive interface and seamless functionality allowed me to effortlessly create tutorial videos and share my knowledge with a broader audience. The audio quality surpassed my expectations, and Game Mode delivered lag-free gaming recordings, enhancing my content creation experience.
In conclusion, iTop Screen Recorder emerges as a reliable and feature-rich solution, providing users with an unparalleled screen recording experience. Its top-notch video and audio quality, user-friendly interface, and versatile recording modes make it a standout choice for educators, content creators, gamers, and professionals alike. Whether you're a teacher, content creator, gamer, or professional, iTop's features and versatility make it a worthy choice for all your screen recording needs. Embrace the power of iTop and elevate your screen recording experience to new heights!