Do you love playing Minecraft? Or do you admire watching someone else playing Minecraft? In both cases, you definitely are a fan of it. Simply imagine what it would be like to see your self-image altered exactly like the Minecraft style pixels and world. Sounds exciting right? Well, it is an overwhelming thing for the freshers.
In another case scenario, if you have a kid that loves to play Minecraft, how would he imagine seeing his own picture edited in Minecraft style? A feeling of joy will rush through inside him.
This is the exact feeling and requirement we are looking to fulfill today by giving you a detailed article on how to turn a picture into Minecraft style. I will move forward to entertain you with some crucial steps to take and websites to open for creating a picture of Minecraft.
Minecraft Style Picture Conversion
Since people do not know or understand the nature of Minecraft-style editing, we, therefore, want to uphold the information and educate the ones reading this post.
For creating a picture of Minecraft, there are lots of applications and online platforms that are willing to do all the heavy lifting for you. But, which one can you go for? That is the very problem. Things that we must take into consideration are the following:
Your images are private, and they remain private and inaccessible for public use until a change of thoughts.

The quality of the image conversion must stay up to standards and confront a sense of fine finishing at the end.

Editor tool availability for execution according to your own requirements.

Quick and easy downloading directly to your computer system.
All of these major concerns are pretty mandatory, and once fulfilled, they can be satisfactory as well. In order to complete these tasks, we will have to find a source that can perform all of the above-mentioned tasks for a Minecraft style accordingly.
How to Turn a Picture into Minecraft Style
Simply put, there are two ways to turn a picture into Minecraft style; applications and online website editing platforms. You can perform both ways according to your requirement. The users that prefer a much broader perspective mostly go for the website platforms on their computer systems, while others require a swift and mobile-friendly experience to get the job done.
Pixelator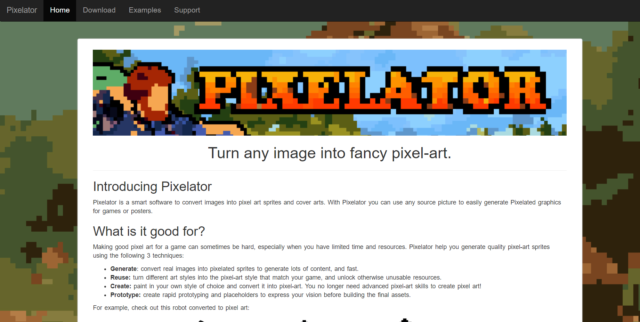 Kicking things off with the most reliable and utilized platform for creating Minecraft style pictures. Pixelator is a downloadable software that enables users to convert different images into pixel form, much likely a Minecraft theme.
Usually, there are a lot of users that are using this software for creating multiple pixelated game posters and in-play visuals. The reason behind this is to have something different for the eye to visualize from the general-looking frameworks and graphics.
Also, If you are a game developer and looking to get some quality frameworks and body arts for your characters, Pixelator could be an easy fix for you.
From creating and getting quality results from Pixelator, the following steps are involved:
Convert Real Images - Simply upload your real images and they will be converted into a pixelated format quite easily.
Art Styles to Pixel Art Styles - An easy access to turning multiple art styles into pixel art styles to match your requirements.
Paint Your Own Style - There is no need to have pixel art skills with advanced knowledge. All you need to do is paint your own style and convert it into pixelation.
Prototype creation - The basic step in creating ordinating visuals and a product that covers your mental cognition involves the creation of prototypical assets at first.
All of these techniques are performed by processing the image with a set of smart filters. These smart filters are customizable and very easy to handle by shifting the gauges to a required value.
Price: The platform is now shifted to Itch.io and they are not giving this fruit for free. You can open the website and check the price from the download page. Although they have provided a 'Name Your Own Price' feature to enable multiple people for downloading.
You can easily download Pixelator by directing yourself to this link: Download Pixelator.
Minecraft Art Netlify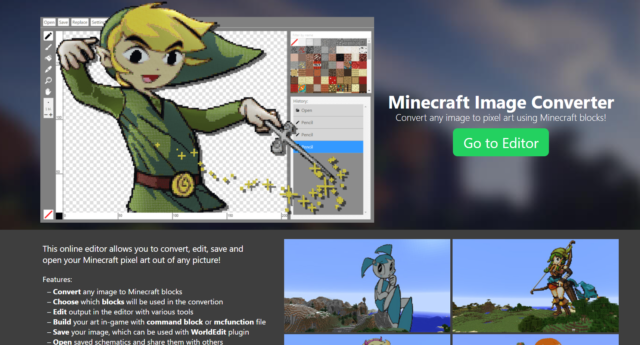 This platform is an online source for creating and downloading multiple images that are converted from real pictures to pixelated format. The feature that this platform utilizes for converting images to pixel arts is called Minecraft blocks.
Minecraft Art Netlify contains an online editor that can get things done for now while being online and carry forward. All you need to do is go to the editor on the platform and look for multiple ways directed on the screen to get that organized fix for your image.
Here are a few features that this platform provides its users:
Easy conversion of any image to Minecraft style using its 'Minecraft blocks' filter.

Simple and easy-to-use drag and drop feature to enable progressive execution.

Users can choose the type of blocks used for the conversion of images and the system will opt accordingly.

Using the command block or mcfunction file build tons of arts for in-game experiences.

You can save and open schematics directly from the editor and share them with your teammates or close circle.
Price: This platform is free to use for all the users on the internet. Built only for the services of the people that are looking to get their Minecraft style picture out of any image.
Minecraft Dot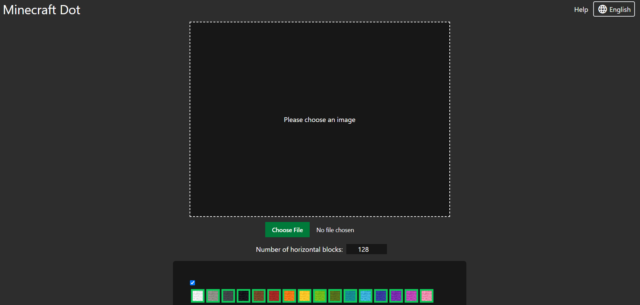 Last but not the least, if you are something very simple and easy to experience; Minecraft Dot could be your easy fix for that. On this platform, there is a simple execution method that revolves around two options:
You can choose the block colors and variations according to your requirements.

Insert a number of horizontal blocks to use on the pixelated image to improve the edge pixelation and enable the creation of a desired picture of Minecraft.
With that said, you can easily drag and drop the image onto the Minecraft Dot screen and check all the necessary boxes for a smoother finish.
After you are done filling in all the boxes, click on convert and a pixelated Minecraft-Style Image will be open in front. Now you can easily download the image, download a CSV format or keep on editing the same image again and again. It is totally up to you!
Price: Minecraft Dot is a free online program developed by KK sep TT and is open for all the users on the web to operate.
There is no requirement of downloading any software from the internet. Simply open the link and start working on the image you want pixelated.
Conclusion
The three websites and platforms provided above are different in terms of their working. Pixelator is downloadable software that can only be operated after you pay and download it onto your desktop. Minecraft Art Netlify is yet an online editor that can convert images into Minecraft Style images and make all the amends accordingly. In the end, Minecraft Dot is a simple and easy-to-use platform that focuses on the working mechanism of a simple and effective methodology.
You can use these platforms out of your own requirement.
FAQs
How do I turn a picture into Pixel art?
Simply choose any one of these three products : Pixelator, Minecraft Art Netlify, Minecraft Dot. You can turn all of your images into pixel art or Minecraft style using these platforms.
Is Minecraft Dot free to use?
Yes, Minecraft Dot is free and usable for all the people around the world that have internet access. It is one of the simplest websites to turn your real images into Minecraft style.