In recent years, as short videos get popular globally, people have loved to share their lives with people in TikTok and other media. Topics like the past like "How Gorgeous My Grandma Looks Like" "Younger memories" are scorching. What magic do these topics have? Pictures remind us of what the past looked like, and people have great curiosity about their ancestors. People recall the past through photos. However, images may become a little blurry and damaged after a long time and improper protection. So, when you have pictures with spots, broken pieces, blurry and scratches, I guess you are desperately eager to find a tool to restore your photos make pictures come to life. You are indeed interested in the looks of your parents and grandparents, do you want to try to bring old photos to life? Here we have tools like VanceAI Photo Restorer that can make pictures come to life. Now get your computer ready; let's do it now.
How to Make Pictures Come to Life in 5 Ways?
Restoring photos can bring old photos to life, and finding the right tool is keen. In the following, I'll introduce you to 5 image restorers to help you with this work. I've analyzed the steps of operating these tools, and you'll know fully know how to use them when you finish reading the article. Also read: Top 15 AI Photo Colorizers Review.
1. MyHeritage
The first time you heard about MyHeritage is probably because of its family tree building and DNA testing services. Well, these are just one of the many services they provide. It might surprise you that their photo editing functions are very impressive to make pictures back to life. It provides repairing, colorizing, enhancing, and animating parts for your photo. The animate photo function is so dramatic as if the figure in the picture is alive. MyHeritage uses AI Deep Nostalgia to animate figures in the image into a short video with facial expressions. It will blossom your imaginations to your ancestors.
How to make pictures back to life with MyHeritage:
Step 1: Open MyHeritage website and find "Photo" on the top of the home page. Now you need to upload your photo here.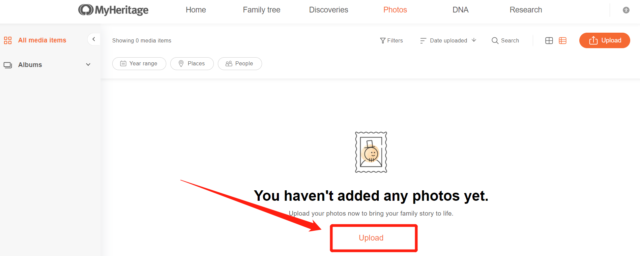 Step 2: Click "Finish" when you upload the photo.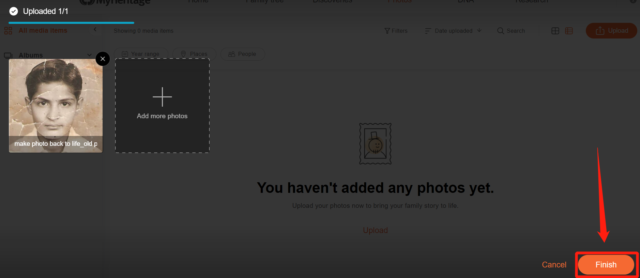 Step 3: Click Repair, Enhance, Restore colors one by one, and these features make your photo look modern and natural.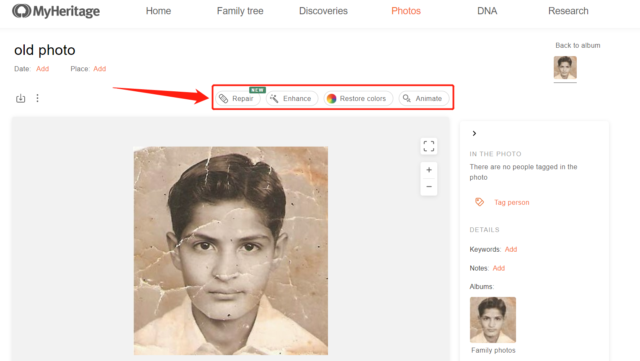 Step 4: Finally, the most critical step is the last step- Animate, and it will significantly make pictures come to life. And your photographs will smile and say hi to you with tiny gentle eye contact and movement, which give life to the photo.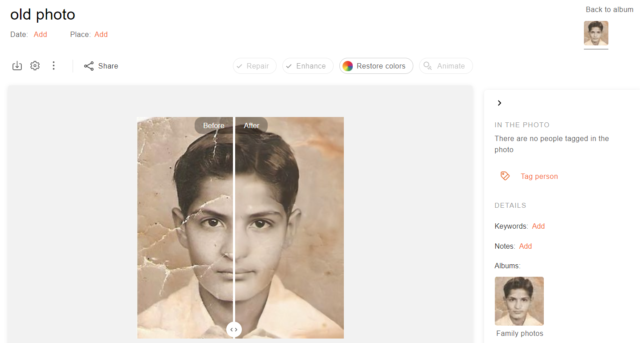 2. VanceAI Photo Restorer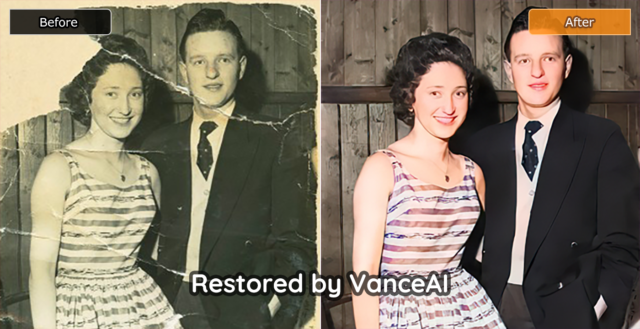 This online photo restoration allows you to removes scratches, chafes, and spots from your photos. In other words, it's a photo tool that helps you with all your photo editing tasks in just a few clicks. Here, when you come to a problem about bringing old photos back to life, VanceAI provides you with more tools to make your pictures vivid. You can check VanceAI Photo Restorer; it repairs your old photographs and improves the image quality; VanceAI Photo Colorizer colorizes your photo. It can significantly make the image back to life if they are black and white photos. People usually do things in a sequence. Here same goes for VanceAI products. There is a workflow for your work needs, and you can add the functions one by one in the workflow. And in the following paragraph, I'll show you how to make a simple workflow make pictures come to life. But I need to remind you that if your last step is to colorize, the scratches might appear again.
How to use it:
Step 1: Open the website and upload images; select the old photos you want to restore.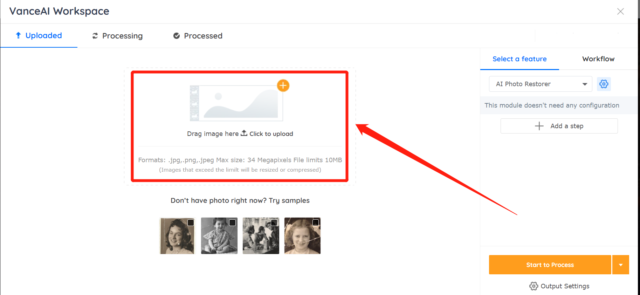 Step 2:Click "Start to Process" when you finish uploading images, and this tool can process a maximum of 10 photos at a time.
Step 3: Click preview to see the result of the picture, and then click "Download Image." This step is not the last, and one more step can make pictures come to life.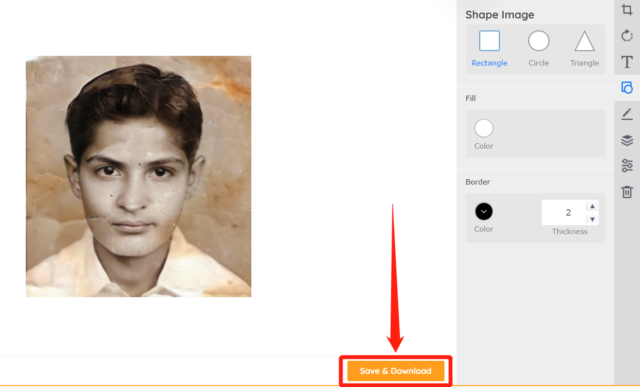 Step 4: The photo scratches are repaired, and back to "Uploaded" find the photo as the arrow points in red 1, then follow up the red marks.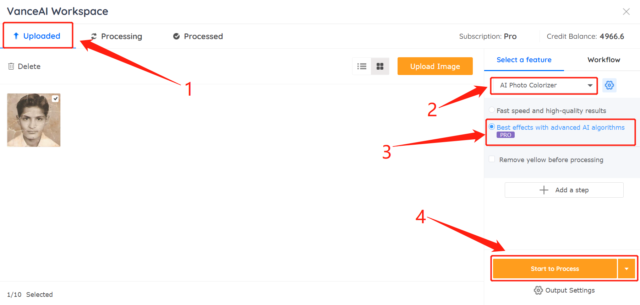 Step 5: Download this image.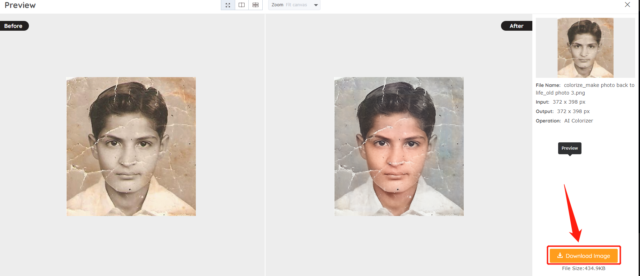 Read more  about VanceAI Photo Restorer
3. Hotpot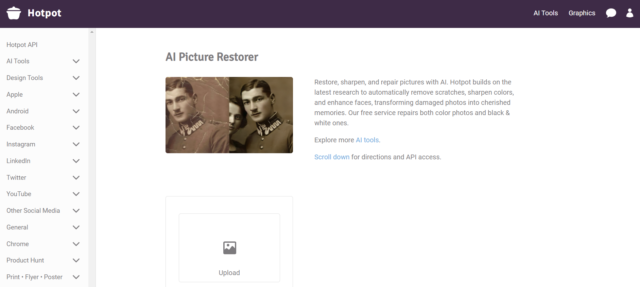 Hotpot is an AI graphic design and image editing tool which helps you edit your pictures easier. As it says, this tool provides services that can have experts and non-designers automate tedious tasks effortlessly. I have to say this tool is really out of my expectation. Firstly, the restoration is almost perfect. I tested it with an old back and white picture with many scratches, then I colorized it; it performs unexpectedly well on the tested photo. It can customize the image processing functions according to the mobile phone series and various streaming media classifications. I like this functional design concept. It is very avant-garde and perfect for internet geeks and web surfers.
How to use it:
Step 1: Open Hotpot AI Picture Restorer and upload your picture.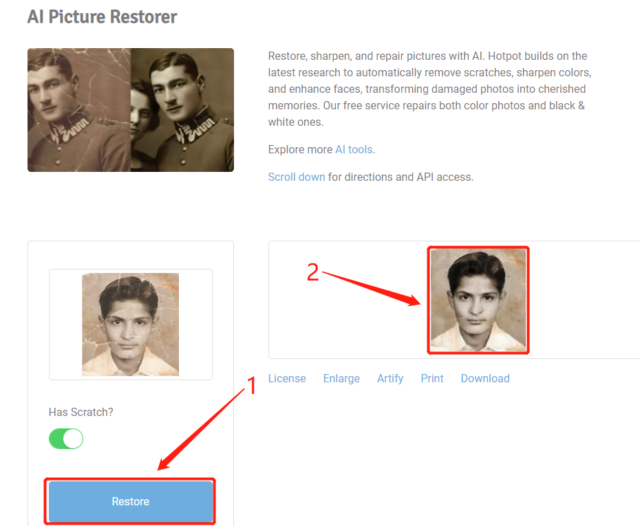 Step 2: Click into Hotpot Tools and find AI Picture Colorizer.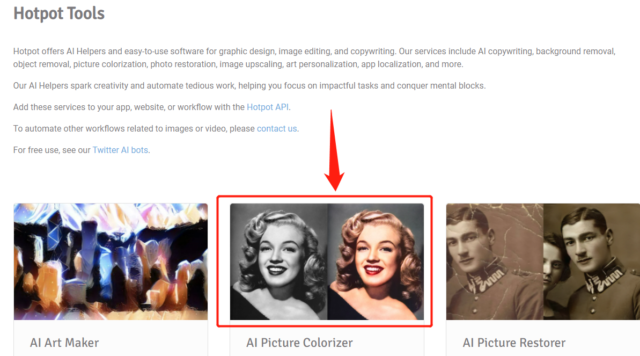 Step 3: Upload the restored image, colorize it, then download the final processed picture.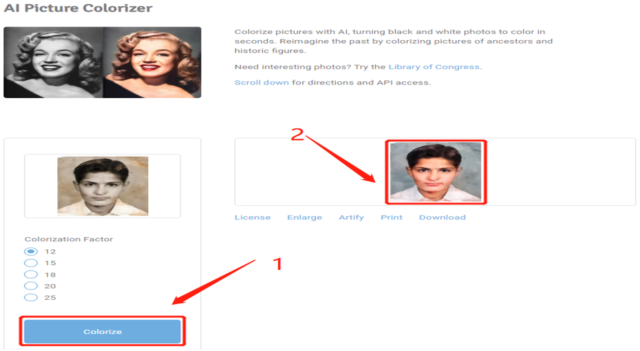 Read more : Best AI Online Old Photo Restoration Tools Review from TopTen.AI
4. ImageColorizer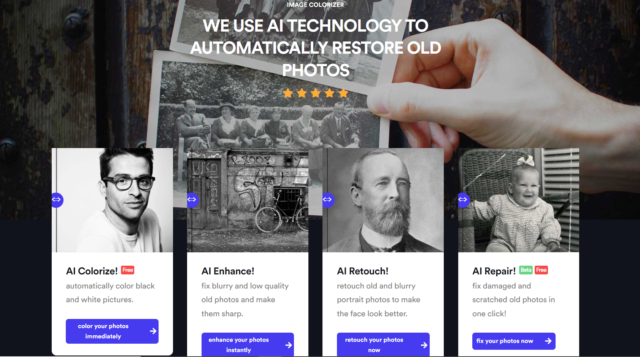 ImageColorizer is an AI image photo restorer it provides old photo repairing services with AI technology. It mainly offers four tools for picture restoration. AI colorize, enhance, retouch and repair; two are free, and I try the free ones for my test, the result is quite good. And the processing time is a bit longer than the former three tools, but it is still a very efficient tool. Its damaged pictures restoration and AI Colorize seem attractive to me, and I'm sure you'll be interested in it as well.
How to use it:
Step 1: Open the ImageColorizer website and upload your old photos.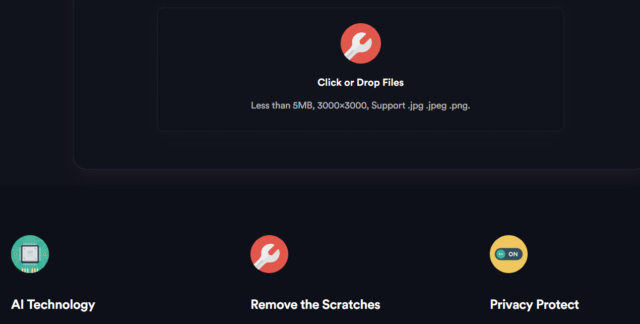 Step 2: Download the repaired picture for the next step.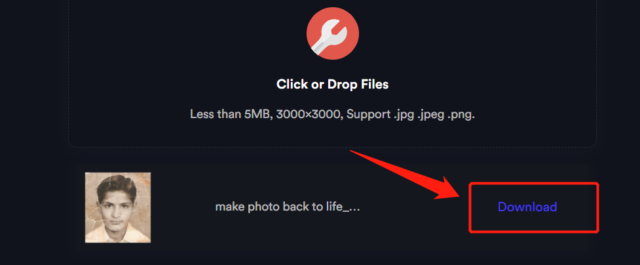 Step 3: Back to the home page of ImageColorize, open the AI Colorize tool, repeat the process like steps 1 and 2, upload the repaired picture and click "Start."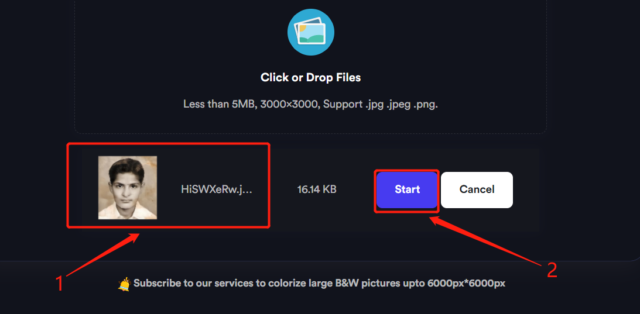 Step 4: Download the colorized picture.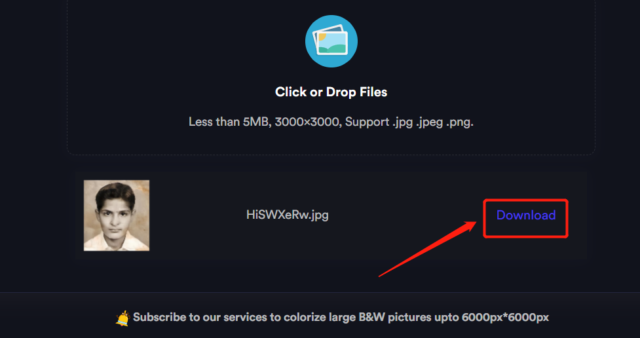 5. Softorbits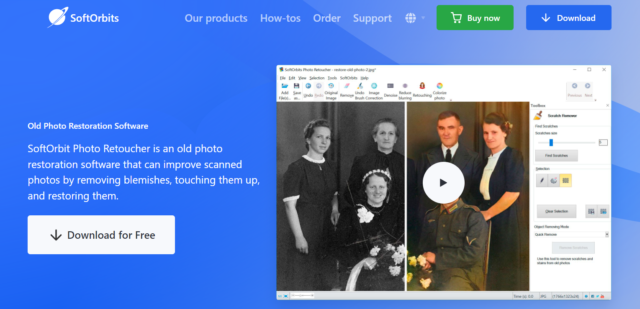 Softorbits Photo Retoucher is an old photo restoration software that can improve scanned photos by removing blemishes, touching them up, and restoring pictures. And it is the only app that brings pictures to life among my recommendations. However, this photo retoucher is not as easy to use as it says on its website during my practical use. It can repair your damaged, scratched, spotted, and dusted old photos, but if you are not a patient user, you can choose any other tools because it has too many details that you need to adjust it all by yourself. Trust me, try others if you don't want to suffer the same as Photoshop. Hold on, if you are a professional, have a good sense of color and light, or are a proficient Photoshop user, this one will bring you something new.
How to use it: Well, as this is the only application you need to download, indeed, it is more complicated to operate, with too many steps, so that I won't place the step images here.
Step 1: Download the app and open it; you can upload your old photo to the software by clicking the "Add File" or "Add Folder" option.
Step 2: Crop your picture.
Step 3: Eliminate noise and spots.
Step 4: Remove scratches
Step 5: Adjust your picture with the Smudge tool, Clone Stamp, and Concealer Tool.
Step 6: Adjust lighting and colorize your picture.
Conclusion
Repairing photos is getting easier with those AI tools. However, no matter MyHeritage or other Online Photo Restorer or any means of tools above can ideally take a damaged photo back to life. It is the limitation of automated AI technology, but all the tools I list here can repair old photos and bring them back to life to some degree. The difference between them is the effect and degree of blurry processing. In addition to MyHeritage, the rest products for comparison, the relatively high-definition restorations are enough for people to bring pictures to life, especially in the recent retro heat.
If you want to improve the overall appearance of your pictures, it may be worthwhile to try an image upscaling tool. To make it easier for you to choose the most suitable option, we have curated a list of the top 10 image upscalers that you can explore, including free AI image upscaler and image upscaling software.
FAQs
What is the best app that brings pictures to life?
Well, it depends on your standard of the photo effect. I want to say that MyHeritage performs the best if you want the photo to have emotional contact with you. Its animating function is so excellent that people in the image smile at you with these movements.
If you are more concerned about image quality improvement and remove scratches from old photos, I think they all are excellent products. And as for the best, you define the best for yourselves.