Discover HitPaw Video Resolution Enhancer, an AI-powered tool enhancing video quality with higher resolution and clarity. Includes comparisons with other AI video resolution enhancers, aiding in making an informed choice.
In today's digital era, where video content has become ubiquitous, the quality of videos plays a crucial role in captivating audiences. Whether it's for personal enjoyment, professional projects, or online content creation, enhancing video quality can significantly impact the overall viewing experience. That's where the HitPaw video resolution enhancer steps in. With its advanced AI technology, HitPaw video resolution enhancer offers a seamless solution to upscale videos, providing remarkable improvements in resolution, clarity, and overall visual appeal.
In this Hitpaw review, we will explore the features, benefits, and step-by-step usage of the HitPaw video resolution enhancer. We will also compare it with other AI video enhancers in the market to provide you with an objective perspective on its value and performance.
What is HitPaw Video Resolution Enhancer?
HitPaw video resolution enhancer is cutting-edge software designed to enhance the quality of videos. It utilizes advanced AI algorithms to automatically upscale videos, enabling users to enjoy enhanced resolution up to 4K or even 8K. The software excels in eliminating noise and blurriness, resulting in improved clarity and sharpness. One of the standout features of HitPaw video resolution enhancer is its ability to repair videos of anime and human faces, preserving intricate details and enhancing their overall appeal. Additionally, the software provides high-quality colorization for black-and-white movies, breathing new life into historical footage.
Pros
Automatic upscaling of videos to 4K/8K resolution.

Exceptional noise reduction capabilities for enhanced clarity.

Exclusive AI is designed to repair videos of anime and human faces.

High-quality colorization for black and white movies.
Cons
Limited compatibility with certain video formats.
When Do We Need to Enhance Video?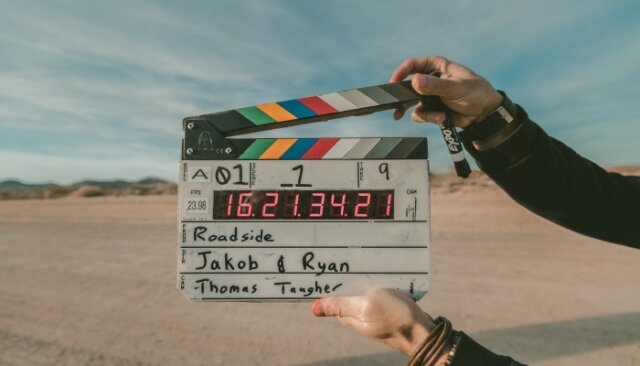 1. Enhance and Upscale Video to 4k/8k
HitPaw video resolution enhancer is equipped with advanced AI algorithms that can automatically enhance and upscale videos to higher resolutions like 4K or even 8K. This feature is especially beneficial when dealing with low-resolution videos or older footage that lacks the desired level of detail and clarity. By applying intelligent upscaling techniques, the HitPaw video resolution enhancer increases the resolution of the video, resulting in sharper and more vibrant visuals.
2. Clear Blurry/Noisy Videos
With its exceptional noise reduction capabilities, this video resolution enhancer can effectively eliminate blurriness and reduce noise in videos. This feature is crucial for enhancing overall clarity and improving the viewing experience. By reducing unwanted visual distortions caused by factors like camera shake, low lighting, or low-quality recording equipment, the AI video resolution enhancer can produce videos that are clearer, crisper, and more visually appealing.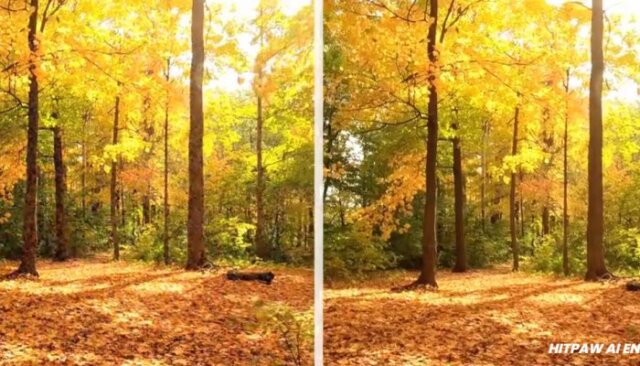 3. Improve Low-resolution Videos
HitPaw video resolution enhancer specializes in enhancing low-resolution videos. It employs advanced AI technology to analyze and enhance the quality of each frame, bringing out hidden details and improving the overall visual fidelity. By enhancing the resolution, sharpness, and clarity of low-resolution videos, HitPaw video resolution enhancer ensures that they appear more professional and engaging, even on larger screens or high-definition displays.
4. Enhance Compressed Low-quality Videos
When videos are compressed or stored in formats with low-quality settings, they often suffer from a loss of detail, clarity, and overall visual appeal. HitPaw Video Enhancer AI addresses this issue by utilizing its AI algorithms to improve the quality of compressed videos. By reducing artifacts, restoring lost details, and enhancing the overall visual quality, the software can breathe new life into compressed low-quality videos, making them more vibrant and enjoyable to watch.
5. Colorize Black and White Video
Another impressive feature of HitPaw Video Enhancer AI is its ability to colorize black-and-white videos. By leveraging its AI-powered colorization algorithms, the software can analyze the grayscale footage frame by frame and add realistic and accurate colors to recreate the original scene. This feature is particularly valuable for restoring and revitalizing historical or classic black-and-white films, providing a fresh and immersive viewing experience while preserving the essence and authenticity of the original content.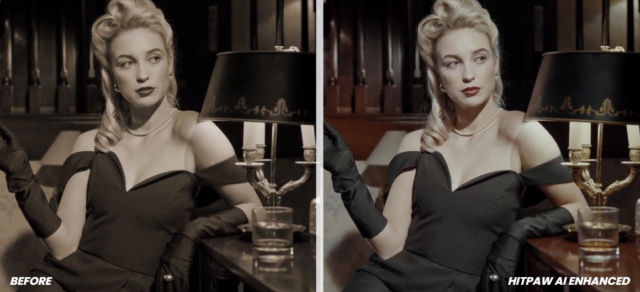 How to Enhance Video with HitPaw Video Resolution Enhancer?
Enhancing videos with HitPaw is a straightforward process. Here's a step-by-step guide to using the software:
Step 1: Enter the Hitpaw video enhancer. Download it. Then launch it and upload your video on this AI video resolution enhancer.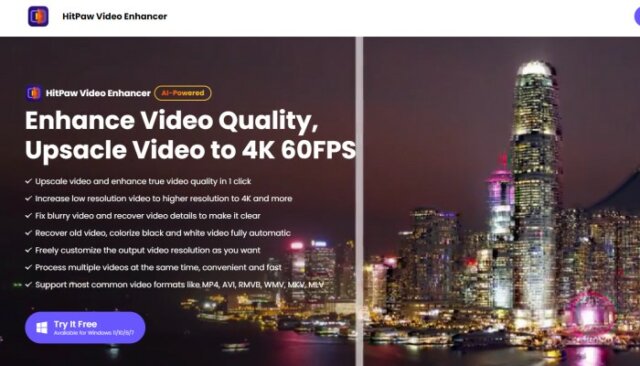 Step 2: Select the AI Model. There are 4 AI models for you in this video quality enhancer, i.e. General Denoise Model, Animation Model, Face Model, and Colorize Model.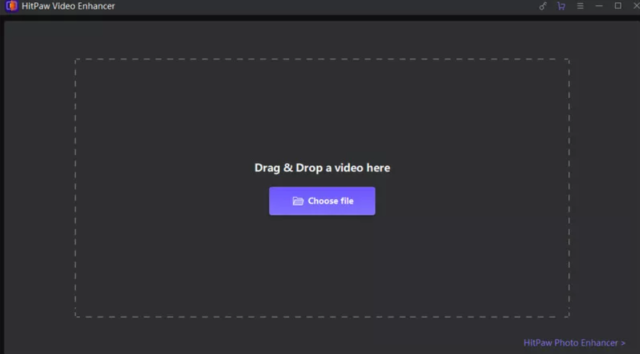 Step 3: Preview and Export the Hitpaw video. HitPaw Video Enhancer supports 30+ input formats such as MP4, AVI, MOV, MKV, M4V, etc. You can choose the format that meets your needs.
Note: If you are using the free version, you cannot export the enhanced video. Unless you tick the Buy Now button to purchase a full version to experience whole functions.
Comparison with Other AI Video Enhancers
To provide you with an objective perspective, let's compare HitPaw with other popular AI video enhancers in the market, namely AVCLabs, Veed.io, Wondershare, and Topaz Labs. And we compare these five products in Price, Performance, Accuracy, Speed, and User-Friendly so that you can intuitively choose the product that suits you.
| | | | | | |
| --- | --- | --- | --- | --- | --- |
| Video Enhancer | Price | Performance | Accuracy | Speed | User-Friendly |
| HitPaw Video Enhancer | Free trial; 19.95$ for all function | Excellent | ⭐⭐⭐⭐⭐ | Fast | ⭐⭐⭐⭐⭐ |
| AVCLabs | Free trial; 39.99/mo | Good | ⭐⭐⭐ | Average | ⭐⭐⭐⭐ |
| Veed.io | Free trial; 12$/mo for basic | Good | ⭐⭐⭐ | Fast | ⭐⭐⭐⭐ |
| Wondershare | Free trial; 15.99$/mo | Excellent | ⭐⭐⭐⭐ | Slow | ⭐⭐⭐⭐ |
| Topaz Labs | Buy for 299¥ | Excellent | ⭐⭐⭐⭐ | Fast | ⭐⭐⭐ |
In summary, HitPaw Video Enhancer offers competitive pricing while delivering excellent performance, high accuracy, and fast processing speed. It stands out for its user-friendly interface, making it accessible to users of all levels of expertise. While AVCLabs, Veed.io, and Topaz Labs also provide satisfactory results, HitPaw Video Enhancer offers a more comprehensive set of features with a better balance of price and performance. Wondershare excels in accuracy but lags behind in speed. Overall, HitPaw Video Enhancer emerges as a top choice for video enhancement needs.
Conclusion
In conclusion, when it comes to enhancing video quality, HitPaw Video Enhancer shines as a powerful tool that utilizes advanced AI technology. Its automatic upscaling, noise reduction, face repair, and colorization features offer a comprehensive solution for improving the visual appeal of videos. However, it's important to consider alternatives to the market as well. While HitPaw Video Enhancer delivers impressive results, there are other notable options to explore. AVCLabs, Veed.io, Wondershare, and Topaz Labs are also popular AI video enhancers with their own strengths and capabilities. Each of these alternatives brings unique features, performance levels, and pricing structures to the table.
To determine the best fit for your specific needs, I recommend carefully comparing the features, performance, accuracy, speed, and user-friendliness of HitPaw Video Enhancer with these alternatives. Consider factors such as pricing, the range of enhancement options, and compatibility with your preferred video formats. In any case, AI took us to experience the miracle of instantly improving video quality, no matter which product you choose, I believe you will get satisfactory results.
Learn more: 20 Best Video Quality Enhancer You Shall Use 2023 | Free&Paid
FAQs
1. What is the Best Free Online Video Quality Enhancer?
Clideo. Clideo is a popular online video editing platform that offers a variety of video editing tools, including a video quality enhancer. It can detect and reduce noise, eliminates artifacts, and enhances sharpness, resulting in videos that showcase every nuance and fine detail. In addition, Clideo offers a free trial, and users can also subscribe for more features.
2. How to Enhance a Photo with Photo Enhancer?
Take Fotor photo enhancer as an example. There are steps for enhancing photos:
1. Launch Fotor Photo enhancer, upload the image.
2. Enhance photo quality. Fotor's AI photo quality enhancer can automatically enhance blurry photos.
3. Download HD images.