Unleash the power of AI tools--Clideo Video Enhancer and Clideo alternatives to help you improve the high-resolution clarity and vibrant colors of your videos.
As a travel vlogger, you want to capture the mesmerizing sights of a picturesque mountain range. The breathtaking scenery, the vibrant colors, and the awe-inspiring details are all part of your experience. However, when you review the recorded footage, you notice that the video lacks the high-resolution quality needed to truly immerse your viewers in the beauty of the moment. In a world where visual content reigns supreme, having the ability to enhance videos with high-resolution clarity is essential. Enter Clideo Video Enhancer, a powerful online tool that allows you to effortlessly enhance video online, ensuring every detail comes to life.
In this Clideo review, we will delve into the features, benefits, and step-by-step guide of using Clideo Video Enhancer, highlighting its remarkable capabilities in enhancing videos with stunning high-resolution.
What is Clideo Video Enhancer?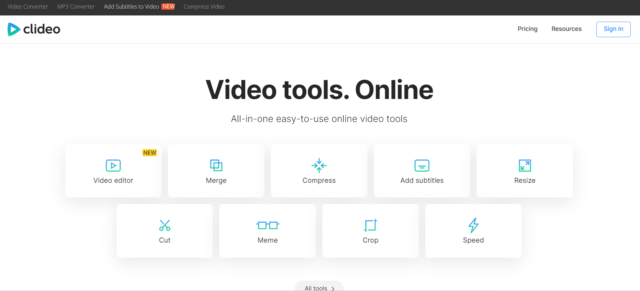 Clideo Video Enhancer is an exceptional online tool that harnesses the power of AI technology to enhance video online with stunning high-resolution clarity. With its advanced AI algorithms, Clideo Video Enhancer analyzes your footage and intelligently enhances it, bringing out intricate details and vibrant colors that might have been lost in the original recording. It can detect and reduce noise, eliminates artifacts, and enhances sharpness, resulting in videos that showcase every nuance and fine detail. Not to mention its intuitive and convenient interface that enhances the user experience. Clideo Video Enhancer also provides a seamless experience across various platforms to meet any user's requirements.
Clideo Video Enhancer brings the power of AI technology to your fingertips, enabling you to transform your videos into captivating visual masterpieces with remarkable high-resolution quality.
Features of Clideo
High-resolution Enhancement

Wide Format Support

Cloud Storage Integration

Advanced Settings

Real-time Preview
Pros & Cons
| | |
| --- | --- |
| Pros | Cons |
| User-Friendly | Limited Advanced Options |
| AI-powered Enhancement | Subscription Plans |
| Reset Option |   |
How to Improve Videos with Clideo Video Enhancer?
Enhancing your videos with Clideo Video Enhancer is a simple and straightforward process. Follow these steps to improve your videos:
1. Upload a Video
Enter the
Clideo Video Enhancer
and click the "Choose file" button above and import a file to the Video Enhancer on Android, iPhone, PC, or Mac. You also can select files from cloud storage accounts: Google Drive or Dropbox.

2. Enhance the Recording
Use sliders to adjust different settings on the Clideo video. Such as Brightness, Contrast, Saturation, Hue, Fade, Vignette.
When you are not satisfied with the result, click "Reset all" and start over.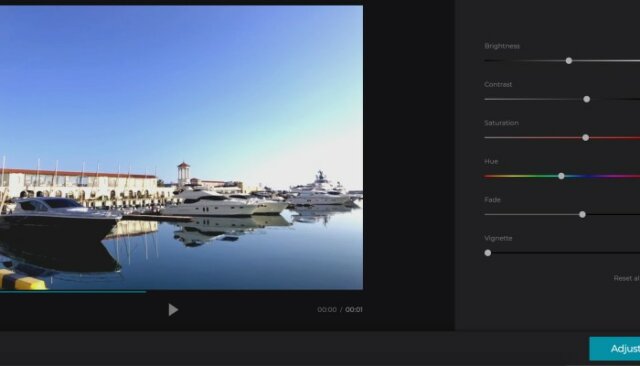 3. Download the Enhanced Clideo Video
Choose an output format, of which the recommended is MP4. Finally, you can preview and download the enhanced video.
Clideo Video Enhancer Alternatives
While Clideo Video Enhancer offers an exceptional range of features, there are Clideo alternatives available for video enhancement. As an objective and impartial reviewer, the following table is a comparison of several top video enhancers on the market through our real experience, from the aspects of price, output format, output quality, stability, and user-friendliness.
The purpose is to provide readers with the most intuitive and comprehensive Clideo alternatives experience, so as to choose the most suitable video quality improver for readers.
| | | | | | |
| --- | --- | --- | --- | --- | --- |
| Tool | Price | Output Format | Output Quality | Stability | User-Friendliness |
| Clideo Video Enhancer | Free with limitations; 9$/mo | MP4, MOV, AVI, and more | ⭐⭐⭐⭐⭐ | Good | ⭐⭐⭐⭐ |
| Flixier | Free with limitations; 14 $/mo | MP4, MOV, AVI, and more | ⭐⭐⭐⭐ | Average | ⭐⭐⭐ |
| DVDfab | Free trial, 99.99$/lifetime | Various formats for DVD and Blu-ray | ⭐⭐⭐⭐ | Average | ⭐⭐⭐ |
| Kapwing | Free with limitations; 16 $/mo | MP4, GIF, and more | ⭐⭐⭐ | Good | ⭐⭐⭐⭐ |
| Cutout.pro | Free trial; Pricing based on needed credits | MP4, MOV, AVI, and more | ⭐⭐⭐⭐⭐ | Average | ⭐⭐⭐ |
Conclusions
Clideo Video Enhancer is a remarkable online tool that empowers users to effortlessly enhance their videos. With its user-friendly interface, accessibility across multiple devices, and comprehensive range of settings, Clideo Video Enhancer is a go-to solution for anyone looking to improve their videos. By leveraging the power of Clideo Video Enhancer, you can captivate your audience and evoke emotions through stunning visual content.
As video enhancement technology continues to evolve, tools like Clideo Video Enhancer pave the way for a future where video content creators can achieve remarkable results effortlessly. Give Clideo Video Enhancer a try today, and experience the transformative power it brings to your videos. Your audience will be captivated by the enhanced visual quality and immersive experience.
FAQs
1. How can I Improve Video Quality without Clideo?
In addition to the Clideo video enhancer, take another video enhancer--Flixier as an example.
Enter the

Flixier

video enhancer official site, and add videos to Flixier.

Head over to the Color tab on the right side of the screen and change the following settings to improve the quality of your video: Brightness, Contrast, Saturation, Hue, and Gama.

Download the improved video.
2. Which Video Quality Improver is Best for Video Enhancing?
Adobe Premiere Pro CC. It is the top-list video quality improver developed by Adobe Systems. Premiere Pro CC offers a range of tools and functions that allow users to edit, manipulate, and enhance video content with precision and creativity. However, the technical expertise and expensive subscription fees it requires are not suitable for non-professionals.