Summary: This article lists the top 10 bulk barcode generators for businesses to efficiently track inventory and market their products. These tools simplify the process of creating barcodes and are an efficient way to keep track of inventory and ensure that stock is delivered on time.
In today's business landscape, barcodes play a vital role in inventory management, timely stock delivery, and product identification. However, finding the right bulk barcode generator can be a challenge for users seeking an efficient and reliable solution.
Our review focuses on addressing this pain point by providing a comprehensive overview of the top 10 bulk barcode generators available in the market. The objective is to help users make informed decisions based on the features and capabilities of each generator, ultimately streamlining their barcode printing processes and enhancing their overall business operations.
Top 10 Bulk Barcode Generators You Deserve to Have
Below are the top 10 best bulk barcode generators on the market today!
| Product | Price | Compatibility | Customization | User Interface | Overall Rating |
| --- | --- | --- | --- | --- | --- |
| BARCODE | Free | ★★★★☆ | ★★★☆☆ | ★★★★☆ | ★★★★☆ (Simple, limited options) |
| Barcodes | Free | ★★★★★ | ★★★★☆ | ★★★★★ | ★★★★★ (Fast, easy, no cons) |
| COGNEX | Free | ★★★★☆ | ★★★★☆ | ★★★☆☆ | ★★★★☆ (Configurable, supports all major linear symbologies) |
| Online Labels | Free | ★★★★☆ | ★★★☆☆ | ★★★★☆ | ★★★★☆ (Easy to use, 500+ templates) |
| UPCBarcodes | Free | ★★★★☆ | ★★★☆☆ | ★★★☆☆ | ★★★☆☆ (Limited file types) |
1.  BARCODE
Price: Free
Notable features: No installation required, supports multiple image formats, bulk generation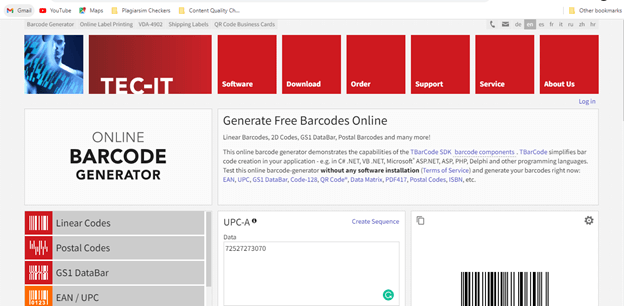 BARCODE
is a free online barcode generator that doesn't require installation and supports cloud storage. It accepts image files up to 1MB and various formats, including JPG and PNG.
Users can easily switch between output formats, such as PDF417, QR Code, and Data Matrix. The bulk barcode generation feature simplifies creating multiple labels. However, it has limited code generation options.
BARCODE is available in different languages and offers a simple interface, making it user-friendly and cost-effective.
Pros:
Simple code bar generation
Available in different languages
Free
Cons:
Limited code generation options available
2. Barcodes
Price: Free
Notable features: Fully compatible with Microsoft Office and Adobe Acrobat, customizable labels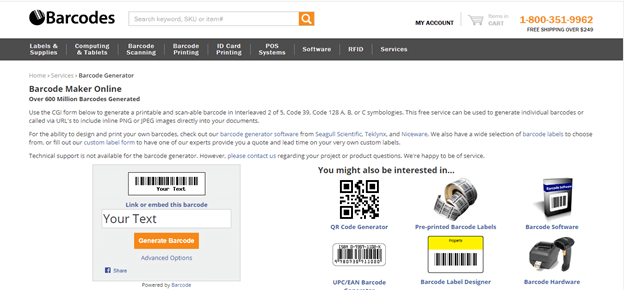 Barcodes Inc.'s free online bulk barcode generator supports print-ready barcodes for Microsoft Office and PDF and TIFF file formats.
The generator allows users to create customized labels, forms, and reports using industry-standard data formatting rules, even within spreadsheets. Users can also add images before generating their custom barcode labels or forms.
Despite no reported cons, the Barcodes Inc. generator offers a fast and friendly interface, making it convenient and accessible for users.
Pros:
Fast & friendly interface
Available free and online
Cons:
3. COGNEX
Price: Free
Notable features: Customizable barcodes, supports all major linear (1D) symbologies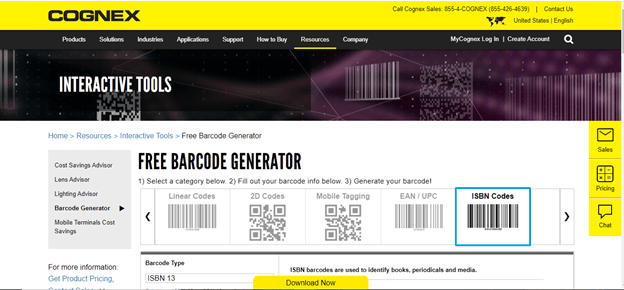 COGNEX's free online bulk barcode generator allows users to create high-quality, customizable barcodes quickly.
The generator supports all major linear (1D) symbologies, including Code 128, Code 39, UPC/EAN, ITF, and Codabar. Users can easily select pixel and format options.
While no specific cons are mentioned, COGNEX offers a free and easy-to-use solution for generating barcodes in different formats.
Price: Free
Pros:
Generate barcodes in different formats
Easily select pixel and format
Free online
Cons:
Nothing special to mention
4. Online Labels
Price: Free
Notable features: Over 500 label templates, supports various languages, easy user interface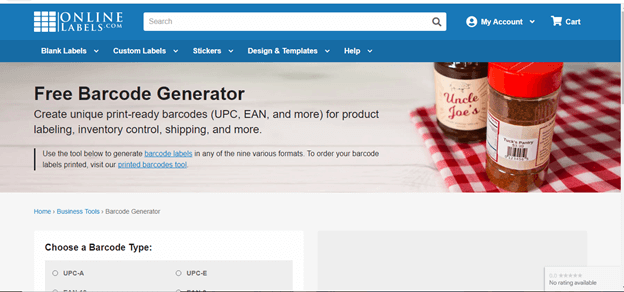 Online Labels is a free online bulk barcode generator that supports QR codes, Data Matrix codes, and 1D or 2D barcodes. The generator offers over 500 label templates and supports multiple languages. Users can save their designs and generate barcodes in various PDF or JPG sizes.
It supports uploading images or entering text for printing onto labels in a variety of languages including English, Spanish, French and Chinese. There are over 500 label templates to choose from, making it easy to find one that matches your needs.
Some features may require payment, and the generator is limited to creating blank labels. However, Online Labels remains a user-friendly and versatile tool.
Pros:
Generate easily barcodes online
Available free
Cons:
For blank labels, you need to check out the large selection
Need to pay for other features
5. UPCBarcodes
Price: Free
Notable features: Generates UPC barcodes, no watermarks or time limits, exports as CSV files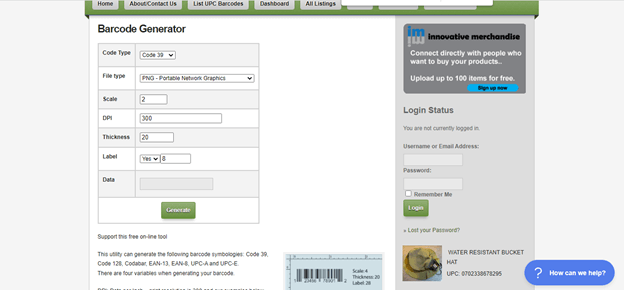 UPC barcodes, GTIN-12, and EAN-13 are globally standardized for use in retailing. This free bulk barcode generator from UPCCheck generates UPC barcodes with a graphical interface and is completely free to use. It can be used to create quick reference materials for non-barcode users.
The free bulk barcode generator has no watermarks or time limits. The generated barcodes can be saved as images or PDFs. All data created by our free bulk barcode generator may be exported as CSV files.
The free bulk barcode generator supports all major browsers including Internet Explorer, Firefox, Chrome, and Safari on both Windows and Mac OS X operating systems.
Pros:
Generate barcodes with great ease
Features available like DPI, thickness, and scale
Free online
Cons:
File type available only in jpg & png
6. Shopify Barcode Generator
Price: Free
Notable features: Customizable labels, generates downloadable PDFs

Shopify's free online bulk barcode generator is designed for businesses requiring barcode solutions.
Users can create one-off labels or downloadable PDFs with multiple codes, suitable for shipping multiple items in one box. However, the generator requires users to provide an email for barcodes.
Despite the email requirement, Shopify Barcode Generator offers an efficient and accessible way to create and print custom barcodes.
Pros:
Easily create and print
Free online
Cons:
Need to give email for barcodes
7. Barcode-Generator
Price: Free
Notable features: Generates various 2D and 1D barcodes, no special software required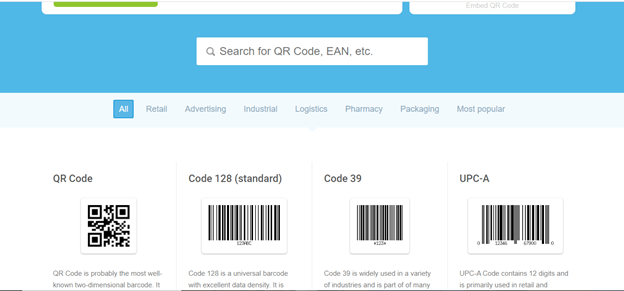 Here is a free bulk barcode generator so you can start creating your UPCs right away! You will be able to generate a variety of different types of 2D and 1D barcodes including QR, EAN, Code 128, Code 39, PDF417, and many more. The process is easy and quick.
You don't need any special software or fonts. All you need to do is enter some text and click the Generate button. Within seconds a new code will appear on your screen that you can then print out or save as an image file. It is that simple.
Pros:
Plenty of options available
Download in jpg, eps, and SVG format
Cons:
Nothing special to mention
8. SCANDIT
Price: Free
Notable features: Free for noncommercial use, various options, professional-looking barcodes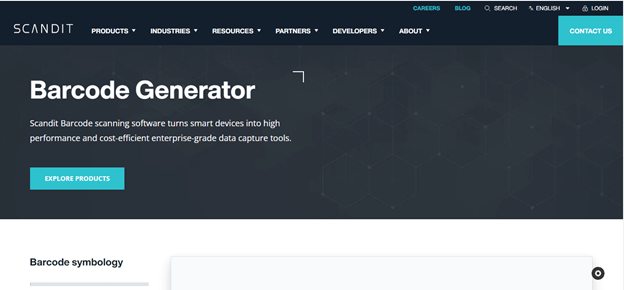 Scandit Barcode Generator lets you create professional-looking barcodes quickly and easily. Scanner applications, such as POS systems and inventory apps, use barcodes to identify products or services so they can be tracked during transportation.
Having a basic understanding of how barcodes work can help you make smart decisions about what to include in your creations. Scandit Barcode Generator is free for noncommercial use, but it's not open source.
Pros:
Available free and online
Easily select value and size
Plenty of options
Cons:
No download button
You need to click by right-clicking
9. Barcodes Pro
Price: Free
Notable features: Generates EAN or UPC barcodes, bulk generation, clean interface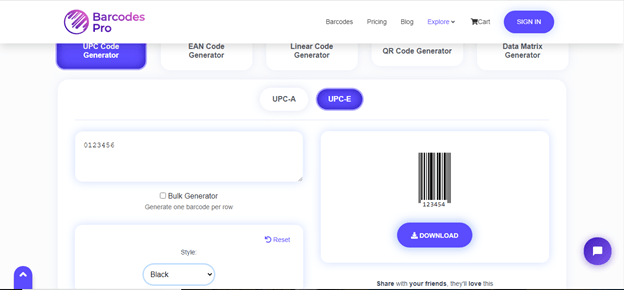 UPC-A UPC A is used by most supermarkets and mass merchandisers around the world. The barcode consists of 12 digits that are grouped into four parts: Product number, Check digit, Company identifier, and Additional information (or null).
There are also two extensions to allow printing smaller numbers in a smaller space. If a retailer has more than one supplier with identical product identifiers, it can use up to six additional supplier codes to uniquely identify suppliers in its system.
Pros:
EAN or UPC barcode
Generate in bulk
Easy and clean interface
Cons:
Nothing special to mention
10. UPC-A barcode generator
Price: Free
Notable features: Customizable options, user-friendly, supports UPC barcodes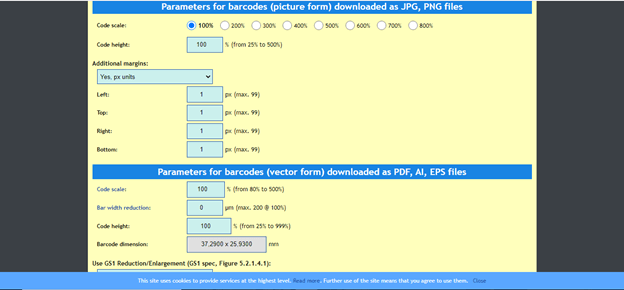 The UPC-A barcode generator is a free online tool that generates Universal Product Code (UPC) barcodes, one of the two industry-standard barcode types for retail items.
Users can customize various options, including background color, making the generator user-friendly. However, the interface is not modern or visually appealing.
Despite its outdated design, the UPC-A barcode generator remains a reliable and accessible tool for creating UPC barcodes.
Pros:
Plenty of options available
Select and background-color
Cons:
No user-friendly or modern interface
Conclusion
These barcode generator tools should provide you with plenty of options for generating barcodes in bulk. Be sure to test out each one and see which provides you with what you need to meet your business needs.
Even if your app doesn't require codes in bulk, it never hurts to have too many options—in case a client or partner suddenly asks for a bunch of codes. And who knows? You might even find a tool that works better than your current one! If you want to learn more about apps, let us know in the comments section.
Here are more AI generators you may need Top 10 Best AI-based Heatmap Generators for Website Analysis.