Your family portraits certainly have some of the oldie goldie memories captured. But their distorted edges, tears, and dust specks can offend the eye. So, why not breathe a new life into them? With the help of different tools, you can revive your family portrait photography handsomely. Especially AI-powered photo restorers make things super easy for a magical transformation. The whole point is to restore them quietly without wiping out the originality and truth of a particular era. A modern or fancy look isn't the aim exactly, but rather to make them presentable while maintaining their uniqueness. So, without further ado, let's look at our top picks to repair your old family portrait online.
Best 10 Tools Repairing Your Family Portrait Online
1.
VanceAI Photo Restorer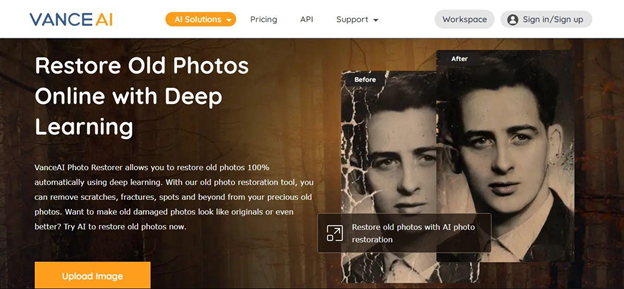 The app costs you $24 for its pay-as-you-go feature. However, monthly and annual subscriptions are far cheaper. 
This online photo restoration tool features a clear and clean interface. It lets you restore your old photos' charm naturally and beautifully. You don't even require editing skills to have a fine-quality picture. Its portrait enhancement and color sharpness feature automatically work on each photo you edit.
Pros:
● Inexpensive as compared to other apps
● Allows batch processing
● Features excellent UI design
Cons:
● Limited free images
● It only works on small images
2. 
Phowd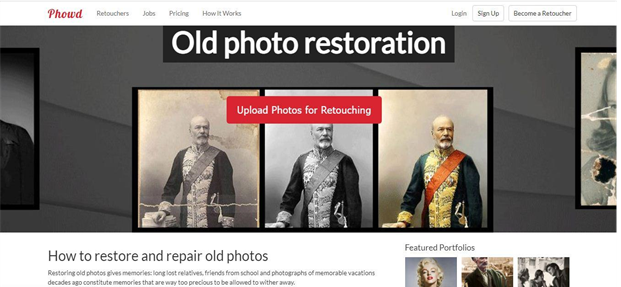 You will have to pay a minimum of $0.30/photo for basic correction, while the advanced retouching requires $2. This application has a unique feature to offer. You can host a contest between different retouchers. 
Now my retouchers will submit their edits, and you can select the best one and add the retoucher to your team. It simply gives you more options to go with.
Pros:
● Offers best prices
● The contest lets you select the best image
● Unique platform 
Cons:
● The process can be time-consuming. 
3. 
Image Colorizer

Image Colorizer offers its services starting from $6 only, and you will get your old family portraits repaired here. Instead of relying on a team, this tool is pretty handy and does most things by itself. You simply have to drop your picture here and get it done in a single click.
Along with adding colors to your black and white photo, it will do some basic retouching. You can download it on windows and mac.
Pros:
● It offers free retouching of your images.
● Features beautiful interface
● Protects the privacy of the users
Cons:
● Final edits might not be very accurate
● AI features can do some unrealistic edits
4. 
HotPot AI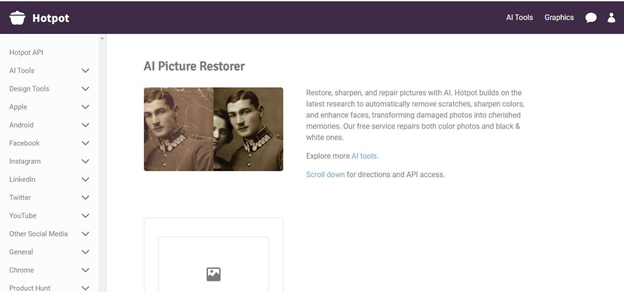 The only free tool we have in this list here. It works with the help of artificial intelligence. You'll restore the magic of any old family portrait within no time. In addition to restoring the photo, it will also remove scratches, correct colors, and enhance facial features. 
Since this is free for now, you can't expect your edited images to be of excellent quality. 
Pros:
● Offers free services
● Ability to work on any photo
● Removes damages with color correctness
Cons:
● Maximum resolution is 1280*1280px only
● Your images are deleted after a while
5. 
Fix The Photo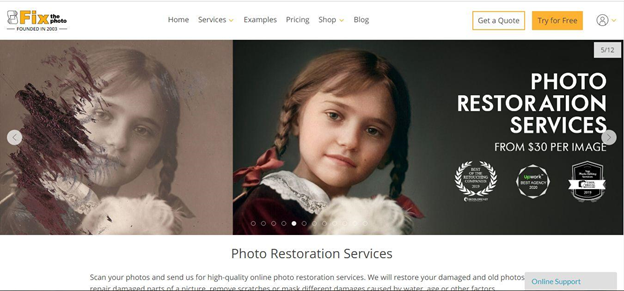 It costs about $30 per image, but looking at the results, you may want to try it. No matter how much mold, dirt, water, or the sun has damaged the portrait, you can always rely on Fix The Photo. 
It provides premium quality edits, which is evident from the number of positive reviews. Even if your picture is missing some parts, trust the professional editors here and let them do their thing. 
Pros:
● Produces satisfactory excellent quality results
● It offers a free trial option
● Repairs missed parts of images
Cons:
● Expensive as compared to other apps
 6.
Forever Studios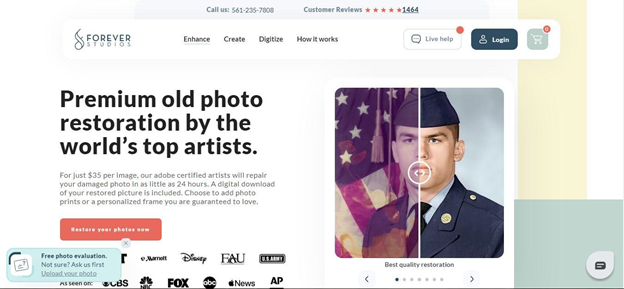 You have to pay $35 for each image restored by Forever Studios. The team of professional editors makes sure to repair any rips or folding or scratching damages. You can get your fixed images as fast as in one to three business days. 
The whole process for the users is pretty simple. Just layout your instructions and state your expectations. And boom, you'll get the final product just as you thought or maybe even better.
Pros:
● Excellent customer service
● Work done by professional editors
● Freedom to order revisions
Cons:
● The website may cause some problems
● Hard to print online
7. Fix Your Pix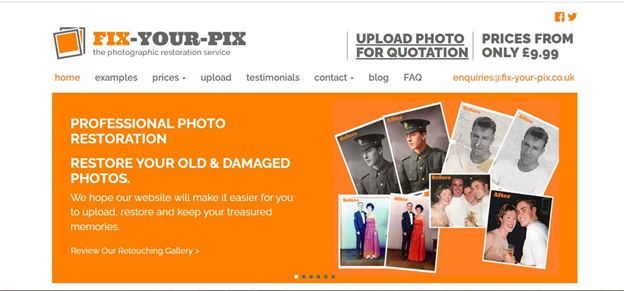 You will get the essential restoration done to your picture for only £9.99, which is perfectly suitable for their quality of service. Also, the prices go higher for premium services. They will restore your old and damaged photo and deliver it to you within twenty-four hours. 
Apart from restoration, you can order to make some changes or remove a person or thing from it. Also, customer satisfaction is the priority, and you pay only if you approve the final picture. 
Pros:
● Fast turnaround time
● Amazing quality results
● Easy to use website 
Cons:
● The basic package offers very little as compared to premium services
● Postage and packing are for the UK only.
8. Photo Restoration Services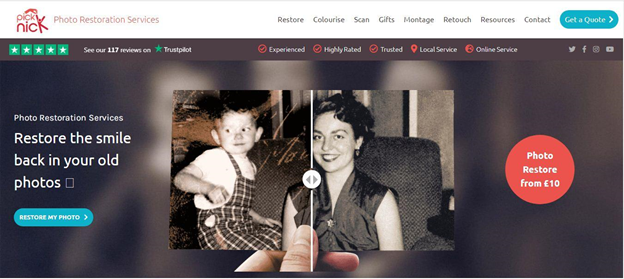 The Photo Restoration Services by Nick start at £10, and you will have to pay more for extra services. Contact Nick for some outstanding services when your old photos are spoiled by prolonged folding or scratching.
There's more than just restoration available. Some rudimentary colorization will give your pictures a whole new look. 
Pros:
● Quality services by a single person
● Attention to the details
Cons:
● The final results may look too digital
● Basic services don't include much functions 
9. 
Image Restoration Center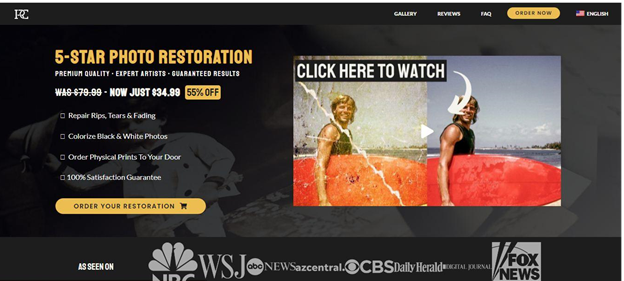 The five-star photo restorations start its services at $34.99. The website claims its services to be better than others as it doesn't only restore visible damages but works on a pixel-to-pixel level to achieve excellent results. 
Simply upload your images and then receive fine-quality edited photos within 24 to 72 hours. You can also order a print of your photo.
Pros:
● Provides in print format as well
● Detail-oriented
● You can get even the most damaged photos repaired.
Cons:
● Expensive services
10. 
Image Restore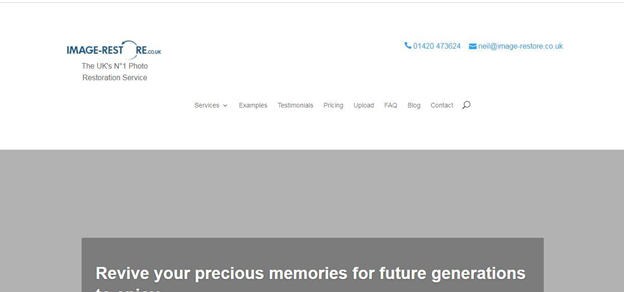 The photo restoration starts from £9 while retouching and coloring costs are slightly higher than this. This award-winning photo restoration service is in the market with more than 20 years of experience, so you can definitely count on them.
Pros:
● Excellent communication and quality services
● Delivers the most natural-looking results
● Offers money-back guarantee
Cons:
● Print results provided by the company are of average quality
If you're looking to enhance the quality of your output images, consider utilizing an image upscaler. To assist you in selecting the best one, we've compiled a list of the 10 best image upscalers available.
Conclusion
That's all about our top picks for repairing your family portrait online. You can always restore your family portrait painting no matter its damage. It is such a fun and rewarding experience to have. It will go as perfect as you would dream of and as pricey as you are willing to pay for. 
With so many options available, it is natural to feel stuck. But if you are looking for the best results without having to break your bank, we can recommend VanceAI Photo Restorer. Its powerful artificial intelligence doesn't need editors to do the edits manually, and it can definitely guarantee a fast turnaround. You can also go for HotPot AI, known for quality services at great prices. 
More tips on old photo restoration: Top 10 AI Photo Restoration Software and AI-Powered Tools Review in 2023