Summary: Photo management software is a solution for dealing with the enormous number of photos produced every day. This article introduces ten different photo management software options available in the market.
Creating photos seems like a daily routine, and in such a data era, people produce billions of pictures in a day. What a massive amount of data! Are your mobile and computer occupied by an enormous number of photos, and do you want to set all your pictures in the proper order so that you can find and share them easily? Now follow my lead and get yourself a photo management software to sort, manage, and edit professionally with little effort. This article looks into the ten best photo management software available in the market. It covers their crucial information like the basic solution, price, pros, and cons, and it will guide you to find your best photo management software in use.
Best 10 Photo Management Software
Here is the best ten photo management software which helps you deal with your digital photo problems. No matter you need free photo management software or what, read this article, and you will get the answer you want.
| Product | Price | Main Function | Customization | Target Users |
| --- | --- | --- | --- | --- |
| Adobe Lightroom | Paid | Photo Editing | ★★★★☆ | Photographers, Professionals |
| ACDSee Ultimate | Paid | Photo Editing, Management | ★★★★☆ | Photographers, Professionals |
| Cyberlink PhotoDirector | Paid | Photo Editing | ★★★☆☆ | Home Users, Enthusiasts |
| Skylum Luminar | Paid | Photo Editing | ★★★★★ | Photographers, Enthusiasts |
| Google Photos | Free | Photo Management | ★★★☆☆ | Personal Use, Home Users |
This is a general overview table made by us, if you want to see our more detailed review, please keep reading.
1. bynder
Price: starts at $450, it charges differently according to business number of users, storage and modules as users need.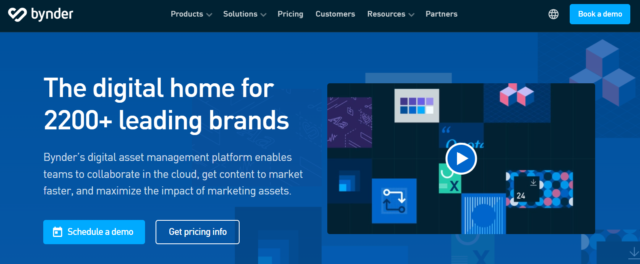 Bynder is an excellent digital content management software designed for business, and it covers much more than photo management software does. It can customize users' need to provide specific solutions, so it charges relatively higher than other photo management software. It helps clients organize and find what they need instantly with an intuitive filter structure tailored to their business's exact needs. You will have its price information with solutions by email meeting. Well, freelancers or personal users, skip it; you need photo management software at a better price. If you run companies and have numerous requirements for photo management, this one fits your need well.
Pros:
Customize your photo management plan solution
Various functions with digital asset management
Customizable homepage
Simple to configure structure and filters
Cloud-Based DAM Solution
Cons:
Too expensive for individual users
Slow process to acquire price information
2. Extensis Portfolio
Price: Starts At $300 / User / Year, Billed Annually.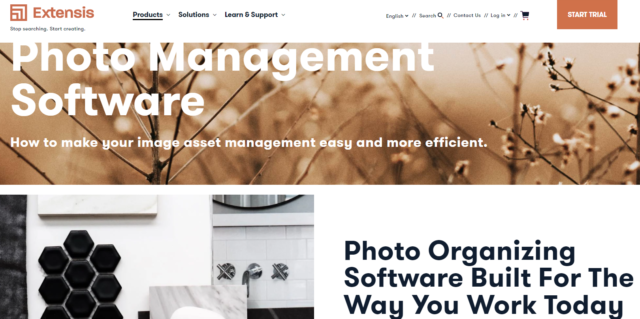 Extensis Portfolio is digital asset management (DAM) software that makes file collections usable by rendering tools for finding, organizing, and converting extensive collections of rich media files. Extensis Portfolio provides all the core functionality of an enterprise DAM system. It is available for you to create a sole source for all of your images, videos, and documents so you can easily organize, find, manage, and use your assets effectively.
Pros:
Automatic keywording
Automate personal workflows
Web builder to share assets
Fast and easy uploading
Cons:
Not suitable for individual users
Expensive
3. Piwigo
Price: €39-94 for individuals from 1 to 3 years/ €45-250 for business per month, annually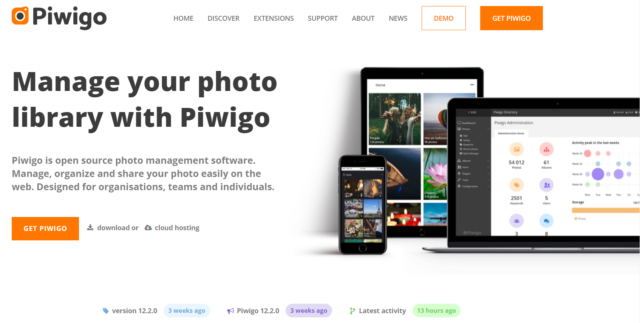 Piwigo is a digital asset management tool with a complete selection of features. It is an open-source project that allows you to create your photo gallery on the web, upload photos, and create new albums. It also provides applications for android and ios, and you can publish your photos directly from your smartphone to your Piwigo. You can also browse your entire gallery in full-screen mode, create, edit, move your albums, or edit photo properties.
Pros:
30 days free trial
50G-1000G storage space available
No limitations of users' number
Intuitive and easy to learn
Backup service
Cons:
4. Phototheca
Price: Free; Home: $39.95/100k photos; Pro: $49.95/250k photos; Premium: $54.95/unlimited photos.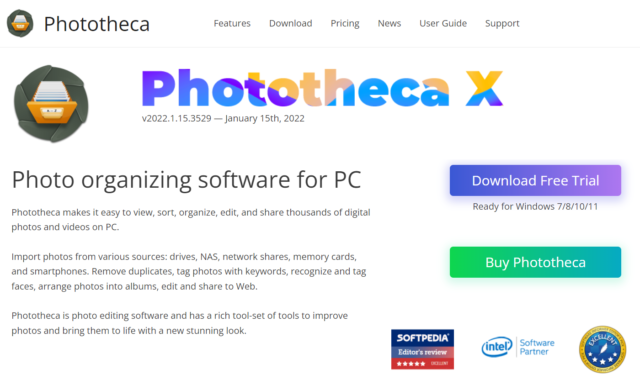 Phototheca is a free photo management software that fits most people's needs if you do not have many photos to store. This software provides facial recognition, intelligent album creations, and additional image editing features like noise reduction, sharpening, vignette, etc. You can also transfer images to your iPhone from your PC in a few clicks, which is very friendly to Apple users. Another outstanding feature of this software is sharing pictures directly to websites like Flickr, Google, SmugMug, and Twitter. It will remove all the duplicated images automatically while maintaining the original photo resource when you scan your storage with this software on your computer. If you have the same trouble as me, too many photos have occupied your phones, and you can actually purchase this software and transform and store all your photos here. Getting yourself a pro or premium is undoubtedly a clever idea.
Pros:
Fifty-six high-quality photo filters inbuilt
Multiple RAW camera formats available
Premium plan works with up to 5 PCs and unlimited photos management
iPhone media types available
Photo sending through emails directly
Hide selected photos in password-protected albums
Duplicate photodetection and facial recognition features
30 days money-back guarantee and educational intuition discount
Cons:
Not funded yet, it is an excellent photo management software I have used
5. Proffiz
Price: It charges according to your budget.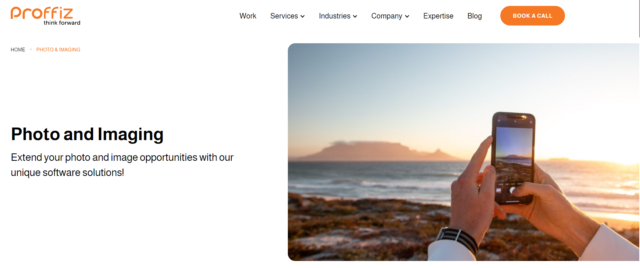 Proffiz is a Ukraine IT company provides services like photo management and so on, but it is a bit complicated to get the price information because it is a company that provide customize services mainly for business, you can get the detailed price information and services by leaving your email on the bottom of the website. Business and company, nice choice. They develop software according to your need, and the money you pay are surly worth it and I'd like to remind you they charge is different from those handy-use ones, you list your requirement and then they make one for you.
Pros:
Select and organize photos based on their location, date, categories, etc
Print-Friendly
AI usage
Editing functions supported
Cons:
Not suitable for personal use
No ready-made software available
6. Photonix
Price: Pricing based on your needs.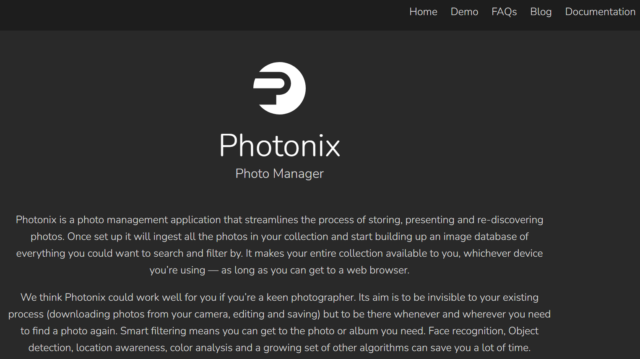 Photonix is a photo management software that streamlines storing, presenting, and finding photos. Setting it up will ingest all the pictures in your collection and build up a photo database of everything you want to search and filter. It makes your whole collection available with a web browser. However, the information on the website is not clear, and it will take you a while to know how to use it. To set a URL for photos first, my advice, try another photo management software. This one will drive you crazy. But yes, you can use this photo management software for Mac if you don't mind these issues I mentioned.
Pros:
Image viewer with smart tagging classifier: face, location, color, style, objects
Tracking multiple versions of photos and de-duplication
Android and iPhone system available
Presentations and slideshows
Online sharing
Cons:
Inconvenient and Complicate URL import access
Hard understanding guidance
Unclear price information
7. Movavi Photo Manager
Price: 3 pricing plans for both personal and business use from $39.95-$199.95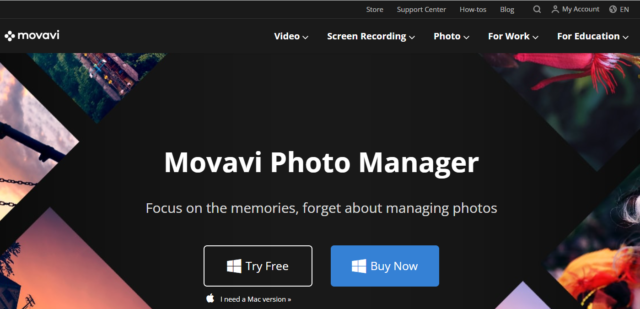 Movavi photo manager offers multiple plans for your photo management, you can choose plans according to what you need, and it is also a photo management software for mac. Movavi helps you sort photo albums automatically from where you store them on your computer. You can also filter or create albums by city, GPS, and date. The function of this photo management software is apparent, and you will not get lost when you use this tool. When it scans your computer, it can remove all the same photos, no worries about your photo duplicate. This software allows you to edit single or multiple images simultaneously.
Moreover, photo editing features such as removing background, flipping, rotating, sharpening, crop, resizing, and text are also equipped here. And the price is reasonable, personal users and company businesses have more options for what they want. And it's straightforward and fast to download; due to the concise user interface and apparent function features, you won't be dazzled when you use it.
Spring is here and Movavi's spring sale offers 80% off. You can use hundreds of stickers, transitions, and effects. Awaken your spring inspiration and make unique travel vlogs with Movavi.
Pros:
Concise and UI and straightforward function features
Automatic Album Creation
Edit multiple images simultaneously
Duplicate photos and restore old photos
Change or remove the image background
3-day free trial after purchased
Cons:
A bit of slow reaction after click
Unclear photos number limitation of each plan
One license only for one PC
Also read: Top 10 Best Image Tagging Tools Review
8. FORM
Price:Pricing based on your needs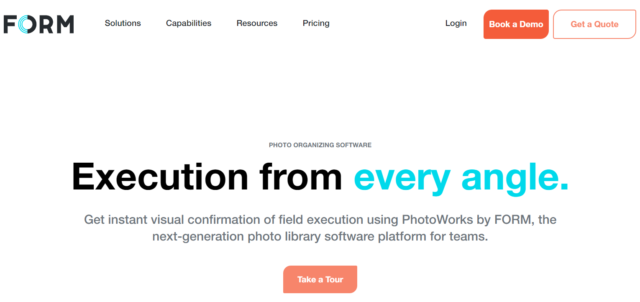 FORM is a comprehensive management software to help with team business. it can automatically organize and update smart albums with dynamic filters for your custom criteria when your teams take photos in the field. It can easily find, sort, and analyze albums of your photos by region, product, date, user, category, and other factors. You can also share collections with stakeholders in JPG, PDF, PowerPoint, or shareable links instantly. In a word, it is a nice tool for your team business management, fast and effective.
Pros:
Easy to operate with photos
Team works preferred
Sharable with JPG, PDF, PPT and links
Track execution everywhere with flexible photo tasks for any process.
Cons:
Complicate to acquire price information
Unclear guidance on the home page
9. Magix Photo Manager Deluxe
Price: $49.99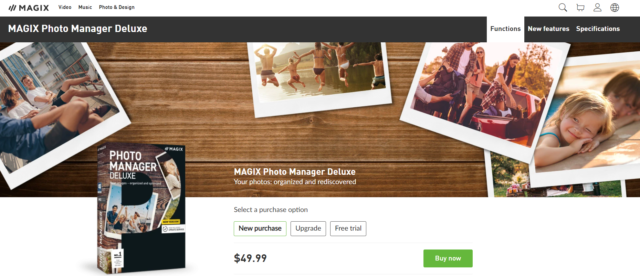 Magix Photo Manager Deluxe is a paid photo management software that enables you to manage and edit your digital visual sources like photos and videos. It has developed vital features such as quick edits, shareable slideshows, and direct photo import from the camera.
One feature is unique of this tool is that it provides password protection, and this is of great help when exchanging your photos online. Users can leverage its adjustable view modes and custom albums to quickly find videos and photos from the photo library. Managing your albums by time, location, facial recognition, or saving address is all available. If you cannot find your target source, it also develops a dark-colored background to help you see them better. I've noticed that there are 3 versions of this Magix photo manager, free, deluxe, and photostory deluxe, my experience, choose the middle one, differences between them are storage size and editing features mainly.
Pros:
Cloud & wireless import photos into your device
Travel route animation and additional slideshow templates
Support of original camera formats (RAW formats) and facial recognition
Burn photos to CD or DVD.
Password protection when online photo exchanging
Cons:
Unknown photo storage limitation
10. SortPix XL
Price: Free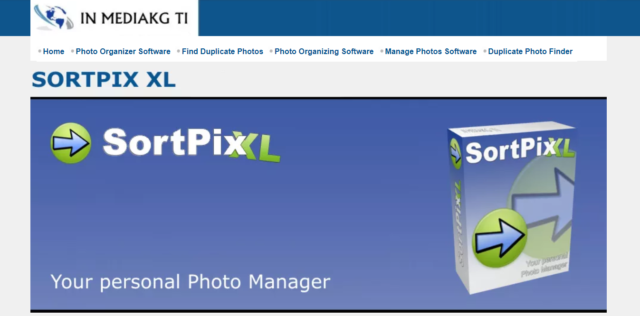 SortPix XL is a free photo management software that helps you manage photos better. As it is a multi-tool for users to address many common problems of managing a photo library. Sorting photos, removing duplicate photos, and even renaming your photo file names are easy for this tool. When you open this tool, you can find the same pictures in your library and remove any that are taking up unnecessary hard disk space on your computer. It is purely photo management software free and no further functions, not like an editing tool, just manage your photos.
Pros:
Automatic find and delete duplicate photos
Free to download
Fast to find duplicate
Cons:
Old fashioned UI design
No further editing founctions
Conclusion
There is a lot more photo management software in the market, but in this article, my favorite ones are Phototheca, Magix, and Movavi; they are easy to use, cheap, and can also manage some photo editing works. However, most software for teamwork is more expensive with complex procedures, but you can look on bynder, Piwigo and Proffiz. If you want the best photo management software for mac, the software here can fit your needs. As you may notice, some photo management software has editing functions, and they charge more; however, sometimes, too many parts may waste a lot of time. For simply photo management, the SortPix XL is good at use. I hope you find the best tools for your photo management.