Bandicam: Lightweight, versatile screen recording for Windows with real-time drawing and webcam overlay. And Google Screen Recorder is also a good alternative to Bandicam.
In today's fast-paced digital world, screen recording has become an indispensable tool for various purposes, from creating tutorials and gaming content to capturing memorable moments. Among the plethora of screen recording software available, Bandicam shines as a lightweight and versatile solution for Windows users. This Bandicam review will delve into the features, capabilities, and user experience of Bandicam to demonstrate why it stands out as one of the best screen recording software options available. And it compares Bandicam with Google Screen Recorder in many ways, so that readers can understand the differences and characteristics of the two and make the best choice!
Bandicam is a popular screen recording software developed by Bandicam Company that is specifically designed for Windows users. It stands out as a versatile and lightweight solution for capturing on-screen activities, making it an ideal choice for various purposes such as creating tutorials, recording gameplay, conducting online lessons, or capturing memorable moments. Bandicam utilizes advanced screen-capturing technology that allows it to record high-quality videos while maintaining minimal system resource consumption.
Features of Bandicam
Bandicam boasts a rich set of features that make it a standout screen recording software for Windows users. Real-time drawing allows users to annotate videos and screenshots directly on the screen as they record. And Bandicam's webcam overlay feature can seamlessly integrate webcam footage into screen recordings, so that content creators can add a personal touch to their videos, fostering a stronger connection with their audience.
Bandicam's scheduled recording feature allows users to pre-set specific start and stop times, allowing the software to automatically initiate and terminate recordings without the need for constant monitoring. For those creating tutorials and demonstrations, Bandicam's mouse effects feature improves the clarity of the content and enhances the overall visual appeal of the recordings. Bandicam screen recorder also caters to users seeking to record audio-only content.
What Can Bandicam Do?
A. Screen Recording Mode
Bandicam excels in its screen recording mode, allowing users to capture the entire computer screen effortlessly. Its support for popular video file formats such as MP4 and AVI ensures compatibility across various platforms. Moreover, users can also take high-quality screenshots in image formats like JPG and PNG.
B. Game Recording Mode
For gaming enthusiasts, Bandicam screen recorder offers a remarkable game recording mode. It can capture both 2D and 3D games with exceptional 4K UHD video quality, preserving every detail of the gaming experience. The software's capture capability of up to 480 FPS ensures smooth and seamless recordings, perfect for sharing epic gaming moments with the world.
C. Webcam/Device Recording Mode
Bandicam goes beyond screen recording by enabling users to record external video devices like webcams, gaming consoles, smartphones, and more. This feature is invaluable for content creators who rely on multiple sources to enhance their recordings.
Bandicam screen recorder offers a comprehensive suite of recording modes tailored to meet the diverse needs of its users. The screen recording mode ensures effortless capturing of the entire computer screen, supporting popular video formats for seamless compatibility. The game recording mode impresses gaming enthusiasts with its exceptional 4K UHD video quality and smooth 480 FPS recording capabilities. Additionally, the webcam/device recording mode extends Bandicam's versatility, allowing users to integrate external video devices seamlessly, making it an indispensable tool for content creators seeking to elevate their recordings. With these three powerful recording modes, Bandicam screen recorder Windows 10 proves itself as a top-notch screen recording software for Windows users.
Using Bandicam is straightforward, even for beginners. Here's a quick step-by-step guide:
Download and install

Bandicam

on your Windows computer.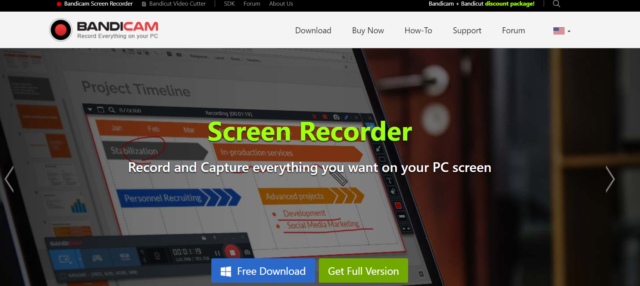 Start Bandicam and choose the 'Rectangle on a screen' mode.
 3. Click the '● REC' button or press the hotkey (F12) to start/stop the recording.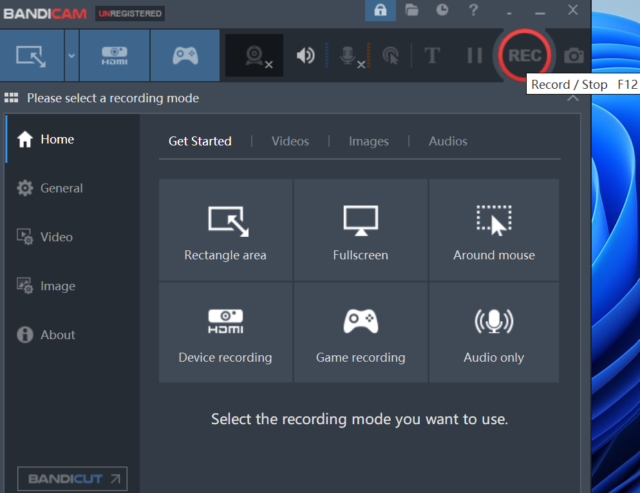 Stop recording when you're done, and the video will be saved automatically.
Bandicam VS Google Screen Recorder
Below is a comparison table from the price, performance, supported max resolution, supporting devices, and use-friendliness between Bandicam and Google Screen Recorder:
| | | |
| --- | --- | --- |
| Feature | Bandicam | Google Screen Recorder |
| Price | Affordable, offers a free version | Free (with limitations) |
| Performance | ⭐⭐⭐⭐⭐ | ⭐⭐⭐⭐ |
| Supported Max Res. | 4K UHD | Limited to HD |
| Supporting Devices | Windows | Limited to Google Chrome |
| User-Friendly | ⭐⭐⭐⭐⭐ | ⭐⭐⭐⭐ |
Based on personal experience, Bandicam excels in terms of performance, versatility, and supported features, making it the preferred choice for serious screen recording needs. While Google Screen Recorder offers a free option, Bandicam's premium features and capabilities make it well worth the investment.
Conclusion
In conclusion, thisBandicam review proves that it is a powerful and reliable screen recording software suitable for various occasions. Its rich features, including real-time drawing, webcam overlay, scheduled recording, and high FPS game capture, make it a top choice for content creators, gamers, educators, and professionals alike. With its user-friendly interface and compatibility with Windows, Bandicam stands as a go-to solution for all screen recording needs. And Google screen recorder is more suitable for people who don't want to download software, but can easily use it on the web.
Whether you're creating tutorials, gaming content, or capturing memorable moments, Bandicam provides exceptional performance and unparalleled versatility. Embrace the power of Bandicam and elevate your screen recording experience today!
FAQs
1. Is Bandicam good for low-end PC?
Yes, Bandicam is a low-end PC screen recording program on the market. With it, you can record online lectures, game clips, and live programs even with a low-end PC. It has three recording modes designed for video recording, game recording, and device recording. So you can use this software with confidence.
2. How to remove the Bandicam watermark?
You need to register and purchase it. If the Bandicam product is not registered, the Bandicam watermark will be added to the recorded videos, and the recording time will be limited to 10 minutes. If you have purchased but still see the watermark, please check the filename appearing, the "Add logo overlay to video" option, and if the program is not installed properly.