Artflow AI is an AI-based art creator app that converts text ideas into visuals, and the article explores its features and its alternatives to provide readers with more options.
Imagine you're a passionate writer, overflowing with vivid descriptions and captivating narratives. As you pen down your stories, you can't help but envision the vibrant worlds and characters you've created. But there's a hurdle – your lack of artistic skills prevents you from visually bringing your ideas to life. Frustrated, you yearn for a solution that can bridge the gap between your imagination and the visual realm. That's where Artflow AI comes in. This groundbreaking application harnesses the power of artificial intelligence to transform your written words into breathtaking AI Art.
In this article, we will explore the wonders of Artflow AI, its capabilities, and how it enables you to make and share your unique creations with the world. We will also discuss alternative options that can further enhance your creative journey.
Artflow AI Review
1. What is Artflow AI?
Artflow.AI is an online application based on Machine Learning and AI-based technologies. A feature that separates Artflow AI from many other photo editing or creation software apps is that Artflow makes use of AI to create visuals on its own. The application simply takes text input from the user and uses its algorithms to create a visual out of the text. The text is meant to be a creative idea that the user enters, upon which the system interacts.
The AI and Machine Learning algorithms essentially work as interpreters and creators. The text and the overall idea behind the text are interpreted by the algorithms through the real-world data it possesses and tries to display it visually as accurately as possible.
Also read: Top 10 NFT Art Makers Review 2023
2. What can you do with Artflow AI?
A technology like Artflow AI can be used for many purposes and in multiple different fields. Not to mention that text-to-visual converters are something that many photo editing apps are currently adopting. These techniques are highly useful for making NFTs, because this process involves purely the user's creative ideas, reducing the possibility of stealing others' ideas and overall duplicity.
Similarly, you can definitely create interesting and unique art just through your ideas on Artflow. This application is free to use and requires no downloads or account creations. Additionally, you don't even need to engage in complicated photo editing processes in order to create something. This makes Artflow a highly accessible platform.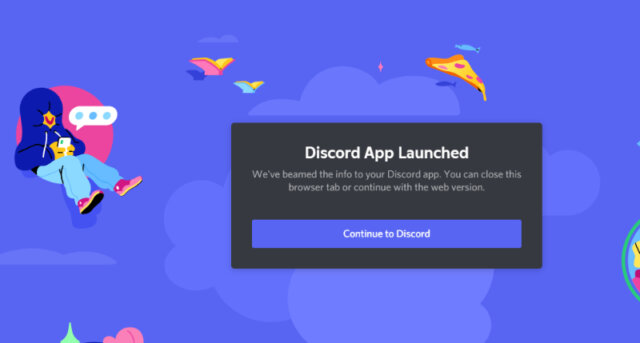 Other than that, Artflow AI also offers a community feature. They have their own popular and active Discord server, wherein you can share your artwork with everyone while you browse through others' artwork as well.
3. How to use Artflow AI?
You wouldn't find many Artflow tutorials around since the application is easy and automatic, but here's a simple, definitive step-by-step structure on how to use Artflow:
First, click on the Artflow link to gain access to the website. The website has a very simple UI and presents the application upfront. The other pages include all kinds of info regarding the app and its technology.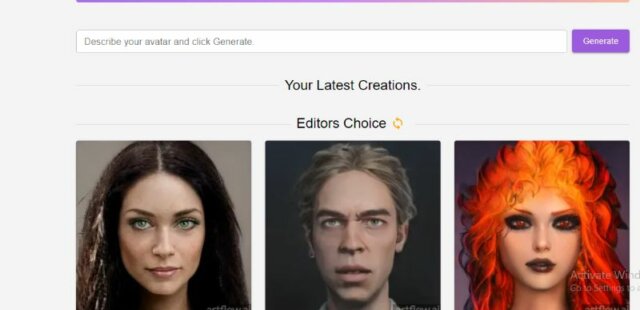 You can simply start typing in the text box. Type in any idea that you have and click on Generate to proceed. The application will start processing and creating the visual for you.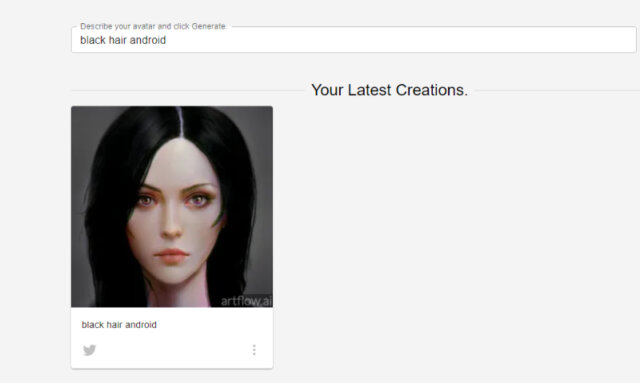 Finally, you will see the visual presented on the screen. You can instantly share it through Twitter by using the Twitter icon at the footer of the image. By going to more options, you can remove the image as well.
Best 5 Artflow AI Alternatives
1. VanceAI Art Generator--The Best Free AI Art Generator
Price: Free & Paid (4.95$-17.95$/mo)
If you are a lover of Artflow AI, I think it will be a pity that you don't know VanceAI Art Generator, it can generate your AI paintings through the art keywords you enter, and you can also choose creative prompts, art types or art styles you like, and the AI system will refer to your opinions to generate a unique painting. The best free ai art generator also supports you to get best ai generated art by adjusting the Image Size on the AI image generator workspace.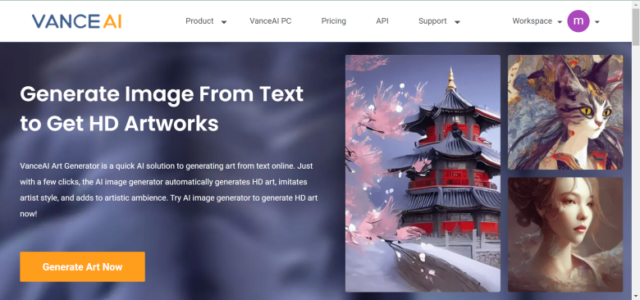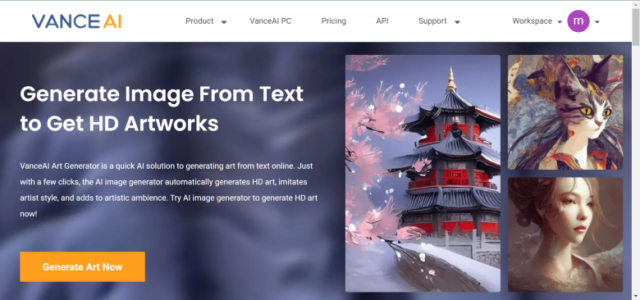 Pros
Fast AI art generator
Support HD Output
Data Security Guaranteed
Cons
Trials Limited
Random output
Not manufactured in bulk
2. Fotor--The Best AI Image Generator
Price:
Free & Paid (3.33$-7.49$/mo)
Fotor AI Art Generator is one of the best ai art generators that utilizes artificial intelligence algorithms to transform regular photos into artistic and creative masterpieces. It offers a range of artistic styles and effects to give your images a unique and visually appealing look.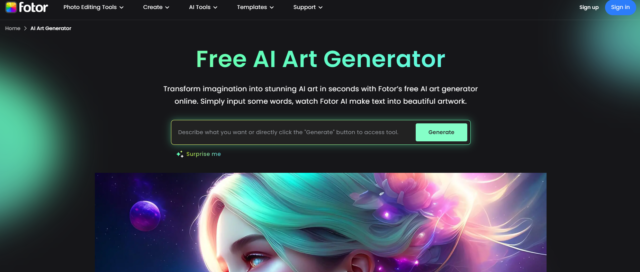 Pros
Artistic Transformation
Versatile Styles
Customization Options
Cons
Watermark and Subscription
The output level is relatively limited
3. Vanspotrait--Make AI Art of Sketch Style
Price: Free & Paid (4.95$-17.95$/mo)
The VansPortrait offers a really great level of flexibility to users due to its two main features. Users can upload an image and choose to either turn photo into line drawing or make it a cartoon-styled artwork. This gives more options, especially with the same image. VanceAI apps, including VansPortrait, are all automatic since they are powered by AI and Machine Learning technologies. With this app, you get automatic results that are also high quality.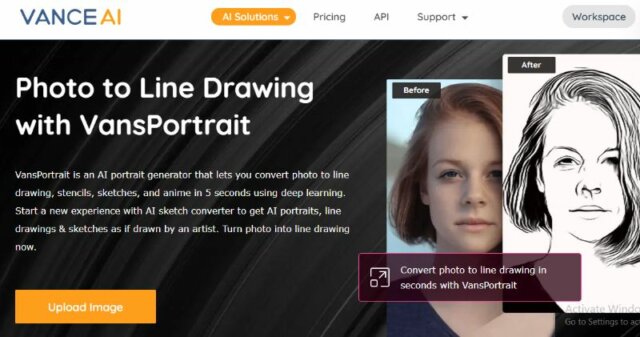 Pros
Great results.
Powerful AI-based technology.
Intuitive and efficient UI design.
Cons
Limited free use.
Line drawing can have more presets.
4. Nightcafe
Price:
Paid (5.99$-49.99$/mo)
The Nightcafe AI art generator is a powerful tool that utilizes artificial intelligence to generate unique and creative artworks. One of the best free ai art generators employs deep learning algorithms to understand and mimic various art styles, allowing users to create digital paintings, illustrations, and designs. And it also has various models and styles to give users a better user experience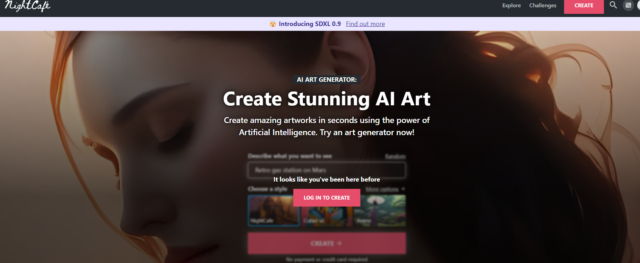 Pros
Efficiency and Speed
Exploration of Styles
Cons
Long queues in image generation
5. Hotpot
Price: Free & Paid
The Hotpot AI art generator is an innovative tool that utilizes artificial intelligence to create unique and visually stunning best ai generated art. This best ai image generator combines the power of machine learning algorithms with artistic techniques, allowing users to generate a wide variety of artistic styles and compositions with just a few clicks.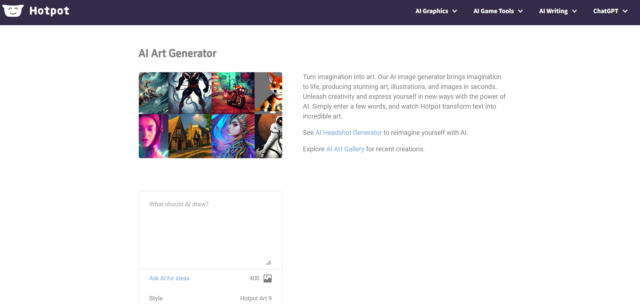 Pros
Time Efficiency
Exploration of Styles
Customization Options
Cons
The artwork may not be as the user expects.
Processing may take longer for free users.
Conclusion
In conclusion, Artflow AI is a game-changing application that revolutionizes the creative process by transforming text ideas into visually stunning artwork. As reviewers, we were captivated by the seamless integration of AI and machine learning algorithms, which interpret and transform users' creative concepts into remarkable visuals. The accessibility and simplicity of the platform allow individuals without extensive artistic skills to unleash their creativity and bring their ideas to life. We were particularly impressed by the community feature, which fosters collaboration and inspiration among artists.
Moreover, the exploration of alternative options showcases the versatility of AI-powered art creation and offers users a range of tools to explore and expand their artistic endeavors. Overall, Artflow AI has the potential to revolutionize the way we create and share art, opening doors to unlimited creative possibilities.
Latest post: AI Camera: Carry a Professional Photographer in Your Pocket