The article discusses the benefits of using AI in fashion design and production, including increased efficiency, cost savings, and reduction in waste. It highlights various ways that AI can be used in the fashion industry, such as predicting trends, optimizing supply chain management, and improving customer engagement.
The fashion industry is seeing a huge transition in terms of designing or sketching clothes. Traditionally, designers used to hand-sketch their ideas on paper and then imagine which color or style will look great on models. Now, many professionals, as well as amateur fashion designers, are opting for 3D fashion design software, as it helps them see a realistic version of their designs in real-time.
Do you want to know more about them? Here is our pick of the top 10 3D fashion design software.
Also read: Top 10 AI Graphic Design Tools Review.
Top 10 3D Fashion Design Software Review (Updated April 2023)
This is a general overview table made by us, if you want to see our more detailed review, please keep reading:
| Product Name | 3D Performance | User-Friendliness | AI Based | Free or Paid |
| --- | --- | --- | --- | --- |
| CLO | ★★★★☆ | ★★★★☆ | ✅ | Paid |
| Virtuality Fashion | ★★★★☆ | ★★★☆☆ | ❌ | Paid |
| Browzwear | ★★★☆☆ | ★★★★☆ | ✅ | Paid |
| Tailornova | ★★★☆☆ | ★★★★☆ | ❌ | Freemium |
| TUKA3D | ★★★★☆ | ★★★☆☆ | ❌ | Paid |
| Danit Peleg | ★★★★☆ | ★★★★☆ | ✅ | Paid |
| Optitex | ★★★☆☆ | ★★★★☆ | ❌ | Paid |
| Grand Studio | ★★★★☆ | ★★★☆☆ | ✅ | Paid |
| Learn 3D-Fashion | ★★★☆☆ | ★★★★☆ | ❌ | Free |
| The Fabricant | ★★★★☆ | ★★★☆☆ | ✅ | Paid |
1. CLO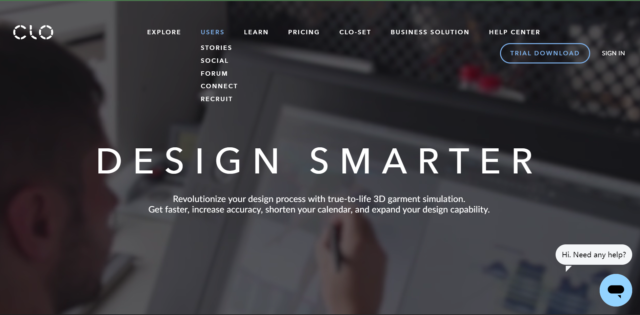 CLO is one of the most popular 3D fashion design software in the fashion industry. It boasts of having hundreds of pre-made textile pattern designs which you can use for your own designing ideas. Other features of CLO include sewing & tracking, fabric kit, Avatar, Fit Check, Animation Runway, 3D Garment Edit, etc.
The best thing about CLO is that it allows you to show your designs to your customers before you have to cut an actual garment and hence saves your time as well as money, spent on making samples.
If we talk about its pricing, it's available for a free trial for individuals for 30 days. For business purposes, one has to pay $50 USD per month and for students, CLO is available for $450 USD a year.
Pros:
CLO fashion design software is cross-platform, which means that you can use it on a PC or a Mac.
Cons:
Unavailable on iOS and Android
2. Virtuality Fashion
Virtuality Fashion is another great option for clothes designing software. To avail of its services, you'll have to install its plugin on any fashion design software of your choice such as CorelDRAW and InDesign. Then, you'll have to upload your design/sketch to receive a 3D visualization of your submitted design.
And, as per their claim, their final 3D Hi-Res Simulations are so realistic that they will attract prospective buyers online. They also have a Virtual Showroom feature that allows users to share their creations with potential buyers and get immediate feedback.
Now, let's talk about the pricing of this 3D clothing design software. To get the 3D virtual prototype for T-shirts, shorts, and tights (Basics), the rate starts from $99, and for the shirts, polos, pants, and light dresses (Fast Fashion), the rate starts from $149. And, for Tech and outdoor wear and jackets, the price starts from $349.
Pros
The website accepts any file format including pictures, hand sketches, and patterns.
Cons
It doesn't have a dedicated help section or FAQ section, to help consumers with queries.
3. Browzwear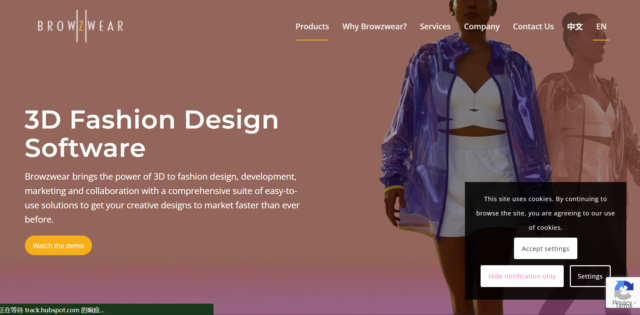 Browzwear is the best 3D fashion design software option for large industry retailers. It has several modules like Vstitcher, Stylezone, Lotta, and Fabric Analyzer. These modules help the designer and production team to design, fit, merchandise, and present the product to potential buyers.
Just like CLO, Browzwear also works on both Windows and Mac computers. The only drawback of this 3D clothing design software is that it is mainly available for corporate employees only. However, Indie Program for individual designers is also available, but one has to apply and be accepted in order to avail of its services.
Pros
Available on Windows and Mac computers.
Cons
Exclusive for corporate employees only.
4. Tailornova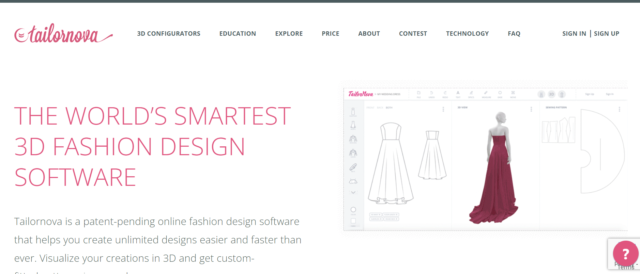 One of the uniquely built clothes designing software in 3D, Tailornova offers users to create unlimited designs in an easy and fast way. A digital sketch board is available, where designers can create their designs and then lay them on the 3D structures to check for stitching and fitting.
The best thing about Tailornova is that it is 100% web-based and therefore no installation is required. All you need is a Chrome browser and an internet connection! Another good thing to know is its subscription cost, just $29 dollar per user per month.
Some of the main features of Tailornova include FitModel, Vector 2D Flat Sketches, Sewing Instructions, Automated Pattern Measurements, etc.
Pros:
Easy to use, thanks to helpful tutorials.
5. TUKA3D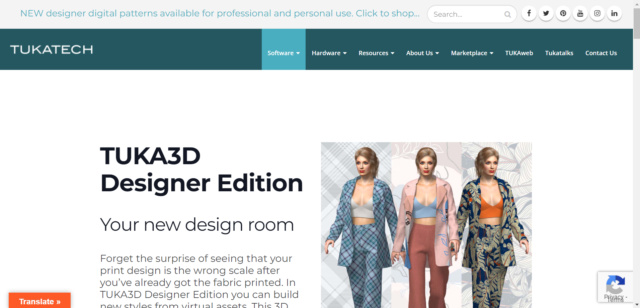 TUKA3D fashion design software focuses mainly on the perfect fitting of the garment. Its 3D Fit Software allows you to host fit sessions on customized virtual TUKA3D models.
With this tool, you can evaluate the clothes' looseness or tightness through 3D virtual sampling in five visual ways namely stretch, weft, warp, pressure, and x-ray.
Pros:
The monthly subscription fee for TUKA3D is $29 dollars.
Cons:
TUKA3D works only on a PC.
6. Danit Peleg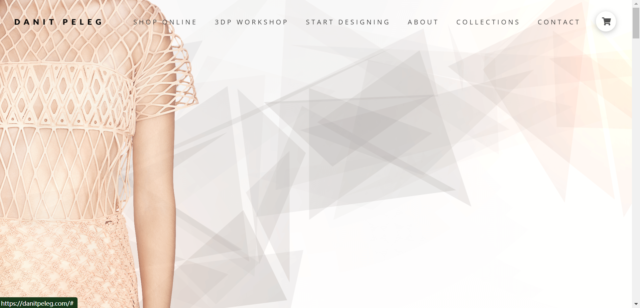 Danit Peleg is a world-famous fashion designer, best known for her revolutionary work in 3D clothing design. She created the world's first 3D-printed jacket and was named as one of the BBC 100 Women for the year 2019.
Danit launched a unique feature on her website in 2017, that allowed customers customize their 3D printed clothes, and then order them. In 2020, Danit made digital files clothes that were 3D printed available on her website, which customers could download and print on any 3D printer! You can shop online on Danit's website for 3D garments as well as enroll in the 3D Printed Fashion course for $289 USD.
Though this website is great for someone who is interested in learning about 3D clothing, it doesn't offer much space for creating your own designs.
Pros:
Great learning platform for students.
Cons:
Not for professional designers.
7. Optitex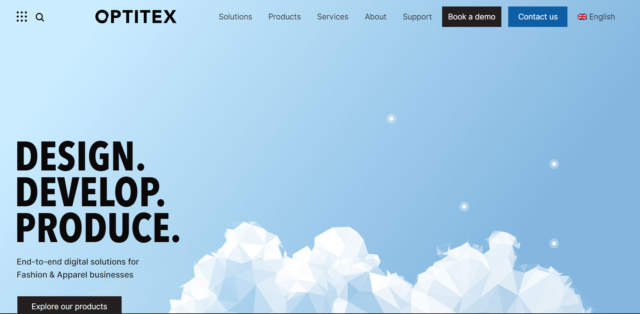 Optitex is considered one of the most accurate 3D fashion design software for photorealistic rendering and pattern fit. Some of its main features include Accurate Fabric Simulation, Colorways, Print Placement, Virtual Tension Map, Multi-Stitch Tool, Avatar Editor, etc.
The company's background is in 2D and 3D CAD software especially for fashion design, which makes it one of the best 3D fashion design software to use.
Pros:
Background in 2D and 3D CAD software.
Cons:
8. Grand Studio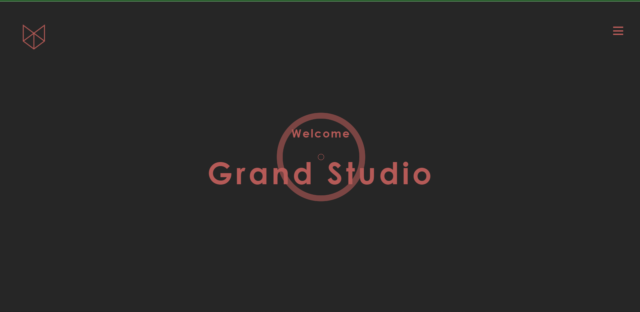 Grand Studio is not a typical fashion design software, but an international design consultancy in apparel, products, and graphics related to sport and street culture. As the name suggests, on this website you will find a portfolio in different categories like 3D Apparel, Graphics, Lifestyle, Allover Prints, Gloves, etc.
The company's website doesn't mention anything specific about its work profile. It looks like the website is still in the development phase.
Cons:
No space for either learning or designing 3D clothing.
9. Learn 3D-Fashion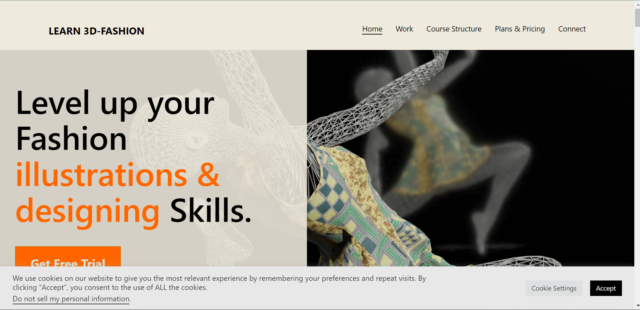 Learn 3D-Fashion, as the name itself suggests, is a learning platform made by Vivek Pujari, a graduate of NIFT. This website is a great platform for students of fashion designing to learn about 3D clothing design.
The course structure is divided over 7 weeks with each week dedicated to one single topic. In order to get enrolled in the course, you'll have to pay $390. Other benefits of this course include a completion certificate, unlimited live classes until you become a pro in 3D fashion, personal support, lifetime access to the 3D community, etc.
Pros:
Offers courses on 3D clothing design.
10. The Fabricant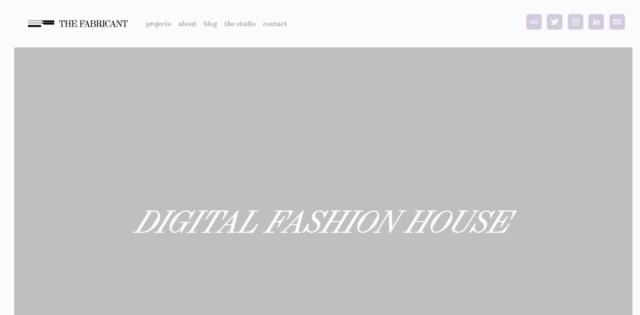 Based in the Netherlands, The Fabricant company was established as the first digital fashion house. Now, with their The Fabricant Studio feature, users can design digital 3D clothing in the metaverse. They can wear the clothes digitally and even sell them themselves as NFT.
The Fabricant is great for those who are interested in NFT and digital clothing. However, for professional designers who want to sell their products in the real physical world, this may not be a good platform to use.
Pros:
Great platform for learning and earning.
Cons:
Limited to the digital world.
Conclusion
The world of 3D fashion design software is here to stay and slay, for not only fashion designers but all of us. Who knows, in the future, we'll all end up designing our own clothes and printing them using 3D technology?