We live in a world where photos play an important part in content marketing. If you want to give a better experience to your users on social media or your website, high resolution images should not be overlooked. Moreover, high-quality images become more important when you do offline marketing. When you walk on a street, large posters can always attract your attention. The same is true to your users.
But high-resolution photos are not easily made. In many cases, the images you save online or shoot with your camera look not clear enough with low resolution. To produce high-resolution photos, you need to shoot with professional gadgets and acquire many post-processing skills. Is there any way out? For individuals who don't want to tinker around with complicated tools, Topaz Gigapixel is a good choice. You can also read this popular post for best AI tools to increase photo resolution online or in software: Top 15 Best Image Upscaler Review 2023.
In this AI Gigapixel review, we will give you more details about Topaz Gigapixel, including its pros and cons, how it works, its performance, and more. Want to find out alternatives to Topaz Labs products? Check out in this post: Best 10 Alternatives to Topaz Labs Products Review 2023.
How to Increase Resolution of Image with Topaz Gigapixel AI?
Gigapixel AI is easy to use. With this software, you don't need to have extra photo editing skills. Here is a simple instruction. Tip: if you already download the software, you can skip the first two steps.
Step 1 Download Topaz AI Gigapixel
Click on "Try for free" from the official website of Topaz Gigapixel. To download the free trial version of Topaz AI Gigapixel, you need to enter your email address. Once you do so, you will receive an email with two download links. You can choose to download mac or windows version, which depends on your computer system.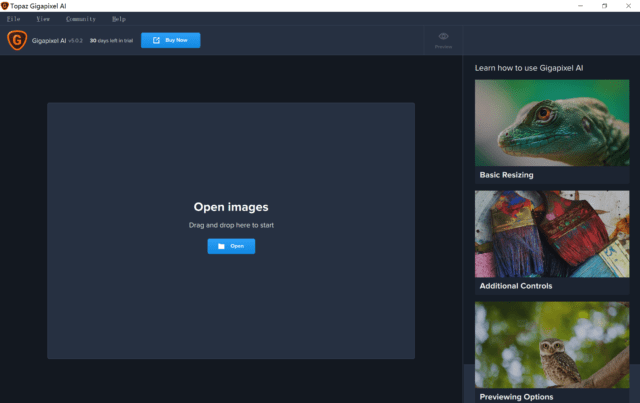 Note: You can enjoy the free service for 30 days. Once it expires, you need to upgrade for all features.
Step 2 Install Topaz Gigapixel AI
Click on the link in your email and you will be able to download the software package of about 25MB. Then follow the step-by-step guide to install it on your computer.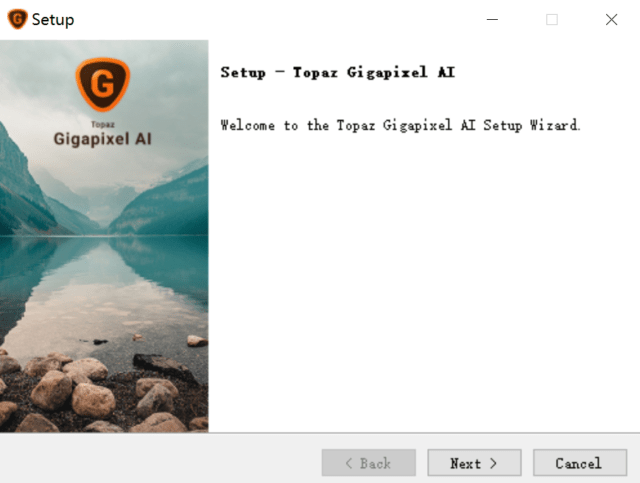 Then launch Topaz Gigapixel AI and click "Start Trial" and you will see a quick tutorial.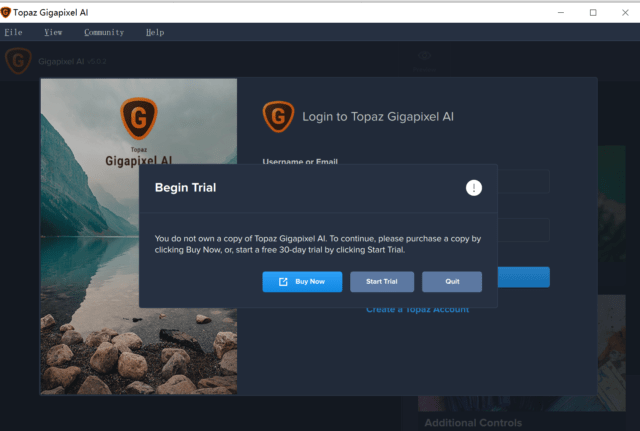 Step 3 Upload an image to Topaz Gigapixel
To start with, you can upload an image by clicking "Open" icon in the middle of the interface. Dragging or dropping images from your computer is also very convenient.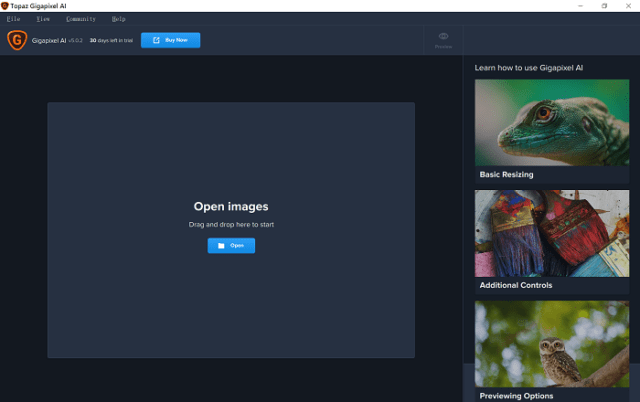 Step 4 Convert low resolution image to high resolution up to 6x
You can choose a scaling value, such as 2x, 4x, or 6x. Gigapixel AI gives you more flexibility when enlarging images. It allows you to resize images by width or height. As you change the height, the width of images will be adjusted automatically to keep the aspect ratio.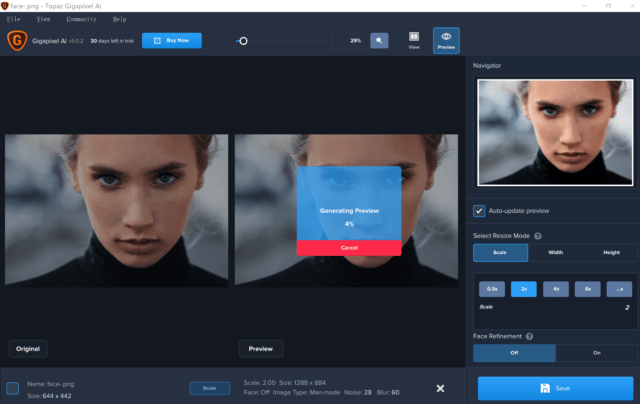 Optional 1: Set PPI
You can preset PPI (Pixels Per Inch). 300 PPI is a common choice. If you choose 300 PPI and your width is 8 inches, you will get an image with a minimum of 2400 pixels in width.
Optional 2:Refine images by removing noise or blur
Apart from increasing resolution of image, Gigapixel AI also allows you to suppress noise and get rid of blur. It makes your image clearer by reducing shakiness or misses focus. Move the two sliders if you want to further refine your image. But this is an optional step and you can skip it if the preview result
Step 5 Save high-resolution image to your computer
You can save the high-resolution image to the same location as the source image. Click "custom source" to change the directory. The filename can be changed. Different image formats are available, including jpg, jpeg, tiff, tiff, and png. But you can just choose the same format as the original image.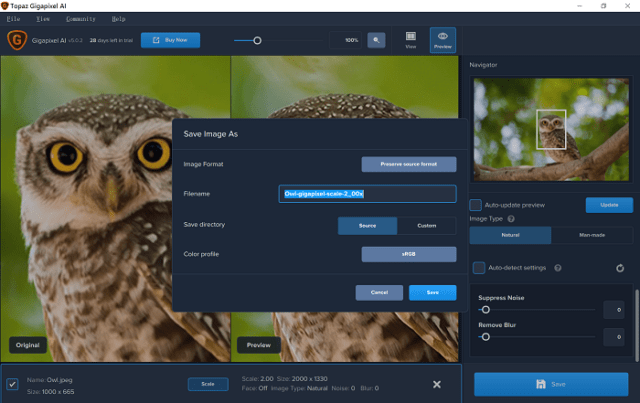 What is Topaz Gigapixel AI?
Price: $99.99
Compatibility: Windows & Mac
Topaz Gigapixel AI is an AI-powered tool that lets you fix low resolution photos effectively. This software allows you to enlarge images up to 600%.
With the AI tool to increase resolution of image, you can crop any parts of your images and enlarge the cropped images without distortion. It can work as a standalone application or plugin in Photoshop.
What's unique about Topaz Gigapixel AI is that it adopts face refinement to enlarge human faces more accurately. It can identify and enlarge small faces (16×16 px to 64×64 px).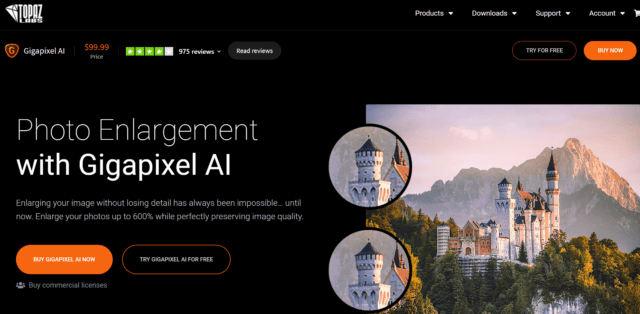 Pros
Fix low resolution photos with neural network
Remove noise and get rid of blur
Easy to use with an intuitive interface
Enlarge images up to 6x
Support batch processing
30-day free trial
Cons:
Price is higher than most tools on market
High requirement for your system
Single function, lack editing tools
System requirement of Topaz AI Gigapixel

What are Features of Topaz Gigapixel AI?
1. Increase resolution of image with neural network
What's behind Topaz AI Gigapixel is its neural network, which has been fed with millions of low-res and high- res images of various objects. This neural network has learned how to increase the resolution of an image and preserve real details during enlargement. Topaz AI Gigapixel also optimizes the experience by letting its AI engine use the graphics card in your computer to process images quickly.
2. Fix low-resolution photos with automatic face refinement
Enlarging faces without losing quality has been a challenge. But Gigapixel AI can easily handle it through automatic face refinement. Gigapixel AI claims that it can seamlessly make faces in images bigger without distoring them.
3. Create tack sharp results easily with Topaz Gigapixel
Gigapixel AI is one of the rare AI tools that recover details in your images. This is possible through machine learning. By adding more details, your images become clearer and more lifelike. Plus, you can suppress noise and fix blur with Gigapixel AI, which produces tack sharp results.
How well does Topaz Gigapixel work?
Check out this video below to see how well it works. If you want to see directly how good it is at generating high-resolution images, you can jump to about 6 minutes of this video.
FAQs
1. How to convert low resolution image to high resolution in batch with Gigapixel AI?
The great part about Gigapixel AI is that you can enhance image quality for multiple images at the same time. If you have a bunch of images to fix, you can upload all of them to Gigapixel AI by clicking its "Open" icon. Then you need to check "Select All" so that you can apply the same settings for quick processing. Then you can save these high resolution images to the directory you set.
2. How to find my password when I log in Gigapixel AI?
You need to log in with the email address and a password. The email address is exactly the one you entered when you try to access the download link. The problem you might have is that you can't find a password in your email. If you registered on Topaz before, you would receive an email with a password. Enter that password to log in Gigapixel AI.
Summary
Gigapixel AI is a handy tool if you just want to fix low-resolution photos. It produces high-res images, which you can print out or make into posters. Batch processing is a feature of this software. The downside of Gigapixel AI is that it comes with no editing features and the price is much higher than most of its rivals.
For more useful tools to increase resolution of image, check out Top 10 AI Tools to Depixelate Image.