Create stunning digital portraits with these 10 incredible tools that offer a variety of features, including AI-powered portrait generators, online painting effects, and digital painting services. These tools help to boost your creativity and create unique and beautiful works of art.
Are you struggling to improve your creativity in digital portrait painting without expert training and tools? Do you want to create a masterpiece in the field of digital portraits? I understand that it might be tough to improve your creativity in any digital portrait industry without expert training and tools.
This guide offers 10 incredible digital portrait painting tools to help you create a masterpiece. Whether you're a studio recluse, digital portrait artist, or abstract self-portrait artist on the road, we've got you covered. In this article, we will address the common user pain point of finding the best digital art software available and provide solutions through our recommended products.
Ten Digital Portrait Painting Tools Boost Your Creativity
| Property | VansPortrait | ConvertImage | SketchthePhotos | Doozypics | Oilpixel |
| --- | --- | --- | --- | --- | --- |
| Price | $4.99/month to $24.99/600 times | Free | Price upon inquiry | ₹1,050.00 | Price upon inquiry |
| Supported Image Types | All | All | Portraits, cartoons, etc. | Portraits | Portraits, landscapes, etc. |
| Optional Art Styles | Line drawing, sketch, cartoon | Oil painting style | Customizable | Hand-painted oil paintings | Hand-painted oil paintings |
|   |   |   |   |   |   |
| Conversion Time | Approximately 5 seconds | Less than 1 minute | Price upon inquiry | 3-5 working days | Price upon inquiry |
| Conversion Quality | High quality | Medium quality | High quality | High quality | High quality |
| System Platform | Browser-based | Browser-based | Website-based | Website-based | Website-based |
|   |   |   |   |   |   |
1. VansPortrait
Price: 

$24.99 for 600 credits for Pay as you go, $9.9 monthly, $4,99 per month for an annual subscription.

Notable features: Custom hand-drawn portraits, multiple styles, and fast delivery

Connectivity: 

Virtual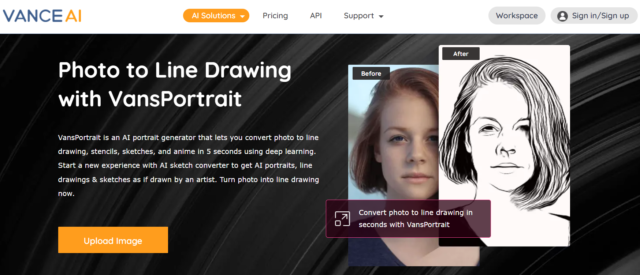 VansPortrait is an AI portrait generator that uses deep learning to turn photos into line drawings, stencils, sketches, and anime in 5 seconds. Begin a new adventure with an AI sketch converter to create AI portraits, line drawings, and sketches that seem like an artist made them.
Now, you can convert the snapshot into a line drawing.  Its AI picture outline creator is sophisticated enough to recognize the lines in pictures and transform them into drawings using GAN, a deep learning technology. Try this AI sketch converter if you want to post something unique and get more likes on Pinterest and Reddit. Now, convert photos to line drawing online or turn them into an anime.
Pro:
You may automatically convert a photo into a line drawing or a stencil with the free stencil.

After 24 hours, all uploaded photographs are permanently deleted. Use VansPortrait with confidence.

VansPortrait is much more than a simple sketch conversion. They have introduced a new Anime AI, which allows you to convert an essential selfie to anime.
Cons:
How to use VanaPortrait?
Step 1: Upload an image.
Step 2:  Here are two modes you can choose, Sketch and Anime, so just select a mode and click "Start to Process." And here is the picture shows you where to find the options.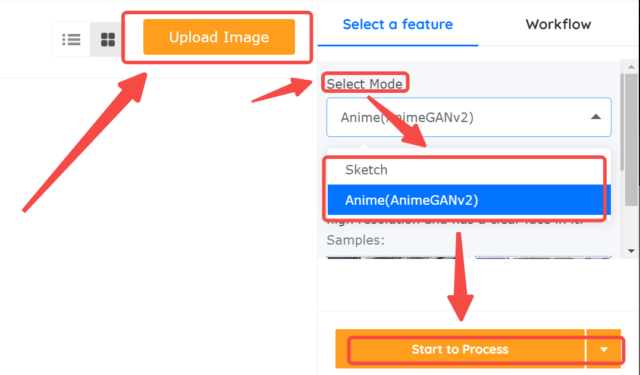 Step 3: Download the processed photo.
If you are also interested in VanceAI's other products, here's an article about its photo retouchers. Check it out  VanceAI Portrait Retoucher Review: Back to The Perfection
2. 

ConvertImage
Price:  Free
Notable features: Hand-drawn sketches, multiple styles, and quick turnaround time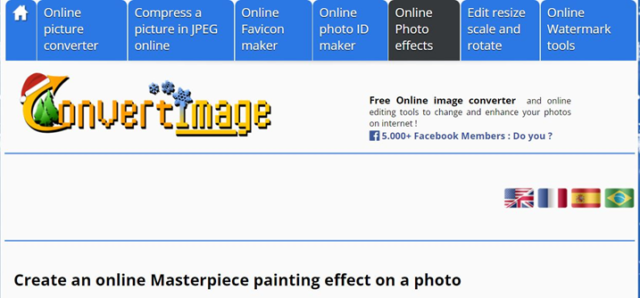 ConvertImage is a convenient online tool that enables users to convert and edit images with ease. The platform supports a wide range of file formats, making it suitable for various purposes and user needs.
Among the key features of ConvertImage are its user-friendly interface and the ability to apply various editing options, such as cropping, resizing, and adding filters. This versatile tool allows users to optimize their images quickly and efficiently.
A potential downside to ConvertImage is the limited advanced editing capabilities. Users looking for more in-depth editing options may need to explore alternative tools to achieve their desired results.
Pro:
You can choose from four different brush sizes to add tremendous depth to your image.

Their online painting impact is much easier to master than learning how to use oil painting or acrylic.

You can quickly convert images in various formats, like, JPEG, PDF, etc.
Cons:
3. 

SketchthePhotos
Price: 

After placing the order, the pricing will be revealed.

Notable features: Range of digital art styles, user-friendly, and fast turnaround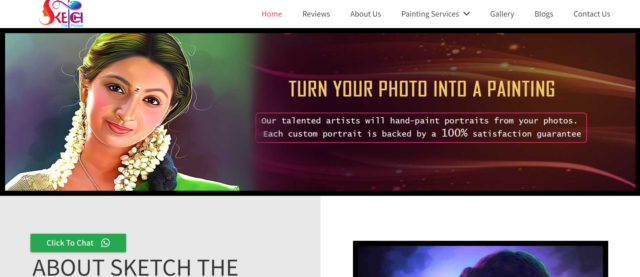 Sketchthephotos (www.sketchthephotos.com) is a company that specializes in creating online artwork, including pencil drawings, charcoal doodles, and digital abstract paintings, both in the United States and around the world. They have various professional Sketching packages available, each of which has its unique features and benefits.
SketchthePhotos provides a distinctive photo-to-sketch service where customers can turn their photos into hand-drawn sketches in a variety of styles. Customers can personalize their experience by selecting from different styles such as pencil, charcoal, and watercolor sketches.
Pros:
Provides a variety of choices for converting your image to meet your needs.

Deliver your order to your home with exceptional packaging and courier services.

The customer's data or images will not be disclosed. Using their services is risk-free.
Cons:
Not support automatic converting images by customers.

There is no free service offered.
4. 

Doozypics
Price: 

₹1,050.00

Notable features: Custom digital oil paintings, high-resolution output, and professional artists

Doozypics (www.doozypics.com) is a digital art platform that allows users to transform their photos into eye-catching artwork. The service offers a variety of art styles, such as oil painting, pop art, and color pencil sketches, to suit individual preferences.
With a user-friendly interface, Doozypics makes it easy for customers to upload their images and choose their desired art style. Objects that draw your attention away from the picture can be removed. You may modify the backdrops tweak the colors.
While Doozypics offers a range of creative options, some users may find the selection of editing tools limited compared to other editing platforms. However, the focus on digital art styles and simplicity of use may appeal to many users.
 Pros:
The softcopy is a digital copy of the artwork provided through email in HD JPEG/PNG format.

Artwork created digitally with a Wacom tablet and a stylus pen.

The artwork will be tailored to the customer's specifications.

The artwork will be displayed on premium Artistic canvas and framed in a standard synthetic black/brown frame.
Cons:
Softcopy turnaround time: 3 to 5 business days.

Hardcopy Timeframe: It takes around 10 to 15 working days, including shipping

.

There is no free service offered.
5. 

Oilpixel
Price: 

After placing the order, the price will be revealed.

Notable features: Custom digital oil paintings, high-resolution output, and professional artists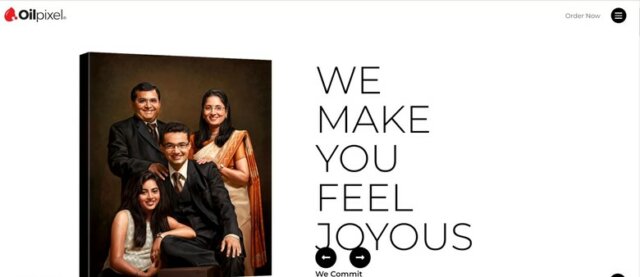 Oilpixel (www.oilpixel.com) specializes in creating custom digital oil paintings from customers' photographs. The platform employs professional artists, who can use their skills to transform ordinary images into stunning works of art, to joint the development of this tool.
The key features of Oilpixel include the high-resolution output of the final product, which ensures excellent print quality. The platform offers various size options, catering to customers' specific requirements. Its digital brushstrokes produce a piece of art- portrait painting, picture restoration, photo finishing, or photo manipulation- that brings out your emotions powerfully. 
A possible drawback of Oilpixel is the limited range of art styles offered compared to other platforms. However, for customers seeking high-quality digital oil paintings, Oilpixel's specialized focus may be a strong selling point.
Pros:
Talented artists will paint it to perfection, whether it's a self-portrait, a relationship portrait, a child portrait, or something else.

They provide Handmade Digitally Drawn Couple Portrait Paintings.
Cons:
There is no free service available.

It doesn't support automated picture conversion by customers.
6. INSTAPAINTING
Price: little as $49.
Notable features: Hand-painted artwork, various art styles, and worldwide shipping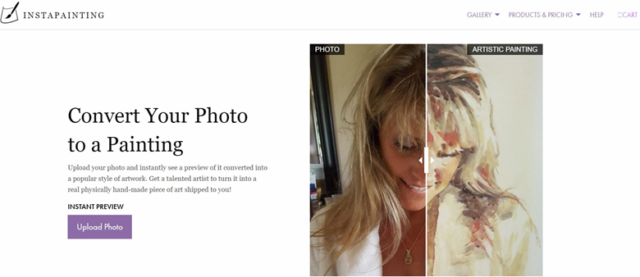 INSTAPAINTING is a platform that connects customers with skilled artists who create hand-painted artwork based on photographs. The service offers an array of art styles, including oil painting, watercolor, and pencil sketches.
Among the notable features of INSTAPAINTING are the ability to commission artwork in various sizes, the option to review and request revisions before finalizing the piece, and worldwide shipping. The platform ensures that customers receive a unique, high-quality artwork that meets their expectations.
One potential downside of INSTAPAINTING is the higher cost and longer turnaround time compared to digital editing services. However, the hand-painted nature of the artwork and the level of personalization may justify the additional investment for many customers.
Pros:
You may submit your photo and see how it will look like a painting in several styles with only a few clicks.
The tool is free and straightforward to use.
One of their skilled painters will hand-paint your photograph or favourite photo as a work of art in one week and mail it directly to your house.
Cons:
Limited services
Doesn't support automatic image conversion by customers.
7. Fotor
Price: Free, Basic ($0/mo); Pro ($8.99/mo)
Notable features: Intuitive interface, comprehensive editing tools, and online access

Fotor is an online photo editing platform that offers a comprehensive suite of tools for users to enhance and customize their images. The platform is designed to be user-friendly, catering to both beginners and experienced editors.
The key features of Fotor include a wide range of filters, effects, and editing options, such as cropping, resizing, and adjusting brightness and contrast. Users can also create collages and design graphics with Fotor's built-in templates.
A possible drawback of Fotor is its reliance on an internet connection, which may limit access for some users. Additionally, while Fotor offers a generous selection of tools, advanced users may find the platform's capabilities insufficient for complex editing tasks.
Pros:
GoArt provides a new and inventive method to create art.
GoArt offers over 50 different painting filters and styles to select from.
You may start for free as a trial, and they also offer student discounts.
Cons:
Editing capabilities are limited.
Essential software features necessitate a premium profile.
8. Befunky
Price: $9.9 monthly/ $59.88 annually
Notable features: Easy-to-use interface, versatile editing tools, and creative effects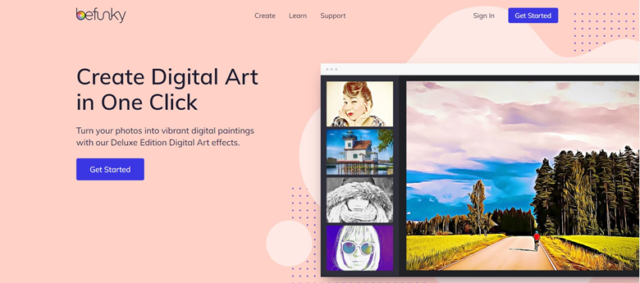 BeFunky is an accessible photo editing platform that provides users with a variety of tools to enhance and customize their images. The platform's interface is designed to be user-friendly, making it suitable for both beginners and experienced editors.
BeFunky offers a range of editing tools, including cropping, resizing, and color adjustment options. Users can also apply creative effects and filters to give their images a unique look. Additionally, the platform features a collage maker and graphic design templates for added versatility.
One potential drawback of BeFunky is the limited advanced editing capabilities, which may not satisfy the needs of professional users. However, for casual users and those looking for a simple editing solution, BeFunky offers an appealing option.
Pros:
A plethora of functions and editing tools
It's free absolute creative power over your artworks that isn't as complex as Photoshop.
You can keep your BeFunky images private (the public can't see them) and yet see other people's artwork.
BeFunky will not save any personal information that you do not provide.
The site is not crowded with advertisements.
Cons:
It does not have a function for creating picture collages or an eraser tool (which was inconvenient!)
If you opt to have a paid BeFunky account, the site may need to use your credit card information, which may be an issue for specific users.
9. Krita
Price:  Free
Notable features: Open-source software, comprehensive editing tools, and customizable interface

Krita was created in 2005 as a design application geared primarily toward digital painting. It is also popular among matte painters, concept designers, and comic illustrators for use in creating two-dimensional animations.
The program is mainly used for painting and illustration, although it can be used for any form of creative activity, including image generation and alteration. Another significant aspect of the application is the variety of filters and brushes available, allowing for maximum freedom and a less constrained working process.
Pros:
Krita provides users with an immensely diverse set of brushes, allowing them to complete artistic freedom.
The Krita Foundation provides a wealth of instructional materials to assist you in becoming acquainted with the software and its features.
It is free, so you do not need to buy or rent it!
Cons:
It lacks the breadth of functions seen in Photoshop.
Some capabilities, such as layer modes and transformation tools, may appear to novice users to be unintuitive and perplexing.
Brush motions that are too fast may cause the software to lag somewhat.
10. SnapsTouch
Price: Free
Notable features: User-friendly interface, automatic sketch conversion, and various output formats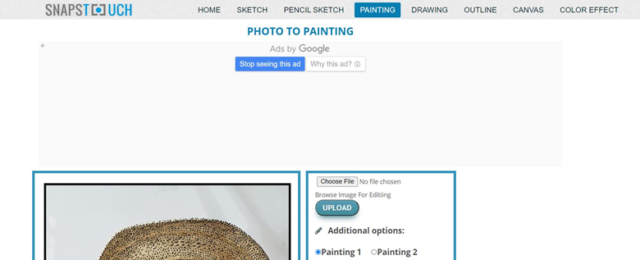 SnapsTouch is an online photo editing platform designed to transform photographs into artistic sketches with minimal effort. The user-friendly interface makes it easy for users of all skill levels to achieve professional-looking results.
The key features of SnapsTouch include automatic sketch conversion, which generates a sketch based on the uploaded photo, and the ability to adjust parameters such as edge strength, brightness, and contrast. Users can also choose between various output formats, including JPEG, PNG, and SVG.
One possible drawback of SnapsTouch is its limited scope, focusing solely on sketch conversion rather than offering a comprehensive suite of editing tools. However, for users seeking a simple, specialized solution to create sketches from their photographs, SnapsTouch provides an efficient and accessible option.
Pros:
It allows you to employ a variety of filters and effects.
Simple to use
Online cartomizer effect for easy picture animation
Cons:
UI that is out of date
Customer animation functions are limited and are not well regarded.
Conclusion
These tools, such as VanceAI, let you create ultra-realistic Digital Portrait Painting and cartoon yourself online using these cartoonizer and portrait makers. You may also try the VanceAI toongineeer cartoonizer function to stand out on social media. Find outr more here How to Create Cartoon Avatar with Toongineer Cartoonizer.
 FAQ
Which of them can digitalize my photos to cartoons?
VanceAI also allows you to transform your image into a cartoon image. It enables the user to utilize the software and flip the photo without special effects.
More help tips for your work, also read: Top Ten Online Portrait Retouchers Review.