Now you don't have to go to any shop and buy a calendar when you can use websites that provides printable calendar templates. The websites are up to date, and they even provide the calendar for the next year, so you can easily find 2023 calendar templates properly. Download the template accordion to your own choice that suits you.
What Is a Printable Calendar?
A printable calendar is a calendar format that you can download on your device. It provides a proper format for you, the size and the ratios you want. Landscape and portrait formats, among which you can choose your desire. It is basically a calendar that can be downloaded on your device so you can view the dates and events from your device or print it if you want to. The dates and events are available in the form of tables.
It provides all the plans; if you want a weekly calendar, you can download it. You can get weekly printable calendars, monthly printable calendars, and yearly printable calendars; that is up to you which one you like. You can add events to the calendar so you won't miss any important events. Keep yourself up to date so you won't have to memorize all the dates by yourself, and let the calendar memorize the dates for you.
Top 10 Printable Calendar Template Websites 
If you want to have proper information on the printable calendar, then here is a list of the top 10 2023 printable calendar that you can use.
Microsoft Office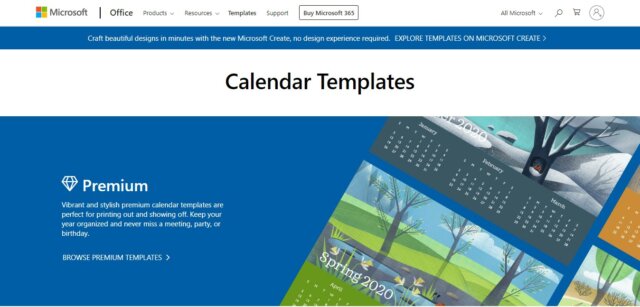 Microsoft Office provides a free printable calendar that you can use. There are a lot of templates that you can find in the office suite. Click on the calendar category in the office platform. These templates can be easily downloaded on your device if you want, and you might need a Microsoft office platform to open them. We all know that Microsoft office has kept dominating the world of text documents, slideshows and spreadsheets for a long period due to its quality.
Pros
Provides a lot of templates.

Accurate designs with proper text.

It can be downloaded on your device.
Cons
Requires a cost.

Too much expensive.
Pricing 
You don't have to purchase the calendar template. You will have to buy Microsoft office suite in order to use the calendar template.
Vertex 42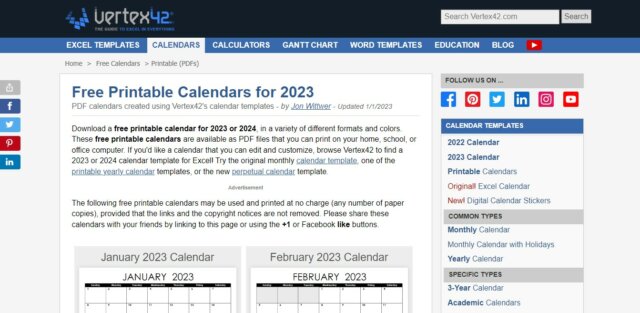 Vertex 42 provides proper printable calendar templates that you can use to know about the dates properly. If you want to get a printable calendar for 2023, then you should choose vertex 42 calendar templates.  It has a massive list of calendar templates among which you can choose your own according to your requirement. It provides a template for both professional and also personal use. The templates are properly updated, so you won't miss important events like meetings, birthdays or parties. It provides a printable calendar weekly and monthly also.
Pros
Huge list of templates of printable calendars. 

Free printable calendar.

Portrait and landscape formats.
Cons
Sometimes causes an error during the loading of templates.

Takes time to download templates.
Pricing
It is free of cost, and you can enjoy 400 plus templates collection for free.
Wincalendar Templates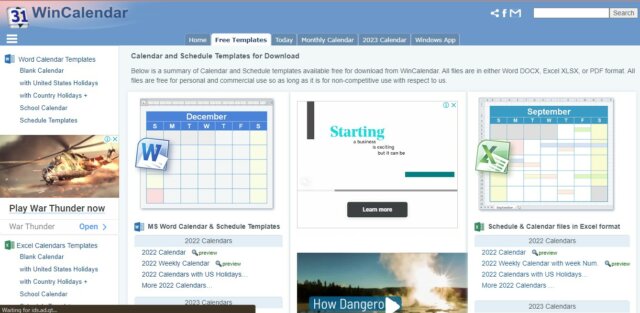 Wincalendar is a printable calendar provider that provides you with a bucket list of various templates that you use. Suppose provide templates for excel, word or pdf to all these various calendars with a year from sidebar present. It allows you to download the templates on your device without any issues simply. You can download the printable calendar templates for weekly, monthly or yearly calendars.
Pros
Provide monthly, weekly and yearly templates.

Landscape and portrait forms are available.

Download it on your device.
Cons
Requires a professional to set up.

It pops up notifications without any issues.

Too many ads on the website.
Pricing 
It requires 32$ for a basic license.

60$ for a standard license.

99$ for a pro license.
Print A Calendar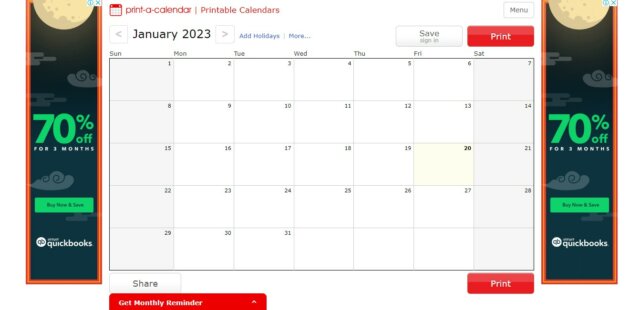 Print A calendar is the simplest form of a calendar that you can choose. It provides a simple form of a printable calendar that enables you to have amazing templates. All you have to do is to open the platform and click on the right button print to download the calendar to your device. You can select the calendar of your choice if you want a yearly, weekly or monthly calendar accordingly.
Pros
You can download PDF if you don't have internet. 

Easily downloadable on your device.

Allows PDF and excel templates also.
Cons
The PDF is sometimes corrupt.

Requires signing in to save a template of the calendar.

Ads on the webpage.
Pricing
It requires no cost for a printable calendar you can download and enjoy its features for free.
Mint Printables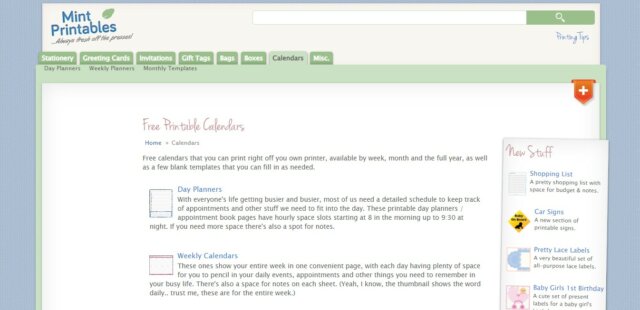 Mint Printables provides you with amazing and unique templates that you can choose for your calendar. This printable calendar 2023 provides stylish templates for a day planner, weekly plans or monthly plans. These printable calendars are very rare, and their designs are well-known in the market due to their print quality. You can download it and enjoy its features. 
Pros
Download the templates on your device.

Easy to view calendar format.

Unique designs with proper text.
Cons
Portrait or landscape mode is not available. 

No yearly plans.
Pricing
It requires no cost to download a printable calendar. Mint calendars are always free of cost in all aspects.
Calendar Labs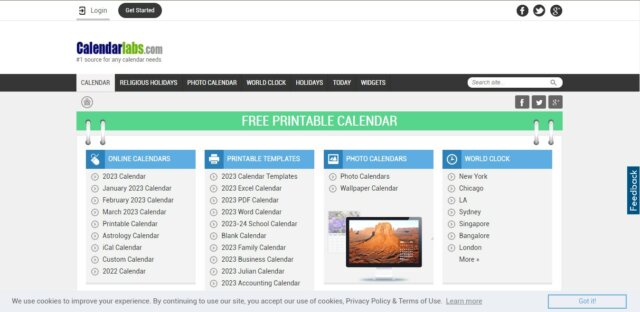 Calendar labs is a proper destination where you can find printable calendar 2023 online that relates to your choice. There is a list of huge templates among which you will have to choose your special one. It provides a printable calendar format that allows you to add photos to your calendars also. There is also a free printable calendar that you can use. It is a proper platform that provides all the features that you can find relatable to a calendar under one roof. 
Pros
Provides all sorts of formats.

It provides templates with images.

It starts from days to years of plans. 

All the religious festivals are added to it so you will know about your holidays.
Cons
Pricing 
It is free of cost and properly provides all the 2023 printable calendar features. 
e Printable calendars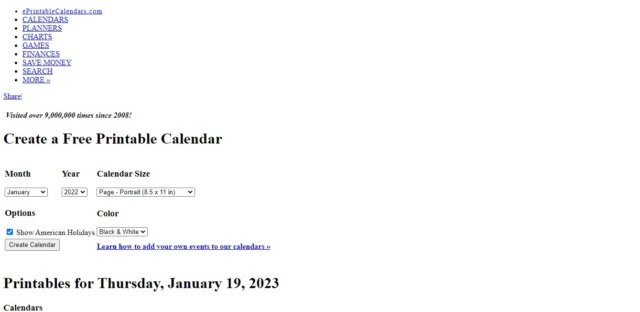 E-printable calendars provide you with a lot of templates of printable calendar online. You can easily download the required template of your desire easily. First of all, you would have to select the required details of your calendar and then you will be able to download it easily without any issue. You can enjoy American holidays with six different types of colours. 
Pros
Provide both format landscape and portrait.

Choose the required ratios for your calendar.

Provides American holidays with different colours.
Cons
Not enough features.

Provides proper events for only Americans. 
Pricing 
It is a free printable calendar that you can download on your device without paying a single penny.
Time and Date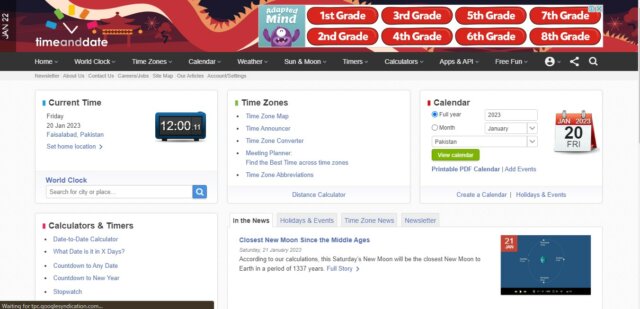 Time and Date  provides a huge list of templates for the 2023 printable calendar that you need. It alos provides proper details of your holidays. You can add holidays and events to your calendar so you won't miss any important events. You can use the monthly and daily calendars for printing easily without any issues.
Pros
Lets you add events.

Automatically connects to your time zone.

Provides a calculator for your dates and events.
Cons
Not enough templates.

You have to add events.
Pricing 
It is free of cost and does not require any type of cost to use its features.
Theme Forest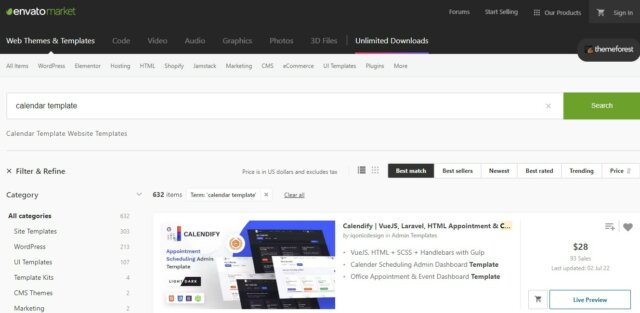 Theme Forest is an amazing printable calendar template platform that will provide you with all the templates you want. There is a massive list of calendar templates that are unique and rare. You can search and find out a suitable template for your work. It provides you with all the features as you have to find the one in accordance with your requirement and download it.
Pros
Provides all the features of the templates.

Unlimited templates.

Personalized templates.
Cons
It requires a cost to purchase the templates.

There is no guarantee that you will find the one you want.
Pricing 
Search the printable calendar template and purchase the template of your choice. There is no proper detail of money. It depends on the template you are buying.
Colorlib
Colorlib provides a lot of 2023 printable calendars. There are about 20 plus bootstrap calendars available for you to download. You can download any calendar format you want within a little time. You can easily present the required information in a proper manner with the bootstrap calendar. Instead of building a calendar manually from start to end, you can find already-built templates instantly. They come with multiple variations just to make sure that people will find what they are looking for. It provides all the required details from minimum to maximum, depending on you what you choose.
Pros
Already built templates with added events.

It supports a flexible structure.

There are multiple options and possibilities that allow you to create calendars.
Cons
You will have to add events in some calendar format.

Cannot add a photo to the background of the calendar.
Pricing
Colorlib content is free, but if you buy the content of colorlib through another source, then you will have to pay.
Conclusion
Not every person has a sharp memory to keep everything in their mind. Everybody needs to have a proper calendar that will tell them about the upcoming events and meeting that they need to attend. As 2023 has come, you will need to set out new goals for 2023. Download the printable calendars on your device. It is 2023 now, and the time for papers and writing is now gone; you can download the printable calendars on your device, and it will let you know about everything important. Now you can relax and stop worrying about those dates that are very important to you. 
Now you can enjoy your time freely as you will not have to memorize special events and occasions. If you know about the events, you will be able to adjust your goals easily to what is important for you and what you don't need.
Also Read: Top 10 Font Changers Online: Just Copy and Paste.