Summary: Interior AI can now recognize your uploaded home interior images and provide a new idea for your interior design.
Are you also worried that hiring a professional interior designer will cost you a lot of money? Or do you have a little idea of your own before hiring a designer but no way to implement it? Now you can use AI interior design tools to help you.
As the demand for virtual interior design tools continues to grow, innovative solutions like Interior AI are becoming increasingly popular. These AI interior architects offer a convenient and efficient way for users to create personalized home interior designs, transforming the way people approach their living spaces.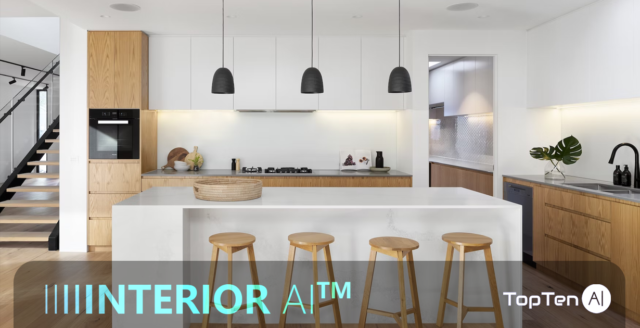 Interior AI is an AI-powered virtual home interior design tool that aims to simplify and enhance the design process. With a focus on user preferences and a wealth of creative options, this platform allows users to visualize and create stunning interiors with ease.
More AI design tools: Top 10 AI Graphic Design Tools Review
How Interior AI Works?
InteriorAI leverages two advanced AI techniques, deep learning and generative adversarial networks (GANs), both of which have been mentioned extensively in our previous reviews.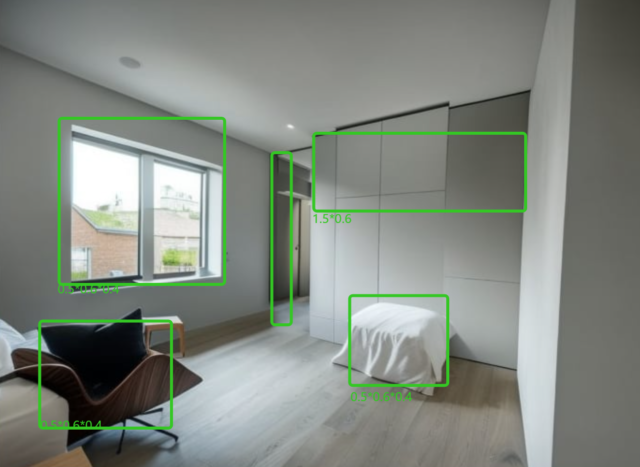 Deep learning automates feature extraction and learning by training large amounts of data through neural networks. Generative adversarial networks (GANs), on the other hand, are unsupervised learning techniques that automatically generate new samples. In the Interior AI scenario, GANs are used to generate interior design solutions based on user input. The combination of these techniques allows InteriorAI to provide high-quality and personalized interior design recommendations.
Interior AI has evolved over several years of technology accumulation and innovation since the early 2010s when AI applications in various fields began to emerge.
In the early days, virtual interior design tools relied mainly on rules and templates. As AI technology evolved, InteriorAI began to use more advanced deep learning methods, such as generative adversarial networks (GANs), to provide users with more personalized design solutions. After many iterations and optimizations, Interior AI has made a major breakthrough by successfully combining AI technology with interior design. This enables Interior AI to meet the growing market demand for intelligent interior design services to a wide range of user groups.
Features of Interior AI
Our rating: 4.5/5   
Available platforms: Online
Pricing plans: 5 times for free trial, Interior AI Pro $29/mon, Interior AI Pro for Teams: $299/mon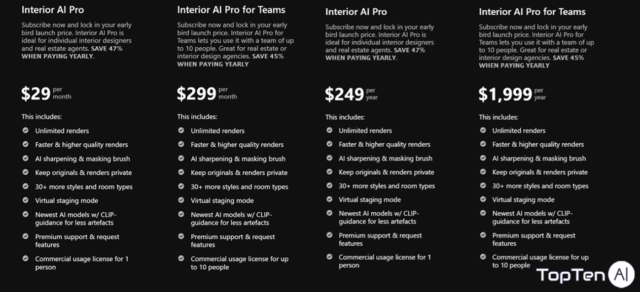 The user interface of InteriorAI is intuitive and easy to navigate, even for those who are new to know AI interior architects. Users can quickly select options and fine-tune their preferences to create the perfect design.
In addition, there is one more thing about inter that we find more satisfying. That is, it can provide more than 30 kinds of styles for different needs of users, such as Easter, Modern, Zen, Sketch, Halloween, and even Gaming room.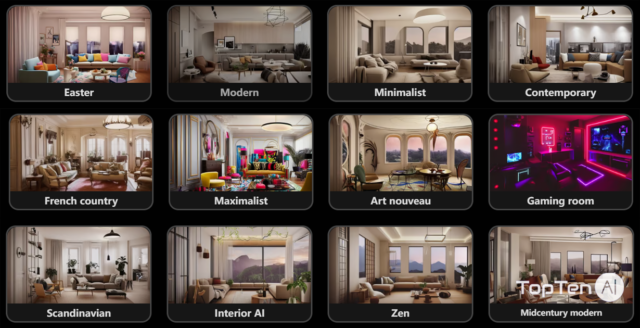 Some of the main features of Interior AI include:
AI-powered design recommendations: Receive personalized design suggestions based on your preferences.
2D and 3D visualization: View your design in both 2D and 3D formats to better understand the layout and aesthetics.
Extensive design library: Choose from a wide range of furniture, accessories, and materials to customize your design.
Pros and Cons
✔️Pros

❌Cons

✔️User-friendly interface

✔️AI-generated designs tailored to user preferences

✔️Wide range of design options

✔️ 30+ decorating styles

❌ May require a learning curve for some users

❌ Pricing may not suit all budgets

 
How to Use Interior AI?
1. Go to the official website of InteriorAI, fill in your email, and verify it so that you will have five free tries. Or click Upgrade To Pro for more options.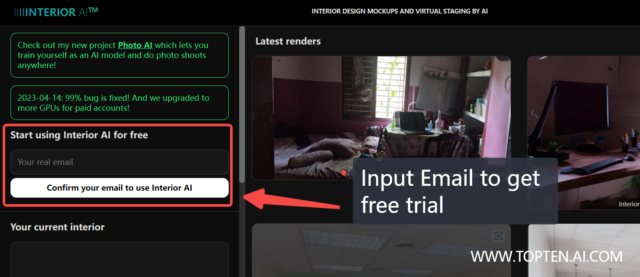 2. To upload a picture of your room, you can drag the picture directly into the box and drop it.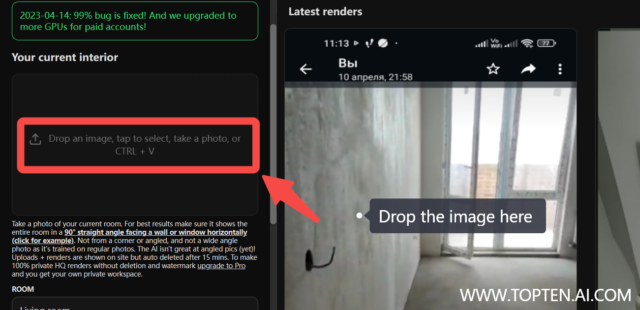 3. Specify your design preferences, such as style, color scheme, and furniture arrangements.
4. Interior AI will generate a personalized design based on your input.
5. Review the design and make any necessary adjustments to ensure it meets your requirements. Or you can utilize the virtual reality integration to visualize your design in a realistic, immersive environment. (Some of them need a PRO version)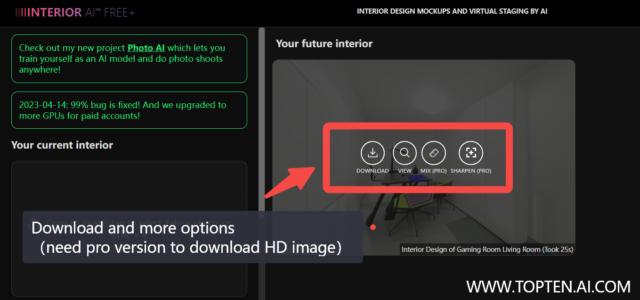 6. Save, share, or export your design as needed.
To optimize your design process with Interior AI, take advantage of AI-powered design recommendations and explore different styles and color schemes.
Don't be afraid to experiment and make adjustments to achieve your desired outcome.
Review of the Result
The output of using Interior AI can be quite fast, considering the AI-generated designs and the variety of design elements available. The advantages of using InteriorAI include time-saving, cost-effective design solutions, and the ability to visualize designs in both 2D and 3D formats.
These are some of the interior designs generated using interiorAI during our evaluation, for reference only. If you are interested you can try it yourself, the steps we have already described.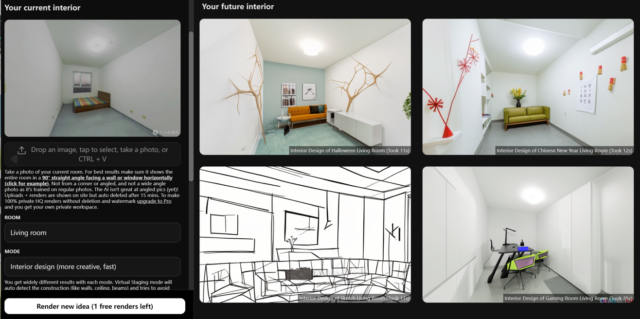 If you take a closer look at this image you will see that InteriorAI handles better when generating Chinese New Year and gaming rooms, as well as sketches. However, there are some cases where it is not so good, for example, in this Halloween holiday decoration, there are two strange tree trunks and the decoration related to Halloween is missing.
However, the disadvantages include the lack of virtual reality integration in real-time and mobile app support, which could limit user experience in some cases.
User testimonials and reviews on the effectiveness of InteriorAI are generally positive, with many praising the platform's ease of use and the quality of the generated designs. However, some users have expressed a desire for more advanced features and broader device compatibility.
Comparing Interior AI to Other Virtual Interior Design Tools
In addition to Interior AI, there are many AI interior design tools on the market now, such as Planner 5D and Homestyler. They are also popular  AI interior architects now. We will do a horizontal comparison of them below. Hope it will help you to make the choice:
| | | | |
| --- | --- | --- | --- |
| Feature | Interior AI | Planner 5D | Homestyler |
| AI-generated designs | ✔️ | ❌ | ✔️ |
| 2D and 3D visualization | ✔️ | ✔️ | ✔️ |
| Extensive design library | ✔️ | ✔️ | ✔️ |
| Multi-platform support | ✔️ | ✔️ | ✔️ |
| Virtual reality integration | ❌ | ✔️ | ✔️ |
| Processing Speed | ★★★☆☆ | ★★★★☆ | ★★★★★ |
| Accuracy | ★★★★☆ | ★★★☆☆ | ★★☆☆☆ |
| Subscription prices | Start from: $19.99/mon | Start from: $6.99/mon | Start from: $14.99/mon |
InteriorAI offers some unique features and advantages compared to other popular virtual interior design tools like Planner 5D and Homestyler. For example, it provides AI-generated design recommendations and an extensive design library.
However, it lacks virtual reality integration and mobile app support, which are offered by the other two tools.
Who is Interior AI best for?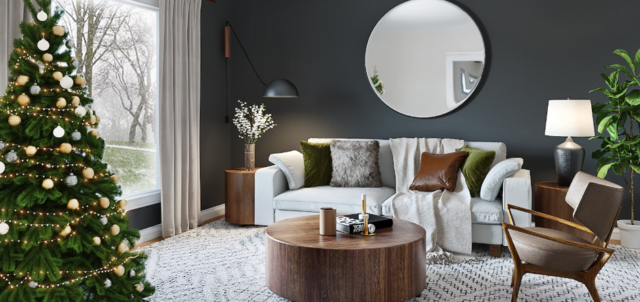 InteriorAI is suitable for a variety of users, including:
Homeowners looking to redesign or redecorate their living spaces.
Real estate professionals seeking to showcase property potential.
Interior designers and architects exploring new design ideas.
Students studying interior design or architecture.
Interior AI's user-friendly interface and AI-generated design recommendations make it an excellent choice for anyone interested in virtual interior design. It can be especially helpful for those with limited design experience or who want to visualize their ideas before committing to a design.
Conclusion and Final Thoughts
In summary, InteriorAI is an innovative and user-friendly virtual home interior design tool that can help users create stunning and personalized designs. Its AI-powered features, extensive design library, and 2D and 3D visualization options set it apart from some competitors, although there is room for improvement in terms of device compatibility and advanced features.
Overall, InteriorAI is a valuable resource for homeowners, professionals, and students alike.
FAQs
Will AI replace interior designers?
AI-powered tools like InteriorAI can assist with design tasks and streamline the design process but are unlikely to replace human interior designers. Interior design involves understanding client needs, emotions, and personal preferences, which AI cannot fully replicate.
Is InteriorAI suitable for professionals?
Yes, Interior AI can be a valuable tool for professional designers, helping them quickly generate ideas and explore various design concepts.
Can I export my Interior AI design for further editing?
Yes, Interior AI allows you to export your design in different file formats for further editing or presentation purposes.