When it comes to any sort of content online or offline, there needs to be an effective combination of visuals and text. Being able to connect to your viewers or readers is a tough task, especially when you are required to do it consistently. That's why AI text generator applications are on the rise and should be considered by users.
Inferkit is an AI text generator that can write AI generated stories, instructions, guides, and more. It can help many types of users, including writers who would like to get some fresh ideas for their articles, website copy, social media, and more.
Overview of Inferkit AI Text Generator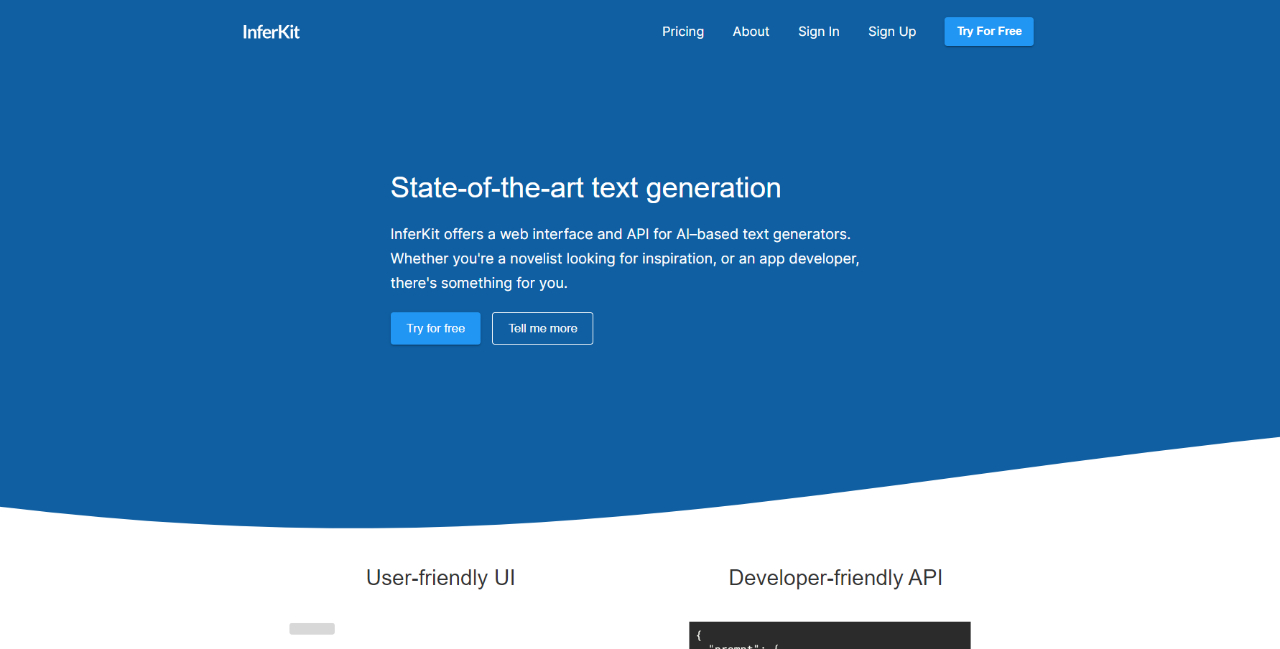 All Screenshots Credit: InferKit

Platform: Online (Browsers)

InferKit is an innovative text generation platform, similar to Tinywow essay writer, that uses the technology of AI algorithms to help users create text content that is relevant and engaging. By leveraging advanced language models, InferKit works by taking user-provided prompts or input and generates human-like text that seamlessly fits the context and tone desired.

Such applications are also called TalkToTransfer and they can be used to write AI generated stories.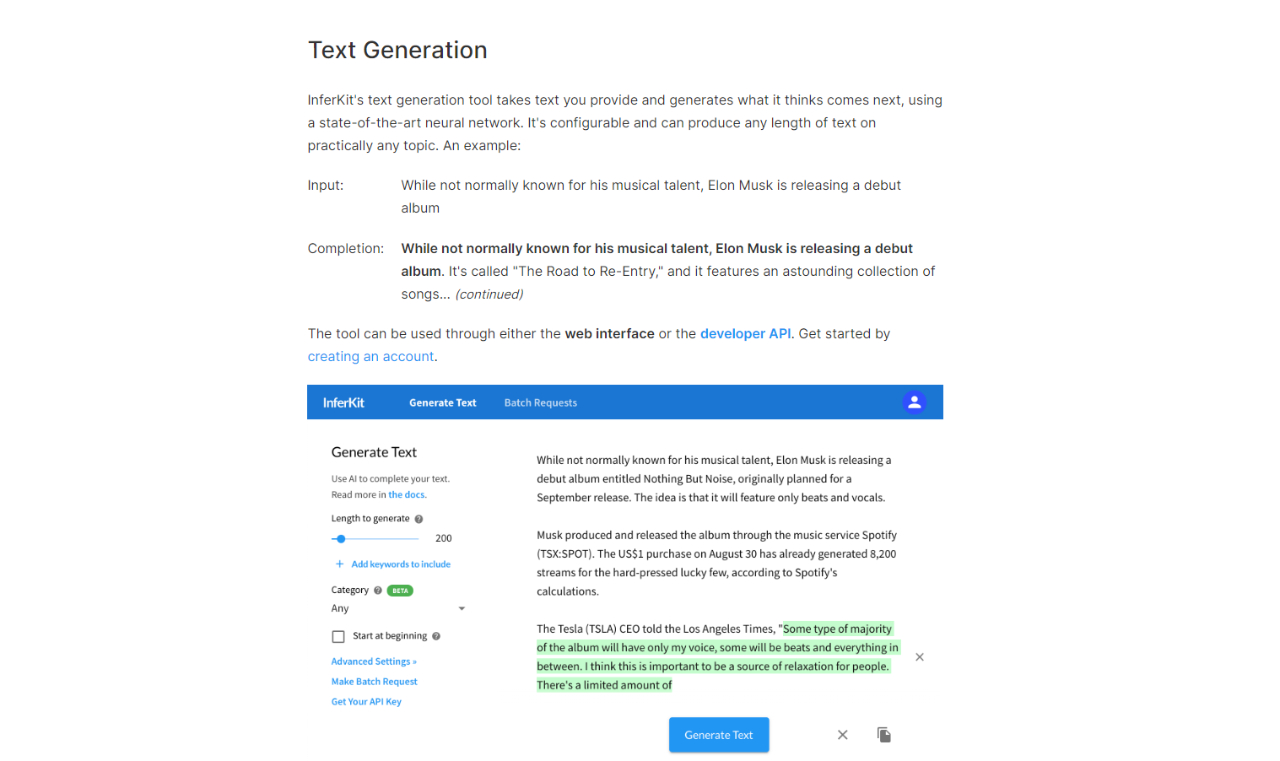 This versatile tool is invaluable for a wide range of applications, including content creation, copywriting, and even aiding writers in generating ideas by coming up with its own AI generated story. InferKit's user-friendly interface makes it accessible to a diverse user base, from bloggers and marketers to students and professionals seeking to streamline their content generation process.
The InferKit brand has gained a positive reputation as a company that pushes the capabilities of Natural Language Processing.
Basic Features of InferKit
Automatic Text Generation: The InferKit platform is capable of creating text content based on the user's input, which reads similar to a human.
Responsive UI: The platform has a plain and responsive UI design, making it easy for users to focus on the text and get a professional feeling.
Outstanding Features
Featured Content Rewriting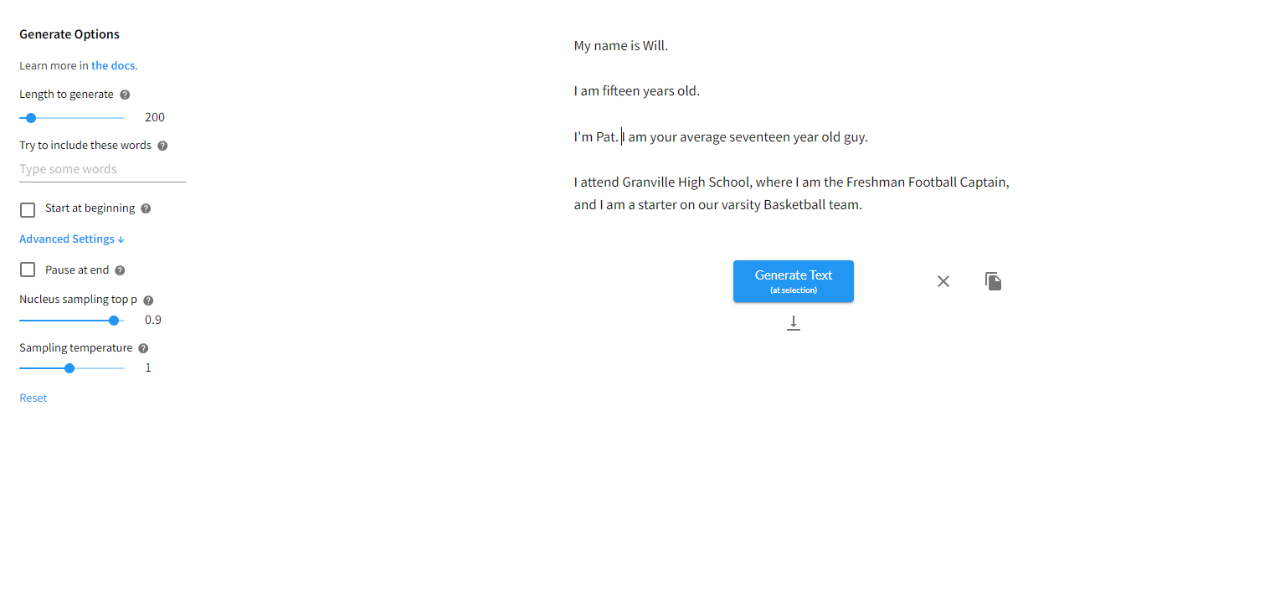 InferKit can not only generate brand-new text but also continue the prompt that you've written for it. There are many cases where writers get stuck and have a hard time figuring out where to go next with their text. Sometimes copywriters or content writers know how they want to start but aren't sure how to take it forward.
In all of these cases, it can work similarly to Simplified AI writer and give you the ideas you need to take your content ahead.
Featured API Integration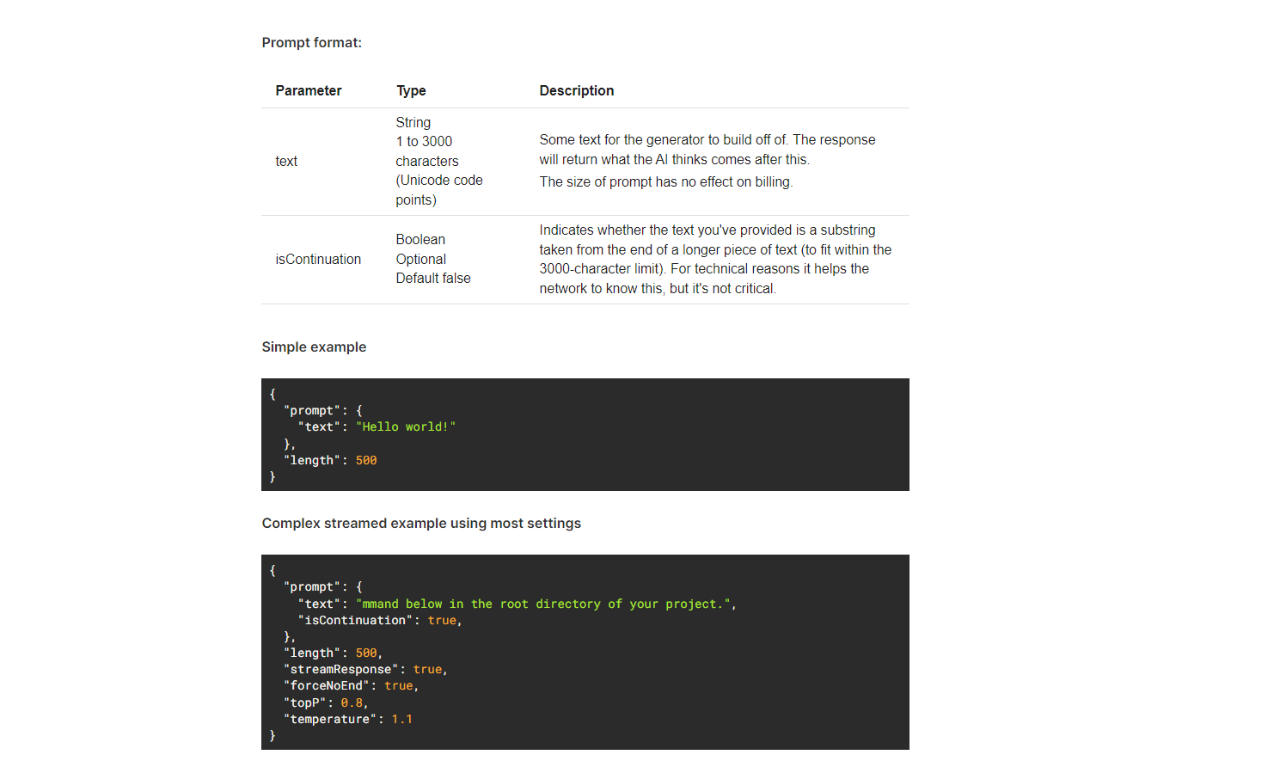 InferKit provides an API that allows developers to integrate its text generation capabilities into their own applications, websites, or software. This feature extends the utility of InferKit beyond its user interface and empowers developers to harness the AI's text generation abilities to enhance their own products or services.
With a paid subscription and an API system, users can not only have an AI text generator ready to use at their convenience but can also work together with other people on big projects. The Inferkit demo version, which is live as of now, can still provide great output for teams.
Why Editor Picks?
After giving Inferkit multiple tries, it is safe to say that it is a really good platform that is a must-try for most types of writers. It has a really simple and clean UI design that would make any beginner comfortable. The intuitive interface makes it easy for anyone to give it a try and become familiar with its functionalities swiftly. Whether you're a seasoned content creator or a novice writer, InferKit's accessibility ensures that you can harness the power of AI-driven text generation with ease.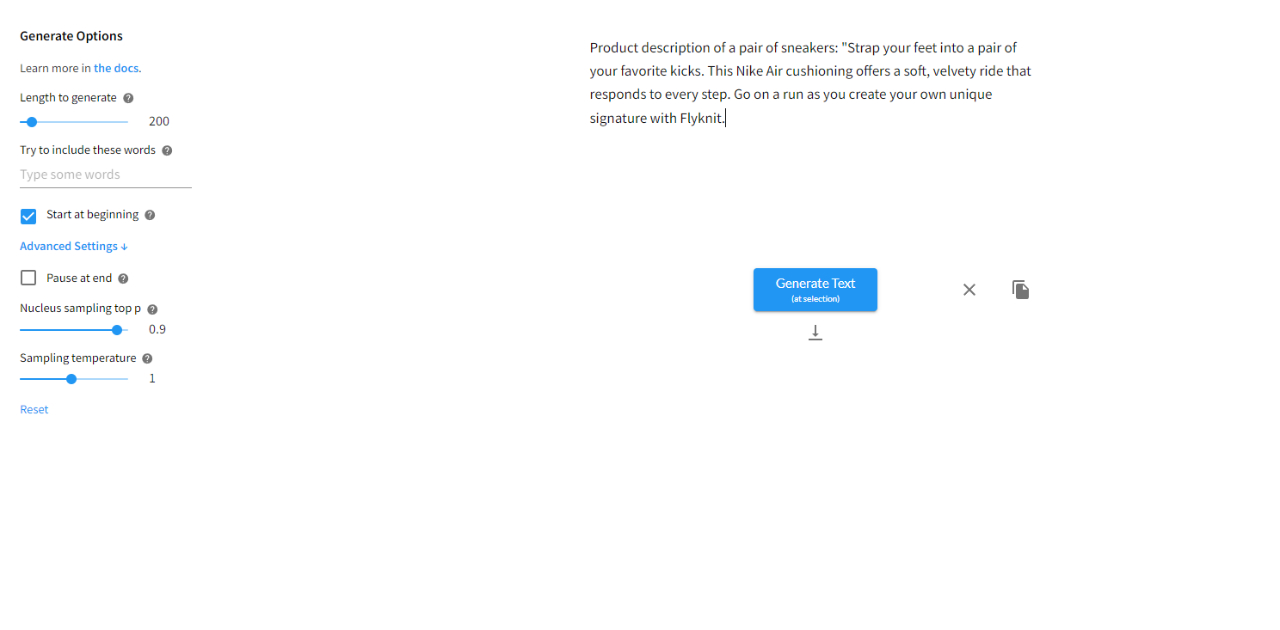 Considering that the AI tool can continue from where you stop writing is helpful. InferKit can assist you in creative writing by generating new text that builds on what you have written. Even if you don't use the text given by the AI, you can still get new ideas from it.
For example, we can generate product descriptions with simple prompts. Through this, we can take inspiration from the word choice, writing style, adjectives, and more.
Our Suggestions
InferKit caters to a broad spectrum of users across various fields. Content creators, including bloggers, marketers, and writers, can greatly benefit from its text generation capabilities. It provides a valuable resource for generating ideas, streamlining content creation, and enhancing productivity. Creative writers can also consider using InferKit, in order to get some new ideas.
The platform offers a great free edition, which offers more than enough for users to know whether they would like to continue using it. If you're into writing, this is a tool worth having. Otherwise, you can also check out the Top 10 AI Writer Applications Review 2023 to learn about other similar apps.
To make the most of InferKit, users should start with clear and concise prompts, experiment with different input styles, and review and edit the AI-generated content to ensure it aligns with their goals and standards. This careful approach will help users get the best results from this versatile tool.
Final Thoughts
InferKit can be a highly valuable tool for users who are into writing, casual and professional. Due to its design, users with no experience of using AI tools can also get into it quickly and generate results. One of the biggest reasons to use InferKit is its AI technology. It is capable of generating various kinds of texts very quickly. You can get product descriptions, captions, and much more with this application.
If you're a team that wants to delegate text-based content creation to an application, then you can consider purchasing a subscription from InferKit. Not to mention that it also offers an API package.
You can find many more impressive AI applications at TopTen.AI.