Summary: AI image brightener tools simplify the process of brightening digital photos, especially for those without editing skills. Here is a list where users can experiment with a range of options and choose the tool that best fits their needs.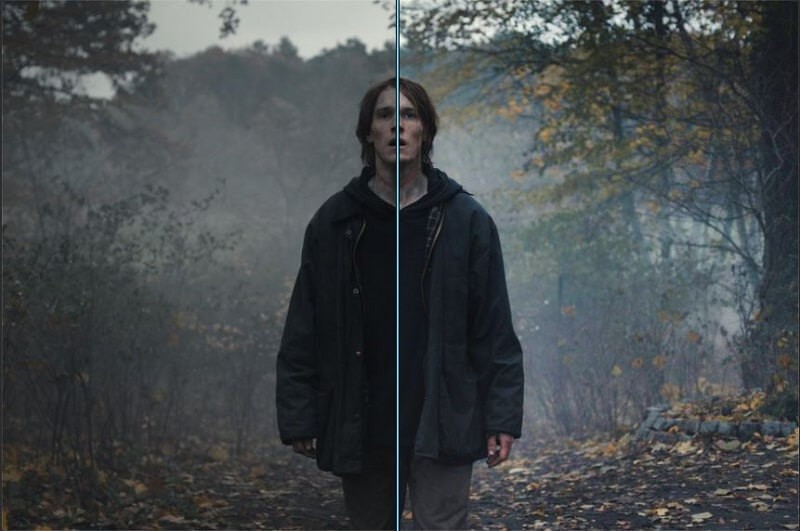 Even with modern cameras it can be difficult to capture perfect photos, especially when you have to deal with bad lighting conditions. Luckily, you don't have to delete photos that are a bit too dark because you can simply use an image brightener to fix that problem. Don't have particularly good editing skills? There's nothing to worry about since you can rely on AI image brightener tools to do all the hard work for you. Let's take a look at some of the best options currently available.
Top 10 Best Online Image Brighteners
This is the preview table we created after reviewing and summarizing the top five products. Continue reading if you want to know more.
| Product | Price | One-Click Brighten | Artifacts Removal | Color Saturation | Contrast Adjustment |
| --- | --- | --- | --- | --- | --- |
| VanceAI Photo Retoucher | Starting at $9.90/mo. | ★★★★☆ | ✓ | ✓ | ✓ |
| Let's Enhance – Light AI | Starting at $9/mo. | ★★★☆☆ | ✗ | ✓ | ✓ |
| Topaz Adjust AI | $79.99 | ★★★★☆ | ✓ | ✓ | ✓ |
| Akvis Enhancer | Starting at $69. | ★★★☆☆ | ✗ | ✓ | ✓ |
| Luminar AI | Starting at €47 | ★★★☆☆ | ✓ | ✓ | ✓ |
1. VanceAI Photo Retoucher
Price: Starting at $9.90/mo.
This photo brightener is one of the many artificial intelligence powered image enhancer tools offered by VanceAI. It also provide AI image enhancer. In addition to simply making images brighter, the tool is also capable of removing halos and artifacts while preserving ideal color saturation. But that's not even the best part. The tool allows you to retouch photos with just a single click. Subscribing to VanceAI Photo Retoucher also gives you full access to over a dozen other editing tools. Not a bad deal at all.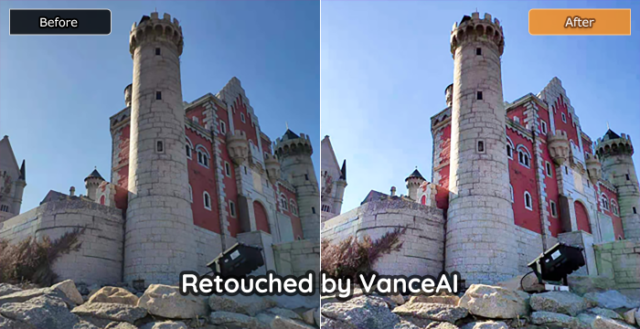 If you want to specifically work with the portrait photos, you may try VanceAI's recommended feature-AI Portrait Enhancement. No need to manually adjust anything because the advanced machine learning algorithms will take care of everything for you to enhance color as well as the faces on your image.

Pros:
- One-size-fits-all retouching solution
- Very simple to work with
- Fair pricing
Cons:
- Some manual adjustment options wouldn't hurt
- Can end up making images too bright
- Limited free trial
2. Let's Enhance – Light AI
Price: Starting at $9/mo
Light AI is one of the modules included with the image enhancing solution developed by Let's Enhance. This online image brightener is very simple to use as it only involves moving a slider in order to adjust the intensity. If you want to take things a bit further, Let's Enhance also gives you the option to enhance things like contrast and color saturation, as well as to upscale the image. There are a couple of presets you can select but you can achieve the same results by moving a few sliders manually.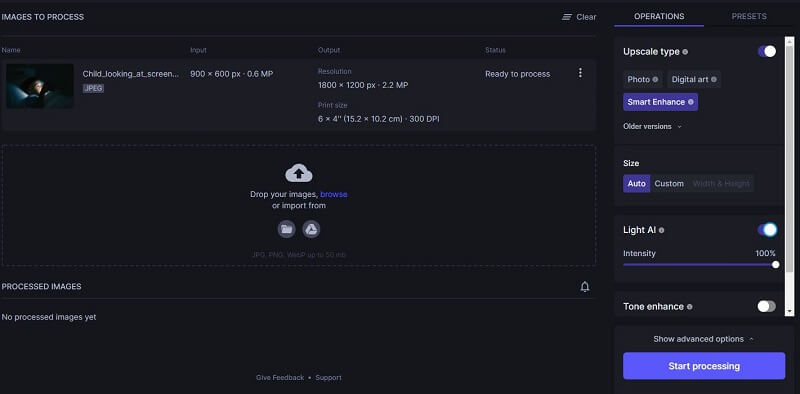 Pros:
- Easy to use
- Fast processing speeds
- Presents can come in handy
Cons:
- No effect on overly dark images
- Pay-as-you-go prices are too high
- Free plan requires account creation
3. Topaz Adjust AI
Price: $79.99
TopazLabs is known for offering many interesting image editing tools and it just so happens that one of them is an image brightener. Known as Adjust AI, the software leverages the power of artificial intelligence to make images pop out in spectacular ways. Dull colors are transformed into vibrant ones and there are various presets available for those looking for some artistic flair. Adjust AI is certainly not one of the cheapest photo brighteners out there but the price is worth it if you're a professional editor.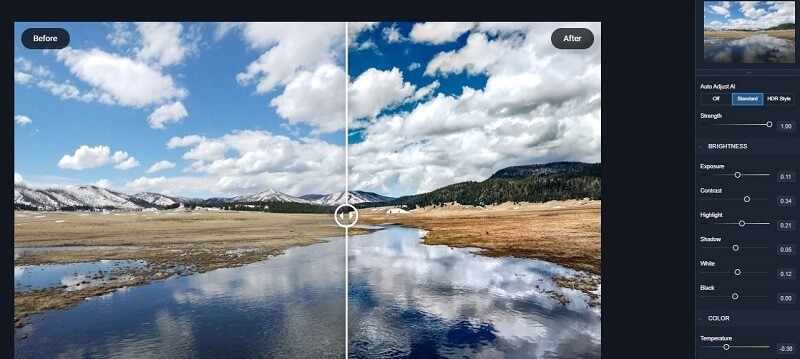 Pros:
- Many impressive features
- Completely transforms images with just one click
- Great for those in need of fine tunning
Cons:
- Pretty expensive
- A bit too complex for its own good
- Can be overwhelming for beginners
4. Akvis Enhancer
Price: Starting at $69.
Akvis has been around for a very long time, as evidenced by its fairly outdated website. The company's tools tend to be more expensive than most, but they do get the job done. Take Akvis Enhancer as an example. The isn't the most sophisticated piece of software we've ever seen but you can use its brute power to brighten even the darkest of images. You can also adjust contrast, saturation, threshold, shadows, and my other small details. The best part is that you can see the changes instantly.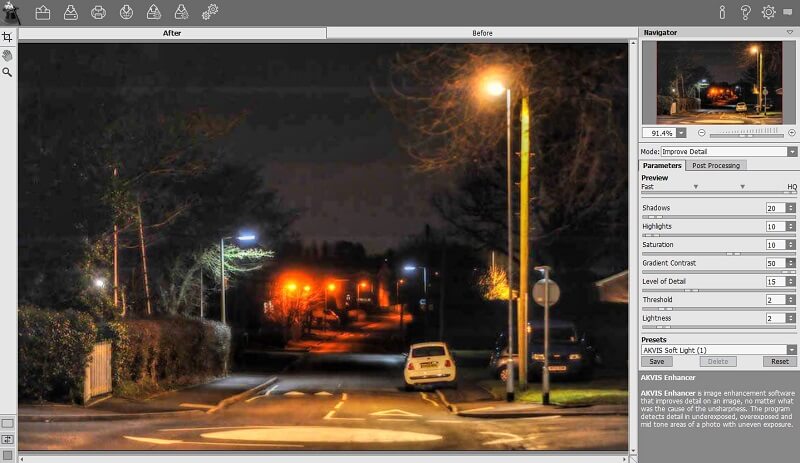 Pros:
- Very fast processing speeds
- Can brighten even the darkest of photos
- Many presets to choose from
Cons:
- Looks and feels outdated
- Fairly expensive
- No side-by-side view
Also read: How to Dehaze Photos in 5 Best Ways?
5. Luminar AI
Price: Starting at €47
Luminar AI is an impressive image editor that can deliver results comparable to Photoshop or Lightroom. Using it simply as an image brightener would honestly be overkill since there are other tools that can do that for much cheaper. Of course, the software can easily make images brighter but it is best used for bigger projects that require complex editing. Luminar AI is especially good at editing faces but its sky replacement feature is equally impressive. Plus, there's a seemingly endless amount of templates to play with.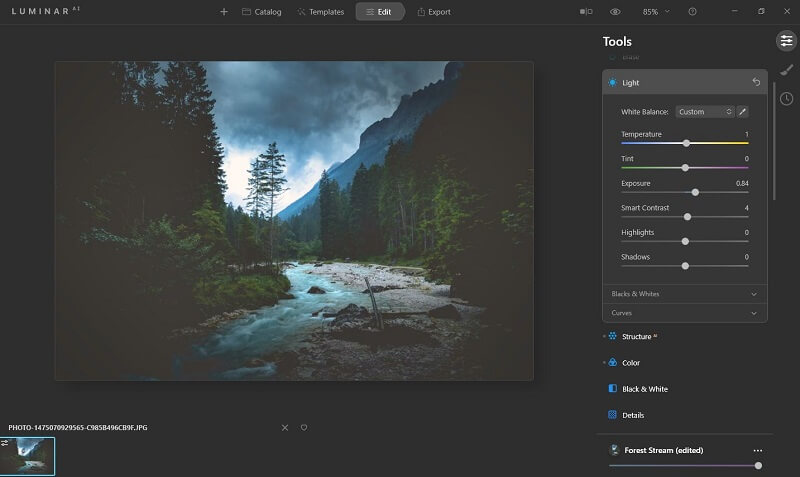 Pros:
- Very impressive editing capabilities
- Many interesting features
- Many quality templates
Cons:
- Can feel a bit overwhelming
- Many templates need to be purchased separately
- Fairly expensive
6. Lunapic
Price: Free
Moving on from advanced software to good old fashioned online tools, we have Lunapic. This website offers completely free photo editing tools without even asking you to sign up for an account. Just visit the website and start editing away. On Lunapic you can find tools for cropping, upscaling, blur, vignette, and countless more. There are also plenty of filters, effects, and even animations. And there's a photo brightener as well of course. Not too much to say about it since it's basically just a luminosity slider, but it gets the job done.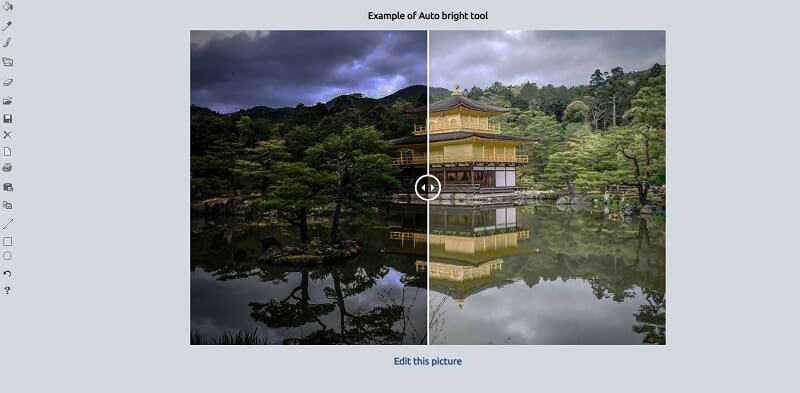 Pros:
- Completely free
- Simple but effective
- Paste URL to edit online images
Cons:
- Might be a bit too simplistic for some
- Few advanced options
- Navigating the website can feel confusing
7. IMGonline
Price: Free
IMGonline is another website where you can find basic editing tools for converting and resizing images, creating GIFs from static pictures, compressing files, and more. The image brightener tool is just as easy to use as all the others, only requiring you to upload a photo and adjust the luminosity level. You can also pick between JPEG and PNG for the output format and adjust the image quality before processing. And that's about it. No special features here, but that's not necessarily a bad thing since you don't always need them.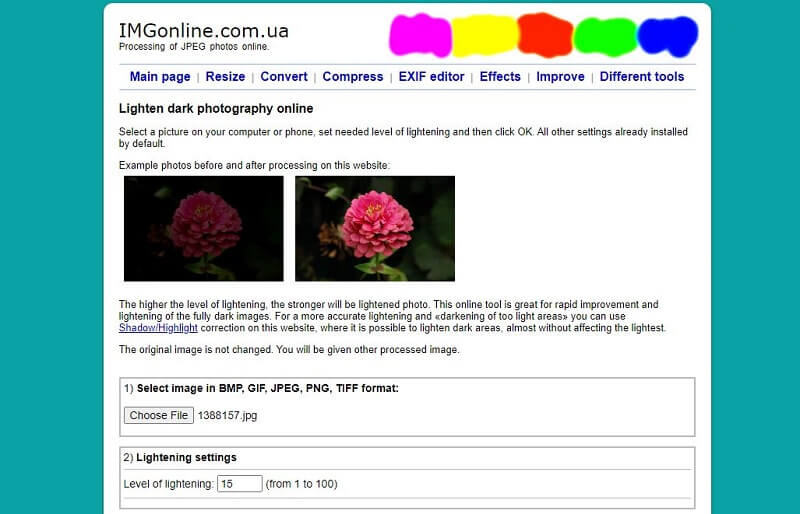 Pros:
- Very easy to use
- Converts to PNG with transparency
- Completely free
Cons:
- Doesn't work with online images
- Changes do not appear in real time
- No special features
8. PineTools
Price: Free
PineTools is a very popular website that some of you are probably already familiar with. The website offers dozens upon dozens of useful tools for everything ranging from math and programming to randomizers, list generators, and image editing. Among other things, there is of course a photo brightener tool that you can use for free. This is yet another tool that only features a slider, but here you can fine tune the amount of brightening you want to add to the image.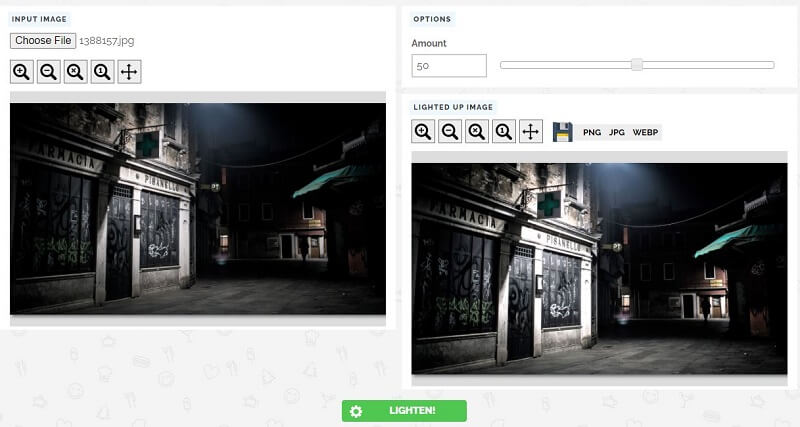 Pros:
- Very easy to use
- Fine tune brightening amount
- Converts to PNG, JPG or WEBP
Cons:
- Doesn't work with online images
- No special features
- Unblockable ads
9. PekoStep
Price: Free
PekoStep is a neat little website with various image editors and tutorials on how to use them. The fact that each tool comes with a simple set of instructions is fantastic for new users who aren't familiar with image editing. This of course applies to the image brightener as well. In addition to sliders for adjusting the brightness and contrast, the tool also features a set of options that lets you crop, resize, draw over images, and more.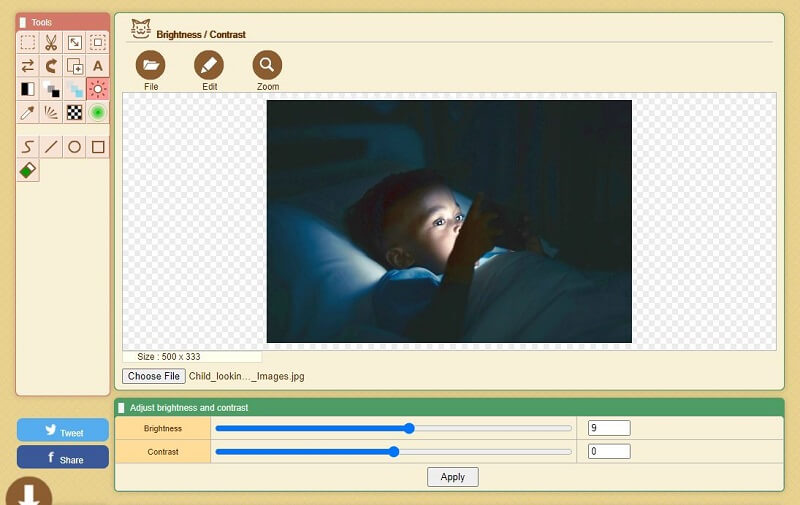 Pros:
- Very easy to use
- Available in multiple languages
- Includes many additional editing options
Cons:
- Doesn't work with online images
- Doesn't support multiple formats
- Changes don't occur in real time
10. Online Converter
Price: Free
Last but not least we have Online Converter, a website that specializes in conversion tools for videos, audio, images, documents, and more. There are well over 100 tools to choose from here, which is frankly a bit overwhelming. As far as the image brightener tool is concerned, it stands out from the crowd thanks to its ability to support over two dozen formats. As an added bonus, it also works with images from URLs so you don't even have to upload anything.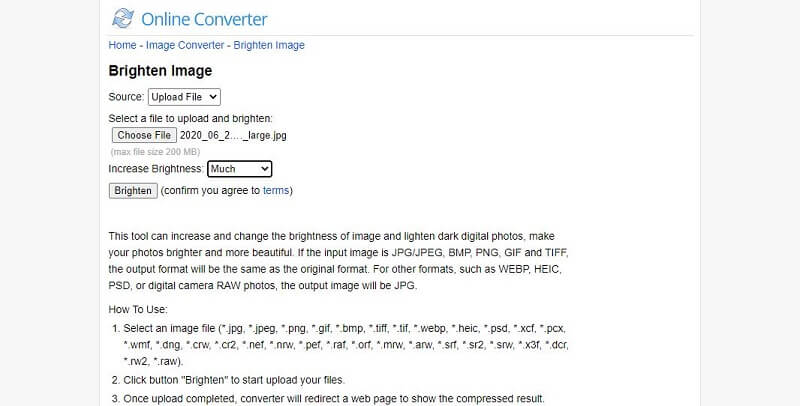 Pros:
- Supports many formats
- Works with online images
- Completely free
Cons:
- Can't fine tune the brightness
- Doesn't support previews
- Confusing website navigation
Also read: Top 10 AI Resume Builder Tools Review.
FAQs
How to Brighten a Picture Online?
The easiest way to brighten an image is to use one of the many available online tools, some of which we have covered in this article. These tools are usually free and, in many cases, allow you to edit images from URLs. This feature is very useful if you're trying to avoid uploading files from your computer onto the internet.
How to Brighten an Image in Photoshop?
We didn't mention Photoshop in this article but you can of course use the popular software as a photo brightener. Simply go to Image -> Adjustments and then look for the Brightness/Contrast options. Play around with the sliders until you arrive at the desired results and finish by saving your selection. Simple as that.
What is an Image Brightener?
An image brightener is any sort of tool that lets you change the brightness of a digital photo, usually via a slider of some sort. Some of these tools are available online on various websites while others are included in editing software that needs to be installed locally. The software version is generally more advanced but the online tools are easier to use.
Final Thoughts
If you've made it to the end of this article you should now have a very good understanding on how to brighten an image using editing tools. We tried to mix things up by including both professional software, free online tools and intergrated AI solution such as image quality enhancer from VanceAI, so you can have a wide range of choices at your disposal. Don't hesitate to experiment and then stick with the one that best fits your needs. You may also be interested in Top 10 AI Photo Editors Review | Is AI Photo Editing the Trend in 2023?