Professional recording technicians use several ways to remove background noise from audio files, including using software filters, manually editing the file, or using a noise reduction plugin. But those can be costly to use and not worth it if you just need to remove noise from an audio file without any hassle. Veed.io is the perfect website that provides the feature to remove background noise from audio online. In this article, we'll show you how to remove background noise from audio using the best tools in 2023.
How to Remove Background Noise From Audio using Audiate
Background noise is a term used to describe the sounds that are present in a recording that you aren't supposed to hear. It is noise present in the recording that is not part of the main signal. This can include things like ambient room noise, traffic noise, or even the sound of the person recording the audio.
But how do you remove the background noise from your recorded audio file? If you're working with audio, whether it's for a video project or audio recording, you may need to remove background noise from your clips. Background noise can be distracting and make your audio sound unpolished.
Audiate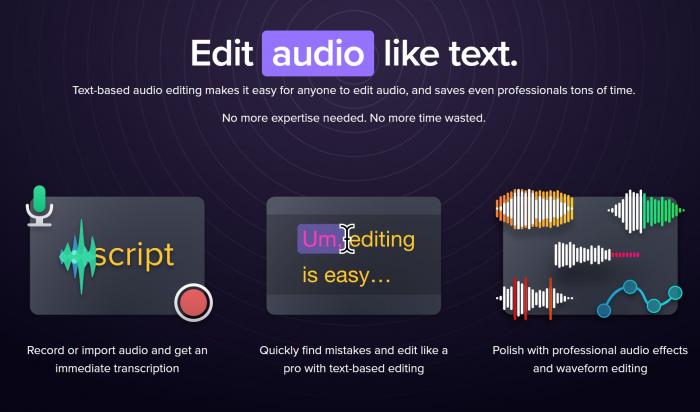 Audiate is an amazing audio editing app that has so many features! With Audiate, you can transcribe audio to text, remove noise, level volume, equalize audio, and so much more. There are so many options and features with Audiate that you'll be able to find the perfect settings for any audio file you're working with.
To remove background noise from audio using Audiate Audio Editor, follow these steps:
Step 1: Record or upload the audio file.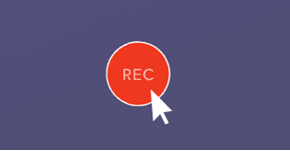 Step 2: Select the noise section.
Step 3: Remove the selected section.
Step 4: Export the audio file to your device.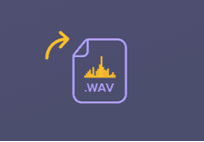 Alternatives to Audiate
There are a few other online tools you can use to remove background noise from audio. These are paid services as well.
Podcastle
Podcastle is an audio editing app that helps you clean up your recordings, transcribe them into text, and even record podcast episodes and interviews remotely. It's perfect for anyone who wants to make their audio recordings sound professional and polished.
Podcastle can help you remove unwanted background noise from your recordings, so you can focus on the important audio.
Unlike Veed.io, this website does not have a dedicated feature allowing you to remove background noise from audio online but you can still do so using this online service. To do so, follow the guide below:
Step 1: Goto Podcastle noise removal tool and click on "Get Started".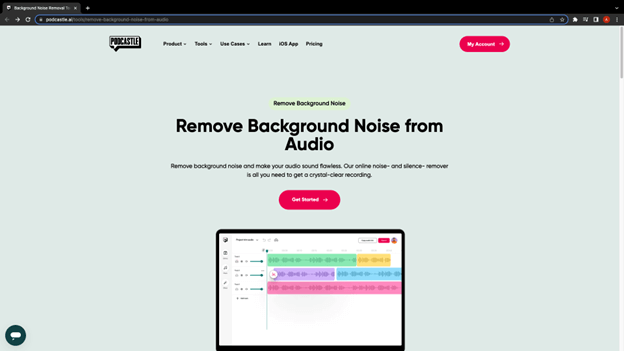 Step 2: Create an account.
Step 3: Click "Create" and select "New Project".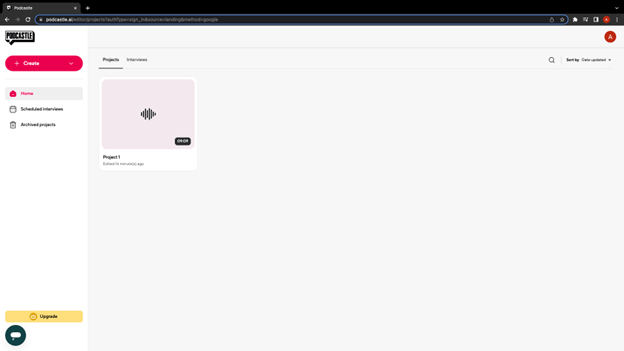 Step 4: Upload your audio file.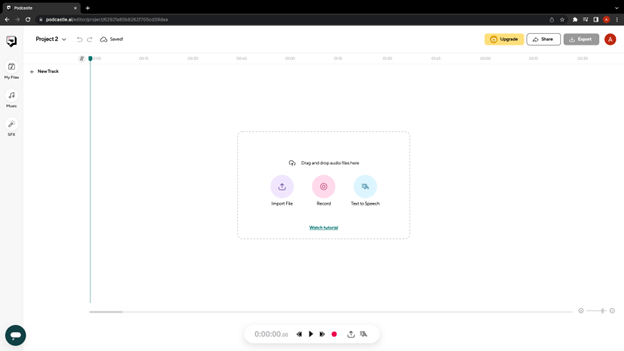 Step 5: Right-click on the audio.
Step 6: Select the "Split" option and cut out the noise section.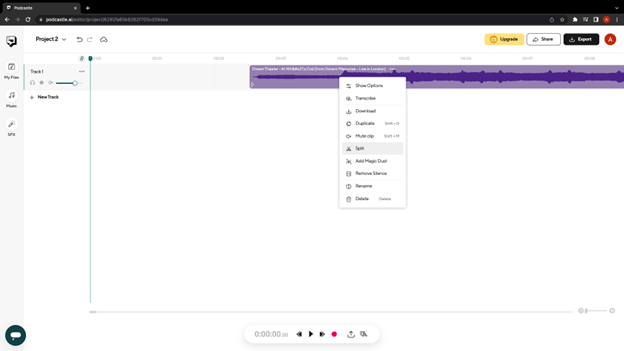 Step 7: Click on the Export option in the top right corner and then, click on Export file.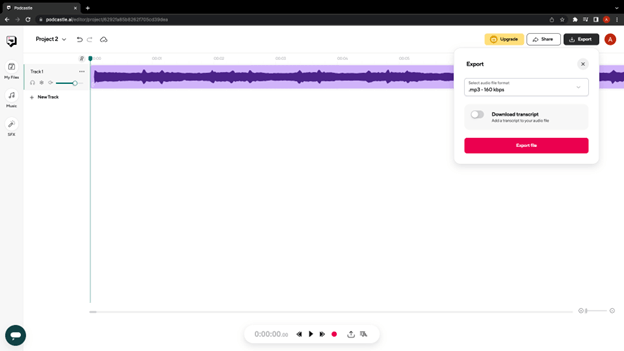 The pricing for the basic package is just $11.99 which is not that much considering the services they are giving. The user interface is aesthetic and user-friendly but it lacks the dedicated noise removal feature which is a very handy tool.
So, to use Podcastle to remove background noise from audio online, you just have to upload your audio file and split the noise section out.
Veed io
Veedio's user interface is basic and simple so that the users can navigate the different features and settings easily without having to look up a tutorial. However, even though it features a lot of services, this online editor lacks a lot of things that dedicated editing software can provide.
So basically, you just need to upload your file, go to settings and use the Clean Audio option which does all the background noise-cleaning for you. You can get this online service for as little as $15/month.
Here is a step-by-step process on how to remove background noise from audio using the audio editing tool Veed.io.
Step 1: Sign up for a paid account on Veed.io. The basic package should serve you well.
Step 2: Visit this website and click on "Choose Audio".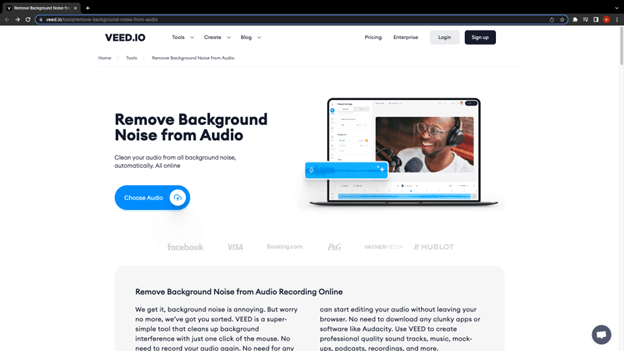 Step 3: Upload your video or audio file.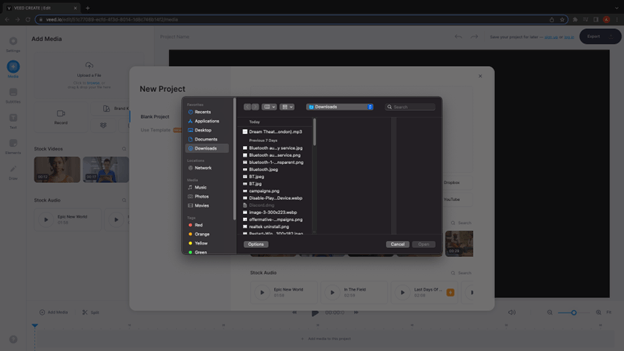 Step 4: On the Settings tab left-hand side of the screen, scroll down to the Audio section.
Step 5: Click the "Clean Audio" option which removes background noise and enhances audio quality.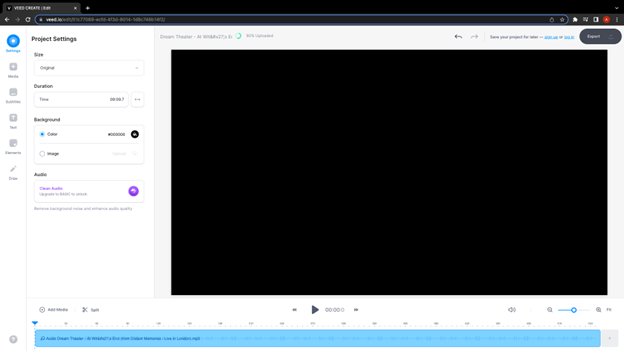 Step 6: Click the "Export" button to download the new audio/video file on your device and then click the "Export Video" button.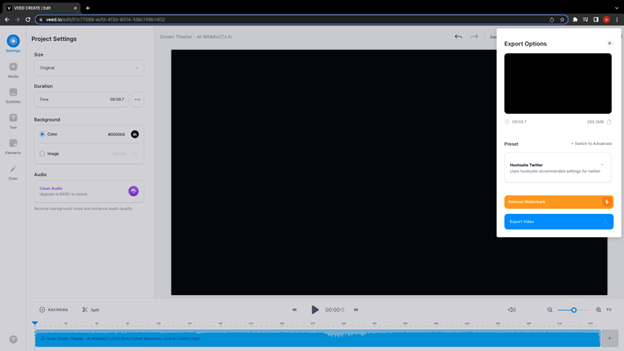 Summary
Overall, Veed.io is one of the best options to choose from as it has a dedicated noise removal option that works very well. Our team of professionals has tested and reviewed the feature stating that it is perhaps an impressive and handy tool to use. The $15/month pricing is just fine for the number of services that have been provided with the product. Also, Podcastle and Audiate are great alternatives that do the job well and you can't go wrong with either of them.
Frequently Asked Questions
1. Is Audiate free?
No, Audiate is free to download but there is also a paid version of this service that unlocks a variety of tools or more creators such as the background noise-removing feature. You can subscript Audiate for $199.99 / year per creator, that's the yearly plan. And the monthly plan will be $29.99/month per user. But this does not mean that the free version is useless, the free version can still be used to do basic audio editing. 
2. Can I use Audiate on my phone?
As of now, there is no dedicated Audiate app for mobile devices but you can still use your phone to record audio. Using your phone's built-in mic can come in handy if your desktop device does not have a mic for whatever reason.