The article recommends a wide range of user-friendly tools and advanced AI art generators, creating digital art has become easier than ever.
Are you fascinated by the world of digital art and eager to bring your creative visions to life? Making AI art has never been more accessible and exciting, especially for beginners. Imagine you have a passion for storytelling and want to make digital art that brings your characters to life through vibrant illustrations. However, as a beginner, you may be unsure of where to start or how to create stunning visuals. That's where art generators come in.
These powerful tools can bridge the gap between your imagination and the digital canvas, automatically generating intricate and lifelike illustrations based on your descriptions. With art generators, you can unleash your creativity and embark on a journey of digital artistry with ease, making digital art a truly captivating and fulfilling experience.
Not only can you access the 10 best ai image generators, but also you can have a quick look at how you can get started with digital drawing in this video:
Also read: The rise of AI art: What is it, and is it really art?
How to Make Digital Art – Best 10 Digital Art Generators for Beginners
| | | | | | |
| --- | --- | --- | --- | --- | --- |
| Product | Price | User-Friendly | AI-Powered | Customization | Processing Time |
| VanceAI Art Generator | Free & Paid (4.95$-17.95$) | ★★★☆☆ | ★★★★☆ | ★★☆☆☆ | ★★★★☆ |
| Toongineer Cartoonizer | Free & Paid (4.95$-17.95$) | ★★★★☆ | ★★★★☆ | ★★☆☆☆ | ★★★★☆ |
| VansPortrait | Free & Paid (4.95$-17.95$) | ★★★★☆ | ★★★★☆ | ★★☆☆☆ | ★★★★☆ |
| Befunky | Free & Paid (5.99$-11.99$) | ★★★★☆ | ★☆☆☆☆ | ★★★★★ | ★★★☆☆ |
| DeepArt | Free | ★★★☆☆ | ★★★☆☆ | ★★★☆☆ | ★★☆☆☆ |
| Krita | Free | ★★★☆☆ | ★★★☆☆ | ★★★★☆ | ★★★☆☆ |
| Sketchpad | Free & Paid(4.95$) | ★★★☆☆ | ★★☆☆☆ | ★★★★★ | ★★★☆☆ |
| Artworktool | Free & Paid(49$/99$) | ★★★☆☆ | ★☆☆☆☆ | ★★★☆☆ | ★★★☆☆ |
| Fotor | Free & Paid(3.33$-7.49$) | ★★★☆☆ | ★★★☆☆ | ★★★☆☆ | ★★★☆☆ |
| Symbaloo | Free & Paid(6.99$-24.99$) | ★★★☆☆ | ★★☆☆☆ | ★★☆☆☆ | ★★★☆☆ |
Our ratings are based on objective assessments, considering factors such as price, customization, processing time, user-friendly, and pros and cons. It's worth noting that the product may update over time, and we will strive to keep this article as up-to-date as possible.
1. VanceAI Art Generator--The Best AI Art Generator
Price: Free & Paid (4.95$-17.95$)
Rating: 9/10
If you want to learn how to make digital art using the power of artificial intelligence we strongly encourage you to check out VanceAI Art Generator. The best ai art generator creates art from text online. Just with a few clicks, the AI image generator automatically generates HD art, imitates the artist's style, and adds to the artistic ambiance. It lets you test out its tools with next to no limitations, which is always nice to see.
By the way, VanceAI PC is also the best ai art generator app, which supports batch processing and advanced technology to improve your work efficiency.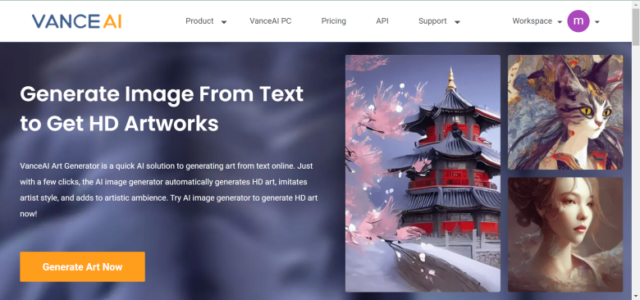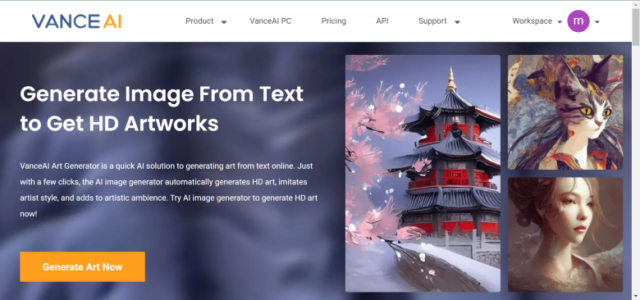 Pros:
Able to imitate the artist's style
Processing speeds are remarkably fast
Data Security Guaranteed
Cons:
Outcome uncontrol
trial times limit
How to Use AI Art Generator?
Step 1: Hit AI Art Generator on the navigation bar.
Step 2: Work on the artwork on Art Generator Workspace, and input your ai art prompts into the workspace. Click "Create".
Step 3: Preview and download your artwork.
Also read: Best Anime Character Creator Review from TopTen.AI
2. Toongineer Cartoonizer
Price: Free & Paid (4.95$-17.95$)
Rating: 9/10
Toongineer Cartoonizer website offers over a dozen AI-powered image editing tools, including a very efficient photo colorizer. The creatively named Toongineer Cartoonizer can take a photo, whether it be a selfie, a picture of a landscape, a screenshot from a movie, or anything else, and turn the photo into a cartoon in just a couple of seconds. What's more,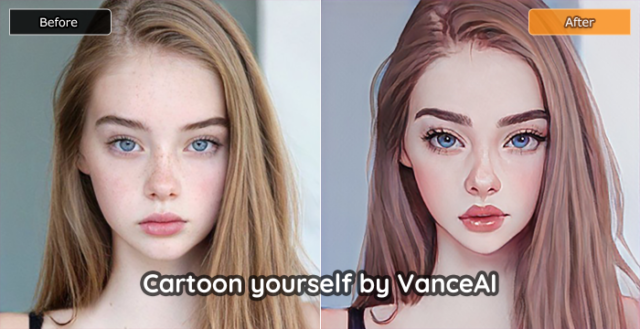 Pros:
Able to cartoonize absolutely any type of image
Processing speeds are remarkably fast
Lets you cartoonize 5 images for free every month
Cons:
Limited sample images
The process can take a couple of attempts with some photos
No customization options (for the cartoonizer at least)
Also read: Best Anime Character Creator Review from TopTen.AI
3. VansPortrait
Price: Free & Paid (4.95$-17.95$)
Rating: 9/10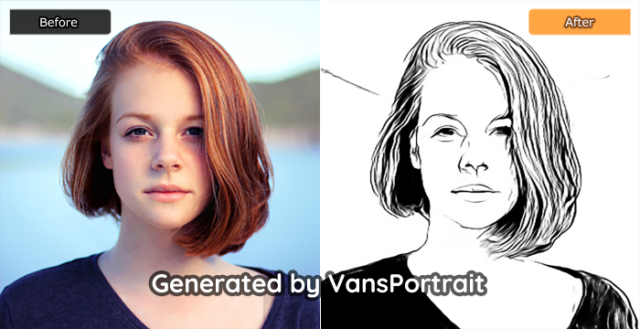 Creating sketches is usually a painstaking process but it doesn't have to thank once again to VansPortrait. Sketch Converter is another great digital AI art generator offered by the company and it works similar to the aforementioned cartoonizer. Simply upload your image, run it through the tool, and let the Sketch Converter do all the hard work for you. A single subscription of $9.90/mo will give you premium access to the Sketch Converter, Toongineer Cartoonizer, and all the other tools offered by VanceAI. Quite a bargain. And of course, you can also try it out for free.
Pros:
Lets you cartoonize 5 images for free every month
Gives you the option of isolating and converting only faces
Very fast processing times
Cons:
Only a single style is available
No customization
Not ideal for converting images of landscapes
VansPortrait is just one of the most useful tools to make digital sketch art from your photos. Find more free photo-to-sketch converters here.
4. Befunky--Make the Best AI Art for You
Price: Free & Paid (5.99$-11.99$)
Rating: 8/10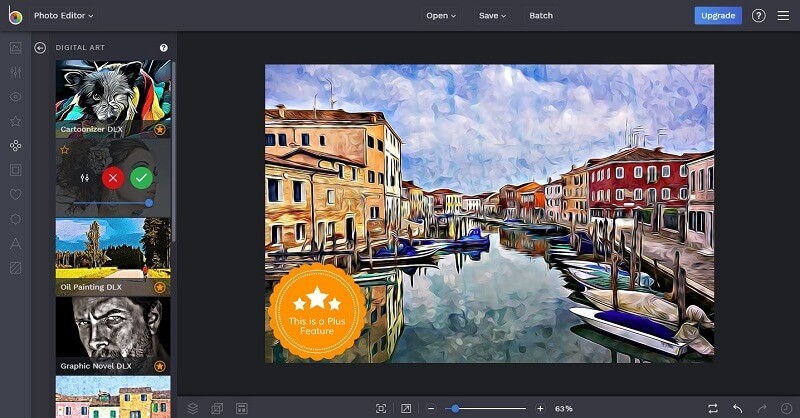 Befunky's goal is to allow users to create digital art with just a single click, and that's not just marketing talk. The digital art generator comes with a wide variety of effects, frames, overlays, graphics, and more that you can indeed apply to your own images with just a simple click of a button and several ai art prompts. One of the best ai art generators- Befunky offers a very impressive array of toys you can play with you, and for a reasonable price to boot. A monthly subscription will set you back $4.99 if you don't mind paying annually. Otherwise, the price is $8.99 per month. 
Pros:
Tons of effects and textures to play with
Lets you import images from Facebook, Dropbox, and more
Extremely easy to use
Cons:
The free version is extremely limited
Tries to get you to pay upfront for a yearly plan
Can't use most features without an account
5. DeepArt--Free Best AI Image Generator
Price: Free
Rating: 7/10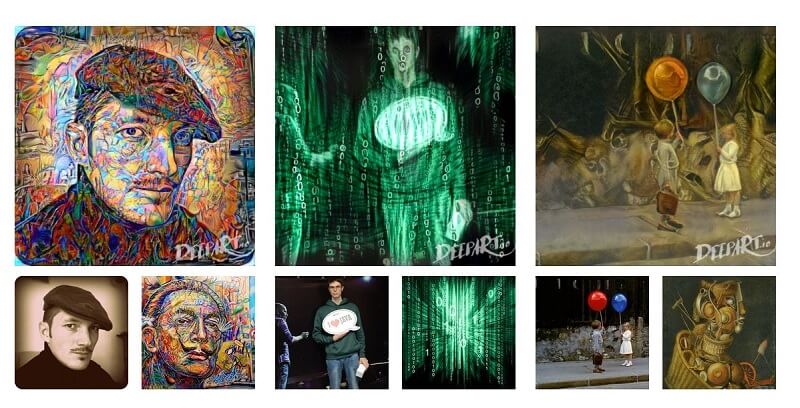 If you're looking for a digital art maker that you can use completely for free you'll absolutely love this website. DeepArt lets you choose between plenty of cool art styles while also giving you the option of uploading your own. Creating ai generated art is free but the high-resolution version needs to be purchased. If you really like how the image turned out, you can even buy a print of it to hang up on your wall. The idea is definitely very cool and you can even use the website to turn videos into veritable best ai art. And if you want to enlarge AI-generated images while restoring quality, you can try an AI image upscaler.
Pros:
Create unlimited standard-resolution ai generated art for free
The resulting art piece can be printed and shipped to you
Works with videos in addition to images
Cons:
Free version images are small and come with watermarks
Slow processing times (10 minutes or more)
High resolutions renderings are very expensive
6. Krita--Make Best AI Art Free
Price: Free
Rating: 7/10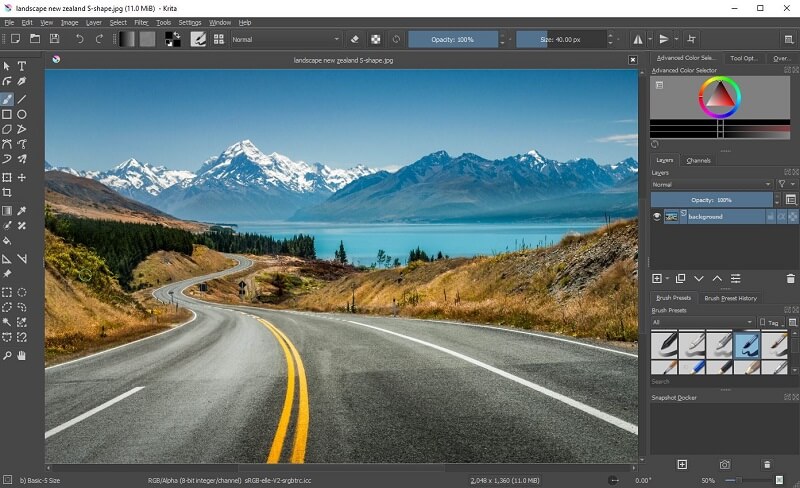 Krita is another free best ai image generator. It is an open-source painting program available completely for free on Windows, Linux, and MacOS. Unlike all the other digital art maker tools mentioned so far, Krita doesn't have an online version so you'll need to download and install it locally in order to use it. That's a bit of a hassle but we think it's well worth it when considering that you're getting unlimited free access to a powerful software suite that lets you create any type of art you could possibly imagine. The downside? It's not really suitable for beginners.
Pros:
Very powerful software suite for creatives
Rivals even the likes of Adobe Illustrator in terms of options
Completely free and open-source
Cons:
Fairly steep learning curve
No online version
Certain assets need to be purchased separately
7. Sketchpad
Price: Free & Paid(4.95$)
Rating: 6/10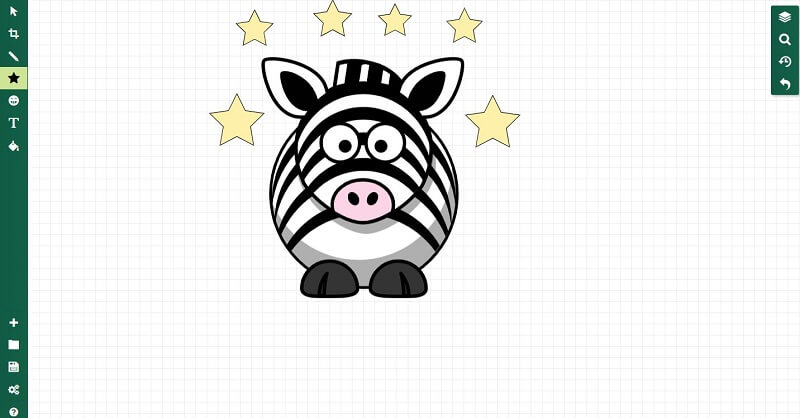 Sketchpad is a digital art maker that gives you complete freedom to pursue your creativity while offering you all the tools needed to do so. The tool comes with over 5,000 pieces of clipart, over 800 different fonts, and more than a dozen shapes and brushes. Sketchpad is one of those tools that doesn't really like to hold your hand, so you'll have to figure out how to use everything mainly by yourself. Using the tool online is completely free, though there are some limitations. Downloading it, however, requires you to purchase a license.
Pros:
Tons of clipart, fonts, shapes, and brushes
Available in over a dozen languages
Gives you complete creative freedom
Cons:
Few tutorials to help you figure things out
The offline version requires the purchase
Not the most user-friendly tool
8. Artworktool
Price: Free & Paid(49$/99$)
Rating: 6/10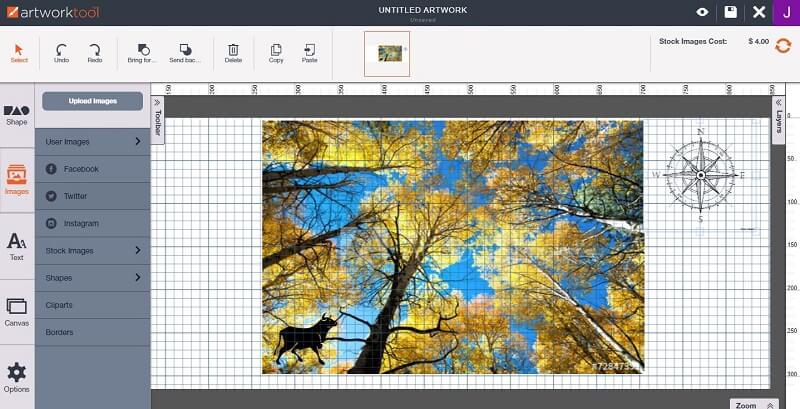 Artworktool.com is another great website where you can learn how to make digital art even without any prior experience. The site is particularly good at letting you create things like banners, covers for your social media pages, infographics, favicons, and even memes. There are plenty of templates for all those things and more but you can also create custom canvases if you want to try designing something from scratch. You don't have to pay to use the website but you will need to create an account.
Pros:
Great for creating banners, covers, and more
Neatly organizes your artwork
Doesn't need a subscription
Cons:
More restrictive than similar tools
Requires you to sign up for an account
Charges for each stock image individually
9. Fotor--Make Digital Art with One Click
Price: Free & Paid(3.33$-7.49$)
Rating: 7/10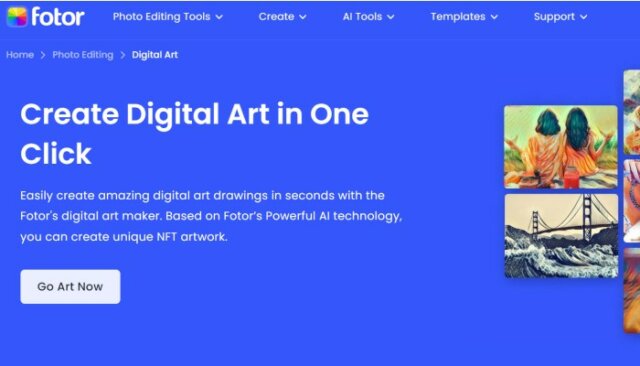 Fotor's "Create Digital Art in One Click" feature is a powerful tool offered by the Fotor online platform. This feature aims to provide users with an easy and efficient way to transform their photos into stunning digital artworks. One of the best ai art generators Fotor also offers customization options, enabling users to fine-tune the intensity of the applied art effects. And Fotor is easily accessible from any web browser, making it convenient for users on different devices. However, it's worth noting that advanced users seeking more control or extensive editing options may find the feature limiting. The ai generated art is of average quality.
Pros:
Easy to use
Wide range of art styles
Quick results
Customization options
Cons:
Overused styles: This could lead to a lack of uniqueness or originality in the final artwork.
Output resolution limitations: Higher resolutions might require a premium subscription or additional fees.
Lack of advanced features
10. Symbaloo
Price: Free & Paid(6.99$-24.99$)
Rating: 6/10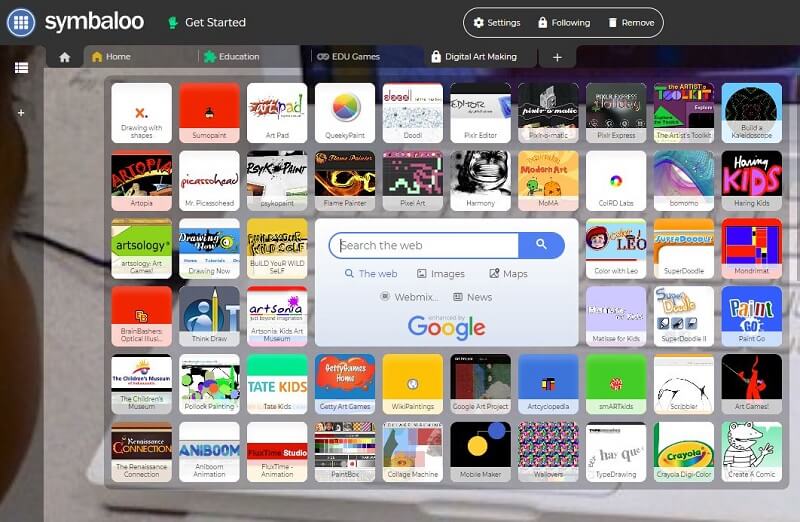 Symbaloo is a neat website that acts as a sort of aggregator for a wide variety of free digital art-making tools. The website feels a bit convoluted at first but is worth trying to wrap your head around it because of how much it has to offer in terms of creative tools. Symbaloo can be used for free but also has paid plans that remove advertising while also offering some other features. There's also an app you can download but it doesn't do much and is difficult to recommend. It also allows you to turn photos into line drawings just like the sketch converter mentioned above.
Pros:
Great aggregator for digital art maker tools
Wide variety of tools
Completely free
Cons:
Website feels bloated
Occasional annoying ads
Useless app
Also read: Top 10 Facebook Font Generators Review
FAQs
1. What Makes the Best Digital Art Maker?
The best digital art maker tools should be advanced and easy to use, allowing users to combine creativity with modern technology. They should offer a variety of features, customization options, and fast processing times. Additionally, user-friendly interfaces and AI-powered capabilities are desirable. Overall, the tools should provide a seamless and efficient experience for creating digital art.
2. What is Digital Art?
Digital art refers to any artistic work or practice that uses digital technology as part of the creative or presentation process. It can also refer to computational art that uses and engages with digital media. Unlike traditional art, digital art requires the use of art-based software or other similar digital tools.
Learn more about what is digital art and how it evolved over the years in this YouTube video from the British Council of Arts:
Also read: How AI art generators work and why they're controversial
Final Thoughts
In conclusion, the world of digital art has become more accessible than ever before, thanks to a wide range of user-friendly tools and advanced technologies. Whether you're interested in creating illustrations, cartoons, paintings, or digital designs, these tools provide a gateway to explore and express your artistic talents.
We explored some of the top digital art generators, each offering unique features and capabilities. From VanceAI Art Generator which uses AI to imitate artist styles, to VanceAI Toongineer Cartoonizer which can turn photos into cartoons with ease, and VanceAI VansPortrait for transforming images into anime-like sketches, these tools provide exciting possibilities.
Embrace the world of digital art, experiment with different tools, and let your creativity soar to new heights. The possibilities are limitless, and with these digital art generators, you can embark on an exciting journey of artistic exploration and self-expression.