Summary: This review will discover how AI-powered image diff checkers boost eCommerce conversion rates by offering customers visually similar product recommendations, benefiting businesses and individuals alike.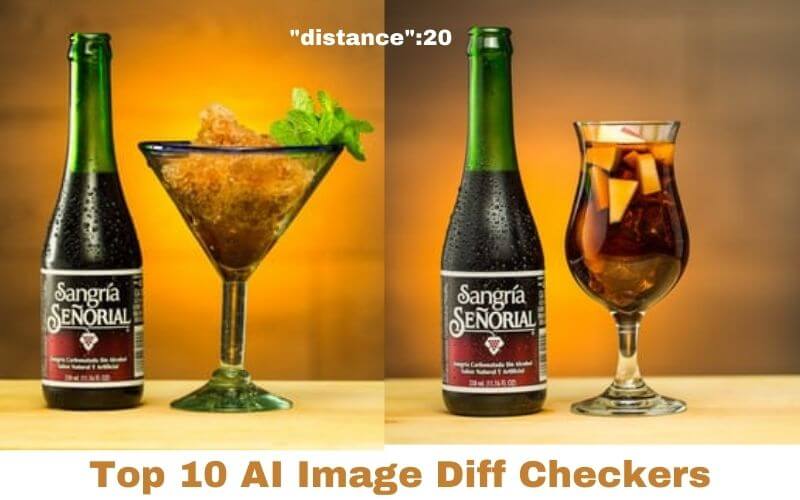 Diff checkers are becoming increasingly popular among eCommerce businesses, stock photo sites, customers, and even individuals. Firstly, eCommerce businesses use diff checkers to recommend similar products to their customers, effectively doubling or even tripling their conversion rate. Stock photo sites and other providers of online assets use diff checkers to scout the internet to monitor how their content is being used. Customers also benefit from eCommerce stores using visual related search, as it helps them find the right items quicker. Finally, individuals might use diff checkers for hobbies or find differences between two picture or texts.
This article of the top 10 AI image diff checkers actually includes both AI and non-AI tools that find differences between pictures, texts, and other content. For now, AI seems to lag behind in this field, but we can soon expect it to improve dramatically.
Also read: Top 20 Website Builders Review 2023.
Without further ado, these are the top 10 AI image diff checkers:
Top 10 AI Image Diff Checkers Review 2023
This is the preview table we created after reviewing and summarizing the top five products. Continue reading if you want to know more.
| AI Image Diff Checker | Price | API | Advanced Algorithm | Object Detection | Fashion Tagging | Parallel Processing |
| --- | --- | --- | --- | --- | --- | --- |
| DeepAI | Free | ✓ | ★★☆ | ✗ | ✗ | ✗ |
| SuperAI | Free | ✗ | ★☆☆ | ✗ | ✗ | ✗ |
| Peltarion | Paid | ✓ | ★★☆ | ✗ | ✗ | ✗ |
| Folio3 | Paid | ✓ | ★★☆ | ✗ | ✗ | ✗ |
| Ximilar | Paid | ✓ | ★★★ | ✓ | ✓ | ✓ |
1. DeepAI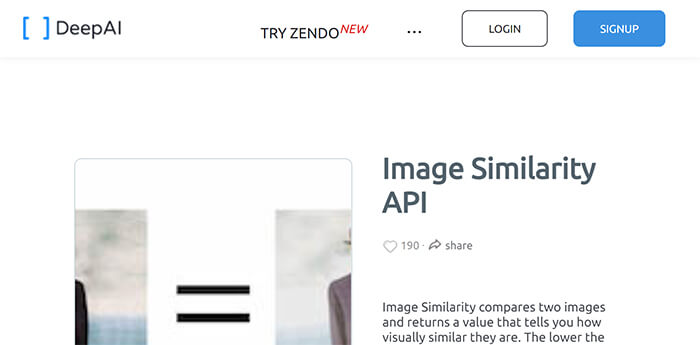 DeepAI Image Similarity tool compares two images and lets you know how similar they are in the form of a value. The lower the value, the more similar are the images. For example, the value »0« would mean identical images. DeepAI offers APIs for Javascript, Python, Ruby, and Csharp, as well as examples that help you set up the APIs. Alternatively, you can use the tool directly from the website by uploading both images, but this process is rather time-consuming. In summary, this tool can be very effectively used to find contextually similar images and to group them based on their contents.
PROS:
Great API for several programming languages
Best for grouping images
CONS:
Also read: Top 10 AI Writer Applications Review 2023.
2. SuperAI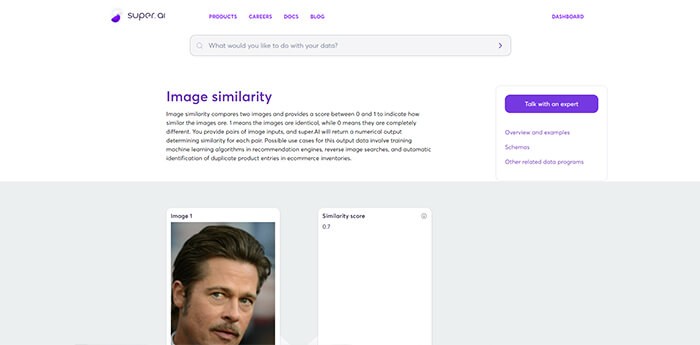 The image similarity tool by Super AI compares two images and returns a score between 0 and 1 that indicates how similar they are. Value 1 means that images are identical, while 0 means they are completely different. You can then use these results to train machine learning algorithms, automatically identify duplicate content, and even perform reverse image searches. The algorithm does not only compare colours and shapes. It can also recognise faces and facial expressions. For example, it will recognise the same person in two completely different images.
PROS:
The advanced algorithm recognises people
Very easy to use
CONS:
Feature-poor
 No API
 Lacks additional instructions
Related article: 2020 in Review: Top 10 Amazing AI Projects in Photo & Video.
3. Peltarion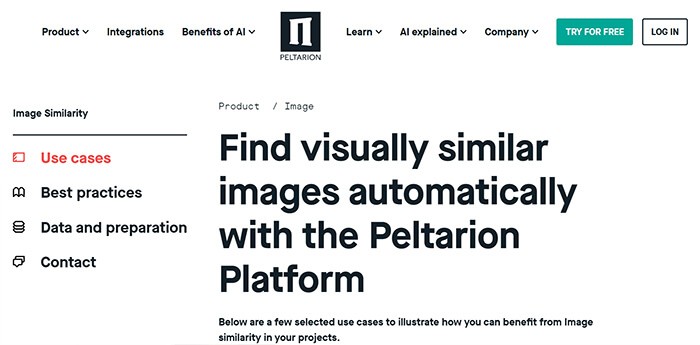 Peltarion is a low-code platform for deep learning that leverages commercial viable AI-powered solutions. It provides solutions at scale and very fast. You can tweak, build, fine-tune, and deploy learning models. It is best used to help your customers find matching items from your product range. Alternatively, some stock photo sites use it to track where your visual assets are being used online and whether they have been modified and altered. When it finds a match, the tool can automatically categorise and tag images. All you have to do is upload your data and do a few tweaks.
PROS:
Great tutorials and instructions
It can easily be tweaked and modified to solve your problem
CONS:
Requires some coding knowledge
4. Folio3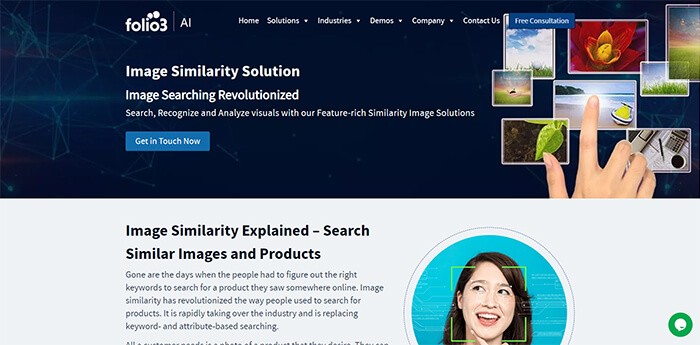 Image Similarity Solution by Folio3 searches recognises and analyses images. The tool analyses image colour, size, texture, visual specifications, and a couple of other parameters. Based on its analysis, it then outputs a similarity score. It can be best used with eCommerce businesses, which can offer similar products to their customers based on the current product image. It has been shown that this simple feature dramatically improves conversion rates. All you have to do is upload JPG or PNG format images. Image Similarity Solution will then arrange the images based on your requirements and the format you defined in the beginning.
PROS:
Great for eCommerce
Offers demos
Works with TensorFlow, Docker, and Python
CONS:
5. Ximilar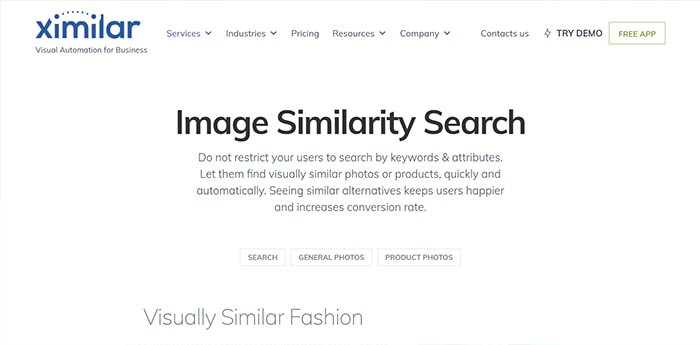 Image Similarity Search is an image diff checker by Ximilar. It allows you to integrate visual search within your platform or eCommerce. By providing similar alternatives, you can more than double your conversion rates. Ximilar has an easily integrate API for cURL, Python, and PHP. You can get a free trial, which comes with 3,000 free API credits. There is a Business plan for $59 or $175 with 100k or 300k API credits if you need more. The professional plan comes with 1M API credits for $499. In addition, the software can perform parallel processing, object detection, advanced annotation, and fashion tagging. You also get one consultation with an ML expert.
PROS:
Extremely transparent pricing
Free plan
CONS:
Kind of expensive
It does not support Javascript and Ruby
6. Diffchecker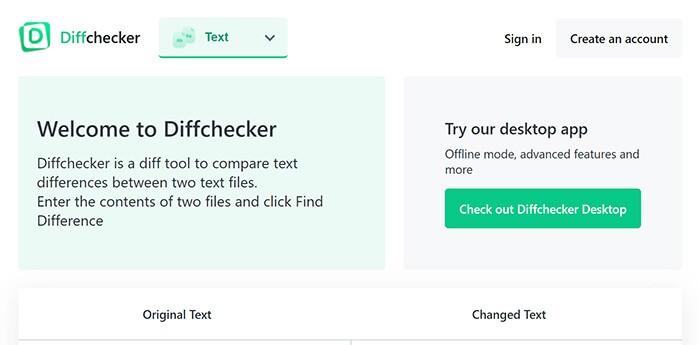 Until this point in the article, I listed tools that find differences between images. Diffchecker find differences in text. It is actually a very simple tool. You type or copy each text variation in one box and click »Find Difference«. The tool will instantly find all the differences and similarities between the texts. What is more, you can use it for free. For $9/month, you can get a Dekstop app, extra security, real-time text difference, meaning that you see differences as you type. It also comes with a dark mode, syntax highlighting, no ads, an offline mode, better performance, and priority support. There is also an Enterprise plan that features cloud storage, SLA, and 24h support.
PROS:
A free plan
Very cheap paid plan
Cloud storage
CONS:
The best features are paid
7. IMGonline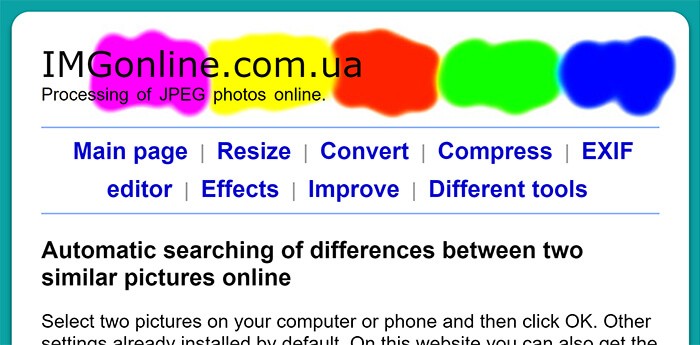 IMGonline is a rather simple tool for processing photos online. To use it, simply select two images on your phone or computer, and click on the OK button. You can upload JPEG, PNG, GIF, TIFF, or BMP formats. The tool highlights areas that are different in images, which is a very valuable feature. But rest assured that your images remain intact in the process. For your convenience, you can also change the highlight colour and JPEG compression level. However, the uses of this tool end here. You can not use its API for your business or eCommerce.
PROS:
Free
Highlights differences
Easy to use
CONS:
8. TheImageKIT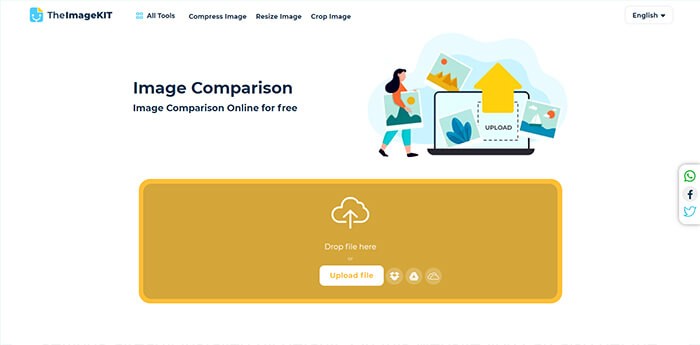 Image Comparison by TheImageKIT is a free online image comparison tool. It is very easy to use, too. You can simply drop the files into the browser window or upload them from your computer, Dropbox, Drive, or Cloud. The tool guarantees accurate results in finding similarities between two images, as it compares them pixel by pixel. What is more, it works 100% online in your browser, so you do not need to install anything. Image Comparison supports a wide variety of images formats, like JPG, PNG, BMP, TIFF, RAW, PSD, JPEG GIF, BMP, WBM, and a lot more.
PROS:
Available online
Completely free
CONS:
No API
No additional settings
9. Online-Image-Comparison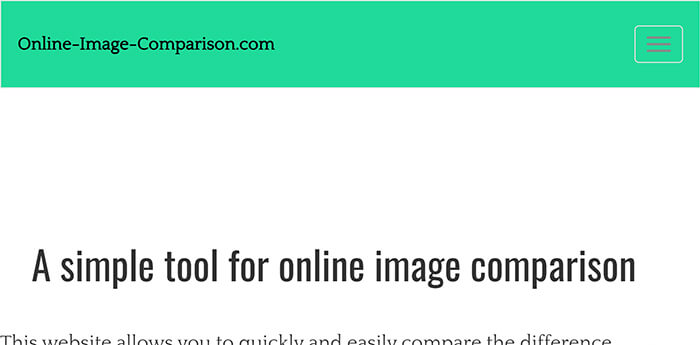 The online Image Comparison tool is a relatively simple but effective tool for finding differences between two images. This tool scans both images pixel by pixel and reports back any differences it found. What is more, it also calculates how different are the pixels. Therefore, it is perfect for finding small and hardly discernible differences between two cluttered images. For now, the Online Image Comparison tool has no other functionality than a simple comparison of two images, such as APIs or advanced settings. Thus, it is the best for similar image diff tasks.
PROS:
Very simple and effective
Free
CONS:
Lacks advanced options
No API
10. Text Compare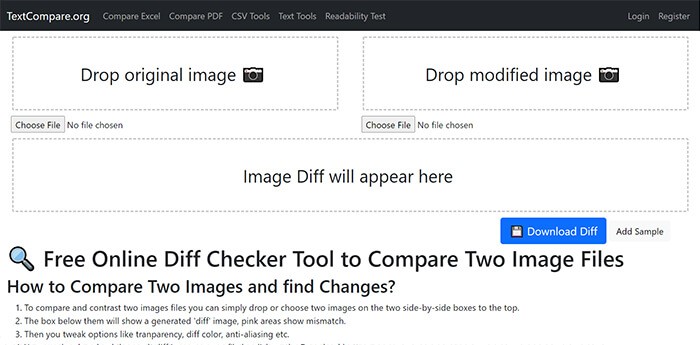 Text Compare developed a free online diff checker tool that compares two image files. To compare two images, upload them from your computer or simply drag them into the browser window. You will quickly find a generated diff image in the box below. You can also tweak options such as transparency, diff colour, anti-aliasing, and lots more. If you would like, you can also download the resulting diff image as a PNG file. None of the files is stored remotely. The process takes place entirely on your computer. It is a completely free tool, but it has no additional options or API access.
PROS:
Free
You can tweak diff image
Simple to use
CONS
FAQs
1. How to find the difference between two pictures for free?
To find the difference between two pictures for free, you can use a number of online tools that find differences between two pictures. Simply upload two or more photos, and let the tool crunch the numbers. The resulting diff image shows all the differences between the two pictures.
2. How are AI diff checkers used in the real world?
A lot of online businesses and eCommerce stores use diff checkers to recommend products with similar product images. This one simple feature can more than double conversion rates. Diff checkers are also used by stock photo agencies to find how their clients use stock photos.
Conclusion
In the future, I expect AI to even further improve and find its uses in other fields. However, AI is not a silver lining for every problem. First of all, it is quite difficult to efficiently code for some problems. Secondly, we do not get any insight into its results. Therefore, it is referred to as a »black box«.
Regardless, I believe that AI will become a part of virtually every software thanks to its wide applicability and great potential. It is inevitable that AI will also improve image diff and image recognition even further by working even faster and more accurately as it becomes more and more complex. Also read: Top 10 AI Reverse Image Search Tools.