The Copyleaks plagiarism checker is exactly that, though with more features and a solid reputation, having been implemented by top companies such as Semrush, UNICEF, United Nations, and more. With the question of what is Copyleaks out of the way, we can move on to the Copyleaks review. With this application, you can benefit not only as a writer but also as a client who needs written content on their website or for their business. Copyleaks ensures that each copy that makes it to your digital space is truly authentic and will elevate your business instead of throwing it to spam. Copyleaks is an essential application for all kinds of professionals, especially those who deal with content writing and copywriting. Of course, you can also use Copyleaks for other written content too, such as academics.
What is Copyleaks?
Copyleaks is a plagiarism checker but powered by AI and Machine Learning based technologies. With this application, you can thoroughly check a copy or content for any kind of plagiarism. The AI based system is designed to catch all kinds of cheating when it comes to writing. Furthermore, Copyleaks also gives you a detailed result, pointing out each word and sentence, mentioning how original or copied they are.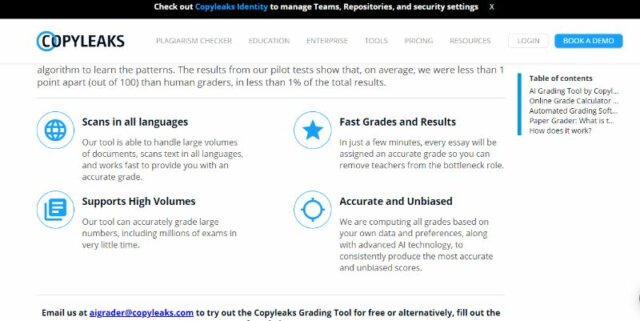 You get percentages and the degree of originality about the sentences. As such, you can either remove certain parts or just change them in a small way to gain authenticity. When it comes to the academic side, Copyleaks is equally useful. You can receive a grade for the academic documents that you process with Copyleaks plagiarism checker.
Copyleaks offers payment options according to the number of words or articles. The lowest one is for 25,000 words at the cost of $10.99 per month. The highest you can go is for 15 million words at the cost of 3499.99 yearly.
How to use Copyleaks?
Now in this Copyleaks review, let's see how to use the Copyleaks plagiarism checker and how it works.
With this Copyleaks link, you can access the official website and start using the application. Click on the Start Now button to proceed ahead. The page also discusses the various features that the app provides, which you can read by scrolling down.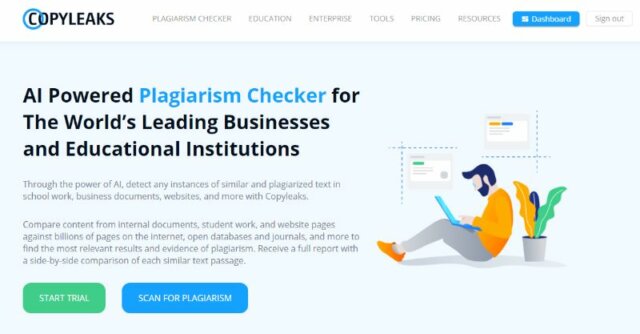 2. The prompt will ask for your email and send a code on your email. After verification, you can fill out the other details and start using the app. It accepts multiple ways of uploading documents, including local files and URLs. Use whichever is preferred.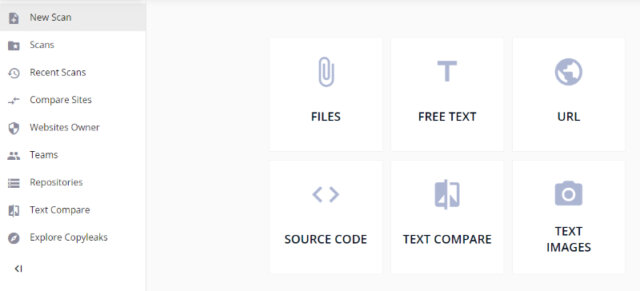 3. The Copyleaks plagiarism checker will start to analyze the document and show the percentage as it makes progress. After the analysis is done, you will see all the numbers such as percentage of originality, which phrases need editing, the grade, and more on the web page itself.
So, is Copyleaks safe? Yes. Copyleaks implements security protocols and is an app used and trusted by a large number of companies and organizations.
Performance and Features of Copyleaks
The Copyleaks plagiarism checker makes use of AI and Machine Learning to detect similarities within a written copy and content. One of the most helpful features of the Copyleaks plagiarism checker is that it offers multiple ways for users to upload their document.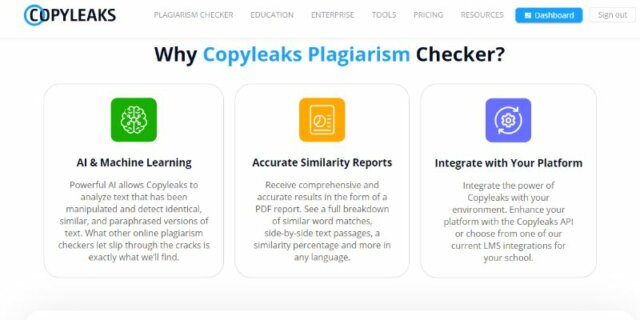 A really great option is to upload URL links into the Copyleaks plagiarism checker tool as it then analyzes the entire web page for plagiarism. Do note that the user must check the web page after it has been analyzed by the Copyleaks plagiarism checker as it will mark everything that seems familiar. Simple and common phrases such as "follow us", "trending now", and more get marked as well.
Also, while Copyleaks is more on the faster side when it comes to analyzing content, it can still take a minute to complete the process. The app is definitely thorough when it comes to processing and showing results, hence it also requires a solid minute to get there. It's best to upload a few articles and divert your attention to something else.
Conclusion
In this Copyleaks review, we saw what is Copyleaks and how it works, along with other important details such as the prices and features. The Copyleaks plagiarism checker is definitely worth using because it not only provides great results, it does so for many types of users. The only thing that the users should remember is to not take each and every suggestion as important. The app has a tendency to mark common phrases that are used and must be used by everyone. Read more: Writesonic Review: How to Write With AI Without Sounding Like A Bot