The world is digital now! What you do and what you are about to do is merely focused on being done through the internet. Since 2020, there has been a significant boost in online meetings via zoom software. It has its major benefits but can be a bit hard for some people who do not have a specific workspace. Members tend to blur the background in zoom meetings for personal ease, so their untidy surroundings are non-visible.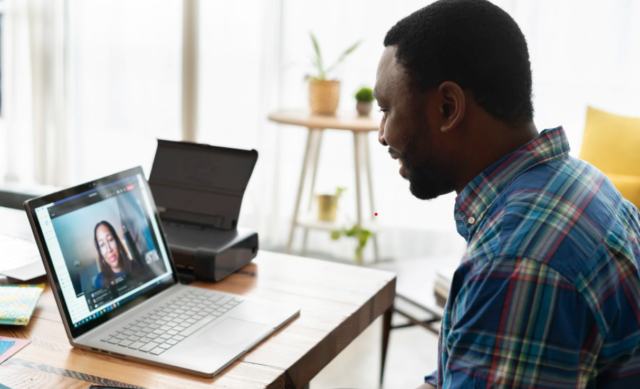 A lot of people know about how to blur the background in zoom meetings, but still, there is a significant number that is unaware. We're here to teach you about zoom background blur through these easy step-by-step guidelines.
You can adopt multiple ways to blur the background in zoom meetings, like; capturing an image and setting it permanently behind the video or using zoom's in-built options and systems to get rid of the problem.
How to Blur Background in Zoom Meetings
There are two ways that you can use to blur a background:
If you want to keep a steady image of the room behind, you can capture, adjust, and upload it in zoom's 'Choose the virtual background' option or the settings options.
If there is a simple white wall behind and you want it to be changed for other moving pictures and still canvas shots, it can be done straight through the settings area.
In both ways, you will definitely get a blurred background, but some people are most reliable with option #1. They want to capture and use that professional-looking, blurry background shot commonly found in a DSLR camera.
For both of these methods to work, you will need to have version 5.5.0. Below these numbers, you will not be able to explore the Background & Effects option.
How to blur Zoom background before meetings, method 1
This method is done using the 'Choose Virtual Background' option, a Computer webcam, and any picture editing tool that can blur photos.
Step #1
You have to snap a photo for the background using your computer's webcam or mobile device. For a windows system, you can use the 'Camera' application, or, for a MacBook user, the 'Photo Booth' application could be used.
Step out of the frame and remove the office chair. Then snap a photo of the professional background that you want to use.
Step #2
Next! We're going to edit the captured image using online software called Canva.
Simply go to Canva.com and click on create a design. Type in Zoom Virtual Background and click on the similar option.
You have to upload the captured image and edit it using the Canva blur effect.
Here's how you can do that:
Upload the image.
Click on Edit
Type in 'Blur' and click on the 'Use' button.
Keep the settings to auto and adjust the intensity according to your requirement.
Step #3
Jump onto zoom software, let it process, and add your background!
Click on the setting button available right below your profile picture icon and select 'Background and Effects'. In this window, click on the plus icon and upload the image you have previously blurred and downloaded from Canva.
And that's it.
Once the image is uploaded you will be able to instantly see the background on the preview screen.
Wrapping Up Method #1!
This might seem a bit tricky at first sight, but following these guidelines can help you get that blurry background photo in just 5 minutes. You can change and blur whatever image that you want as your background.
More information also read:Top 10 Motion Blur Tools for Image Editing Reviews 2023
How to blur Zoom background in meetings, method 2
Check your zoom software version and make sure that it is updated to its latest. Older versions i-e below 5.5.0 will not have this option available to enjoy. After doing the check-up, follow these steps in the same hierarchy.
Step #1
Open Zoom and find the settings button just below your profile picture icon.
Step #2
Click on Video and select the camera device that you want to use or if already done, skip this step.
Once done, click on the 'Background & Filters' menu to find the area where you can play around with the blurred background in zoom settings.
Step #3
Choose the blur option, and you will see that your currently running background will be blurred immediately. You can also choose to select video filters and moving pictures by clicking on the multiple options provided by the software itself.
Wrapping Up Method #2!
This is a very simple and straightforward method where you can take out the possibility of editing and blurring the image yourself. The major downfall of this method is that it will be shown on the camera if someone moves in the background. While method #1 is a fixed and still image that will remain like that till the end.
And this is exactly how you can blur backgrounds in zoom meetings quickly and easily in a three-step portfolio.
Alternative Solutions to Blur Zoom Background
In this post, I've mentioned that you can use filters and effects as your background images instead of blur the background in zoom meetings. This particular thing can easily be done by going back to the settings area and selecting Background and filters.
There will be three options visible while you're on this screen: Virtual Background, Video Filters, and Avatars.
The virtual background option will have your still images and picture. Video filters will contain multiple effects, emoticons, and stickers to be applied on the screen, while Avatars will replace your enter face and body.
Conclusion
This is a place where people are making their money remotely. Since this has become a place of online meetings, it should be taken as professionally as possible. We would recommend hanging a green screen behind to make things even more, clearer for your presentation and dialogues.
Both the methods are based on the requirement of the user. If you want to edit the image and paste it according to your own choosing, go with method #1; in other cases, If you want to keep it simple, we would recommend Method #2.
FAQ's
Q1: Is it free to blur zoom background?
Yes, it is completely free to use the blur zoom background on the software. There is no additional subscription required to be paid for.
Q2: Can we use Videos as Zoom Background?
Yes, you can add a video on the 'background & Effects' option and select it to be applied.