Summary: This article reviews the best VR headsets available in 2023, ranking them based on their practicality and features. VR technology is changing the way we learn, train, and play games, and these headsets are capable of saving time and money for basic training in corporations and the military.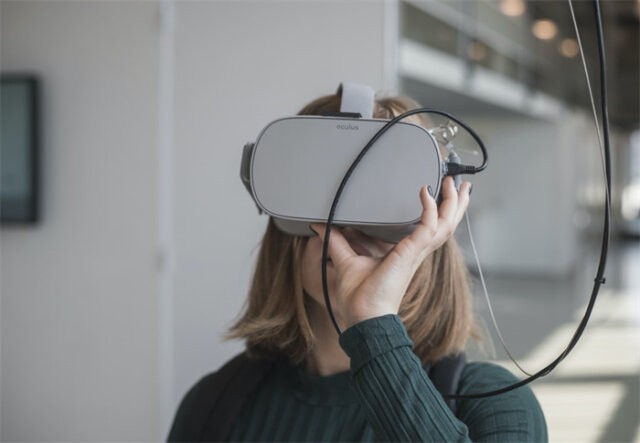 Virtual Reality is made accessible with the use of VR headsets and there are new innovations in this technology every year. The need for VR headsets arises when we have to simulate a life-like situation which would rather be difficult to do in real life. Gaming is just a fun way to explore the world of VR and to advertise this technology. We'll go through some of the best VR headsets out there in this article and explain their purpose while giving you a brief review. Any individual would look forward to the practicality and features of these headsets to make a purchase, and thus, we will rank them accordingly.
Disclaimer: This is not an affiliate post, and we don't get commission for qualified purchases. We don't recommend you use VR products that have been proven to be bad for your eyes.
What are the Best VR headsets in 2023?
This is the preview table we created after reviewing and summarizing the top five products. Continue reading if you want to know more.
| VR Headset | Price | Resolution | Field of View | Wireless | Built-in Audio |
| --- | --- | --- | --- | --- | --- |
| Oculus Quest 2 | $299 (64gb) / $399 (128gb) | 1832 x 1920 per eye | 90 degrees | ✔ | ✔ |
| Vive Pro 2 | $799 | 2448 x 2448 per eye | 120 degrees | × | ✔ |
| Vive Focus 3 | $1,300 | 2448 x 2448 per eye | 120 degrees | ✔ | ✔ |
| Valve Index | $999 | 1440 x 1600 per eye | 130 degrees | × | ✔ |
| HP Reverb G2 | $599 | 2160 x 2160 per eye | 114 degrees | × | ✔ |
1. Oculus Quest 2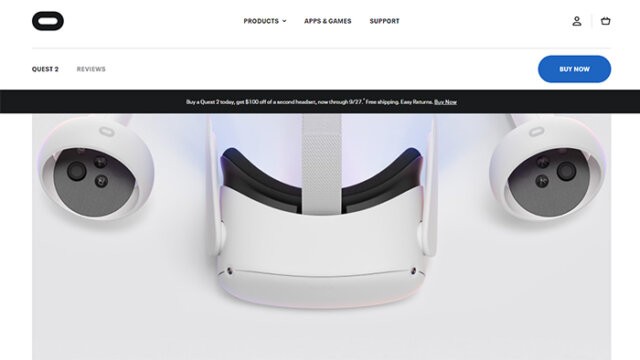 The Oculus Quest 2 is a wireless VR headset with an in-built storage of 128gb to store applications without requiring any external media. Although, it can be connected to a PC using a single USB-C cable. Being a wireless device, its resolution is surprisingly high and it also features in-built speakers. The headset itself is compact, cheap, and faster yet very comfortable to wear even on glasses. It has self-contained motion tracking with a full-motion six degrees of freedom (6DoF) controller just like the PC-run Oculus Rift. Games such as SuperHot VR and Moss run extremely well on this headset. But since this is a Facebook production device it requires a compulsory Facebook account during sign-up.
Pros:
● Truly Wireless
● Great resolution
● Connect to PC with USB-C cable
Cons:
● Facebook account required
● Limited storage
2. Vive Pro 2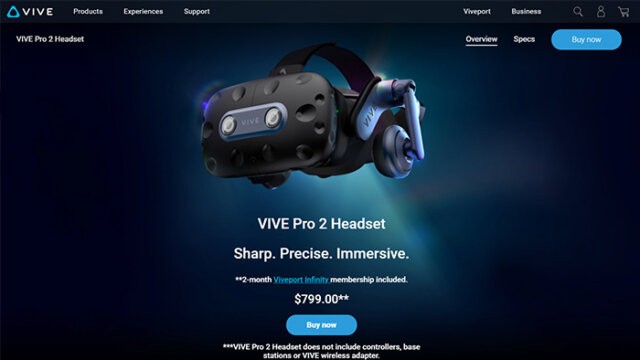 The HTC Vive Pro 2 is a premium VR Headset built for a surreal experience and comfort. Its 5K resolution with a 120Hz refresh rate takes you to a completely different world. To further upscale the user experience, HTC added 3D spatial sound integration in the in-built headphones with a powerful amplifier so that you can hear VR environments the way they are meant to be heard. The wide 120° horizontal field of view (FoV) aligns with the human eyes letting you see more naturally and comfortably. With the Adjustable interpupillary distance (IPD), you can easily find a comfortable viewing angle while wearing the headset. Its ergonomic design for balance and comfort can tackle VR sessions of any length and purpose.
Pros:
● Premium headset with best display
● 3D spatial sound integration
● 120° horizontal field of view
Cons:
● Quite expensive at $799
3. Vive Focus 3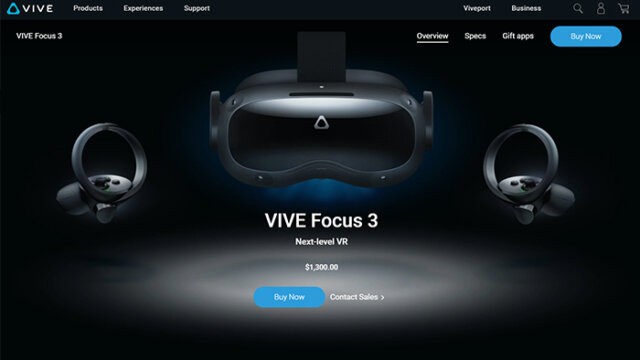 The HTC Vive Focus 3 is much more than a VR gaming headset. The idea behind this device is to use it more for educational, business, and training purposes. However, it rocks all the features from the Vive Pro 2 and even excels in some of them. Its 5K UHD resolution offers 60Hz and 90Hz refresh rate with the same 120° field of view. It also supports 3D spatial sound integration with amplifiers. An active cooling mechanism and a thermal optimized battery maintain the device temperature at ideal levels for non-stop sessions. Thanks to the patented quick release button, wearing and removing this headset is just a matter of seconds.
Pros:
● Active cooling system
● More comfort for longer sessions
● Vive Focus Controller with 6DoF
Cons:
● Quite expensive at $1300
4. Vive Cosmos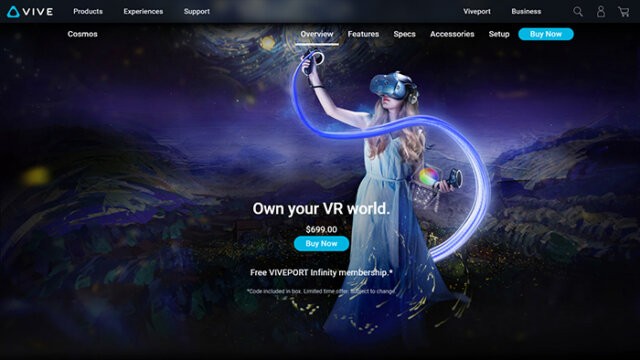 The Vive Cosmos features a halo-style head strap putting the weight of its visor on your forehead and balances it with a rigid strap clamping to the lower part of the back of your head. However, this design takes away the extra room that you would require to find the perfect viewing angle. It produces some of the clearest images in VR with a resolution of 2880 x 1700 combined with a 90Hz refresh rate. The LCD panels do interfere with the quality, especially in dark settings which would have displayed better on AMOLED panels. The Cosmos has six Inside-out tracking cameras but they don't function properly in low-light conditions.
Pros:
● Comfortable to wear
● Eye Adjustments
● 6DoF Inside-out tracking
Cons:
● LCD panels
● High price
5. Google Cardboard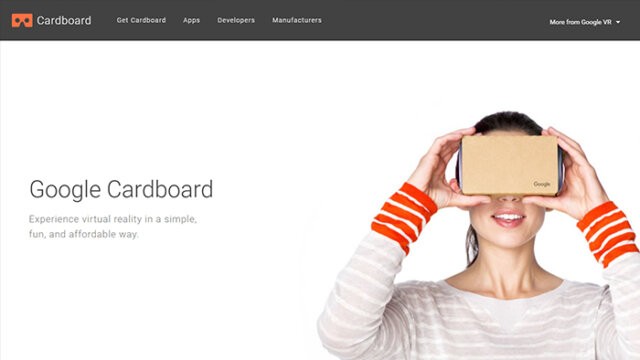 VR headsets gained popularity after Google introduced its cardboard based VR headset. Many new basic VR headsets have now made their way to the markets which support the Google Cardboard app. These headsets are relatively very cheap and give you a basic introduction to the world of VR. The Google cardboard VR headset simply uses a smartphone instead of an LCD or AMOLED panel, thus the resolution depends on the phone that you use. The cardboard app splits the screen of your phone in two parts, which you have to place in front of the lenses before wearing the headset. There are no extra speakers, no processor, and no wires.
Pros:
● Costs less than $30
● Good product for Introduction to VR
● Easy and entertaining to use
Cons:
● Can't perform professional/high-performance tasks
● Only uses phone as the screen
6. Valves Index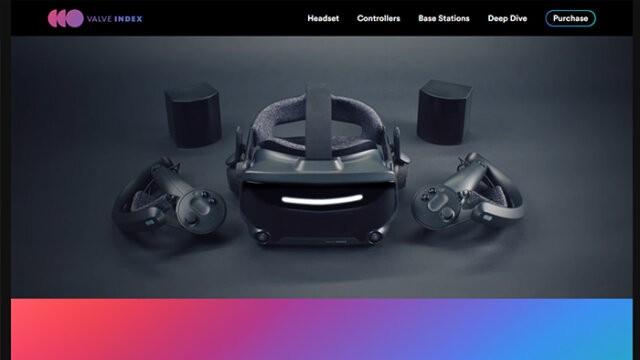 Valve's Index is one of the best VR headsets out there in terms of performance. The dual 1440×1600 RGB LCDs provide 50% more subpixels than OLED which results in greater sharpness. Index runs at 120Hz with full back compatibility to 90Hz along with a 144Hz experimental mode. The overall viewing experience is great on this headset. Its high geometric stability allows you to look around just by turning your eyes without having to move your whole head. To further enhance the experience, the Valve Index controllers combine complex sensor inputs and unlock a wide variety of new interactions, experiences, and gestures. With two base stations, you can enjoy a 400% larger play space than the previous generation headset. And you can also add in a third or fourth base station to increase the area.
Pros:
● High Performance VR Headset
● Smooth 120Hz refresh rate
● Reliable product
Cons:
● Expensive pricing
● LCD panels
7. Playstation VR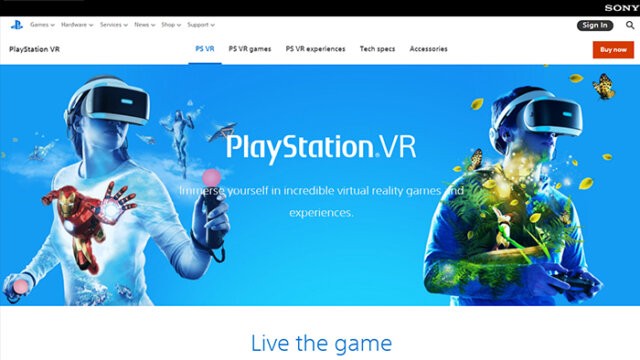 Playstation VR, compatible with the new PS5 console can run VR games with ease to give you an amazing experience. It rocks an OLED screen with a refresh rate of 120Hz, not the most common combination among VR headsets. But it certainly gives you mesmerizing visuals with the 360 degree vision. For better gaming experience, you get a mic with a 3D audio system to be able to sense the direction of different sounds. The Playstation move motion controller is quite popular when it comes to VR gaming, however, the Dualshock 4 wireless controller from PS4 also works seamlessly with Playstation VR. Overall, this headset is completely game-oriented and does the job superbly.
Pros:
● OLED panel with 120Hz refresh rate
● 3D Audio with in-built mic
● 360 Degree vision
Cons:
● Costly setup
● Limited amount of games supported
8. Varjo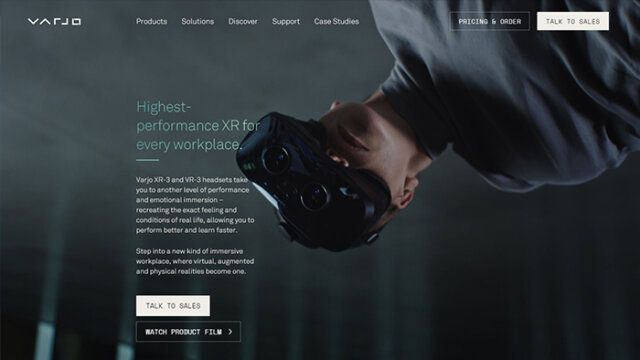 The Varjo X3 was introduced for simulation of mixed realities into one which would further be used for military training, job training, or even training an individual for other normal real-life situations. Its intent was never to be just a gaming VR headset, but to bring more innovation in this technology. It has a full-frame bionic display with human eye resolution and a 115° field of view. It is simply a device to simulate tough real-life situations and train individuals which would otherwise require a lot of time, money, and effort. No base station is required with this headset unless you want to use Steam VR on it. It is also the costliest VR headset and would not prove much useful to everyone.
Pros:
● Dedicated for firms and military for virtual training purposes
● Full-frame bionic display with human eye resolution
● 115° field of view similar to the human eye
Cons:
● Most expensive headset
● Requires Varjo subscription
9. Galaxy Gear VR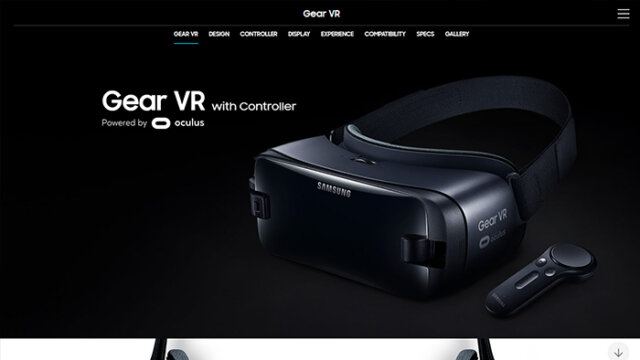 The Samsung Gear VR is powered by Oculus Rift and only works with Samsung Galaxy smartphones. Both Micro USB and USB Type-C phones are supported in Gear VR. Thus, the display resolution depends on your phone. There are more than a thousand apps that work on this device with some multiplayer games so that you never get bored. The package also includes a controller that fits comfortably in your hand. In terms of functionality, the controller has a trackpad, volume buttons, home button, and a trigger button at the rear. Its 101 degree field of view might seem insufficient but it is wide enough and is made according to the galaxy smartphones.
Pros:
● Fun device mobile gaming and learning about VR
● Thousand plus apps supported
● Comes with a good controller and is relatively cheap
Cons:
● Only works on Samsung Galaxy Note, A, and S series smartphones
10. HP Reverb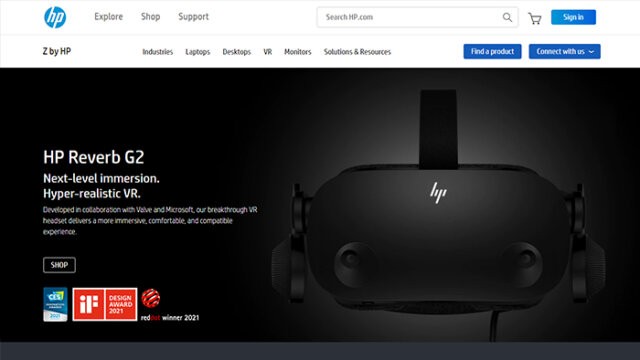 The HP Reverb G2, developed in collaboration with Valve and Microsoft is an all-rounder VR headset capable of helping you with designing, training, and gaming. Its LCD panels have a resolution of 2160×2160 per eye, getting 9.3 million pixels, 2.5x more than the Oculus Rift. Valve has developed its lenses and audio system with industry leading technology. The earpieces sit 10mm away from your ears for more comfort and dynamics. It has 4 cameras for tracking with 6DoF controllers to track even more movement than the previous generation. The controller is ergonomically designed to fit perfectly and is made functional to the core for more control.
Pros:
● 2160×2160 resolution with 9.3m pixels
● Four tracking cameras, 6DoF
● Overall very comfortable and usable
Cons:
● No wireless connection
VR Headset Comparison
How to Compare VR headsets?
VR Headsets can be compared in terms of design, purpose, and price. High-end VR headsets are made for training, simulation, and advanced gaming purposes. Mid-range headsets are made for basic gaming and viewing purposes. Cheap VR headsets like Google Cardboard are made for introductory purposes, to give you an idea about what virtual reality is and how to understand it.
What are the differences between VR headsets?
VR headsets differ in specifications like video resolution, audio, controllers, and connectivity etc. Most high-end VR headsets have OLED or LCD panels with 120Hz refresh rate and 3D audio. Whereas, low-end headsets use your phone as the screen and don't have any external audio at all. Pricing, however, remains the most important differentiating factor among VR headsets.
Conclusion
After looking at a few headsets, we now have some clarity about their different purposes and functions. The price range in this list went from $25 to $7.5k for a headset. It's all up to the buyer to make a purchase based on their needs. If you have absolutely no idea about VR, then you can start with a $25 Google Cardboard and move ahead as you learn more. This technology is completely changing the way we learn, teach, train, and play games. It is capable of saving a lot of human effort, time, and money that goes into very basic training in many corporations and military. Also read: Top 10 Best VR Apps Review
FAQs
1. What is the best VR headset for pc?
The HTC Vive Pro 2 is the best VR headset for PC in terms of performance as it is loaded with features like 5K resolution at a super smooth 120Hz refresh rate, 3D spatial sound system, and a 120° field of view. It is decently comfortable for the user as the viewing angle can be adjusted according to your eyes.
2. What to do with a VR headset?
With a VR headset, you can physically experience both virtual and augmented reality via different kinds of games and programs. Some VR headsets are also capable of replacing real life physical training with virtual methods saving a lot of time and money. However, these are widely used for entertainment purposes like gaming and watching VR content only.
3. How much is a VR headset?
A VR headset can range anywhere between $25-$8k. A cheaper variant which uses a smartphone is only recommended for watching movies and playing basic games. For high quality visuals and performance, you will need to invest in a high-end VR headset having its own LCD or OLED panels with an in-built sound system and controllers.
4. How to use a VR headset?
To use a performance oriented VR headset, you will need a gaming PC to which the headset will be connected via the provided cable. Once connected, wear the headset, adjust the screen according to your eyes, and start any game or program that you like. Make sure to be well-versed with the controller to be able to operate while wearing the headset.
5. How do VR headsets work?
To create a VR effect, video is fetched from a source like smartphone, PC, or the headsets own screen and processor. The video is split into two screens with an individual view for each eye creating a 3D perspective. For further enhancements, other features like 3D audio, controllers, and a wide field of view are added to give you a life-like experience.