Summary: Time blocking apps simplify time management for businesses and individuals, allowing them to organize their day, schedule events, and track employee attendance with ease. With these apps, users can improve productivity and manage their time effectively.
Time passes by at a fast pace, and if you don't keep up, you'll find yourself being controlled by it. It's a cliche, but it's accurate! The way you organize projects, activities, and meetings impacts your productivity. In today's world, managing your time and attention has become extremely crucial. Wondering how you can effectively manage your time? Here are a few time blocking apps with which, you can schedule your entire day with ease and get a sense of how your day will unfold.
If you are looking for a perfect app that will help you in achieving your goal without wasting any time, here's a detailed review of the top 10 apps that are trending for time blocking!
Best 10 Time Blocking App
| App Name | Pricing | Ease of Use | Features | Mobile App | Prioritization |
| --- | --- | --- | --- | --- | --- |
| Clockwise | Free/Pro $6.75/yr | ★★★★☆ | Auto-optimization, easy rescheduling, shift scheduling | ✓ | ✗ |
| Clockify | Free | ★★★☆☆ | Time tracking, estimation comparison, event integration | ✓ | ✗ |
| Time Clock Wizard | Free/Value $24.95/mo | ★★☆☆☆ | Unlimited users, log employee absence, payroll generation | ✓ | ✗ |
| Homebase | Free/Essential $14/mo | ★★★☆☆ | Payroll, scheduling, hiring, team communication | ✓ | ✓ |
| When I Work | Free/Charged | ★★★☆☆ | GPS-enabled time clock, tracks employee working hours | ✓ | ✗ |
1. Clockwise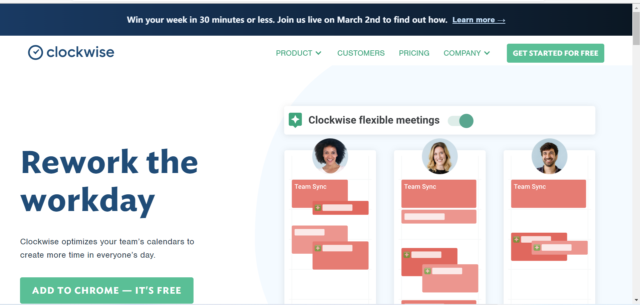 It is one of the most adaptable time blocking apps available. In addition to time management, it also helps in employee scheduling, online and mobile time tracking, shift scheduling, etc. You can automatically optimize your events and calendar with the help of the autopilot clockwise. You can also easily rearrange your meeting if it conflicts with other events, Clockwise will identify and then reschedule them!
Pricing: It is a free chrome extension. However, a pro version can be bought for more advanced features at $6.75 annually.
Pros:
Easy to set up
Can move the task depending on the scheduling needs
Can put jobs on autopilot
Cons:
It does not support prioritization
The Mobile version interface is not smooth
2. Clockify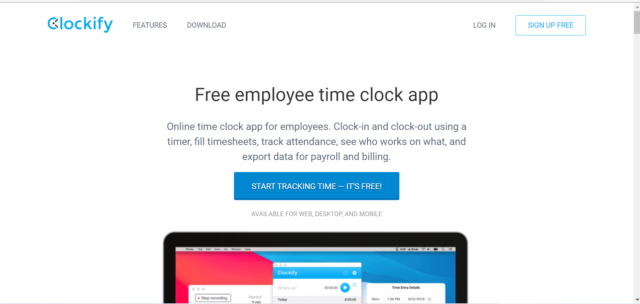 Clockify is an excellent choice if you use the time blocking app for intensive work hours. Its time-tracking tool helps track how much time you spend on various tasks. This free time blocking app allows you to categorize the blocks in two ways: work and task. You can also compare the estimation between the actual time it took to complete the job and the time you estimated it would take.
Pricing: This application is free to use
Pros:
Data is synched online
You can easily add events from google/outlook
It is flexible as it is readily available for both mobile and desktop
Cons:
The interface is not much user-friendly
Might lag in the mobile version
3. Time Clock Wizard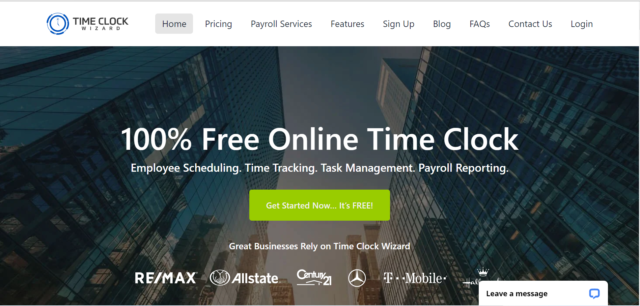 This time blocking app allows unlimited users and staff to work on the same schedule. It also provides extra services such as business accounts, site design, and other business financings.
You and your team can clock in from different devices, which will increase your efficiency. The most amazing feature is that you can make a time clock out of any tablet or computer.
Pricing: The basic version of Time Clock Wizard is free to use. There are three paid versions: Value ($24.95/month), Pro ($44.95/month), and Enterprise ($199.95/month)
Pros:
Can automatically log employee absence
Easy to generate payroll
Ensures security
Cons:
It can be tricky to use for beginners
Set up is not user-friendly
Pro versions are a bit costly
4. Homebase time clock app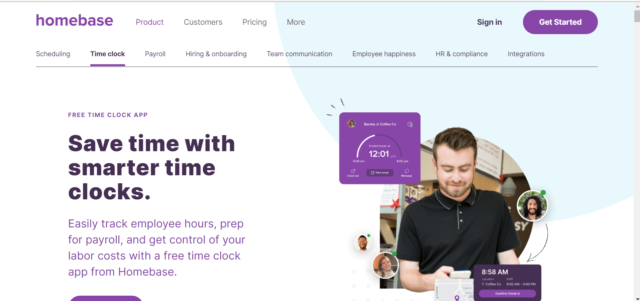 Being a web-based time blocking planning software, Homebase is primarily used to manage a company's human resources department. You'll have access to various tools to assist you with payroll, scheduling, team communication, and hiring.
Pricing: Free basic version is available. Homebase essential package is $14/month, Plus package is $35/month, and All in one package is $70/month.
Pros:
Easy to fix hours if someone forgets to clock in
The application is easy to navigate for new users
Offline mode is available
Staff can send requests for change in work schedule
Cons:
The free version of this software is only limited to one location
Can become slow with the update
5. When I Work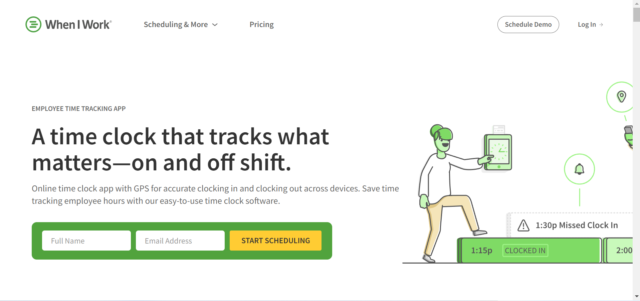 It's a multitasking time management application that's ideal for small businesses. The GPS-enabled online time clock app allows for accurate clocking in and out across many devices. This simple time blocking planner app can save time by tracking your employees' working hours.
Pricing: It is free for up to 75 employees. But a business with a staff of up to 100 would be charged $2 per member. For a company with a team of more than 100, you have to contact When I work.
Pros:
Great mobile functionality
Free 14 days trial
Tracks employees location
Cons:
6. OnTheClock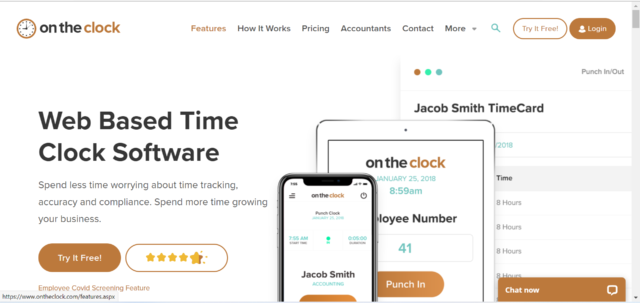 This is where your hunt for a free time blocking app comes to an end. OnTheClock has several features that keep employees happy as well as accountable. You can also utilize a user-friendly time clocking messaging system to interact with your team. This program is primarily intended to help businesses improve their operations, and its GPS capabilities make it simple to supervise staff.
Pricing: It is free of cost for up to two employees. It costs $3.00 per employee each month for up to ten employees. The monthly cost for 300-400 employees is $2.70 per employee.
Pros:
Biometric or fingerprint option
Easy project and payroll reporting
Cons:
GPS sometimes doesn't work with precision
PTO is not easy to use
7. ClockIt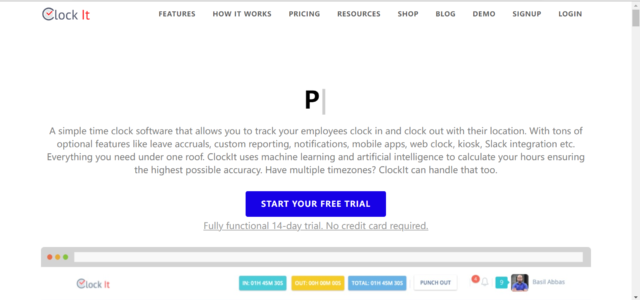 Small and medium-sized enterprises can use ClockIt's cloud-based workforce scheduling app. It's one of the best time-blocking apps because it has a single dashboard to check staff's schedules and produce personalized reports. It can also work with various biometric devices, so employees can effortlessly punch in their arrival and departure times. You will have constructive and fruitful hours spent on assignments with this software.
Pricing: There are four plans available: Nano ($15), Micro ($30), Mili ($50), Kilo ($100).  You can get a 20% discount on all plans if you opt for an annual billing plan.
Pros:
GPS tracking
It supports three platforms: web, android, and iOS
Real-time tracking feature
Cons:
No provision for workstation tracking
Scheduling is not flexible
8. Hubstaff time clock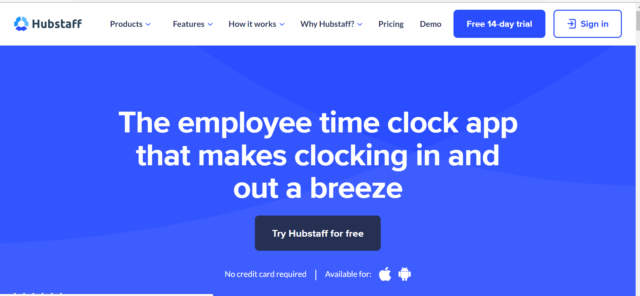 With its time tracking, Hubstaff allows you to reduce your inefficiency and work more effectively. Hubstaff can also connect to over thirty different apps. With GPS tracking and screen recording, you can see work in real-time. It supports Windows, Android, iOS, and Linux.
Pricing: Free version of the Hubstaff time clock that is limited to one user. It starts at $7 for two users.
Pros:
You can take screenshots
Fantastic geolocation and job site features
Easy to schedule
Cons:
Basic reporting
No advance tracking system
9. Humanity online time clock software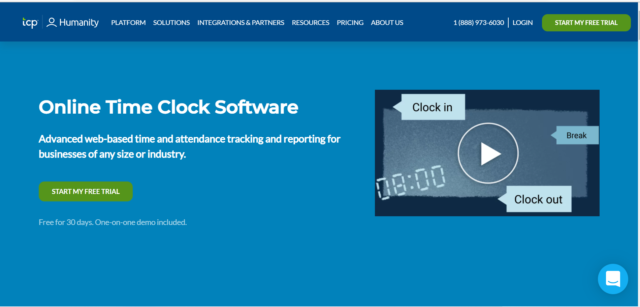 Humanity is appropriate for both bosses and employees. It offers a user-friendly and customized program that is ideal for keeping track of attendance, and it's the perfect blend of design, functionality, and usability. This software will assist you in managing and improving your task while also keeping you linked to your colleagues.
Pricing: It is free for thirty days; there are three plan options after that. The price for the starter pack is $3.50/user, and for the classic pack, it is $5.00.
Pros:
Ease of functionality
Automating rescheduling
Abundance of tools
Cons:
Lack of formatting options
10. Jibble time tracking app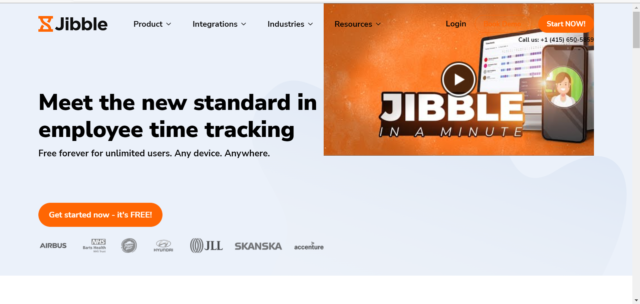 It is a 100% free time blocking app that lets businesses keep track of their employees' actions. You can precisely record the work hours and activities, notes, images, and GPS location. Managers also have direct access to all data, so if you want to look at project calculations or payrolls, you can easily view and manage the automated timesheets.
Pricing: It is entirely free
Pros:
Provides flawless integration with slack
Easy to review the reports
Cons:
Employees have no way of requesting time off.
Labeling projects is complicated.
Final Words
Time blocking is an excellent way to enhance your time management skills. The time blocking planner app helps you manage your work and complete tasks within a set amount of time. So, if you're searching for ways to improve how you get things done, a time blocking app is the way to go. Hopefully, this article aided you in picking the best app for time blocking. Read more: Top 10 AI Calendar Apps Review.