Innovative AI video editors simplify editing and improve efficiency. These editors use deep learning and computer vision to create high-quality videos with ease. Here are some of the top AI video editors for your consideration.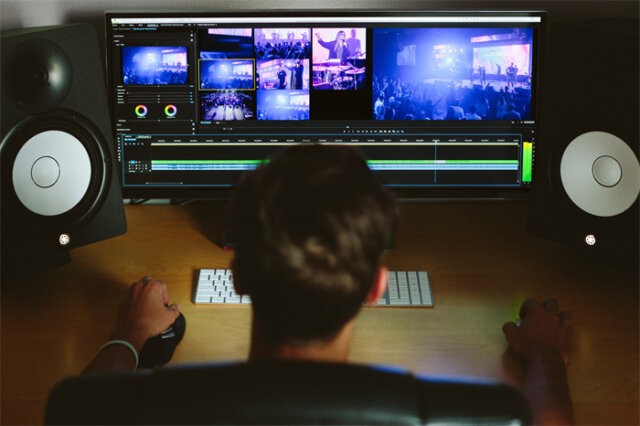 Innovations in artificial intelligence are opening doors to new possibilities and easing the process of editing photos/videos by limiting the amount of manual work to be put into the task. It also does not mean a compromise in the efficiency of work. For AI video editing, mechanisms like Computer Vision and Deep Learning contribute to better overall performance and match manual editing capabilities, which involves a lot of human effort and time. I have listed some of the top AI Video editors who can help you create fantastic content easily.
Top 15 AI Video Editors Review
This is the preview table we created after reviewing and summarizing the top five products. Continue reading if you want to know more.
| Video Editor | Price | Key Features | Supported Languages | Cloud-based | Free Version |
| --- | --- | --- | --- | --- | --- |
| Recreate | Free & Paid ($10-$40/month) | ★★☆☆☆ | ✓ | ✓ | ✓ |
| Kamua | Free & Paid ($1.99 - $100/month) | ★★★☆☆ | ✓ | ✓ | ✓ (limited) |
| Aivo | Free & Paid ($9 - $99/month) | ★★★★☆ | ✓ | ✓ | ✓ |
| Synthesia | $30/month | ★★★☆☆ | ✓ | ✓ | ✗ |
| Video intelligence | Free (upto 1000 min) & Paid ($0.048-$0.15/min) | ★★★★☆ | ✓ | ✓ | ✗ |
1. Recreate
Price: Free & Paid ($10-$40/month)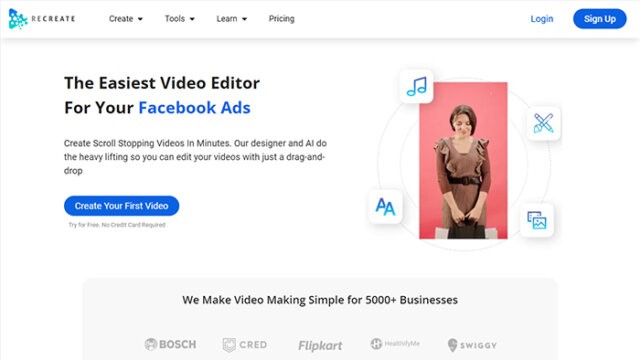 Recreate.ai can customise your videos with colours, fonts, animations, video transitions, and creative overlays. And you can create content specifically for any social media with ease. Recreate.ai allows you to turn written content into videos by automatically finding the most suitable visuals and music to enhance your message. You can also integrate high-quality media, record voice-overs, remove background, generate AI voice, and crop, rotate, and resize your videos as per the requirement.
Pros:
● A ton of useful features
● Free for projects under 3 min/50 MB
● One of the easiest AI Video editors
Cons:
● Adds a watermark to projects in the free version
● Editing videos online could be time-consuming
2. Kamua
Price: Free & Paid ($1.99 - $100/month)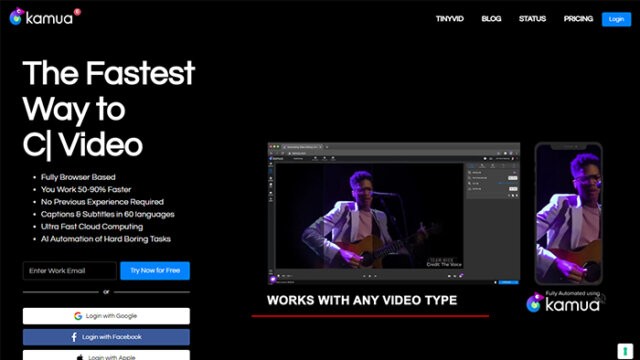 Kamua is a browser-based AI video editor that promises an increased working efficiency by 50-90 per cent in performing basic edits like captioning, resizing, or reframing any project. It is based on cloud computing to be able to manage large project files with ease which is the main criteria of the pricing of this editor. You can add subtitles automatically to any project using over 60 languages. It creates videos for any social media using the desired aspect ratio.
Pros:
● Free version available
● Efficient basic editing like crop, resize, and reform
● Fast functioning with cloud-based computing
Cons:
● Free version limited to 1GB upload and cloud storage
● Lacks more advanced editing tools
3. Aivo
Price: Free & Paid ($9 - $99/month)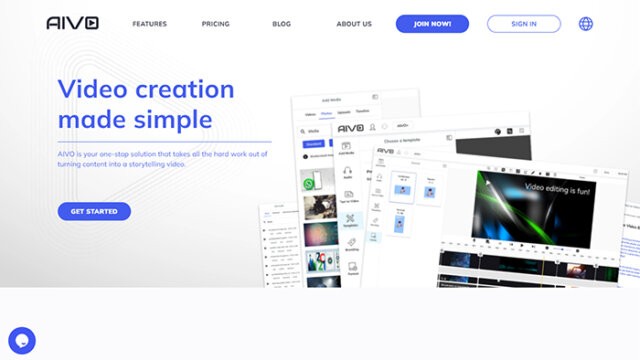 Aivo, an AI video editor, takes all the hard work to transform content into a storytelling video. This tool gives you access to millions of high quality and royalty-free clips, images, and music from Shutterstock. Further, it enhances the workflow by taking care of basic functions like transitioning, reframing, and interpolating frames. Its other library media partners are Unsplash and Pixabay, giving you access to millions of useful royalty-free media.
Pros:
● Free version available
● Access to Shutterstock, Unsplash, and Pixabay
● Enhanced workflow
Cons:
● Pay to download project compiled with the free version
● Only suitable for basic editing
4. Synthesia
Price: $30/month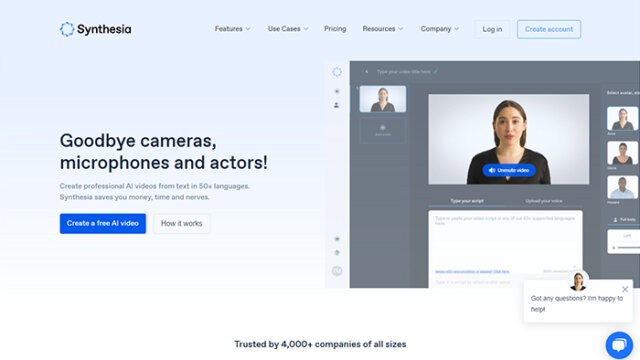 Synthesia is an AI video editor that claims to do away without cameras, microphones, and even actors and can create professional AI videos from text using more than fifty languages. To get started, follow three simple steps. First, choose from the given avatars or create your own to fill the void of the need for an actor. Second, type in your text in any of the supported languages without recording any voice-over. Third, process the video, and it will be ready for display within minutes.
Pros:
● Simple, easy to understand interface
● No need for cameras, microphones, or even actors
● Good for creating promotional videos
Cons:
● No free trial
● Limited to basic introductory videos with not much creativity
5. Video intelligence
Price: Free (upto 1000 minutes) & Paid ($0.048 - $0.15/minute for each feature)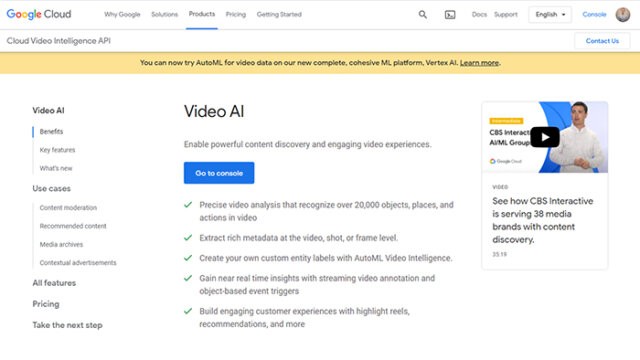 Video AI is a video analysing tool by Google that can recognise over 20,000 objects, places, and actions in a video and is based on cloud computation. It can extract rich metadata at a video, shot, or frame level and is highly precise in doing so. This tool can build an engaging customer experience with highlight reels, appropriate recommendations and more. With AutoML video intelligence and Video Intelligence API, you can make your media more discoverable and valuable across multiple platforms.
Pros:
● Amazing tool for content creators to get more reach
● Precise video analysis
● Builds an engaging customer experience
Cons:
● Does not edit video as such
● Not expensive, but pricing could be managed better
6. Wisecut
Price: Free & Paid ($57/month)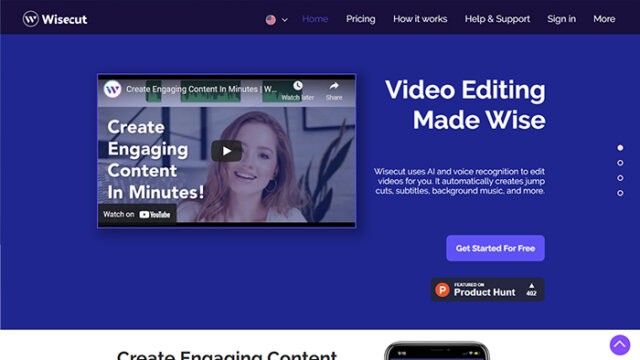 Wisecut is a unique editing tool that uses AI and voice recognition to edit videos. Not only does it save your time, but it also increases the precision and efficiency of your edits. It automatically creates jump cuts, subtitles, background music, and more. A storyboard based video editing allows you to make edits by making changes in the input text. Its Automatic audio ducking tool automatically lowers and increases the voice according to the scenes and the background music.
Pros:
● Edit videos with voice and text
● Automatically creates jump cuts, subtitles, background music
● Automatic audio ducking, Auto Punch In/Out, and Auto subtitles translation
Cons:
● The paid version is a bit costly
● Free version limited in various ways
7. RawShorts
Price: Free & Paid ($39 - $59/month)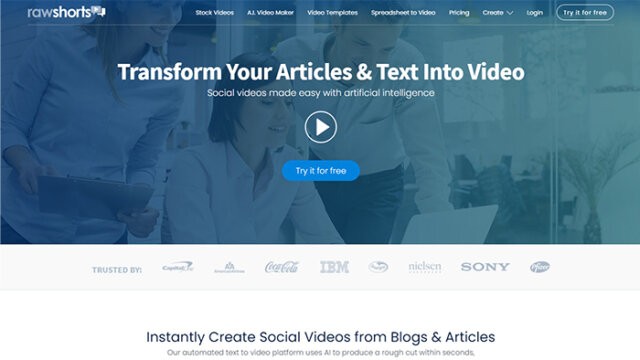 RawShorts is an online tool that can transform articles and texts into social videos with the help of artificial intelligence. After analysing an article, the tool automatically produces a rough cut within seconds, saving your time on video creation. It scans and analyses the text to identify the major ideas behind your storyboard. Then it automatically finds relatable media assets, places them on the video timeline, and generates voice narration. You can open the project in the drag and drop video maker to make any further edits.
Pros:
● Free trial available
● Transform articles and blogs into videos
● Amazing tool for blog writers to get more reach
Cons:
● Free trial limited to 5 non-premium exports, 480p resolution, 16:9 video format, and watermark/outro
8. Magisto
Price: Free & Paid ($4.99 - $34.99/month)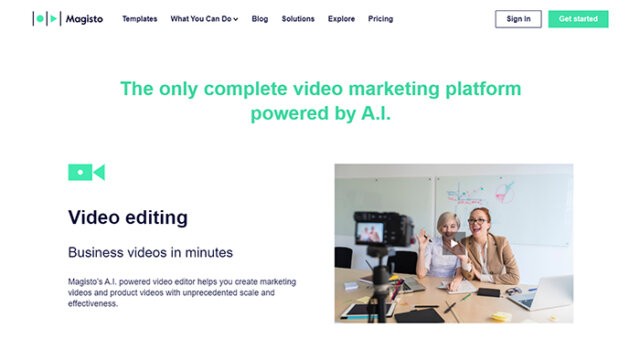 Magisto is an AI video editing and video marketing platform most suitable for online businesses. The video editor helps you to create marketing and product videos in three simple steps. First, upload your business video/photos. Second, choose a video editing style and soundtrack from the library. Third, an AI-powered professional video maker will analyse and edit your video. With Magisto's native player, you can host business videos on your website.
Pros:
● Video marketing with editing for a wider reach
● Make business oriented videos easily
● Host business videos on your website
Cons:
● Free trial is limited to just one project
● Lacks advanced editing tools
9. Rephrase
Price: $25 - $500/month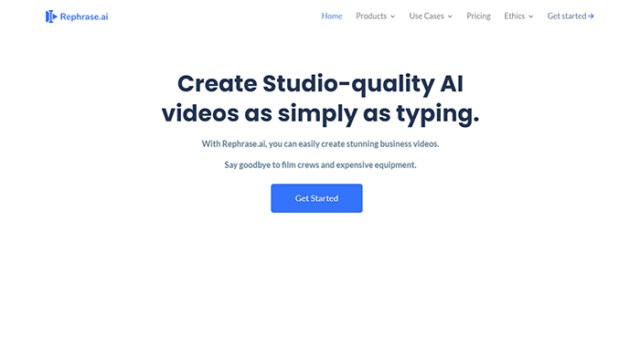 Rephrase.ai is a business-oriented video editor that can edit your videos just by typing the content. Businesses can save a lot of money by using this tool as they would no longer need to hire an Ad Crew. The rephrase panel is used to create realistic-looking AI-Generated Videos just by typing in your video transcript. You can use Rephrase API, which will help you to create a transparent AI-Generated Narrator video easily.
Pros:
● Make business oriented videos with ease and save money
● Realistic looking videos by typing
● The AI-Generated narrator with Rephrase API
Cons:
● No free trial
● Very basic editing and nature of functioning
10. Lumen5
Price: Free & Paid ($11-$149/month)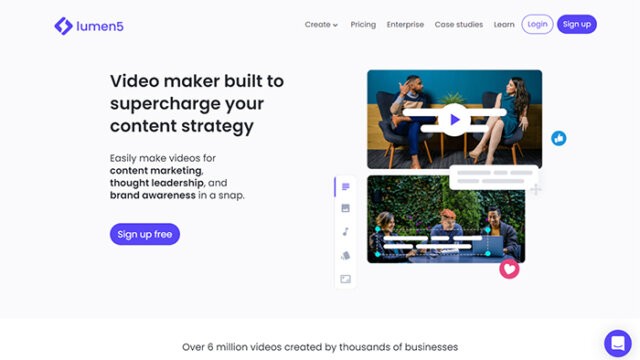 Lumen5 is an AI video creator and editor used for making videos on content marketing, thought leadership, and brand awareness. Its drag and drop mechanism does not require any previous experience. You can choose from a range of captivating video templates that suit the theme of your video. Its AI-powered technology helps you storyboard your ideas, fit your content to a layout, and find music and visuals that enhance your message.
Pros:
● Free version available
● Easy drag and drop mechanism
● Access to Lumen5 media library and hundreds of video templates
Cons:
● Restricted usage in the free version
● Business-oriented functioning only
11. RunWayML
Price: Free & Paid ($30-$100/month)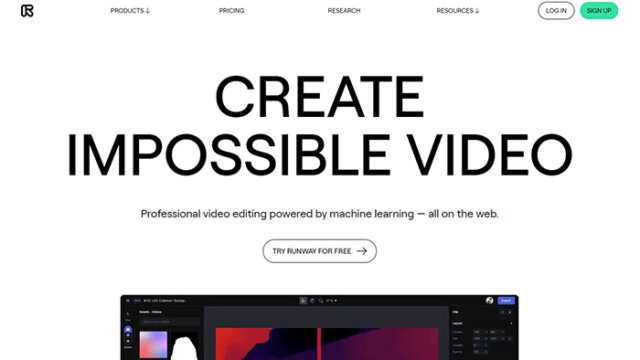 The runway is a professional AI video editor that uses deep learning to create almost impossible visual effects and transitions in your videos. This browser-based tool can easily perform hectic tasks like masking, adding VFX, colour correction, generation, and compositing. Its rotoscoping technique can turn any background into a green screen with just a click. With video inpainting, you can remove unwanted objects from your videos quickly.
Pros:
● AI-based masking, VFX, colour correction and more
● Pixel perfect rotoscoping, turn the background into green screen
● Video inpainting, remove unwanted objects
Cons:
● It can prove to be costly for daily users
● Free trial limited to 2GB cloud storage
12. Kapwing
Price: Free & Paid ($7-$17/month)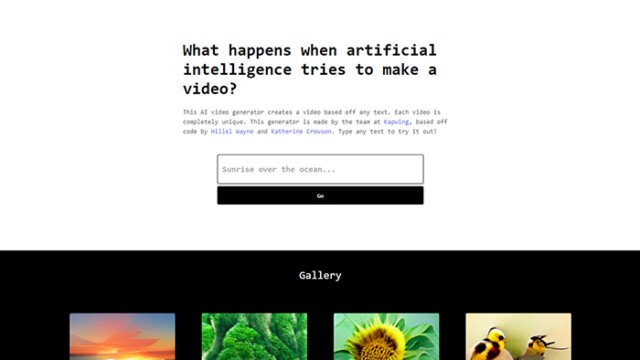 Kapwing is an AI video 'generator' which creates videos based on texts or phrases. Each of these videos is unique from the other. This video generator is powered by artificial intelligence and turns texts into a 200px × 200px video visualising your description. Although it is not the most practical tool for investment, it can work as a good pastime and brainstorming activity. Professionally, it can be used to make creative abstract videos online for some projects.
Pros:
● Create abstract AI videos from texts
● Unique looking video for every search
● Easily fit with creative sequences of any genre
Cons:
● Not the most practical tool to buy
● Some texts or keywords often fail to work
13. Vedia
Price: Not Mentioned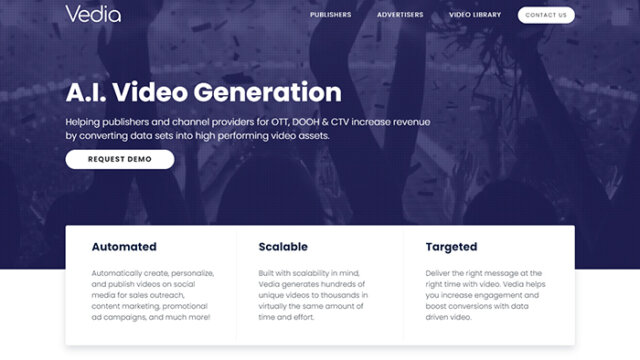 Vedia, an AI video generator, helps publishers and channel providers for OTT, DOOH, and CTV to increase their revenue by converting data sets into high performing video assets. You can automatically create, personalise, and publish videos on social media for sales outreach, content marketing, promotional ad campaigns, and more with this tool. Vedia generates hundreds to thousands of unique videos in virtually the same amount of time.
Pros:
● Generate AI videos in a way to increase revenue
● Automatically create, personalise, and publish
● Increase engagement and boost conversions with data-driven videos
Cons:
● Pricing and plans not mentioned
● Sign-up and write a message to request a demo
14. Pictory
Price: Free & Paid ($19-$39/month)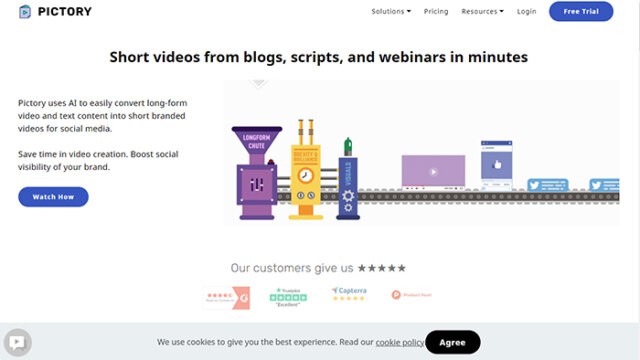 Pictory uses artificial intelligence with deep learning to convert long-form videos or text content into short and brand-focused videos for social media. AI will extract all the key sentences from your content and create an anchor video to start from texts. It is done with the help of visuals sourced from an extensive media library. Lastly, add an AI-powered voice or just your voice. To start from a recorded video, AI will automatically transcribe the input video into text. You only have to edit the transcription to edit the video.
Pros:
● Convert long-form videos/text to short brand-focused videos
● Access to the extensive media library
● Free trial available
Cons:
● The tool is free for 3 videos only
15. Designs.ai
Price: Free & Paid ($29-$69)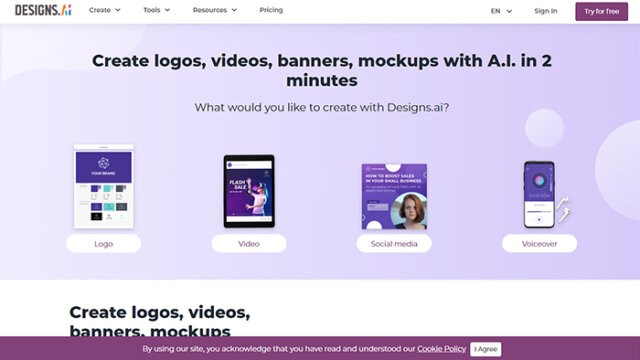 Designs.ai is an online AI designing tool that helps you create logos, videos, banners/posters, and voice-over within minutes. Their text to video technology can transform articles, posts, and text scripts into powerful, fully edited videos in more than 20 languages. Its media library consists of millions of clips, images, and audio files with 50 different voices. You can easily add stunning transitions, effects, and animations to your videos to give them a personal touch.
Pros:
● Free trial available
● Massive media library
● Create logos, videos, posters, and voice-over
Cons:
● Requires sign-up for a free trial, which to is restricted
● Not a dedicated video editor, lacks some editing features
FAQs
Can AI edit videos?
Artificial intelligence can edit videos quite effectively but lacks the precision of a human hand. With the help of AI video editing tools, you can create and edit projects with around 90-95% accuracy. The remainder still requires human intervention to complete the task perfectly.
Will AI take over video editing?
Artificial intelligence will take over the task of video editing for good in the coming future. Technology is getting more and more precise each day and is bound to achieve perfection at some point. It can finish up to 95% of the job precisely with ease, and further innovations will lead to the 100% mark in no time.
What technology does synthesia use?
Synthesia is a video generation platform that uses AI and deep learning to simulate real videos, real actors, and authentic voices. Therefore, this software can extinguish the need for cameras, microphones, and actors that are required to make a full-fledged video. It makes creating professional videos as easy as taking pictures.
Is recreate free?
Recreate.ai comes with a free version, but it adds a watermark to your projects. To avoid that, you will have to take a subscription which can range anywhere between $10-$40 per month. The actual cost depends upon your needs and usage of the tool. Else you can get a taste of it from the free version.
Conclusion
AI video generating and editing tools can potentially replace the need for manually going through your project for hours with AI-driven tools that can finish the job in minutes. These tools prove to be a good investment as they will save your time, increase the level of creativity in your content, and save a lot of money in the long run. Also read: AI Frame Interpolation Can Convert Videos to 60fps