AI for recruiting sounds incredibly new and something that's excessive. However, the more comprehensive and thorough recruiting processes get, the higher is the need for AI recruiter applications. Many of these AI recruiting software applications are more than capable of creating systems for you that assist you throughout the recruiting stages.
In this list, we will go through ten of the best AI recruiting applications by taking a look at their pricing, features, and other important aspects. You can find the most suitable AI recruiting software and use it for your own system. They can significantly streamline your recruiting processes, resulting in a much efficient workflow. Not to mention that each application brings with it some special features or design choices that may work better for you or not, so it's definitely worth checking each one out before making a decision.
Top 10 AI Recruiting Software Review
1. Clovers
Price: While there are no prices stated explicitly on the website, you can still get some information regarding it by sending over your email id to the company.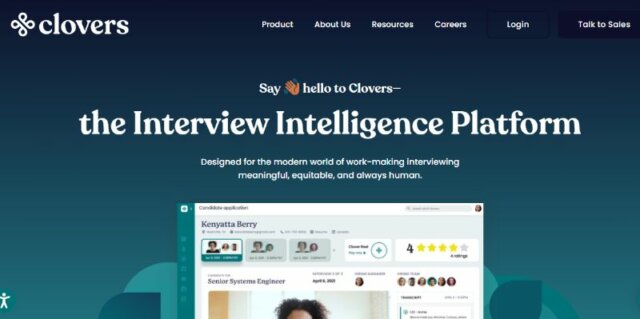 Clovers is an excellent AI recruiting platform and product to own if you want to streamline your hiring process while having your resources contained together in a neat system. You can integrate applications such as Slack and Zoom into your AI recruiting tools system and use them in order to interview potential candidates with ease and efficiency. Additionally, features such as video looping and AI based visual markings in the videos leave you with more clues as to how well of a fit can a candidate be. Finally, you can also rate candidates and make a ranking which helps you in knowing which ones are the favourites.
Pros:
Great features.
Reliable app.
Streamlines hiring process.
Cons:
No payment info given.
Not recommended for beginners.
No demo.
2. Ideal
Price: You can get immediate access to the AI recruiting software through the demo version from the website by filling a short form. The payment options for the full version are not given.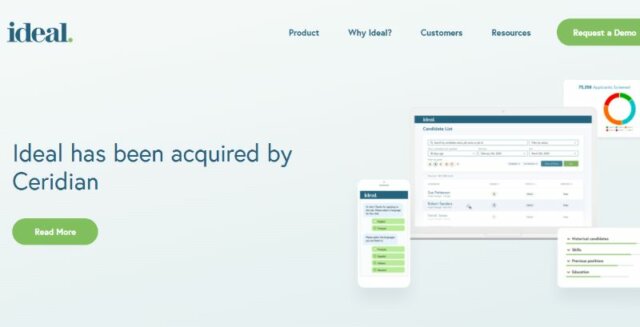 Ideal, as the name suggests, is an AI recruiting tool that helps you form a highly specific roster of talent if you need it. It makes use of its AI for recruiting technology in a variety of ways, allowing it to offer features that not only assist you in talent acquisition but also in forming a roster filled with diversity. When it comes to other features, it surely offers all the fundamentals such as providing dashboards with important info about the candidates, grading systems for individual candidates, and more.
Pros:
Useful features.
Diversity focused.
Demo offered.
Cons:
Not much info offered.
Getting the demo takes time.
3. Zoho
Price: To the user's convenience, this AI recruiting tool has separate payment plans depending on your task. They are divided into three, namely for corporate HRs, staffing agencies, and temporary workforces.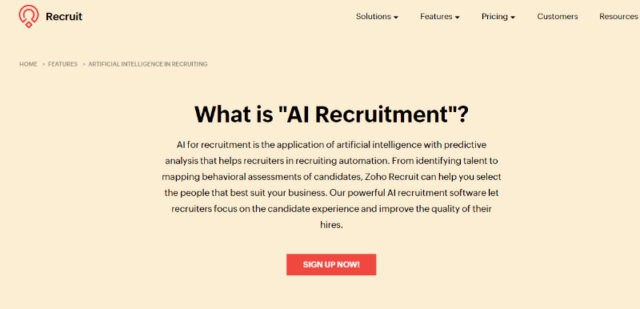 This AI recruiting tool can be highly useful to you if you plan to utilize all of the features that it provides regularly. AI resume screening is definitely worth getting into with this application, in addition to the search feature for the ideal candidate. Finding and filtering out the potential candidates is much faster and easier with this AI recruiting software. The AI in this application is also adept at scoring a candidate based on their skills and other factors, helping you make better decisions.
Pros:
Good use of AI.
Pricing plans and demo offered.
Reliable results.
Cons:
Demo is too limited.
Standard edition could use more features.
Better UI is needed.
4. Eightfold
Price: You can make use of this application's AI recruiting features with the firsthand demo version, accessible after filling a brief form. Other than that, there's no specific information that can be found on the website.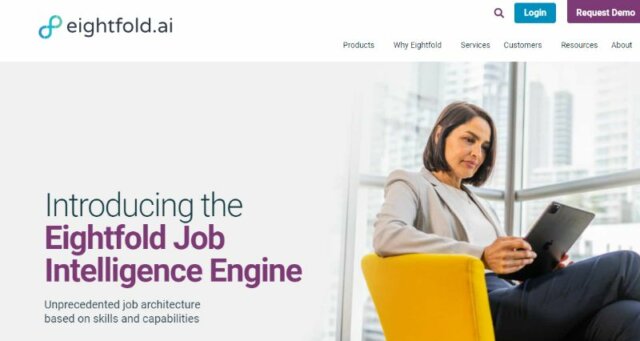 As it rightly says on its website about finding the potential of your candidates as well as your overall workforce, the features of this AI recruiting software are designed in such a way that assist you in thoroughly reading your candidate's profile. Additionally, they also portray how well your skills match up against competitors and it also implements techniques that avoid biases as much as possible. This AI recruiting platform is excellent for a detailed analysis about your own workforce while avoiding info that may falsify data.
Pros:
Excellent features.
Offers one of the best product designs.
Demo version is available.
Cons:
No pricing plans shown.
Could improve website UI.
5. Cvviz
Price: This AI recruiting software offers a bunch of paid plans that each have their set of features and capabilities. The plans start with the Starter edition that costs $59 per month. Each plan also has a 14-day free trial as well.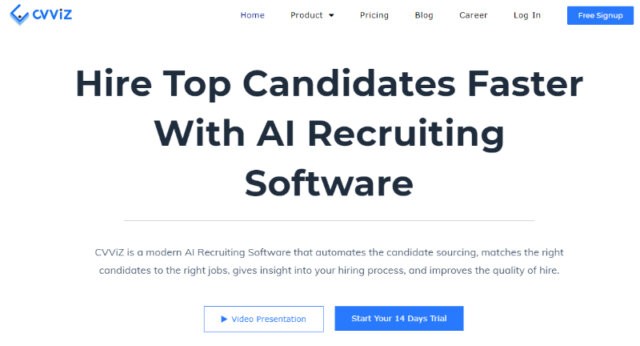 With this application, you can take a step further by actually improving your career pages, using the tool's Google Chrome extension to manage resumes, and optimizing your database. You can also initiate video calls on the go if you are looking for a remote employee. Moreover, if that potential employee happens to apply for a developer role, you can make use of the live code editor in order to test the employee at the moment.
Pros:
Unique hiring features.
Great design.
Good pricing plans.
Cons:
Demo version is short.
Video servers aren't always reliable.
6. Mya
Price: Though there are no specific paid plans given out on the website, you can get access to the tool through the demo version. You can sign up for it by filling a form.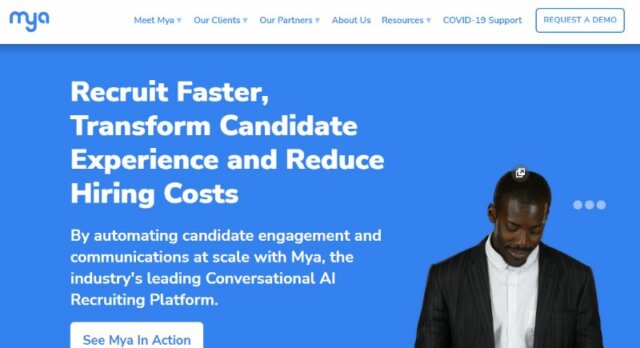 From the get go, you can get a personalized recommendation from Mya by taking part in a short quiz. This quiz is designed to properly assess your requirements and suggest a plan of action thereafter. The application has features that help in converting website visitors into potential candidates, you can plan and schedule interviews with candidates, and keep a track of applicants. Even if it comes to bulk hiring, Mya can find a bunch of potential employees within minutes, eliminating the need for hiring managers.
Pros:
Streamlined hiring.
Good features.
Demo offered.
Cons:
Better UI needed.
Could have more accessible design.
7. Paradox
Price: You can get yourself a demo version of this AI recruiting tool by engaging with the automatic chat box that opens up once you visit the website.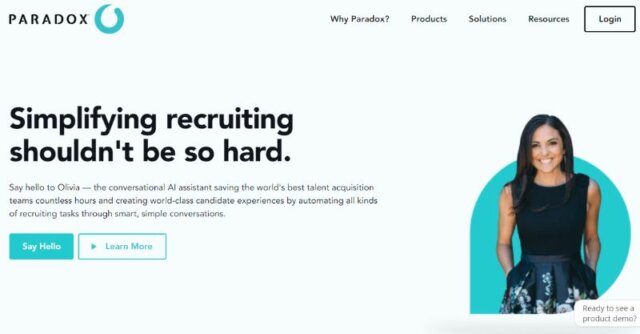 The one aspect of Paradox that is most prevalent is its variety. Having been utilized in many different kinds of businesses and brands, such as logistics, finance, retail, healthcare, and more, Paradox is an AI recruiting software that has enough in store for your requirements. It has features from conversational AI to franchise hiring. Not to mention that this application is highly accessible too, as it is available to use on mobile devices. A nice bonus is the blog site, which reveals pertinent findings and data across different brands like McDonalds.
Pros:
Special features.
Highly accessible.
Popular and reliable application.
Cons:
Could have a better UI.
Takes time to get used to the app.
Chat box can be improved.
8. Xor
Price: You can get a demo version for the AI recruiting tool by requesting it from the website. The paid plans for the full version are not present in the website though you can ask for them.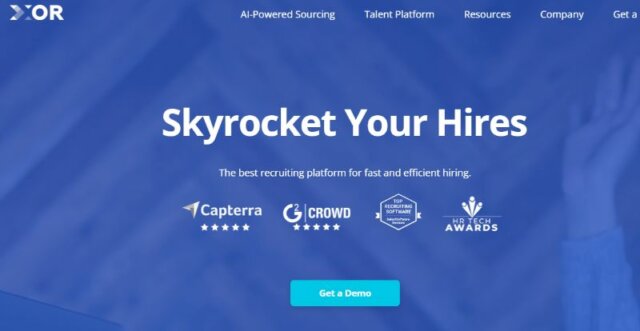 Xor is definitely one of the best AI recruiting software applications if you are a beginner with these types of tools. It features a list of how-to guides on the website that you can use. Other than that, this application does include modern features such as text hiring, virtual career exhibitions or fairs, AI resume screening, and more. All of these features not only help you in scouting potential talent but also in filtering them out in order to find a set of most suitable ones for your organization.
Pros:
Up-to-date features.
Demo offered.
Good for beginners.
Cons:
Could have more info provided.
Demo is short.
9. Loxo
Price: This AI recruiting software has two versions that are called Free and Premium editions, though the price for Premium isn't exactly known. It also offers a demo version, which you can request from the website.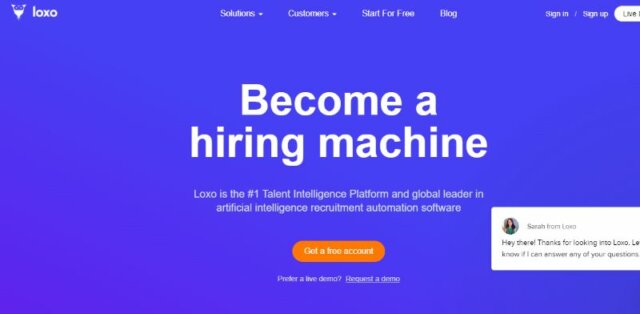 Similar to the Paradox AI recruiting platform, Loxo is another great software application that has managed to influence hiring processes across multiple different fields, such as healthcare, technology, nursing, finance, and more. It provides solutions for both recruiters with many useful features such as CRM, applicant tracking system, and more. You can choose your company type and requirements and make use of the application accordingly. Lastly, it also features a fairly active blog that you can refer to for more insights.
Pros:
Excellent design.
It offers a demo version.
It has many useful features.
Cons:
The chat box is not useful.
Takes time to get the demo.
Needs a better UI.
10. Arya
Price: While the Arya AI recruiting platform offers the Basic plan for $199 per job, you can get an idea of the product with the free to use demo. It can be requested from the website.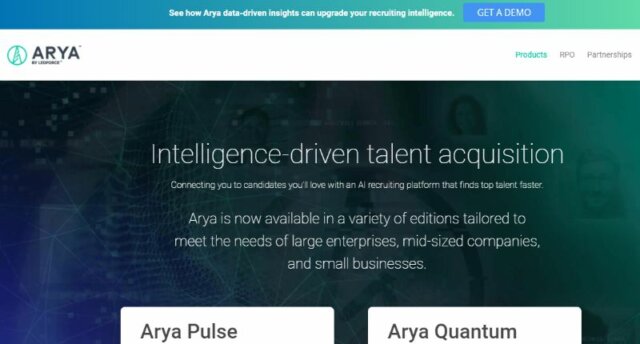 Arya is an AI recruiting application that you can be sure to tackle diversity and bias issues head on. The way it is designed is with the purpose of providing the most authentic information. Some of the tool's features include 24/7 support, information or bio of each candidate, advertisements for job openings support, and much more. You can be rest assured that you can utilize this application for finding candidates as well as during the hiring process itself.
Pros:
Great pricing plans.
Offers a demo version.
Has really useful features.
Cons:
Can use a better UI.
Takes time to get used to the product.
Can be too expensive.
FAQs
1. What is AI recruiting?
The term AI recruiting is as easy to understand as the term itself. By incorporating AI or AI based technologies into the traditional hiring process of employees, we create something called AI recruiting. It is a concept that is steadily gaining pace as more and more employers are looking to streamline the hiring process.
2. How is AI applied in recruitment?
While AI can be applicable to basically any aspect of hiring, it is mostly used in the pre-hiring process wherein companies are scouting for potential candidates. AI based techniques are also used for screening those candidates in order to filter them out and moving forward those who fit the role.
3. Will AI replace human recruiters?
AI and AI based applications are being used extensively when it comes to the hiring process. However, there are still certain crucial aspects of recruiting wherein human expertise is undeniably required and AI is unable to replicate such skills. For instance, unquantifiable aspects such as an organization's values and vision need to be checked by humans.
Conclusion
With these amazing AI recruiting applications, you can leave the worries of spending time and effort into finding a handful of potential employees and still have a risk of ending up with nothing. These applications are designed with enough features to help you find a huge number of candidates in a really short time. After that, you can still utilize these tools to filter out candidates, hold video calls and coding tests, and ultimately choose the ideal candidate.