Summary: OCR software applications simplify paperwork by using AI to scan and convert documents to machine-readable formats. These tools offer faster and more accurate results, allowing you to put all your paperwork.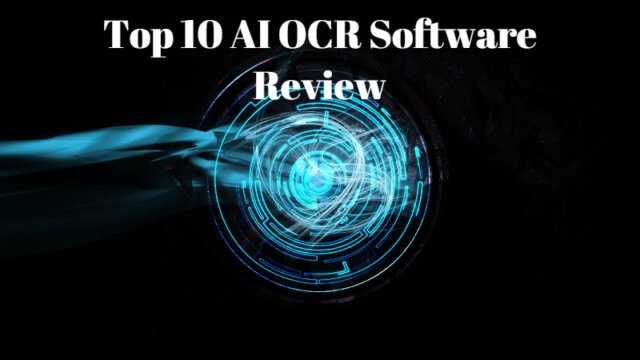 Paperwork can be tedious and even difficult to deal with, even if you are working digitally. To remedy that, we have OCR software applications that are able to scan documents and convert to machine readable formats. While this is a complex task that usually requires a lot of time, there have been improvements across the board with AI OCR software tools. With AI OCR, you can expect faster and more accurate results. You can simply put all your paperwork, including pictures that include text, through these tools and get your paperwork digital. Therefore, start using OCR, or Optical Character Reader, tools to extract data from images, PDF, or any resource whatsoever.
Top 10 AI OCR Software List
This is the preview table we created after reviewing and summarizing the top five products. Continue reading if you want to know more.
| CR Software | Price | Accuracy | Free Trial | Real-time Reporting | Verification |
| --- | --- | --- | --- | --- | --- |
| Nanonets | $499/mo | ★★★★☆ | ✓ | ✓ | ✗ |
| Infrrd | Requested Demo | ★★★★★ | ✓ | ✓ | ✓ |
| Xtracta | Contact for Quote | ★★★★☆ | ✗ | ✓ | ✓ |
| Rossum | Free Trial, Paid after | ★★★☆☆ | ✓ | ✓ | ✗ |
| DocSumo | $500/mo and Up | ★★★☆☆ | ✓ | ✗ | ✓ |
1. Nanonets
Price: This AI OCR online tool will let you process or query up to 100 pages but for more features and queries, you will need to get the Pro account which costs $499 per month. You can also try out the Pro version on a Free Trial first.
Nanonets is one of the most popular and well-known AI OCR software tools online. It also offers its features for a limited time through the free trial. When it comes to features, this tool surely has a few decent ones. On the Pro version, you can add team members, allowing you to work together. Other than that, you can also get access to retrains and annotation services.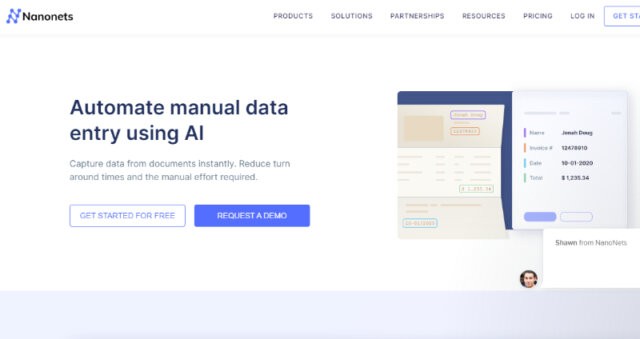 Pros:
Popular AI OCR software.
Offers decent features.
Good results.
Cons:
Limited free use.
The paid options are expensive.
Demo is buggy.
2. Infrrd
Price: This intelligent document processing software is available to use through a requested demo. You can do that from their official website, whose link is given above.
A standout feature about this application and product is that it has a really good accuracy number. Infrrd attempts to solve problems through innovative methods, as per their website. It is also divided its products and solutions into three. Those three products are named as IDP Platform, Playbook, and Guarantee. It can help you create financial reports, annual reports, extract data from many kinds of visuals such as diagrams and symbols. Overall, Infrrd offers a diverse set of solutions that are all achieved through innovative problem solving and AI OCR software.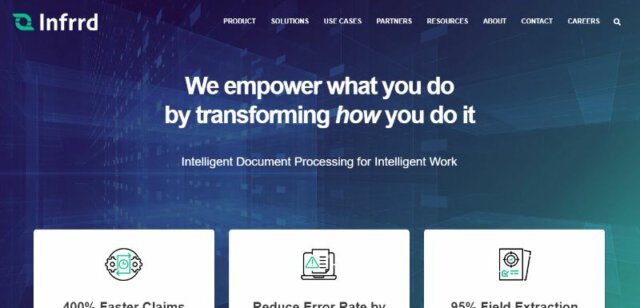 Pros:
Reliable solutions.
Multiple products.
High accuracy.
Cons:
Only demo available.
Cannot use it directly.
Website can be better.
Want to know more about how OCR works? Also read OCR: What Is It and How Does It Work.
3. Xtracta
Price: You will first need to fill out a form on their website detailing the kind of requirements you have. The pricing and payment overall will be determined upon that.
Having partnered and integrated with companies such as Microsoft and Oracle, Xtracta offers a fast and reliable way of OCR software solutions. It offers real-time reporting and tracking, which can help you immensely as you will be able to work on-the-go. Given that it is powered by AI, you can expect it to improve its performance with every document that you can. Not to mention that it also offers ongoing support even after you have dealt with the documents. You can work with invoices, receipts, contracts, and many other types of files.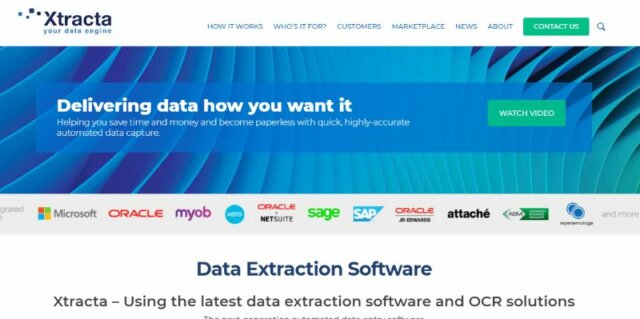 Pros:
Partnered with reputable companies.
Reliable AI OCR software.
Good use of AI.
Cons:
No demo.
Takes time to get started.
Website can be buggy.
4. Rossum
Price: Rossum offers a free trial to all users, after which you can start with the paid version. Moreover, you can select a free trial according to your region, which include Europe, United Kingdom, and United States.
The AI OCR software from Rossum is pretty good at automation. When you have Rossum integrated into your software applications, you can expect it to take care of almost all documents immediately. You can manage invoices, packing lists, purchase or sales orders, or any other related documents. This makes business communication streamlined and orderly. It will also make your documents machine readable by making use of its AI based systems. Not to mention that its AI based systems are quick and able to scan your documents within minutes.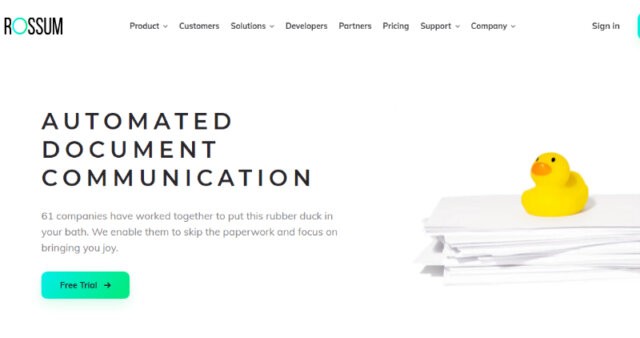 Pros:
Great design.
Offers a free trial and as per regions too.
Offers quick processing.
Cons:
Doesn't have as many features as other tools.
Can do more with AI OCR.
Pricing plans are not accessible easily.
5. DocSumo
Price: You can use this AI OCR free of charge with its free trial for a while. After that, the paid plans start with the Growth plan costing $500 and upwards per month.
This AI OCR software application started with automated invoice processing but now offers a bunch of different services such as extracting data from bank statements, forms, insurance applications, and more. However, another good feature of DocSumo is that it verifies information after extraction. This eliminates the tedious process of double-checking, which is usually done manually by humans. Besides, you can also use this tool to edit PDF and other famous document files.
Pros:
Offers multiple useful tools.
Free trial provided.
Double-checking and verification features.
Cons:
Expensive tool after free trial.
UI can be improved.
Business plan can offer more.
6. Amazon Textract
Price: The total amount payable to the Amazon Textract product depends on the amount of usage. However, you can try this OCR tool for free for the first three months and process thousand pages per month.
This AI OCR software offers a really good free trial period as well as OCR features. This software makes use of Machine Learning in co-operation with AI, which is not done by many OCR software applications. You can extract information from scanned documents in a flash, process important documents such as insurance forms, and get accurate processing of all documents. You can test this OCR software through the free trial available from their official website. Besides, you can also get other useful features such as handwriting recognition, built-in human review workflow, and more.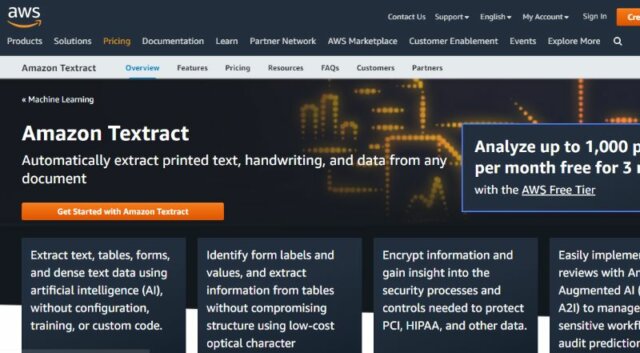 Pros:
AWS is a popular platform and reliable.
Offers other useful features.
ML and AI combined.
Cons:
Confusing to use.
Website can be better.
Takes time to start off.
7. SoftWorks AI
Price: The price and overall cost will depend upon the requirements. You can get a quote by contacting the team directly from the official website, whose link is given above.
This OCR software application has design philosophy that is similar to DocSumo. With their Touchless Automatic feature, SoftWorks AI provides real-time tracking and processing of documents with in-built document validation systems. This enables users to focus on other more important tasks without feeling the need to verify documents repeatedly. Moreover, you can classify as well as extract data with this technology.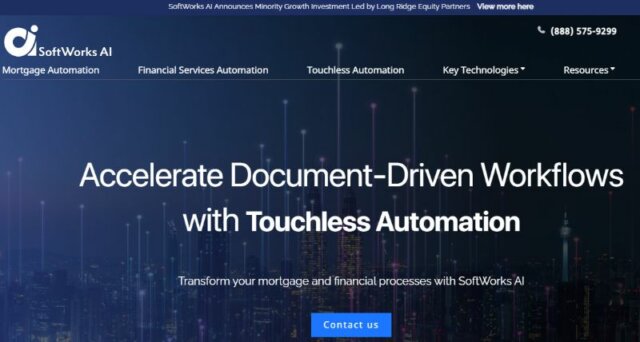 Pros:
Useful features.
Financial services included.
Highly accurate results.
Cons:
No free trial.
Manual data entry features can be improved.
Website is slow.
8. Abbyy
Price: Before purchasing, you can easily request a free trial from their official website. The link is given above in the header.
Provided as a neat SDK, the Abbyy AI OCR tool can be easily integrated into your software applications so that it can extract information from documents such as images, PDF files, and more. Also, this software is compatible with Windows, Linux, and MacOS operating systems. Additionally, you can find the system requirements on the website itself. This OCR software makes great use of AI and Machine Learning to bring you a highly competent SDK that you can start using immediately. Also, you can run this software on Cloud and Virtual Machines too.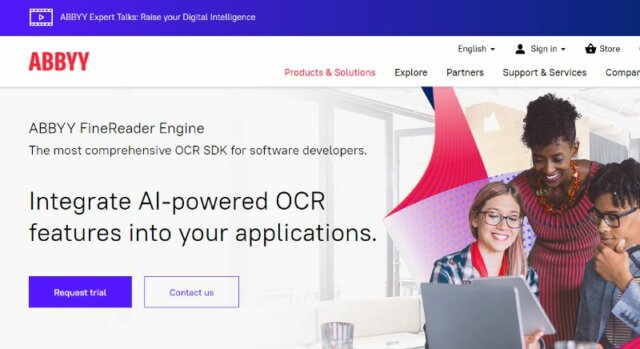 Pros:
AI and ML integrated.
Free trial offered.
Works on multiple operating systems.
Cons:
Need a decent system.
Can be slow.
9. Parascript
Price: You can request a demo free trial from the official website before having to pay for the OCR software. You can do this from the link given.
Parascript has a wide range of features that users can find really beneficial. When it comes to OCR, it makes use of both data science and machine learning to provide optimal solutions. It offers document separation, classification, and data entry for multiple business transactions. Besides, it offers features for document processing, fraud prevention, mail and post, etc. Now, it has also ventured into education. It will be offering a bunch of courses to students dealing with OCR and data processing. With this OCR software, you can be rest assured to receive features and services that are well-rounded.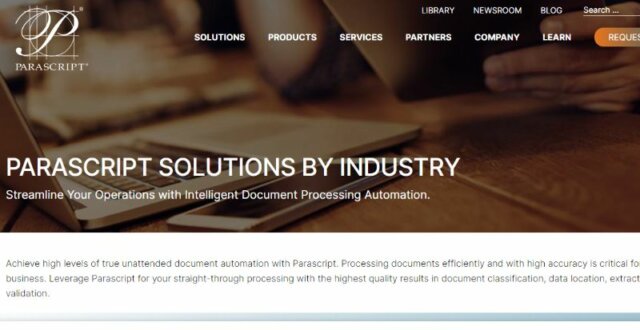 Pros:
Features and services that reach multiple industries.
Offers a free trial.
Fraud prevention SDKs are uncommon.
Cons:
Needs more accuracy on OCR.
Website is buggy.
Takes time to get the demo.
10. teX.AI
Price: You can get a quote on any of the paid plans available for the OCR system. Otherwise, you can also get a free trial from the official website itself.
You can use this OCR software to categorize or rather make your random data structured. With this tool, you can manage every kind of information, from important documents such as PDF files to even chats and social media messages. This is a comprehensive tool, especially when it comes to textual data.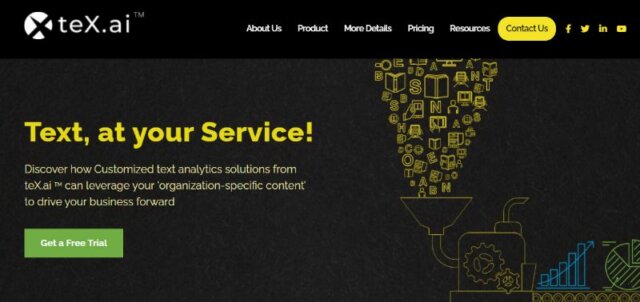 Pros:
Really great design.
Many useful features provided.
Offers a free trial.
Cons:
No clear pricing given.
It is a niche OCR software, which can go either way.
Also read: Top 10 AI Writer Applications Review 2023
FAQs
1. What is intelligent document processing?
Intelligent Document Processing, also simply known as IDP, is a process of extracting unstructured data out of documents and various other sources and then classifying the data to make it structured. Generally, an Intelligent Document Processing system pre-processes the data, classifies it, extracts it, and finally validates it.
2. How is AI OCR used in different areas?
Nowadays, information is varied and accessible through different mediums in different forms. This then indicates that OCR can be used in different areas too. For starters, a typical OCR software will be able to decipher and extract information from not only PDF documents, but also from images and even bar codes. Besides, most businesses deal with all of these sources of data anyway.
3. How does intelligent document processing work?
As mentioned, an Intelligent Document Processing software will receive a document that it needs to decipher and extract information from. First, it will pre-process the data. During this, it will convert the data into simple binaries readable to the machine. Next, it will determine the file type. After that comes the data extraction, the process related to OCR. It will use different methods such as table extraction, learning-based approach, etc. Finally, it will validate data to ensure that the data is accurate. Moreover, a few applications have automatic verification.
4. What is OCR software?
An OCR software is a software that helps you extract text-related data from documents. There are many free OCR software tools that you can use from the list given above or from the Internet. You can expect it to streamline all of your textual data into a structured union.