Summary: This review will discover the top 10 AI graphic design tools to create high-quality marketing materials and enhance images. These free online tools use artificial intelligence to generate stunning graphics, design mockups, colour schemes, and content, helping you stand out from the crowd.
Graphic design is one of the most important parts of a successful marketing campaign. If you have a talented graphic designer, you may use graphics, diagrams, and illustrations to express your message and convert your audience. However, an experienced and talented graphic designer is difficult to come by. Because there are so many AI graphic design tools accessible, it began to feel like a saturated market. So I decided to conduct some studies to identify the top graphic design AI tools.
Also, high quality image is an essential part of the marketing. So you will need a well-performing image enhancer to add them to your design.
Top 10 AI Graphic Design Tools Review
| Tool Name | Price | Template Library | AI Capability | Photo Editing | Collaboration |
| --- | --- | --- | --- | --- | --- |
| Designs.ai | Free | Extensive | High | Basic | ✓ Yes |
| VanceAI | Free with limited credits, subscription plans available | Limited | High | Advanced | ✗No |
| UIzard | Free | Limited | Basic | ✗ No | ✓ Yes |
| Khroma | Free | Extensive | Basic | ✗ No | ✗ No |
| Adobe Sensei | Subscription plans available | Extensive | High | Advanced | ✗ No |
1. Designs.ai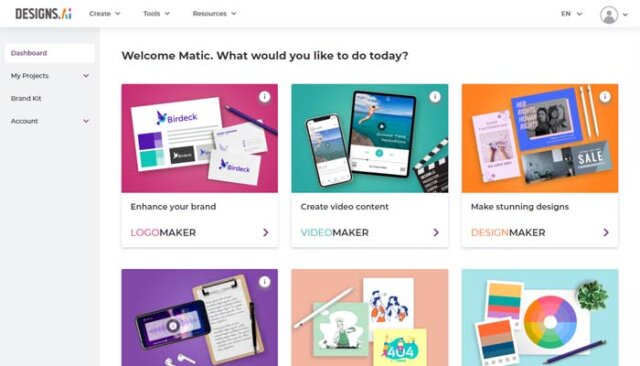 Designs.ai is a free, collaborative graphic design tool that employs artificial intelligence to transform your ideas into spectacular graphics. The platform is free to use and allows you to collaborate on projects with other users. All you have to do is submit your design concept and then click 'Design It.' The AI engine will next analyze your concept and generate hundreds of graphic design possibilities. You can then select the one that best meets your requirements.
Pros:
A lot of templates
Free photos
Highly customisable
Cons:
2. VanceAI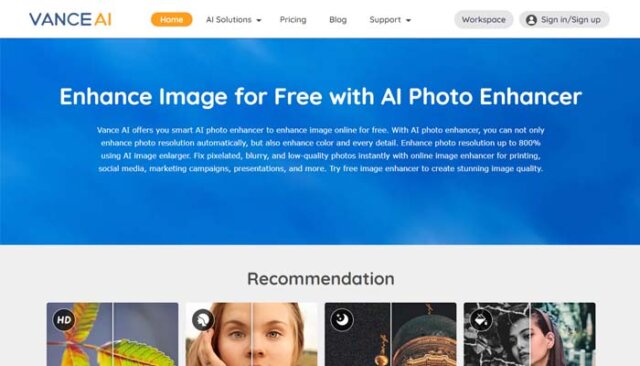 VanceAI is an online photo editing and enhancement tool. While VanceAI specializes in picture editing, its AI marketing capabilities should not be underestimated. Smart visualization and the overall appearance of product packaging are becoming increasingly crucial as time passes. And that is exactly what VanceAI will accomplish. AI Image Enhancer Software, maybe the most amazing of VanceAI products, can automatically convert your photographs into beautiful wallpapers. You will be able to boost your business and stand out from the crowd with superior images.
Pros:
Simple to use
Automatic photo editing
Swift processing.
Cons:
3. UIzard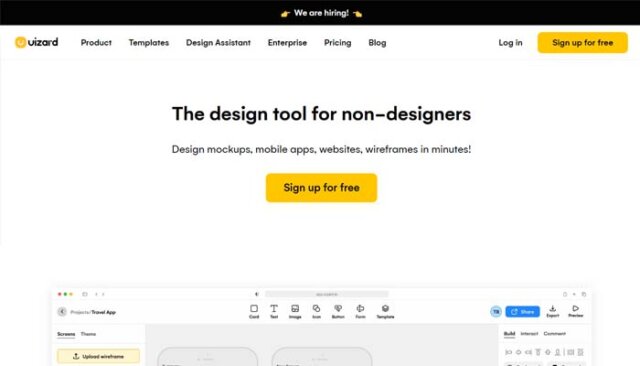 UIzard is a visual design tool that can help you create a mockup for a website, app, or offline store in just a few minutes. It is not a replacement for real design work, but it is a great tool for non-designers to get a visual idea of what their website might look like on a computer, a smartphone, a tablet, or a printout. With UIzard, you can create a design mockup in minutes, which is a great way to show your customers or boss concept versions of a website or app.
Pros:
Saves time
Converts sketches to UI instantly
Cons:
Lacking tutorials
Interface
4. Khroma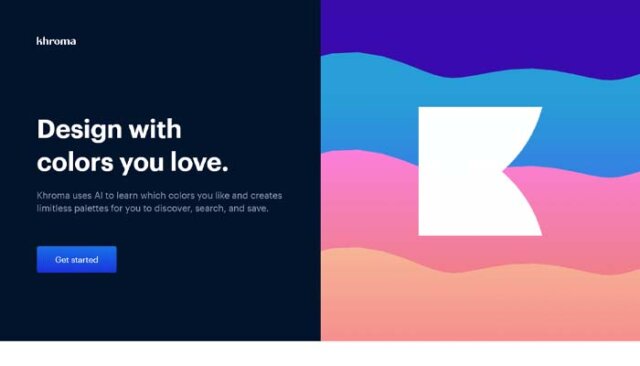 Khroma is a free web app that uses artificial intelligence (AI) to assist you in colour design. The app is simple to operate. Simply click the "Create a palette" button, and it will generate a palette based on the colours you select. You can also choose colours from photos that you take or upload. The app will then generate a completely new palette for you. It's incredible, and you can use it to create palettes for anything. And that includes your wedding colours, the colour of your new car, and the colour of your new house. You can also use the app's colourblind mode to see how your colour scheme would appear to someone who is colourblind.
Pros:
Simple design
Plenty of palettes
Cons:
Needs colour recommendations
No feedback options
5. Adobe Sensei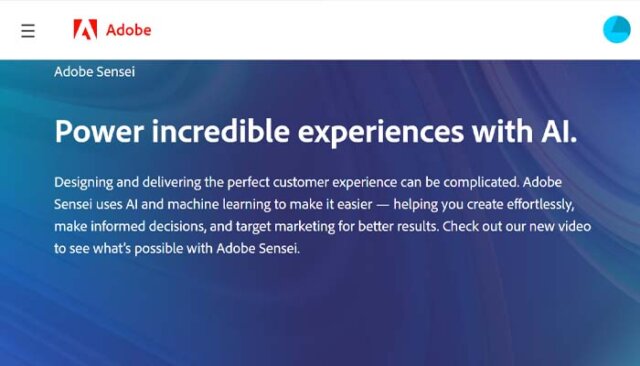 Adobe Sensei is a cloud-based artificial intelligence platform that assists you in providing a more intuitive and engaging customer experience. You can easily create a more personalized and productive customer experience with Sensei. Moreover, Sensei can help you automatically predict what customers want, recommend products relevant to their needs, predict what will happen next, and automate repetitive tasks thanks to an in-built library of over 186 pre-trained machine-learning models.
Pros:
Adobe is reputable
Cloud-based
Cons:
No image recognition
No trend analysis
6. Fronty
Fronty is all you need to quickly create a website. It is not necessary to have any design skills. Fronty is a free online service that converts images into web-building code. The code then saves to your computer and is ready for upload to your web server. Fronty makes creating a website extremely simple. You don't need any coding experience or knowledge. All you have to do is upload an image or logo to the website, choose your colours, choose the type of website you want to build, and download the code.
Pros:
Accurate
Page speed
W3C valid
Cons:
7. UIbot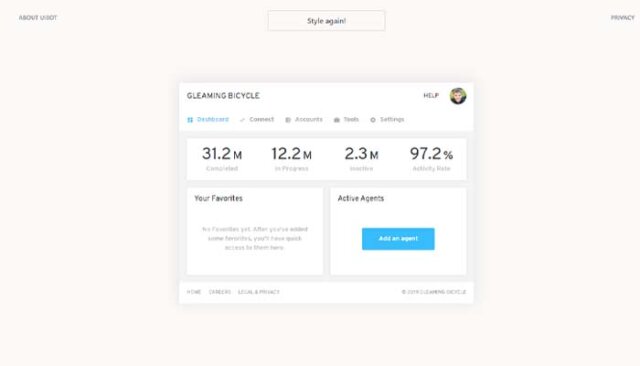 UIbot is a new service that aims to automate the visual design process by allowing you to upload your sketch or any other visual design and have it converted into a fully-coded HTML mockup. And all of this is done by a bot. UIbot is an experiment, but I believe it can be a very useful tool for visual designers. Furthermore, it's best for those who want to do less work while still producing something that looks clean and professional.
Pros:
Lacks dashboard pages
Requires zero experience
Cons:
8. Rosebud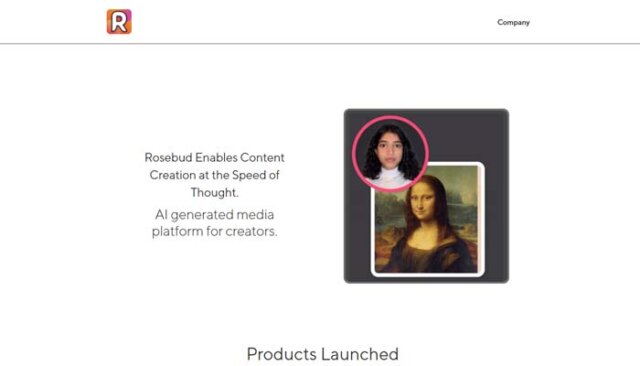 Rosebud AI is a platform that allows for the creation of content at the speed of thought. Its primary goal is to automate writing by utilizing continuous learning algorithms to generate engaging content in a predictable, scalable, and measurable manner. The Rosebud AI can help with content creation at any level, from generating leads for B2B businesses to assisting bloggers by utilizing natural language processing, deep learning, data mining, and other artificial intelligence techniques.
Pros:
Super-fast
Some results look too much like sketches
Cons:
Lacks additional information
9. AI Meets Design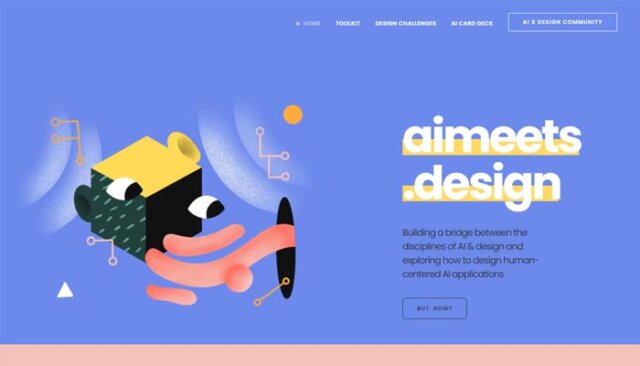 AI Meets Design is an great service for businesses looking to create AI solutions with designers in mind. The service is broken down into steps to assist the customer in meeting the user's needs by creating a blueprint of the application to be built. The blueprint can then be used to generate wireframes for testing the application before it is built. This service is especially beneficial for businesses that need external assistance in developing an AI application but do not have in-house AI development capabilities.
Pros:
Saves time
Acts as a bridge between you and design
Cons:
10. Sketch2code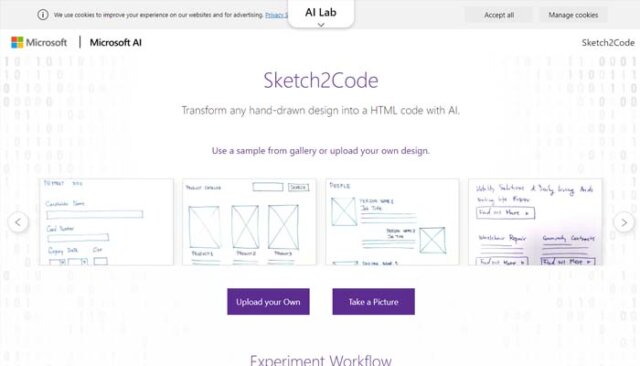 Sketch2code is a novel design-to-code AI that allows you to convert any hand-drawn design into code. If you've ever tried to create a website or app with a sketch, you know how difficult it can be to translate your ideas into code. Designers must spend hours creating the perfect pixel art, which then they convert into code. This is where sketch2code comes in. Sketch2code is a revolutionary design-to-code AI that allows you to convert any hand-drawn design into code. Sketch2code will generate code for you based on your design, whether a logo, website, or app. Simply draw the design on paper, photograph it, and use the app to recognize it, and you're done.
Pros:
Powered by Microsoft
Novel idea
Cons:
Requires additional information and tutorials
Featured Product Recommendation- Archistar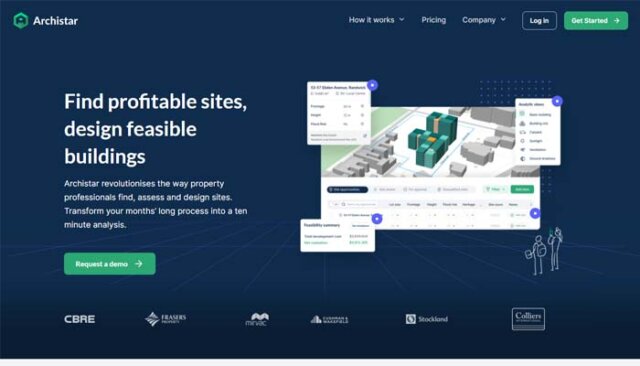 Archistar is a property development software that helps with feasibility studies. The software is designed for contractors, architects, engineers, surveyors, designers, builders and property developers. It is a cloud-based software that can be accessed from any place with internet access. Also, it offers a simple and efficient way to create, store and share development details. Archistar is a cloud-based platform that is accessible to any web-connected device. You can use Archistar on your desktop or mobile device, making it ideal for property professionals on the move. The software includes a variety of tools to help you carry out your project. Features include GIS mapping, 3D building tech, automatic calculation of building costs, 3D walkthroughs, and more.
Pros:
Helps reduce errors
Good analytical tools
Cons:
FAQs
What software do graphic designers use?
Graphic designers can create their designs using Adobe Photoshop, Corel Paint Shop Pro, or Adobe Illustrator. These are software products that we widely use in the industry. You should also try out some of the other fantastic software products available.
What are the best graphic design apps for iPhones?
I recommend two apps for you, one for editing photos and one for designing logos. The first one is the VSCO cam. It's an editing app with many features, but its main features are an excellent Instagram-like filter effect. The second one is Logo Maker. It has great templates, so you can get good-looking logos in no time.
How to do graphic design?
First, if you're serious about graphic design, you should need to be obsessive with details. Some habits will need to get into your system to get the best results possible. For example, you must be willing to revise your work until it is perfect. Nothing is ever truly completed, but it is nearly impossible to tell the difference between the new and the old version with the improvement.
What is AI design?
AI design is a process that employs artificial intelligence to create new designs for businesses or individuals. When designing AI, consider three major factors. The first step is for AI to understand the business and how it works.  The second step is for AI to design the business, and the third step is for AI to operate. As we look further into the future, the role of AI in business operations becomes increasingly important. Businesses can operate more efficiently and effectively with the assist of AI.
Conclusion
In this article, I have provided a list of 10 free AI graphic design tools that will help you make some really awesome designs. The best thing about all of these tools is that they are all free to use, which means you can start creating some awesome designs without having to spend a dime.
Also read: Best 10 Smart Mockups Generators Review