Imagine you are driving to the best spaghetti restaurant in Chicago with your friends, feeling excited about how great it will be if you can have that very first savory bite. But a cold call comes in, trying to sell you a smart air-conditioner that you might need but definitely not at this moment. For sales reps, calling large amount of prospects gives them greater opportunities to create deals. But quality matters, especially the quality of conversation between prospects and sales reps. Thanks to advance in AI language and voice technologies, there are serious AI applications for sales available that enable sales leaders to make sales automatic and predictable.
In this review, let's look at best 10 AI sales tools that help sales reps to stay away from repetitive tasks, make sales more efficient, and generate more leads and sales.
How AI is transforming the future of sales?
1. Automate sales process and empower sales reps
According to Mckinsey's data as early as in 2016, 85% of sales activities have the potential to be automated with today's technology. Today, AI has proven to be a powerful way to understand what prospects and sales reps are talking about thanks to advance in deep learning and GPT-3. Automatic email assistants and recommended conversation coaching allow sales reps to handle way more meetings with prospects than they can imagine.
2. Make sales more predicable with sales intelligence
With AI sales prediction, revenue teams no longer get stuck in guessing which leads they should follow up. AI algorithms can analyze and highlight those with the strongest intent to buy your products. More accurate lead generation makes it easier to predict quarterly sales revenue.
3. Focus on what matters most-growth
With clear insights and visible dashboard of accurate data provided by AI, your sales team can focus on booking meetings and closing deals, instead of entering contacts, emails or any other information to CRM.
Top 10 AI Sales Platform 2023
1. Gryphon.AI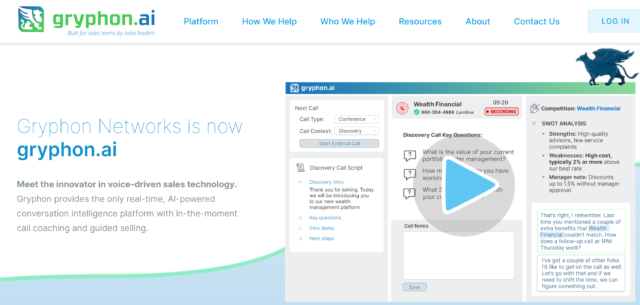 Price: Gryph offers custom pricing without free plan.
Gryphon AI helps sales leaders increase the conversion rate of live calls based on AI-powered conversion coaching and advice. The AI for sales software provided by Gryphon employs conversion intelligence, which accelerates sales and progress more deals.
Features
Real-time conversational AI platform with call transcription and personalized conversion cards
AI guided coaching service that can be accessed by sales reps
Customize conversation cards and
Integrate into your CRM system
2. Kronologic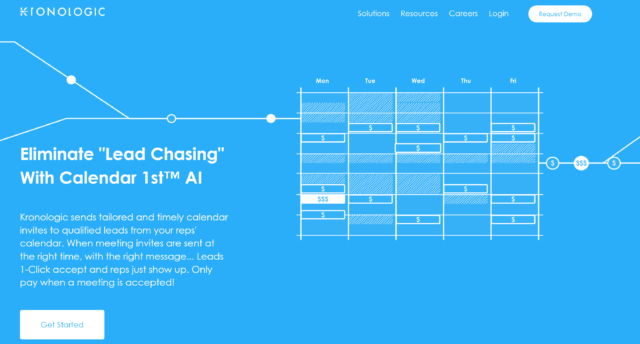 Pricing: Custom pricing for team and enterprise. No free trial.
Kronologic,an AI sales tool that features calendar monetization, allows sales leaders to turn leads to sales appointments with the power of AI. Raising $20 million seed funding in Aug, 2021, Kronologic continues to enhance its AI capabilities in customizable meeting scheduling for business leads and users. By sending calendar invitations to prospects automatically, this AI sales tool trained its AI models to understand how prospects react when they are willing to book a meeting. Interactions and behaviors can be tracked by AI, such as accepts, declines, responses and more.
Features
Convert lead to meeting with Calendar AI without chasing your leads
Schedule meeting with your prospects and book meeting automatically
Predict pipeline and sales better once meetings are totally visible
3. Chorus.AI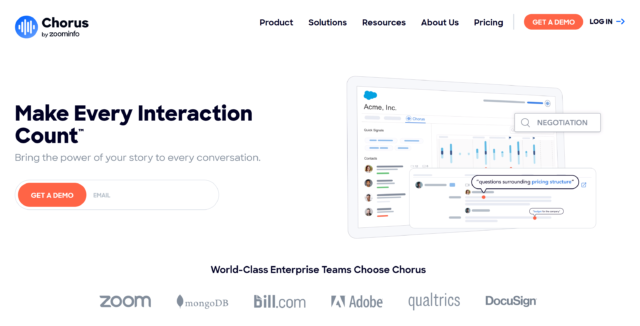 Pricing: Request demo to access detailed pricing information. Start from $1400 per user/year minimum according to Meetrecord's blog.
Chorus AI is another conversation intelligence platform for sales. Its AI solution offers relationship intelligence insights to sales leaders so that they can prioritize call recommendations and focus on right calls. Chorus AI, acquired by ZoomInfo at $575 million in July 2021, uses artificial intelligence to forecast which calls matter most and prioritize their meetings with prospects. With this AI for sale tool, sales leaders, reps and managers can access all their calls, contacts in one place.
Features
Make sales data more visible by analyzing customer calls, meetings and emails.
Smarter self-learning system that identify conversation patterns and themes with necessary highlights
Separate speakers to deliver real-time transcription with patented technology
4. Salesken.ai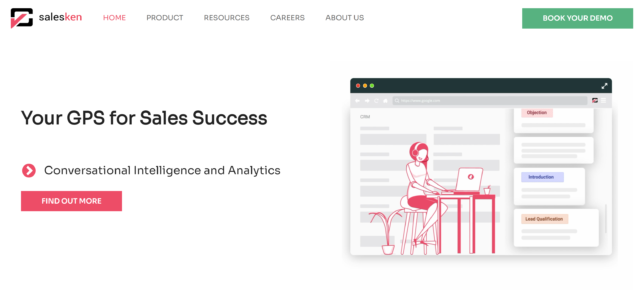 Pricing: Book a demo before you can access detailed pricing. No free trail available.
Salesken.ai, another sales conversation AI startup, provides sales reps with real-time contextual cues based on their database. Its AI sales tool creates deeper interaction and engagement between customers and sales reps using its Call Analytics tool. With its conversational intelligence, Salesken.ai can be a great AI assistant to boost performance of sales leaders during calls, webinars, presentations and more. This AI for sales tool can be integrated with most CRM tools.
Features
Offer real-time sales cues and analysis
Capture the real voice of your prospects across calls, emails, meetings and chats.
Clear dashboard for revenue team to measure pipeline and results
5. Clodura.ai

Pricing: Start from $99/month/user. Unlock 25 contacts for free.
Clodura.ai makes it easier to reach out prospects based on its AI recommendations. With millions of contact data offered by this AI sales tool, sales reps can easily access decision-makers before maximizing revenues.
Features
AI sales prospecting tool that offers AI recommendations on companies and contacts to sales team.
Fill out missing data fields automatically to build marketing database
Access 15 million companies and 200 million contacts + Emails globally.
Track prospects and provide accurate information of them for sales team
6. White Rabbit Intel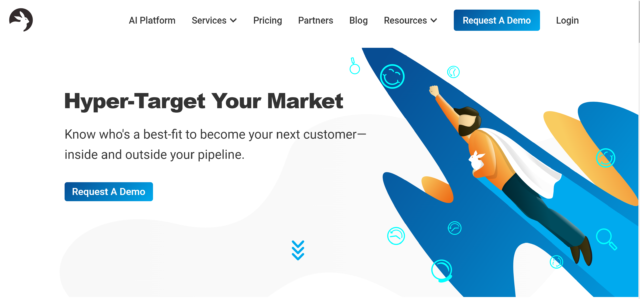 Pricing: Utility-based plans; As low as $2,074 and contact sales for detail.
White Rabbit Intel leverages the power of AI and intelligent scoring technology to make sales performance more precise and efficient. The AI sales prediction platform offers a dashboard view, helping you to identify prospects faster. For sales reps who engage prospects via traditional CRM system, this AI sales tool can shift their focus from playing numbers game to accurate marketing with target demographic persona profile generated by the AI.
Features
Optimize marketing funnels with AI scoring technology
Reduce unqualified prospects and better outreach lead generation
7. Sales Whale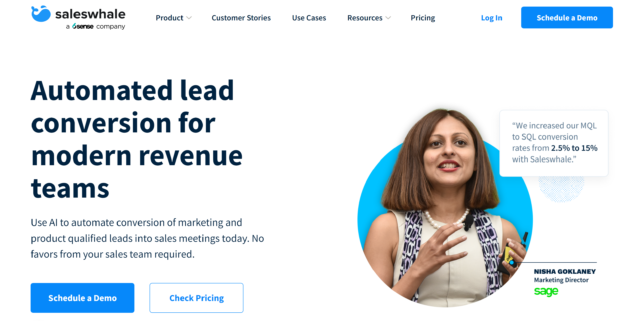 Pricing: Choose three plans from Starter $495 /mo( 500 leads) to Plus $1,495 /mo(2,500 leads) to Professional $2,495 /mo ( 5,000 leads).
Sales Whale introduces an AI assistant in sales that aims to solve the last-mile execution for sales reps and revenue team.
It takes your sales team away from drudgery and repetitive conversation with its AI conversation builder, a tool that allows you to customize reusable content blocks and serve unique customers in niche market. Measurable results of the messaging generated by AI offer you feedback so that you can optimize each conversation blocks for best performance.
Features
Rich AI sales features from AI conversation builder to AI sales email assistant.
Offer a scalable sales solution to SDRs (sales development representatives)
Reach out to leads automatically and follow up based on your settings
8. Lyne.AI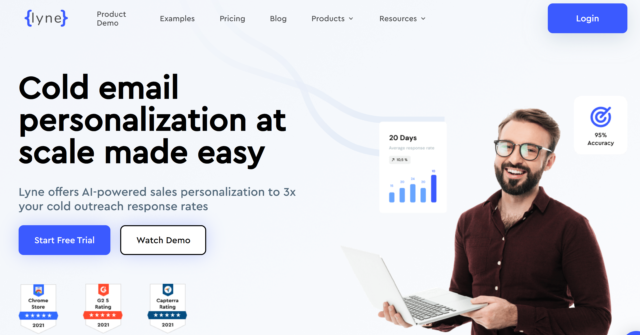 Pricing: $25/mo; Free trail;
This lead generation tool powered by AI assists sales representatives and marketers in scalable outbound lead generation. Thanks to its AI cold email tool,SDRs are able to write 1000+intros in just an hour, way more faster than manual work. Reviewing 300 email intros generated by AI takes about 15 minutes, which is a recommended practice before you send out to prospects.
Features
AI cold email tool and LinkedIn scraper
Offer fully automatic intro generation tool for LinkedIn lead generation
Create email intros in bulk
9. People AI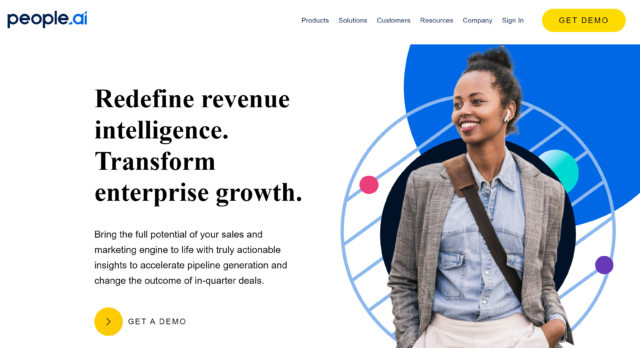 Pricing:
People AI provides an AI revenue intelligence platform for sales, customer success, sales engineering, and operations users. Sales reps can start a transition from repetitive data entry to revenue generation thanks to AI sales prediction features such as account planning, white space analysis, and relationship mapping.
Features
Make sales activity more predictable using customizable, out-of-the-box scorecards
Customize features for salesforce to avoid switching from app to
app
Automatic alerts once you have missing exec engagement or single-threading
Offer intelligent insights for higher-quality pipeline generation
10. Autobound.AI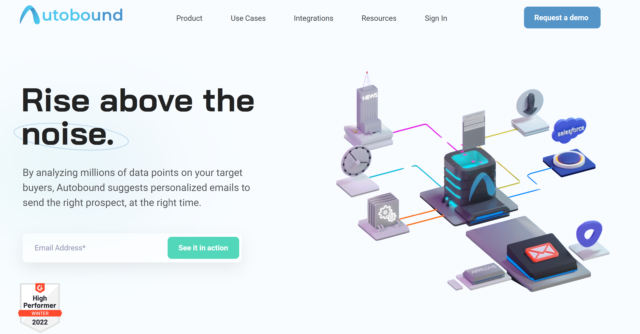 Pricing: Unknown
Autobound.AI has proprietary persona-based intelligence that allows sales reps to take guess work out of the pipeline. This B2B sales intelligence platform helps propel persona-based outreach lead generation by analyzing the date between sales reps and prospects. Your sales conversation can be targeted and predictive thanks to the personalized sales engagement recommendations from this platform.
Features
Recommend personalized emails and help sales reps contact right prospects
Analyze calls, emails, chats and more to extract value for revenue team
Final Thought
Once AI comes into the scene of sales assistance, marketing campaigns, and business analysis, drudgery human work that notoriously annoys both sales team and customers can be greatly eliminated. The result is not just about boosting efficiency. It's about gaining insights into lead generation, focusing on what values most and leveling up customer experience. Although we are still living in a world where cold calls can be interruptive on a lovely day, AI sales platforms are betting on an intelligent future for revenue teams and, most importantly, every unique user who can access the right products and solutions at the right moment. Also read: Top 10 AI Marketing Tools.