AI email tools improve digital marketing by collecting data, analyzing it, and generating comprehensive emails for target audiences. They improve response times and personalized content, optimize send times and email frequency, and offer tracking and reporting capabilities.
AI email tools help you elevate your digital marketing game by effectively collecting data, analyzing it, and drafting comprehensive emails to your target audience. These tools learn your brand voice and then generate emails that help your business earn higher revenue. Listed below are the top ten AI email tools that you must try out.
Also read: Top 10 AI Story Generators for Creative Writing
Top 10 AI Email Assistant Tools 2023
This is the preview table we created after reviewing and summarizing the top five products. Continue reading if you want to know more.
| Product | Pricing | Response Time | Personalization | Free Version |
| --- | --- | --- | --- | --- |
| Email Tree | €29.00 per user per month | ★★★★☆ | ★★★★☆ | Free trial |
| SmartWriter | $59 per month for 1500 outreach credits | ★★★☆☆ | ★★★★☆ | No free version |
| Open Paas | Free to use | ★★★☆☆ | ★★★☆☆ | Open Source |
| Phrasee | Free demo, pricing revealed after | ★★★★☆ | ★★★★★ | Free demo |
| Boomeranggmail | Free basic version, paid plans available | ★★★☆☆ | ★★★☆☆ | Free basic version |
| Optimail | $25.00 per month | ★★★★☆ | ★★★★☆ | Free trial |
| Drift Email | $1,450 per year for Pro version, $1,700 per year for Enterprise version | ★★★★☆ | ★★★★☆ | No free version |
| Seventh Sense | $140 per month for up to 20,000 HubSpot contacts | ★★★★☆ | ★★★★★ | No free version |
| Zetaglobal | Stock priced at $10 per share at IPO | ★★★★☆ | ★★★★★ | No free version |
| Rasa.io | $95.00 per user per month | ★★★★☆ | ★★★★☆ | Free version available |
1.   Email Tree
Email Tree is one the best AI email tools that automatically propose tailored email responses in only three clicks, which your customer support staff will send in seconds. It's now as simple as counting numbers to respond to emails.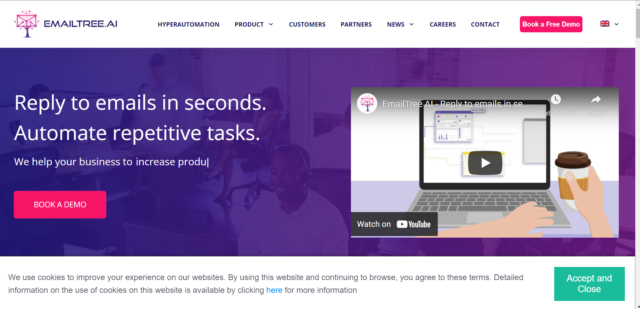 Client care personnel must pull out data from numerous sources, including past emails, knowledge bases, FAQs, and CRMs, while using Email Tree to answer a customer with a manual procedure. Because Email Tree can analyze every communication in any language, your agents will be able to quickly comprehend your customers' demands.
Pros:
Email Tree response time is very impressive.
They comprehend emails, examine them, and compose intelligent responses for you.
Cons:
No free version available.
Pricing: The cost of Email Tree AI email assistant starts at €29.00 per user. A free trial of Email Tree AI is available.
2.   SmartWriter
SmartWriter is an AI email assistant best suited for cold emailing. SmartWriter creates unique sales letters for everyone you're reaching out to using publicly available prospect data from news headlines, LinkedIn profiles, case studies, and more.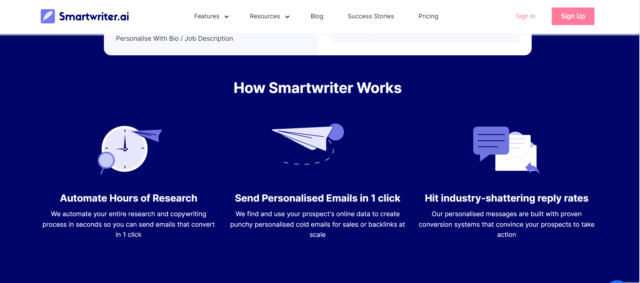 Personalized icebreakers (opening lines), full cold emails, LinkedIn outreach messages, and backlink outreach templates are among their templates.
Pros:
This tool can create personalized email subject lines, cold emails, LinkedIn messages, and backlink request emails They comprehend emails, examine them, and compose intelligent responses for you.
Cons:
Credit gaining can be difficult.
Pricing: The cost is $59 per month for 1500 outreach credits.
3.   Open Paas
This is an AI email writer helper that uses a simple and practical tool, where you can generate and amend reports and summaries, gather and analyze data in one location, and exhibit your work.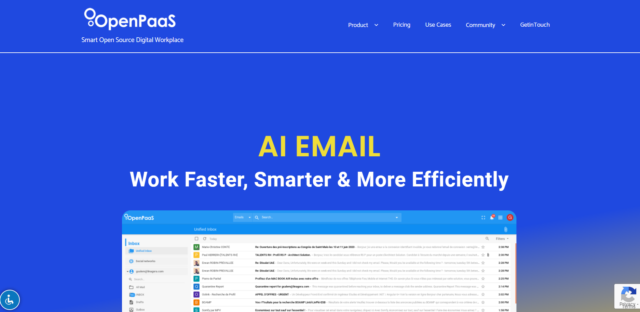 Use the Unified Inbox to connect all of your social network accounts, receive notifications, and see all of your information in one location. Keep track of all of your professional, social, and personal contacts in one place. Reach out to everyone via a variety of communication avenues, as well as calling them directly.
You can arrange your collaborative activities more efficiently by outsourcing calendar management, for example.
Pros:
You can add additional modules to the platform
No subscription required
Cons:
Pricing: Open Source browser tool and free to use
4.   Phrasee
Phrasee is an AI-powered marketing copy solution that employs a natural language generation system and deep learning algorithms to automatically generate human-sounding and brand-compliant marketing copy for emails, Facebook, Instagram, and push notifications.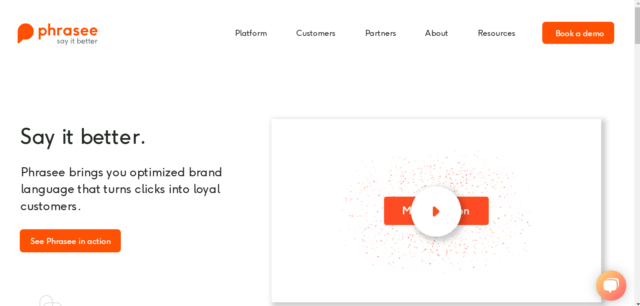 Phrasee is used in a variety of industries, including retail and e-commerce, travel and leisure, as well as finance and insurance, to help firms rapidly and intelligently generate email subject lines, social media ad content, and smartphone push alerts.
Users can operate in many languages with this AI for email marketing tool. Phrasee is used by big firms like Virgin Atlantic, Groupon, and River Island to relieve their marketing teams.
Pros:
Phrasee creates text-based data-driven insights to improve marketing performance by increasing opens, clicks, and conversions.
Cons:
Pricing of the tool can vary.
Pricing: Free demo is provided after which the pricing will be revealed.
5.   Boomeranggmail
Gmail can now accomplish a couple of things that it couldn't before thanks to Boomerang AI email writer. If your recipient hasn't replied or opened your email by the time you specify, the namesake function will send you an email.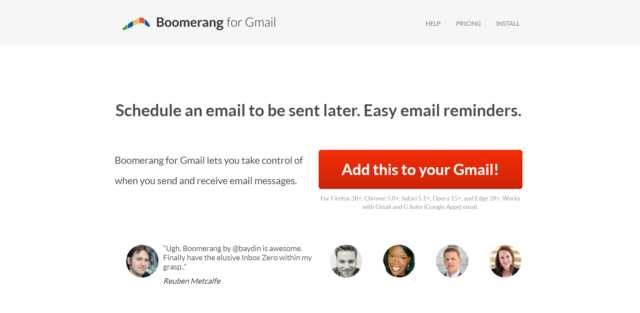 Boomerang necessitates the installation of a browser extension, which is available for Chrome, Firefox, Safari, and Opera. With Google's official OpenID/OAuth systems, you authorize Boomerang to access your Gmail account.
When you send an email and don't receive a response by a certain date and time, Boomerang Reminders sends you a message. You can even further personalize a reminder.
Pros:
Boomerang can notify you about the message if the receiver does not open it in a particular amount of time.
Cons:
Various tools can be quite confusing.
Pricing: Basic is free, Personal costs $4.99 per month, Pro costs $14.99 per month, and Premium costs $49.99 per month.
6.   Optimail
Optimail provides artificially intelligent email marketing testing and analytics that may be used to improve email drip programs for anyone who uses online marketing to generate leads.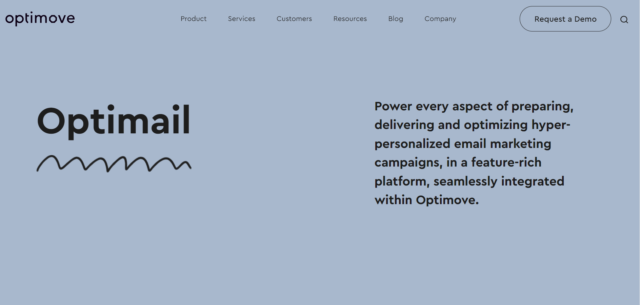 Optimove's native email customization and delivery platform, Optimail, manages all aspects of creating, delivering, and tracking hyper-personalized email marketing campaigns.
Optimail, which is seamlessly integrated into Optimove, provides marketers with a comprehensive email platform that is specifically built for tailored customer marketing.
Pros:
A visual template editor, true cross-client preview and personalization tags can be linked to any database field.
Subscription isn't compulsory.
Cons:
An option to integrate with more tools could've been there.
Pricing: Pricing for this email writer helper begins at $25.00 per month. Also, the free version is available. Optimail provides a free trial period as well.
7.   Drift Email
DriftEmail is one of the powerful AI email tools that sync with your MAP and CRM, automatically updating out-of-date contact data and surfacing new contacts on your target accounts.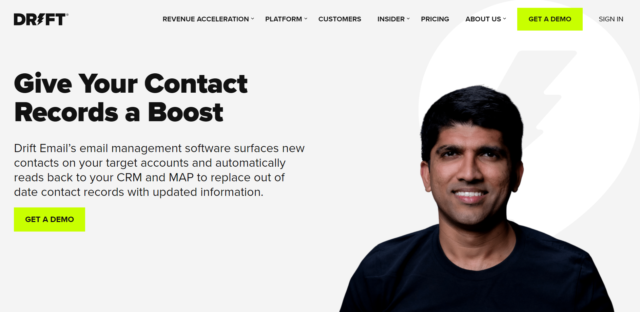 This advanced email management software can tell the difference between human and automated email responses in a matter of seconds. Drift allows you to direct real human responses to the relevant person, ensuring follow-up and generating more pipeline.
Without lifting a finger, you may invalidate out-of-date contacts, find job changes, and process unsubscribed for compliance.
Pros:
When clients are on the website, can have a conversation with them.
Product staff that is quick to respond.
Cons:
There are far too many fresh Drift features to test and deploy.
Pricing: The Pro version costs $1,450 per year and the Enterprise version costs $1,700 per year
8.   Seventh Sense
Seventh Sense employs behavioral profiling to help you stand out in your consumers' cluttered inboxes.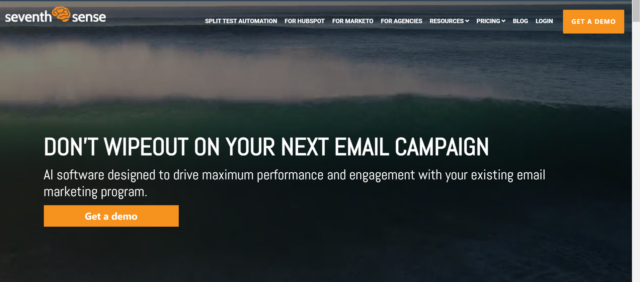 Choosing the optimum day and time to send an email is always a gamble. While some days of the week have greater open rates than others, you'll never be able to pinpoint the optimum moment for each customer.
Seventh Sense takes away the worry of figuring out the best time and day to deliver your email marketing. Based on when people open emails, the AI-powered platform determines the ideal send time and email frequency for each contact.
Pros:
Highly personalisable tools.
Easy to use.
Cons:
Can be expensive since way too many tools are available.
Pricing: For up to 20,000 HubSpot contacts, this AI for email costs $140 per month.
9.   Zetaglobal
Zeta is a company that produces real results. ZMP enables marketers to build personalized omnichannel experiences that promote acquisition, revenue growth, and retention, as well as better marketing efficiency, thanks to an industry-leading combination of proprietary data and AI.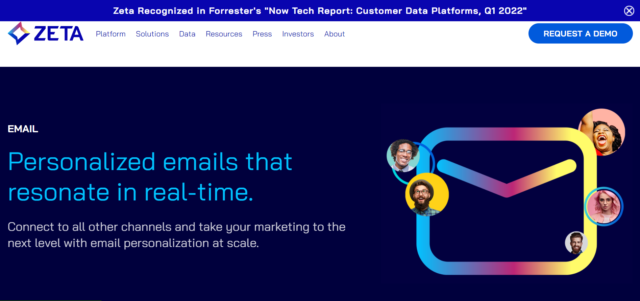 Recognize your best customers and prospects across channels and send the correct offer and content at the right time and through their chosen channel based on unique characteristics and more predictive intelligence.
Content generation, campaign setup, and execution are all simple tasks that anyone can complete in a short amount of time. Apart from that,
Pros:
The platform is incredibly user-friendly and simple to use.
The tracking system performs admirably and generates an accurate report.
Cons:
The Company isn't authorised by Glassdoor.
Pricing: A common stock priced at $10 per share at the time of its initial public offering.
10. Rasa.io
Every time you send a newsletter, rasa.io sends a personalized and entirely custom newsletter to each of your subscribers. You select the sources and topic, and rasa.io takes care of the rest.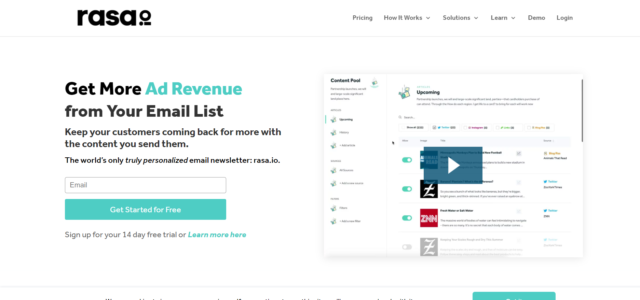 Their AI for email gathers and sifts through the content generated by your sources, pulling just the most relevant to your newsletter. The articles are then filtered and assigned to each individual subscriber depending on their specific preferences.
Their newsletters help clients create relationships by engaging them with handpicked information. They allow businesses to provide a real advantage to everyone on their email list on a regular basis.
Pros:
Curates content for every newsletter effortlessly.
Cons:
It is not possible to edit from a tablet or smartphone device.
Pricing: The monthly cost of rasa.io starts at $95.00 per user. A free version is available. A free trial is available on rasa.io.
Final Words
AI and email together making AI email tools are a great combination, especially for salespeople and marketing. They can save you time and money while also offering you a competitive edge over competitors that do not use AI in their prospecting.
FAQs
1. What role does AI play in email?
By studying consumers' browsing habits and preferences, AI pulls the guesswork out from timing your emails, following up, and remarketing.
2. How does an email bot function?
An email bot is a type of AI-powered automated marketing technology that can reply to inbound email leads fast. Read more: Top 10 AI for Sales Platforms Review.