Explore Appypie, an AI design platform for creating persuasive posters and enhancing images. Find its features: ease of use, and multi-format exports.
The world of marketing and advertising is vast, which has witnessed accelerated growth due to the Internet. As more people gain exposure to digital content, social media, and similar, more businesses are looking to establish their presence online as well.
The usage of posters plays a huge role in spreading awareness about your product, event, offers, etc. In this regard, a user-friendly image editing platform such as Appypie can be quite valuable. What is Appypie? Appypie is an image editing platform that makes use of AI-based capabilities to ensure quick, easy, and effective results.
Professionals, regardless of their level of experience with image editing, can create poster visuals and such on Appy Pie without spending too much time.
What is Appypie?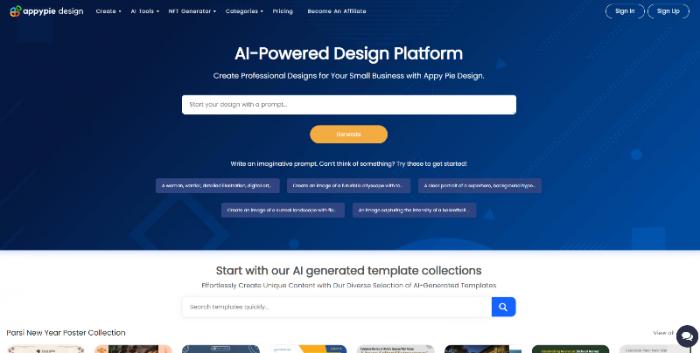 AppyPie Design is an online platform with a wide range of graphic design and editing tools to offer. Designers, photographers, editors, etc. may find Appypie extremely useful as it can help users to create a poster online, generate NFTs, enhance photos, and much more. Moreover, Appypie simplifies the overall image editing process by incorporating AI, but at the same time, offers manual editing options for users to have personalised results.
Click here to view all AI Poster Generators List
Key Features of Appypie Design:
Exporting in Multiple Formats
The platform offers the flexibility to export your edited images in a range of formats, including PNG, JPG, PDF, SVG, and others. This adaptability empowers you to select the most suitable format according to your intended usage or any subsequent editing requirements.
Diverse Options in Editing
When editing an image or poster on Appypie, users can not only take help from the platform's in-built AI features, such as AI Logo creator, but also make use of basic editing features such as adding fonts, images, graphics, etc. This enables the users to be more creative with their posters.
Efficient Photo Enhancement
Appypie presents an intuitive and effective photo enhancement tool. Through this interface, you can effortlessly elevate your images by making adjustments to their quality and appearance in a myriad of ways. Additionally, you have the option to imbue your photos with artistic flair by applying filters and effects.
Pros:
Appypie offers plenty of tools, features, and more, making it a go-to stop for solutions.
It is pretty affordable and offers value for money considering its wide range of tools.
Cons:
The UI of the editor mode can be improved.
What Can Appypie Do to Create Posters Online?
Posters, physically and digitally, are created to serve many objectives. They are versatile and often look visually striking in order to grab a viewer's attention. With Appypie, it is possible for designers to go through hundreds of pre-made posters, edit them, or to create your own poster from scratch.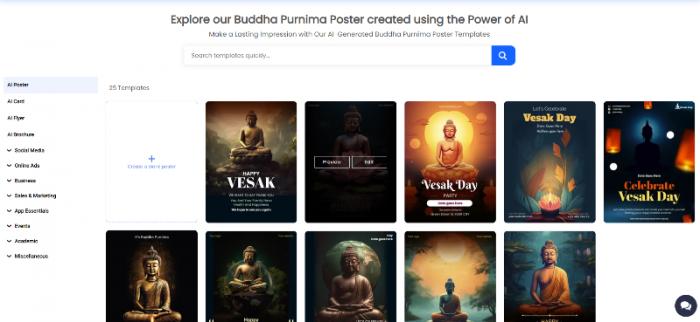 You can type a subject in the search bar and scroll through various posters related to it. By hovering on any poster, you can then click on "Edit" to make changes to the poster and add your own twist to it. Once you're in the editor mode, you can use all the editing tools given to create your own poster.
Another useful feature that you'll find in Appypie is that you can share your project with others through email. Similar to other editing platforms, such as Canva, you can easily have collaborative projects wherein you can create poster images and more.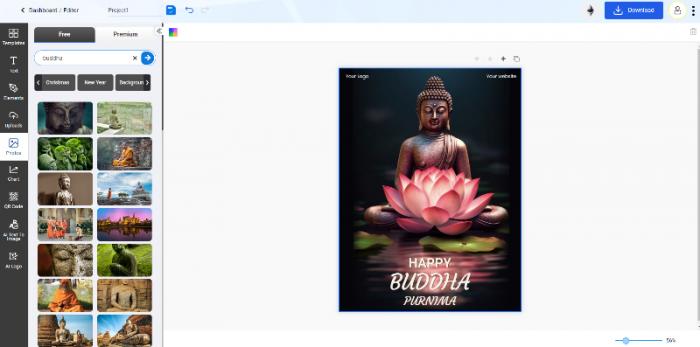 In the editor mode, you can click on the "Photos" tab on the left to use free stock images in your project. The quality of images is pretty good too, and what makes it more accessible is the fact that you can use the search bar to find the exact visuals you want at the moment. Speaking of accessibility, the website can be viewed in multiple different languages, including Spanish, Hindi, and French.
Other Features of Appypie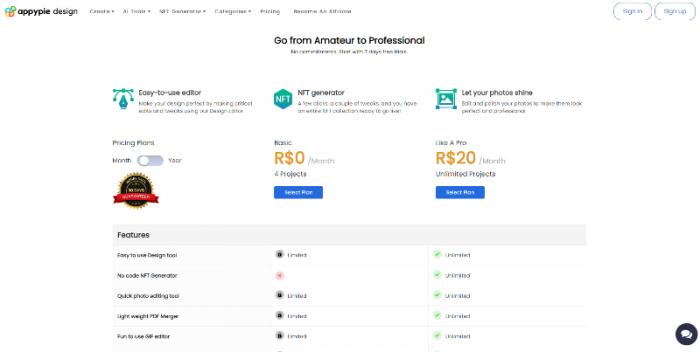 Price: The Basic plan, which is free, offers limited access to Appypie and you can only have 4 projects. To gain complete access to Appypie, you can purchase the Pro plan that costs $20 per month.
The Appypie app builder, which is the original platform, offers tools that fall outside of poster creation and image editing.
Appy Pie is a no-code mobile app development platform that allows individuals and businesses to create their own custom mobile apps without the need for extensive coding knowledge. It offers a user-friendly drag-and-drop interface that enables users to design, build, and publish mobile apps for various platforms including iOS, Android, and even web apps.
While there's no direct relation between Appypie's no-code development faction and Appypie Design, users can nonetheless use both to improve their website or app. Designers can create poster images and optimize them, making them ideal for websites they would create with Appypie.
Now you can get a quick overview of the various tools in use from our Tools Directory.
How to Use Appypie to Create Your Own Poster?
Now that we know what Appypie is, let's go through some steps to learn how to use Appypie to create poster images online easily.
Step 1: Click on Appypie to access it online. You will reach the homepage, wherein you can see all the tools Appypie has to offer. Go to Create > Sales & Marketing > Poster Maker.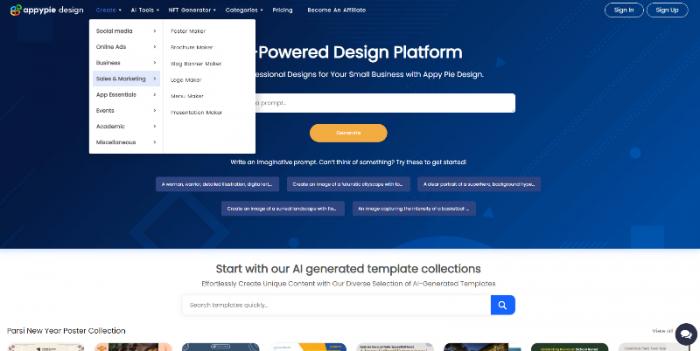 Step 2: You will now be redirected to the Poster Maker tool page. Here, you can type into the textbox describing the kind of poster that you want to have. The AI tool will take you to the editor mode and create poster images based on the prompt. You can then edit the poster to personalize it.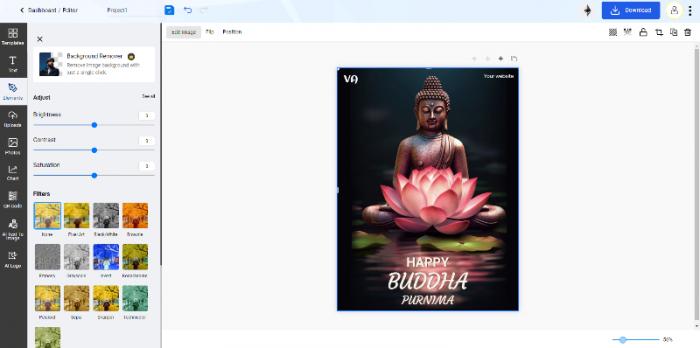 Step 3: Once you are done editing the poster, you can download your image by clicking on the "Download" button on the top-right of the screen. Before downloading the image, you can select the image format that you want the image in.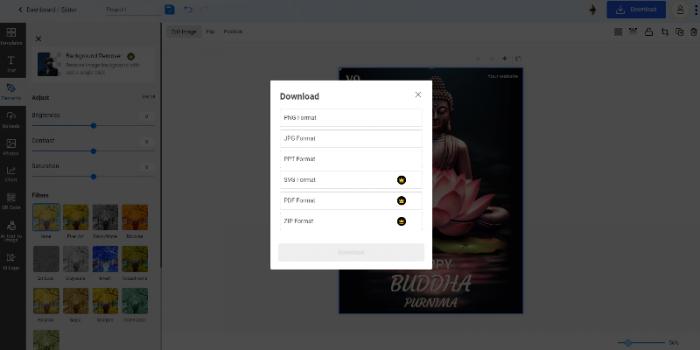 When you're at the Poster Maker web page, instead of typing a prompt, you can also scroll through posters that already exist and simply edit them too. You can search for the kind of posters you want and you will find a list of them just like in the image below.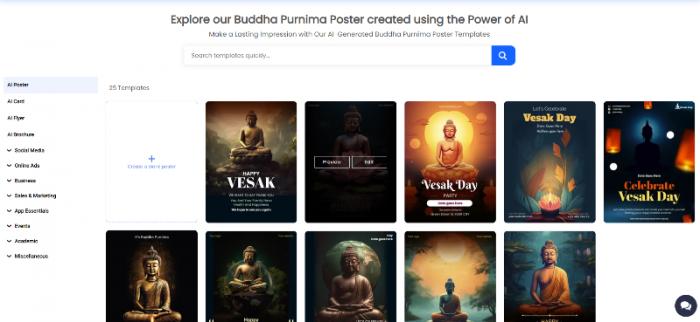 Conclusion
Appypie is a valuable app for creating posters online, offering a multitude of advantages. Its user-friendly interface and customizable templates simplify the design process, making it accessible to both beginners and experts. Appypie is not just limited to poster creation. It boasts a diverse array of features to meet various design needs. On the other hand, the Appypie app builder helps in creating apps with no-code development.
By providing a wide range of tools and empowering them with AI processing, Appy Pie Design enables users to not only create high quality outputs, but get them fast. In fast-paced work scenarios, it is essential to have apps such as Appypie.
If the platform could improve somewhere, it would be by improving the tools it offers in the editor mode. The UI can be made more intuitive. The stock photos section can sometimes fail to search for images under the premium section, which can be looked into. However, the Appypie platform is excellent besides the minor hiccups.
Use Appypie to create poster images and much more.
FAQs
Is Appy Pie good for making apps?
Appypie app builder is a pretty good platform for creating other apps and websites. Appy Pie's platform is designed to be accessible to individuals with little to no programming experience. Users can create apps by simply dragging and dropping elements and functionalities. Appy Pie can be an excellent starting point for getting your ideas together for an app, though it would be recommended to use other means to ultimately create a sophisticated app.
Can you make money with Appy Pie?
Yes, you can use the apps and other assets that you create through Appypie commercially. Naturally, you will need to purchase a premium account from Appypie in order to use it fully.