Choosing between Adobe Bridge vs Lightroom can be a tough one, since both software applications are highly reputable and useful. However, there can be distinctions made on their design and the purpose they serve. In this Adobe Bridge review, we will learn how to use Adobe Bridge, about Adobe Bridge, and how it compares to Lightroom. Naturally, the Adobe Bridge tutorial and review will also provide you with the essential info about Lightroom and how it basically works. Both of these software applications can be bought from Adobe and installed from the Adobe Creative Cloud Suite application. Both are exceptionally well designed for editing and storage, though they are made for different usage.
What is Adobe Bridge?
It stands to reason that you should know what is Adobe Bridge before going into further details. Adobe Bridge is quite often described as a digital asset manager or a media files manager. All in all, Adobe Bridge is primarily concerned with organizing, recording, and maintenance of files. What makes Adobe Bridge special in this case, however, is the fact that it allows users to not only manage the usual files in their system, but also the ones specific to Adobe software applications. So, you can manage Photoshop, Lightroom, and all kinds of Adobe based files as well. What this also means is that Adobe Bridge can be used together with any Adobe application as it grants greater access to all of their files.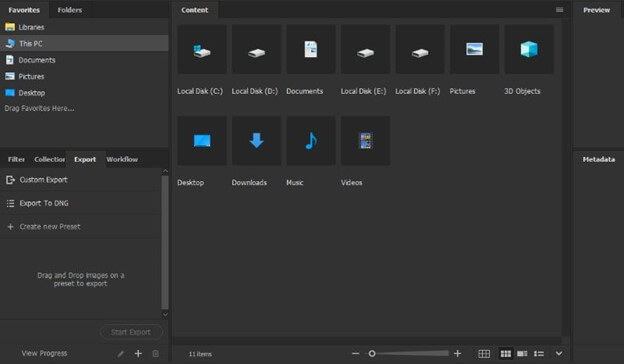 Needless to say, you can visit the Adobe website for an Adobe Bridge download free trial. The application is added to your library. Adobe Bridge is also useful when dealing with metadata, as it can view and organize metadata from various files. Moreover, another rather uncommon aspect of Adobe Bridge is that it is much easier to use than most other Adobe products, which are often known for their complexity. You may find Lightroom a bit easier to use than Photoshop as well.
Adobe Bridge vs Lightroom
There are quite a few similarities between Adobe Bridge and Lightroom, which make a comparison possible. However, their fundamental design is different and meant for different purposes. On one hand, Adobe Bridge is a management or organizing application that doesn't really let you create but rather store efficiently. On the other hand, Lightroom is a creative tool that was designed as a more streamlined version of Photoshop. When it comes to editing photos, storing them, and more, Lightroom is the ideal app. You can draw two distinctions from this. One that Lightroom is meant for creative purposes and two that Lightroom only deals with images. Adobe Bridge, as mentioned before, deals with all kinds of files.
You can get an Adobe Bridge download if you want to use it for managing assets and if you already have creative tools such as Photoshop and more in your inventory. Adobe Bride on its own doesn't really do much as it obviously needs other files to be of use. Lightroom is useful as a standalone application for image editing and similar. It can offer storage facilities similar to Bridge but not on that level. When it comes to the complexity of use, Lightroom is definitely easier than Photoshop though Adobe Bridge still remains the easiest of the three.
Adobe Bridge Tutorial
If you do not have Adobe Bridge yet, you can get the Adobe Bridge download from this page. The official web page includes all the details about the later costs of the software and an overview of the application as well.
Run the setup and install the software. It will mostly install through the Creative Cloud application so keep checking the progress on the Creative Cloud. The software will run Adobe Bridge automatically after installation.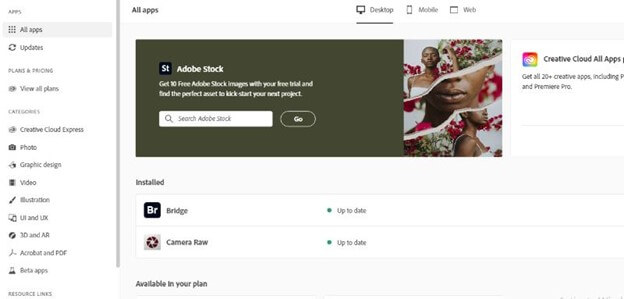 2. Click on the Adobe Bridge icon or simply run it from the Creative Cloud to reveal the home screen. Here, you will see the data that is present in your HDD. From here, you can conduct any operation that you want. To access specific files, just browse through the folders as you would normally in your device.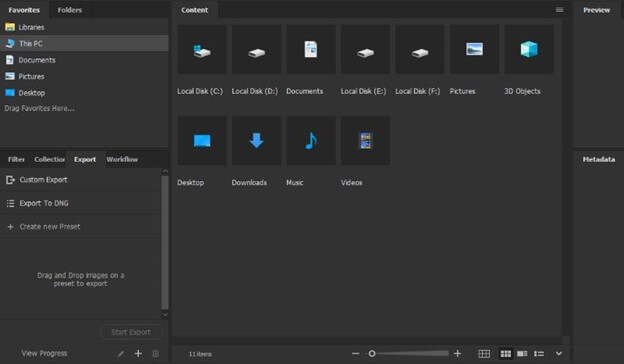 3. Right-click on the file and choose any option in order to proceed ahead with it. For instance, you can move a file from one folder to another through Adobe Bridge.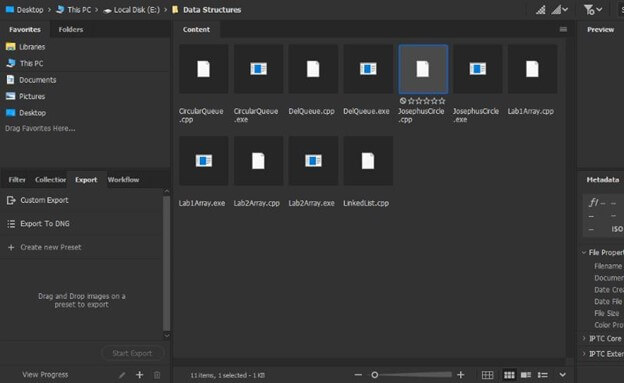 Final Verdict
Adobe Bridge and Lightroom do have some similarities when it comes to their features but overall, they are applications that you could use together as well. If you are someone who primarily deals with images, is creative, and doesn't need sophisticated storage and organization tools, you should go for Lightroom. Adobe Bride or an Adobe Bridge alternative will provide you with all kinds of management features but it is not suitable for someone who designs and creates content. One option is to simply pair your Adobe Bridge with other Adobe or creative applications such as Photoshop, Luminar, VanceAI, etc. Otherwise, you can simply use Lightroom for all your image-related needs.
FAQs
1. Is there any Adobe Bridge alternative?
There are many Adobe Bridge alternative applications though they don't all possess the same features as the application in question. However, you can choose Google Photos for your storage and organization needs. Plus, Google Photos is completely online, highly accessible, and could pair really well with Lightroom. Another good alternative is Corel AfterShot Pro, which gives you control over multiple file formats, including video.