Writing a good copy is relatively easy but what most find challenging is writing something that strongly inspires an action from the reader. That is what WordAI aims to help you achieve. With WordAI, you get many features and benefits when it comes to writing copies and content for all kinds of purposes, though mainly for marketing.
This WordAI review will show you how to use WordAI, discuss features, and more important info. By using an app like WordAI or WordAI alternatives, you can significantly improve your writing which in turn gives you much better results in terms of marketing and engagement. You can also benefit from this in terms of SEO.
What is WordAI?

You can consider WordAI as not just an app for improving SEO but rather as an overall writing assistant. This app is quite capable of giving you results in various aspects of writing, such as giving your written text a completely new structure, giving it more clarity, rephrasing some of the ideas that you have shared, and more. You can also see these aspects with an example on the Word AI official website. WordAI is also an app that can make use of its AI based technology to amplify your marketing goals with richer content that is delivered on time. The AI also makes sure to avoid sounding like a bot that eventually gets thrown into the spam folder. Users can enjoy a good level of accessibility with WordAI, as it is possible to use online and as an API software.
How to use WordAI?
In this section, we will take a look at how to use WordAI on the website and see some features.
The first thing you'd need to do is make an account with WordAI. Luckily, it's a short process that begins with clicking the Free Trial button on the page. Choose either the Monthly or Yearly plan. Next, fill in the details, along with credit card or Paypal, that are requested upon signup.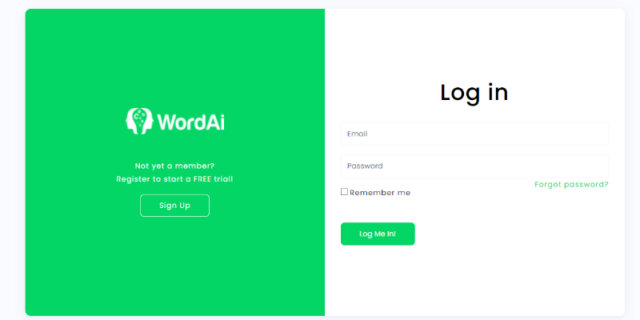 2. Select any feature you want to use from the left side bar, such as rewrite articles, API, bulk rewrite, or any other. Upload your document and initiate the tool. The app will start working on it and provide results after a short time.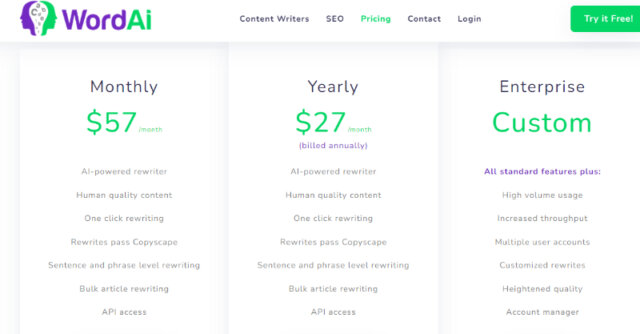 3. Download the document and the updated content on your local device.
Performance and Features of WordAI
When it comes to performance, WordAI is surely a reliable tool to enhance your current copy or to conjure up an entirely new one. The AI based algorithms work well in recognizing inconsistencies or inefficient writing and suggesting refreshing ways to alter them. Editing content and copy becomes easier and can also be a creative process for writers as the suggestions offered by WordAI can spark new ideas sometimes. Also, as you might have already guessed, WordAI is time efficient as well, offering services and results in a quick manner.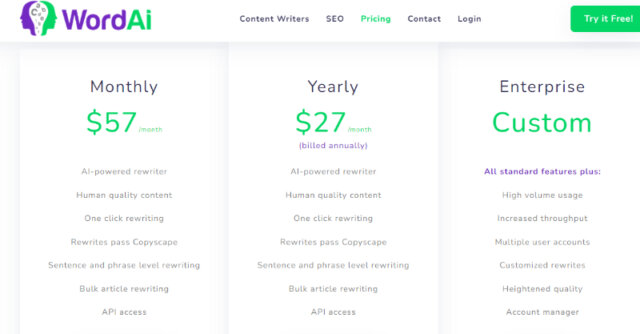 The WordAI application offers three paid options. The monthly plan costs $57 per month whereas the yearly plan costs $27 per month, which comes to a total of $324. The third plan is a custom plan meant for Enterprises. Not to mention that all users receive a three day free trial on monthly and yearly plans, during which they can disable their subscription.
Conclusion
WordAI is a highly useful app for content development and content building. By investing some time, you can even revitalize a lot of your old and current content to make it more efficient, not just for Google but also for your readers. You do need some expertise with content and marketing copies, however, as WordAI is not completely a standalone app. It is an assistance focused app, so the writer should know how to use WordAI and capitalize on it. It is also a bit on the expensive side, especially considering the monthly plan. However, the AI based approach definitely works and you will see results sooner than you expect. Read more: Writesonic Review: How to Write With AI Without Sounding Like A Bot