Summary: Video to text converters are essential tools for converting audio and video files into text or subtitles. These tools help individuals in various scenarios, such as in academic lectures, interviews, or while watching shows.
Watching foreign movies seems an ordinary thing for us. Have you ever tried to watch them without the subtitle? Or maybe when you are in a lecture, you cannot fully understand the tutor's saying, and you may need a transcription or subtitles to understand better. Perhaps 3/4 of you can't assure that you can 100% understand what the speakers are saying when there are no subtitles. There are more situations than you think that a subtitle ensures you receive enough messages during an academic lecture, an interview, or a musical play. Hence, a video to text converter comes to your view and saves you from these troubles. Information is the very keen factor driving you to start a conversation; all you do is vain without knowing the exact words and meaning.
Here I list the top video to text converters, and these tools can satisfy most of your needs, whether you are at work, at a class, or watching shows. Free and paid software are both involved in the list, and I also summarized the pros and cons of these video to text software. Make sure you get the best one for yourself. Let's find out what they are now!
Read more: Top 10 Realistic Text to Speech Tools Review 2023.
Top 10 AI Tools to Transcribe Video to Text
This is the preview table we created after reviewing and summarizing the top five products. Continue reading if you want to know more.
| Product | Price | Transcription Accuracy | Multi-Language Support | Automated Subtitles | Offline Version |
| --- | --- | --- | --- | --- | --- |
| VEED | Free / Basic $12 / Pro $24 / Enterprise | ★★★★☆ | ✓ | ✓ | ✗ |
| SONIX | $10/hour; $5/hour + $22/user/month; enterprise | ★★★★☆ | ✓ | ✓ | ✗ |
| Happyscribe | Automatic €0.20/minute; Human-made €2/minute; Human translation (for subtitles) €20.85/minute | ★★★☆☆ | ✓ | ✗ | ✗ |
| GOTRANSCRIBE | $12/hour; $36/4 hours + $9/additional hour; $90/10 hours + $8/additional hour | ★★★☆☆ | ✓ | ✗ | ✗ |
| Amberscript | Pre-paid $10 for 1 hour/month; Subscription $32 for 5 hours/month; Manual transcription $1.2/minute | ★★★★☆ | ✓ | ✓ | ✗ |
1. VEED
Price: Free/ Basic $12 / Pro $24/ Enterprise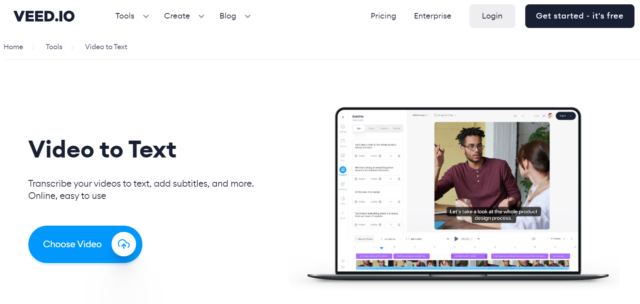 VEED is a well-known online video editor designed to produce short-form video content, and I believe every social video blogger and YouTuber has heard about this before. It provides over 40 video editing tools for people, and it covers all the video editing functions you may need. If you have a small video to text transcription, you can try their basic plans. As it is a very famous video software, privacy and other problems rarely happen. They upgrade their services and tools very often. Using this tool, you are definitely on the front of video makers.
Pros:
Fast and easy to operate
Transcribe your videos to text
Auto-generate subtitles and translate subtitles online
Add your Transcription as Subtitles
High-quality Video Transcriptions
Simple guidance tutorial
Cons:
Very limited function and volume to convert
2. SONIX
Price: $10/hour; $5/hour plus $22 per user/month; enterprise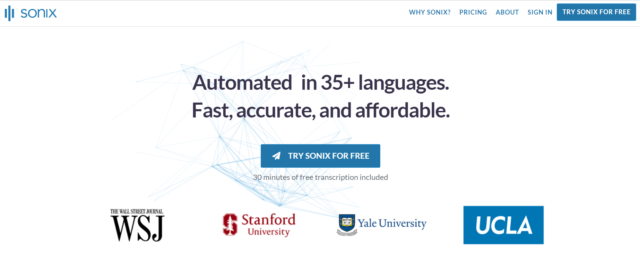 Sonix is one of the top video to text companies that have built an advanced transcription, translation, and subtitling platform using the latest AI technology in the world. From single transcripts to full-scale video production and everything in between, Sonix provides you an excellent platform to run the workflows that support over 30+languages. As such powerful software, both small video bloggers and affiliated production companies can find suitable services in Sonix. Due to the pricing charges according to the user's video length, accurately by hours and seconds. You can consider it has your every second worthwhile.
Pros:
Easy to use and accurate.
Multiple language transcription and translation supported.
Automated and customizable subtitles service available.
Timestamp provided with each word for easier referencing.
Export transcript in various file formats.
30 minutes free trial.
Cons:
The uploading and transcription speed are a bit of slow.
Low accuracy of the free trial.
3. Happyscribe
Price: Automatic €0.20 per minute/ Human-made €2per minute/ Human translation(for subtitles) €20.85 / minute
Note: Transcription and subtitling services are charged individually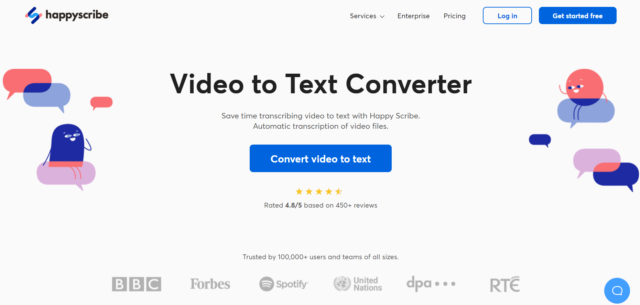 Happyscribe provides both automatic and professional human transcription and subtitling services for files of all sizes. Mainly you have the big video to text transcription work to do, Happyscribe should be on your list. When it finishes the transcription, you can adjust, correct, and replace words as you want in Happyscribe. However, this tool doesn't support emergent video to text transcription; if you have a timely video to convert to text, I suggest you try other software. You can check through their website FAQs, and it is not difficult to find they charge more and take a longer time. Their human transcription offers their best quality, personal advice, YouTubers, and young video makers; you can find a cheaper replacement for yourselves. No matter what aspects, Happyscribe is a costly video to text converter.
Pros:
Over 60 languages supported.

Online transcribe and no application downloading requirement.

Multiple videos and audio transcription formats are available (46 formats).
Cons:
Comparatively too expensive than others.
4. GOTRANSCRIBE
Price: $12 per hour/ $36 per 4hours and $9 per additional  hour/ $90 per 10hours and $8 per additional hour
Go Transcribe is an easy-to-use video-to-text converter that can return your files in minutes after uploading the video files. With a very intuitive user interface design, it's clear to transcribe video to text. Upload a video file into this platform using any device, and then it transcribes it automatically into a document for you. And multiple document files are also available. One of the light spots of this tool is transforming your interviews into actionable insights faster. As it allows teamwork, you can cooperate with your college with higher efficiency. This software is a bit of expensive for small size videos transcription, but it is much cheaper if you purchase the business monthly plan.
Pros:
Highlight and comment feature available.
Fast and simple to use.
Intuitive UI
30 languages supported.
Priority email support
Cons:
Signing up issues happen from time to time.
Small size transcription is too expensive.
5. Amberscript
Price: Pre-paid $10 for 1 hour/month; Subscription $32 for 5 hours/month; Manual transcription $1.2/minute Pre-paid $10 for 1 hour/month; Subscription $32 for 5 hours/month; Manual transcription $1.2/minute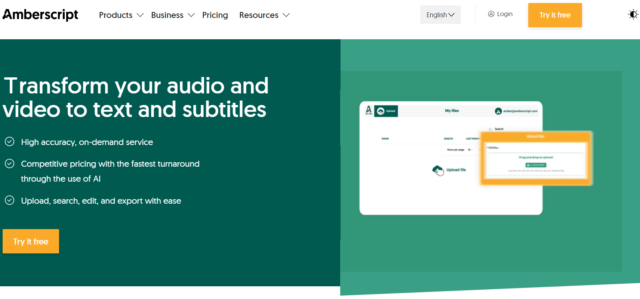 Amberscript is a tool that can transform audio and video to text and subtitles. It has an API service for business. Companies can integrate the workflow via API, request a model customized to their needs, and centralize billing, and then it will provide access to multiple users and get volume discounts. Business users, go for it. Quickly export your transcript in Text, SRT, VTT, and many other formats, with optional timestamps and speaker distinction.
Pros:
99% high accuracy, on-demand service.
Competitive pricing with the fastest turnaround through the use of AI.
Upload, search, edit, and export with ease.
39 languages available.
Optional timestamps and speaker distinction for transcript in many formats.
Data annotation, API service.
Cons:
Unclear standard about the video quality and file size.
6. 360 Converter
Price: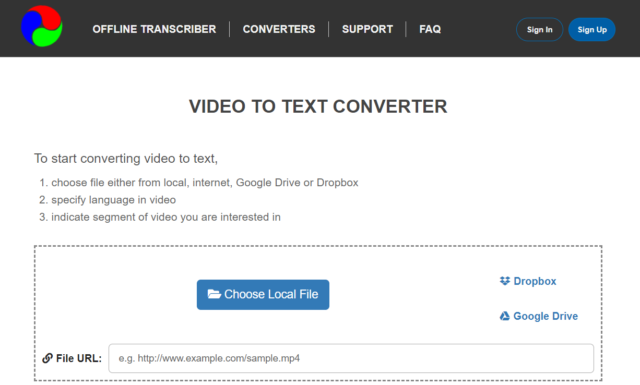 360Converter provides different converters, primarily focusing on video, audio, speech, and voice to text. You can transcribe video, audio, speech, and voice files, including a local file, internet file, or even file in cloud storage, Google Drive, and Dropbox. YouTube video is also supported by simply copying & pasting YouTube video URLs. Totally 13 languages are supported at this moment. 360Converter Offline Transcriber software could be installed locally in the user's computer. The user does not need to upload files somewhere and wait in the queue.
Most importantly, there is no time limitation. However, there are bugs happens from time to time, and this can be annoying. As this is the only video to text software provides offline service, you need to try this.
Pros:
Offline version.

no time limitation, and you can transcribe entire file with the offline version.

no need uploading your file to anywhere with the offline version.
Cons:
Website bugs happens, and cannot open it often
7. Transkriptor
Price: No clear, only tested the free trial.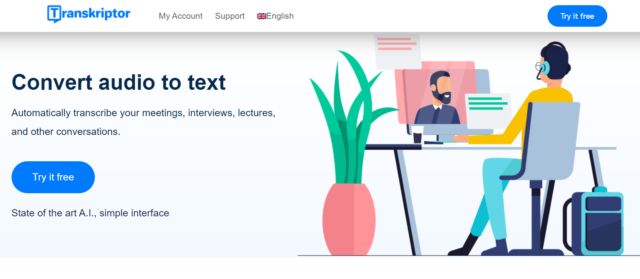 Transkriptor is a tool that helps you to convert audio and video to text. It can automatically transcribe your meetings, interviews, lectures, and other conversations with AI. You can import audio or video files in many different formats and export your transcription with timestamps in Text, SRT, or Word formats; Transkriptor will automatically Transcribe your file within minutes. Furthermore, it notifies you via mail after transcription.
Pros:
Generous free trial minutes, 90 minutes free available.
Transcribe automatically and turn audio to text within just minutes.
80-99% accuracy according to the language and audio quality.
22 languages available.
Cons:
Only several audio and video file formats supported, only for mp3, mp4, wav, webm, and flac.
No pricing information on the webpage.
8. Type Studio
Price: Free/ $12 per 5 hours for starter monthly/ $20 per 10 hours for pro monthly/ $65 per 40 hours monthly.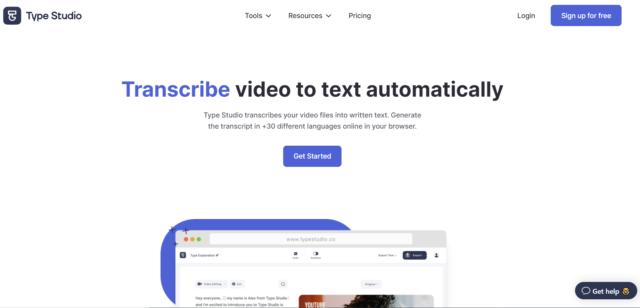 Type Studio is a compelling video to text software. It is an online text-based video editing tool to edit videos based on transcribed and audio files. Cut, crop, or add subtitles with one click or auto resize the aspect ratio. Correct the automated transcription since a machine is never 100% accurate. The price of this tool is much lower than many other tools, and it supports a long time for one video transcription; giant-size videos and HD video transcription are also available. Freelancers and we-medias, this is a fantastic tool for you. Moreover, it also supports you in adding auto subtitles to videos directly on the phone.
Pros:
Multilingual Translation and automatic translation into more than 30 different languages.
High accuracy.
Fast online video editing feature.
Subtitle adding available.
Intuitive UI and easy to operate.
Cons:
Everything is cool up to now.
9. Keevi
Price: Free/ $14 for Pro/ $21 for Business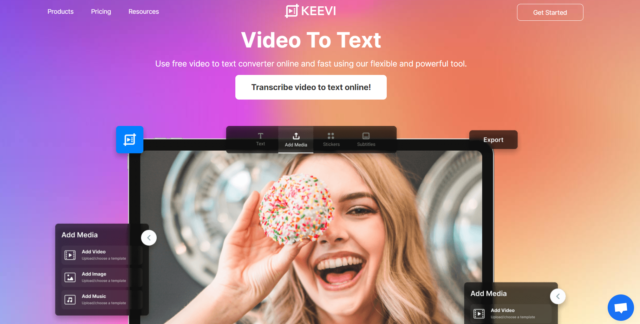 Keevi is another video to text software, it has all the features that others have, but the price is too high $15 for only 30 minutes video length, and $21 for 2 hours. Although it supports 4k high accuracy video quality, 1080p exports, and other excellent features, it is still hard to afford for regular freelancers and we-medias. I think this software is more suitable for large companies cause the conscription fee is expensive.
Pros:
Available for a variety of file formats for uploading video file and downloading the transcription text file.
High transcription accuracy.
Fast and smooth processing.
Beginner-friendly user interface.
Features such as images and stickers available.
Cons:
10. Vocalmatic
Price: starts from $6-15 per hour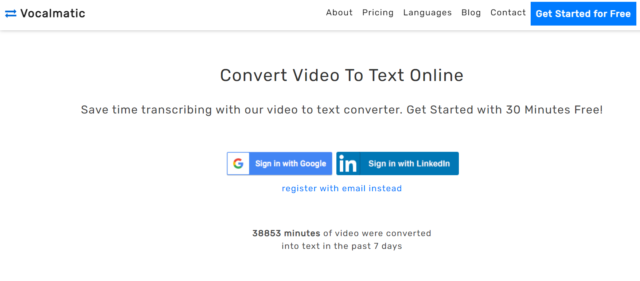 Vocalmatic is a tool that helps you convert video to text online; speech-to-text AI powers it. As with many of the video to text convertors, Vocalmatic can automatically transcribe video to text free for 30 minutes, and later on, it charges depending on your file size and length; the longer video hours, the lower price. Once it finishes the conversion, it will email you a link to edit and polish your transcription to perfection. However, the transcription's accuracy mainly depends on the speaker's language clarity and the numbers, and it only supports 3 speakers at most. Overall, it is still an excellent tool for use.
Pros:
30 minutes free trial.
9 languages supported.
Cheaper with bulk hours order.
High accuracy is available for automatically transcription.
Cons:
Best conversation accuracy with less than 3 speakers in the video.
Conclusion
The video-to-text function has gradually become an urgent need for people, especially in academic lectures, international conferences, and other occasions. It is even more indispensable. Each software in this article has its advantages, but some are cheap, and some are expensive. As for your needs, you need to choose a product that suits you.
Now, do you have any ideas in your mind after reading this article? When you are concerned about how to transcribe video to text, this article provides you with excellent products.
Also read: Beautiful AI Review | Make Presentations Easily with Smart AI.