Summary: This article compares Udemy and Coursera as two of the best online learning platforms. Udemy is ideal for job-ready skills, while Coursera offers comprehensive university-level courses with recognized credentials.
Online learning systems are growing increasingly popular year after year. Online courses are less upscale and more flexible for students, allowing them to learn at their speed whenever they choose. You're seeking the best MOOC providers if you've arrived at this page. However, how can you know which one to choose? Well, this in-depth Udemy VS Coursera comparison will assist you in making your decision.
Both Udemy and Coursera are regarded as among the best online learning platforms; Nonetheless, they are incredibly different and have both advantages and downsides and some truths that you should be aware of before making a decision.
What is Udemy?
Udemy provides many courses and does an excellent job of organizing them into 13 major divisions (and dozens of subsections). Udemy features one of the most sophisticated filtering mechanisms I've ever encountered. You may search for classes based on their level, language, duration, student reviews, or price.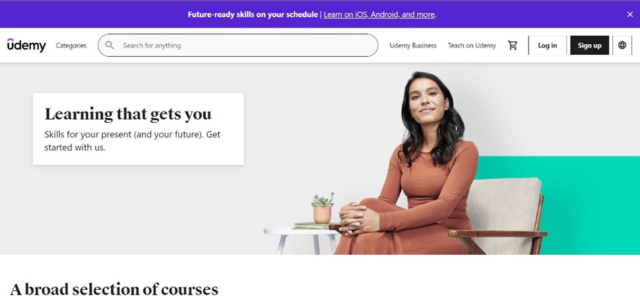 What is Coursera?
Coursera provides around 4,000 courses, as well as specializations and degrees. It is divided into 11 categories and dozens of subcategories. After choosing your subject, you can utilize its handy filtering mechanism to narrow down exactly what you're searching for.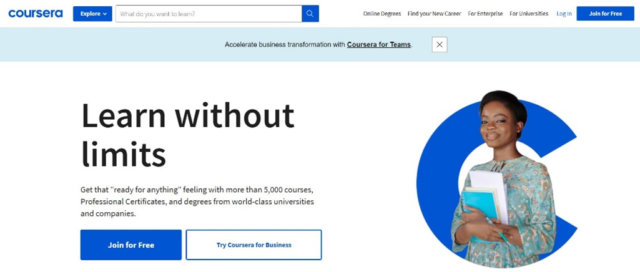 Top 10 Most Beloved Udemy vs Coursera Truth
To assist you in deciding which of the two Udemy VS Coursera is best for your specific needs, we will review each of them based on various criteria. By the conclusion of this post, you'll know if Udemy or Coursera is better suited to your specific needs.
Here is a general overview table made by us, if you want to see our more detailed review, please keep reading:
| Criteria | Udemy | Coursera |
| --- | --- | --- |
| Instructor Expertise | ★★★☆ (self-employed authors) | ★★★★ (academics & industry experts) |
| Quality of Courses | ★★☆☆ (job-ready skills focus) | ★★★★ (university-level education) |
| Enrollment Options | ★★★☆ (free, coupons, paid) | ★★★★ (audit, full access, financial aid, Coursera Plus, paid) |
| Pricing Options | ★★★☆ (courses priced around $50, discounts available) | ★★☆☆ (vary greatly from $30 to $20,000, Coursera Plus membership for $399/year) |
| Languages Supported | ★★★★ (65 languages supported) | ★★★★ (10+ languages supported) |
| Available Certificates | ★★☆☆ (completion certificate available for a fee) | ★★★★ (certified certificate provided upon completion with verification URL) |
| Improved Assistance | ★★★★ (excellent support system with FAQs and support chat) | ★★★☆ (similar support system with common themes and search) |
| Design & Backend | ★★★☆ (simple interface) | ★★★☆ (simple interface with global community feel) |
| User Interface & Ease-of-Use | ★★★★ (easy registration process) | ★★★☆ (similar registration process with Facebook/Apple option) |
| Commitment of Time | ★★☆☆ (some courses are short, others more in-depth) | ★★★☆ (university-level courses with longer time commitment) |
1. Instructor Expertise (Udemy vs Coursera)
Udemy: There aren't many Ivy League instructors on Udemy like Coursera. Instead, a sizable proportion of Udemy teachers are self-employed course authors. They are typically extremely knowledgeable in specific disciplines and are eager to share their knowledge. Don't be misled; this does not imply that they are inferior. Their delivery is usually excellent and highly engaging.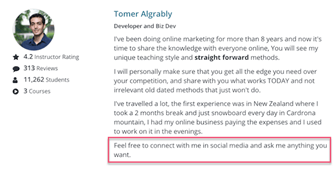 Coursera: Coursera's instructors are among the greatest educators in the field. There are academics from Harvard, Princeton, Oxford, and MIT among the instructors. Some teachers are industry specialists from businesses such as IBM, Google, and Meta. They have prior teaching expertise, having delivered regular classroom lectures with a few remote learning adjustments.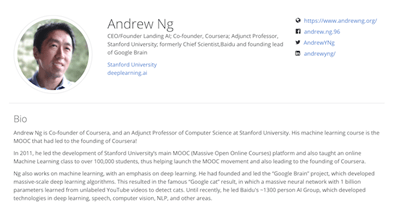 2. Quality of Courses 
Udemy: Udemy takes a more lenient approach to course quality. This is mostly due to the fundamentally different aims of Udemy courses. While Coursera courses are meant to teach you the majority of what you'd learn at a university, Udemy courses are designed to impact you with job-ready professional skills as quickly as feasible. Although the purpose is to improve course quality, this occasionally results in gaps.

Coursera: Coursera has the most stringent course quality criteria. Most of Coursera's courses are curated and vetted by some of the world's most famous educational institutions. Their courses include everything from the fundamental fundamentals to the more sophisticated ones. Identical courses are given at partner schools like MIT and Harvard in many cases.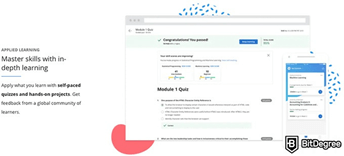 3. Options for Enrollment
There are three ways to join Udemy: ​​​​​
Free courses: Choose a free course from a list of available options. This comes with several restrictions. You'll get the training videos and, in certain cases, course materials, but that's about it.
Coupons: Use coupon codes to get courses for free or at drastically reduced fees.
Paid courses: Pay for individual courses as they are completed.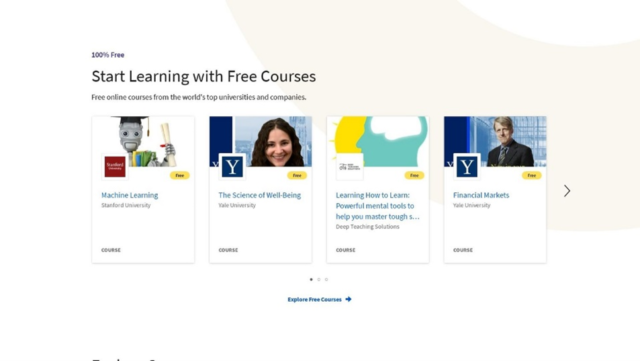 Coursera provides students with a variety of enrollment possibilities. They are as follows:
Audit a course: Enroll in thousands of free courses. There are several restrictions, such as the lack of certificates and graded assessments.
Full Course, No Certificate: Complete access to all classes, but no certifications.
Financial aid: Apply for financial help and, if accepted, receive free access to premium courses and credentials.
Coursera Plus: For $399 per year, you receive unlimited access to hundreds of courses and certifications.
Paid Courses: Pay as you go for particular courses and packages.

4. Pricing Options (Udemy vs Coursera)
Udemy: Udemy courses typically cost roughly $50 each course. However, content developers generally offer steep discounts on their courses to compete. As a consequence, you may access high-quality courses at a low cost.
Coursera: The costs of Coursera courses vary greatly. Individual courses range in price from $30 to $100, while degree programs can cost up to $20,000. Coursera also offers the Coursera Plus membership, which costs $399 a year and offers access to hundreds of courses.

5. Languages Supported (Udemy vs Coursera)
Udemy: Udemy supports many languages (65 to be exact), and as seen in the image below, it even includes a filer that allows you to search for courses by language. Content applies in English, Portuguese, Spanish, and German, among other languages.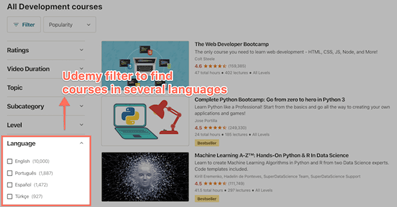 Coursera: Coursera also provides a diverse choice of languages, including English, German, Spanish, French, Japanese, Korean, Portuguese (Brazilian), Russian, Chinese, Chinese (Traditional), and others. The bulk of the video courses is accompanied by interactive text (also available on the mobile app).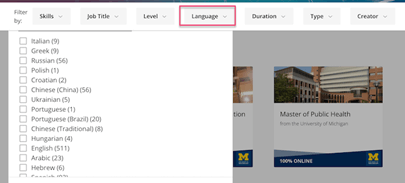 6. Available Certificates
Udemy: When you execute a course on Udemy, you will be able to get a completion certificate. It is not, however, an officially recognized certificate. There will be a charge for all validated certificates. If you started with a free certificate, you could still upgrade to a verified certificate.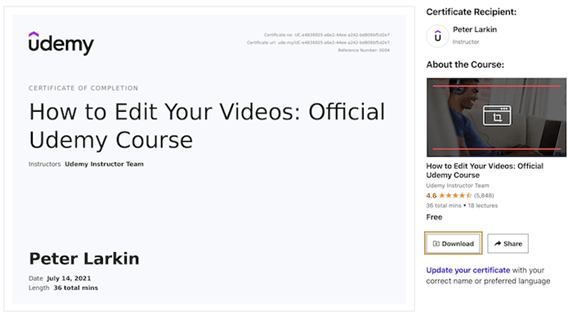 Coursera: When you finish a Coursera course, you will receive a certified certificate that includes the following information: the course name, the signature of the teacher, the partner institution's logo, a verification URL that lets others verify the authenticity of the Certificate, a confirmation from Coursera confirming the learner's identity who finished the course.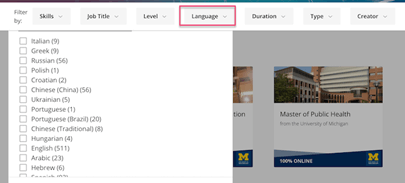 7. Improved Assistance
Udemy: Udemy offers an excellent support system, and you can obtain assistance with virtually any issue. In addition, they provide a FAQ section that, in many cases, will address your questions. They have a support chat where you can enter your name and email address and leave a message, and someone will contact you.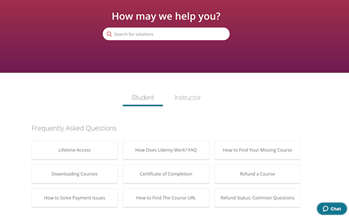 Coursera: Coursera has a similar support system to Udemy in that you may search for a specific topic or look up common themes like Account Setup, Payments, Enrollment, and so on.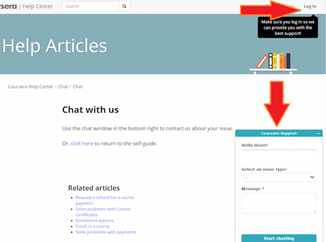 8. Design & Backend 
Udemy: After registering with Udemy and exploring its site, you'll realize that the UI is simple. You may find courses by browsing Categories, Subcategories, and Popular Topics.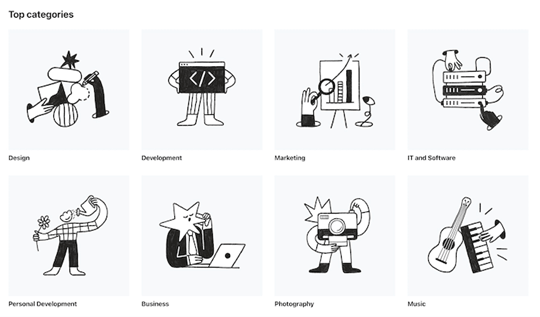 Coursera: Coursera has a similarly simple interface to navigate. When you visit its homepage, you are met with the 200+ partners they cooperate with and the sense of global community they have.
9. User Interface & Ease-of-Use 
Udemy: Udemy registration is simple: enter your email, password, and name, and you're good to go — be sure to verify (and confirm) the email confirmation Udemy sends you.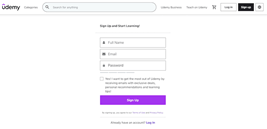 Coursera: Coursera's signup procedure is similar, but you'll need to provide your name and email address and establish a password before clicking Join for Free. You may also sign up to control your Facebook or Apple account.
10. Commitment of Time 
Udemy: Some Udemy courses are more in-depth than others. On the other hand, some have only a few hours of video lectures and textual content to read and maybe finish in a single day if you're keen to learn.
Coursera: Coursera is more like what you'd expect from an online class at a university or other official institution.
Conclusion
It all shows what you want to obtain from an online learning platform when deciding between Udemy and Coursera.
Udemy is an excellent option if you are completely new to a topic and want to get a feel for it or if you need to learn a specific skill. For example, whether you want to study yoga, a musical instrument, how to run Facebook adverts, or how to begin programming on a computer. Coursera, on the other hand, provides comprehensive university-level courses with paid recognized credentials.
FAQs
When Should You Use Udemy?
If you need to master various professional abilities as quickly as possible, here is the place to be.
You wouldn't gain real-world skills in a typical classroom.
If you require quick-paced crash classes.
If you require free or low-cost yet high-quality courses.
When Should You Use Coursera?
If you want an e-learning experience that is as near to what you'd get in a regular classroom as feasible,
If you wish to gain recognized degrees and maybe credits toward a degree at any of our partner institutions.
If you require in-depth knowledge of a subject.
If you require a slower-paced yet high-quality education.
More useful information also read: The 10 Best Grammarly Plagiarism Checker Review in 2023