Summary: Online image enhancers use AI technology to improve the quality of images with ease. Here are the top 10 tools that provide quality image enhancement services. These tools offer multiple features that generate great results with no learning knowledge required.
Images are a portrayal of life or powerful imaginations. The whole world can be built inside an image if the artist withholds great sets of hands charged with a powerful mind. Sometimes, pictures require that extra sense of adjustment to complete the meaning and need some image enhancement to explore that level. 
The question is, Where can a person find the right sets of tools for image enhancement? And is this really worth it?
One thing is agreeable that image enhancement services are worth it and can actually reshape the whole image into an absolute beauty. Getting an Image enhancer makes it easier for understanding imagery and visual interpretation.
Reasons for Image Enhancement
An image is nothing if it's not eye-catching. Image enhancers are totally up for the task of making things appealing to the viewers, but there are also hidden benefits that not most people know.
Better Perception of information from the Image.

Supreme quality and details.

Good visual performance and appreciation.
Top 10 Image Enhancement Online Tools 2023
Although there is a lot of downloadable software that can be used as an image enhancer. If you really want to save time and work in a one-click motion, online image enhancement is what you should really go for.
| Product | Pricing | AI Technology | User-Friendliness | Image Quality | Built-In Editor |
| --- | --- | --- | --- | --- | --- |
| VanceAI Image Enhancer | $24/month to $4/year | ★★★★☆ | ★★★★★ | ★★★★★ | ✗ |
| Let's Enhance | $9/month to $34/month | ★★★★☆ | ★★★★★ | ★★★★★ | ✗ |
| Fotor | $8.99/month to $19.99/month | ★★★★☆ | ★★★★★ | ★★★★☆ | ✓ |
| AI. Image Enlarger | $9/month to $19/month | ★★★★☆ | ★★★★★ | ★★★★★ | ✗ |
| Adobe Image Enhancer | $9.99/month | ★★★★☆ | ★★★☆☆ | ★★★★★ | ✓ |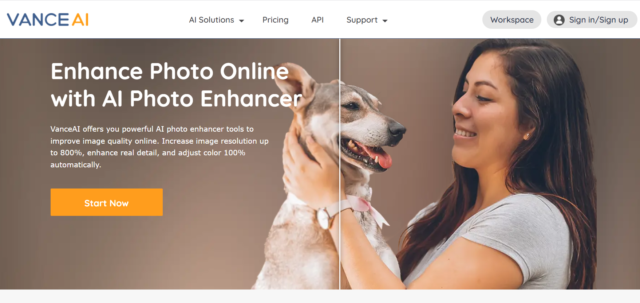 There is nothing stronger out there regarding online Image enhancement that can beat the class and strength of VanceAI Image Enhancement. The company has made a powerful AI system that uniquely works and identifies the spots where the image requires enhancement. This particular feature can help bring out an enhanced image that is visually attractive and not overdone.
VanceAI Image Enhancer is all about simple digital mechanics and quick result turnouts. If you are really interested in getting things sorted out for you using this technology, try opening the website and following the procedure.
Upload your picture to the AI Image enhancer page and proceed by setting up modes. Once done, click on start to get the output results.
Pricing: Starting from $24 per month to $4 annually
Pros
Easy to use

Uses AI Technology

Generates great results

No learning knowledge required
Cons
Let's Enhance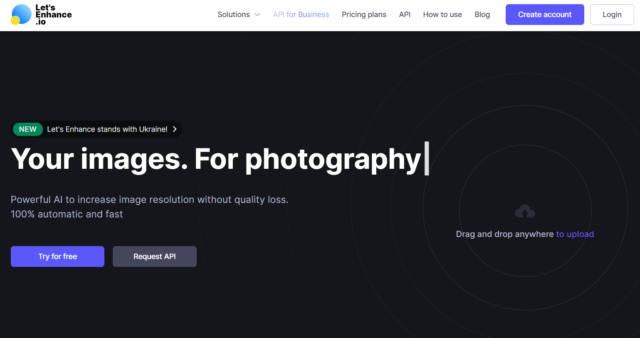 Convert your images to betterment using 'Let's Enhance's' better quality, coloring, texturing, and upscaling features. This product is 100% automatic and fast in terms of providing end results. Its powerful AI technology helps increase picture resolution while negating any quality loss.
The power of this tool is simply magnanimous as it can scale pixelated images to the level of enhancements that you have never seen before. The image enhancer by Let's Enhance comes with multiple in-built features, including; AI Upscaling, smart enhancement, color and tone enhancement, and compression removal.
When an image is restored using all of these features, the quality actually submerges to become satisfying for the user.
Pricing: Starting from $9 per month to $34 per month (Depending on credit purchases)
Pros
Easy to use

Uses AI Technology

Generates great results

No learning knowledge required
Cons
Fotor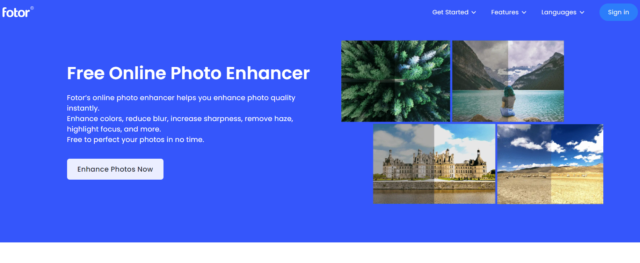 This is one of those hidden gems that are not really known in the market but are stronger than the most popular ones. Fotor is an amazing online picture editing platform that can provide qualified expertise in terms of image enhancement. If you are new to this online tool, try giving it a go, as it might become your favorite instantaneously.
With this quality-oriented platform, you can enhance colors, reduce blur, remove haze, increase sharpness and highlight the focus of your imagery.
Fotor has made the availability of a trial period that enables its users to enjoy and explore the platform. If they are completely satisfied, they can subscribe to a monthly or yearly plan.
Pricing: Starting from $8.99 to $19.99 a month.
Pros
Easy to use

Uses AI Technology

Generates great results

No learning knowledge required

Built-In Editor
Cons
AI. Image Enlarger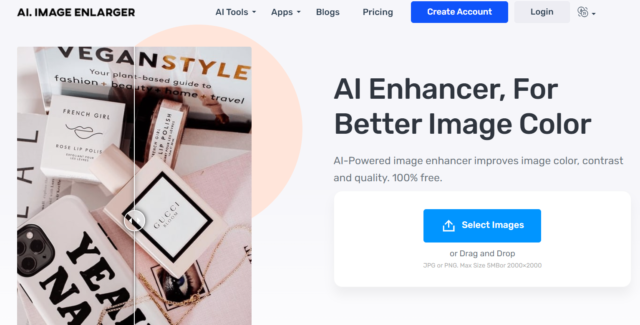 Artificial Intelligence is really making up the mark, but only a few platforms utilize it for quick and accurate picture editing. AI. Image Enlarger is another online editing company that provides multiple tools to make your images better while keeping their integrity in place.
Although there is a pricing plan involved for this online tool, there is a suitable option for changing or canceling the plan any time you want.
Open AI enhancer from this clean and sleek website, and upload the image. Its AI-powered image enhancer will automatically correct all the color and contrast problems while keeping the quality at its maximum level.
Pricing: Starting from $9 to $19 a month.
Pros
Easy to use

Uses AI Technology

Generates great results

No learning knowledge required
Cons
Adobe Image Enhancer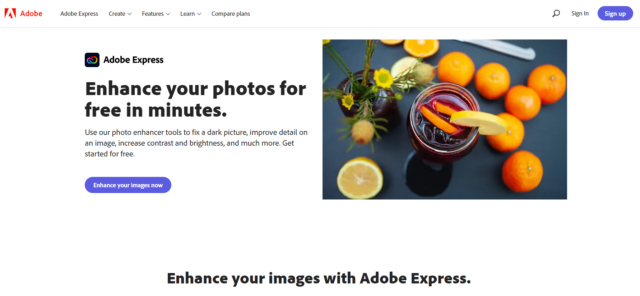 When it comes to online picture editing, many people still recognize adobe as the best in its game; however, others don't really want to use it. Still, Adobe being the pioneer of editing has been the father of all editing software since the very birth of the computer system.
Although enhancing images on Adobe is a pain, however, if you also require some editing and retouching with it, the pain is worth the while. The tons of editing options really stand out in terms of visually stunning results if done by a professional.
For image enhancement, you have to log in first and upload the image onto the online editor of the company. If you have a bit of editing knowledge, then this would be a piece of cake for you. Otherwise, you might need to find yourselves a tutorial for proceeding.
Pricing: Starting from $9.99 a month.
Pros
Generates great results

Performs pixelating safe enhancement
Cons
Require learning knowledge.

Only subscription
Befunky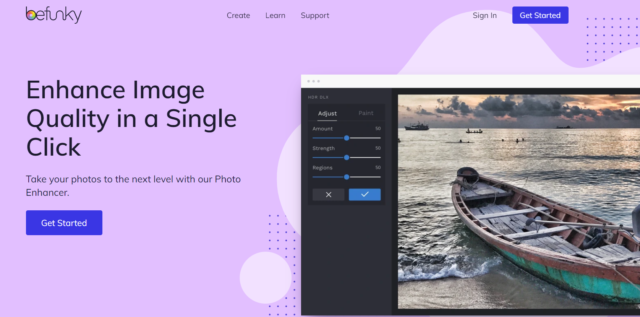 The motto of Befunky's image enhancer is to "enhance image quality in a single click." Befunky has been progressing for quite a while now and has managed to score great heights within the past couple of years.
Its AI Image Enhancer helps in setting up unbalanced exposure and contrast disabilities to get a genuine image in place. Its latest collaboration with advanced Artificial Intelligence generates unparalleled outcomes in the field of image enhancement.
In order to get started with Befunky, open the website and follow the instructions and guidelines to lead. You can signup and get a hold of basic photo editing tools for free. However, in order to get the premium facilities, you have to subscribe.
Pricing: Starting from $4.99 to $9.99 a month.
Pros
Easy to use

Uses AI Technology

Generates great results

No learning knowledge required
Cons
Upscale Pics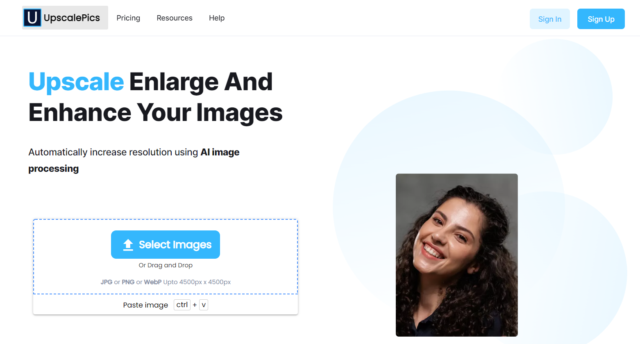 If your pictures are highly pixelated and need a nice comeback, then Upscale Pics is the right option to choose. You can automatically increase resolution using AI image Processing and generate your old pixelated photos into a high definition result end.
Upload or drag your image to the drag and drop section of the website and start the process. Although it might be difficult for some people to operate as they do not quite understand the resolution settings.
If you are a bit impatient about results, then consider skipping this option, as it can take a while to process and provide results.
Pricing: Starting from $5 a month.
Pros
Easy to use

Uses AI Technology

Generates great results

No learning knowledge required
Cons
Deep Image AI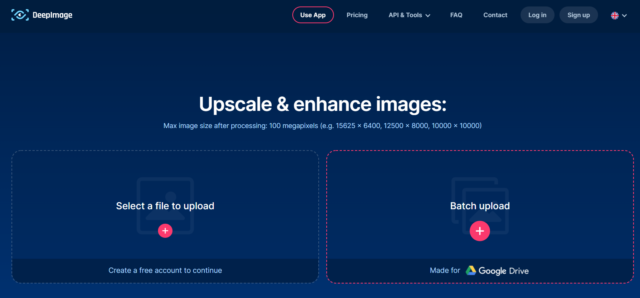 Are you someone who needs an exquisite bulk service for enhancing Ecommerce images? Well, to be honest, this is exactly the kind of place that you should be. 
Deep Image AI is supersonic when it comes to upscaling images for higher resolution without quality loss. This platform has an amazing branding vibe that really sets it apart. Deep Image AI also has its own mobile application that you can use, which not many online image enhancement platforms provide as of yet.
When it comes to enhancing pictures, Deep Image AI has two features for uploading; single picture upload or batch upload. Users can literally save time by uploading a batch of photos and get results easily.
Pricing: Starting from $9 to $69 a month (Depending on credit purchases)
Pros
Easy to use

Uses AI Technology

Generates great results

No learning knowledge required

Contains Mobile Application
Cons
Expensive with a high price
Enhance Pho.to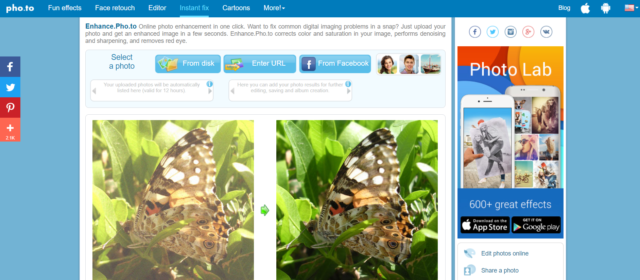 This is a pretty basic and simple to use online image enhancement tool as it performs instant fix results for your images. For all the users that require something free with good results as well, Enhance Pho.to could be the answer.
You can simply upload an image and try it out for the first time. if you think the results are good, then bookmark it because you will definitely need it again in the future. On top of that, you can also enter a URL for the image or directly acquire images from Facebook.
Enhance Pho.to is about providing cutting-edge results with minimal effort and maximum quality. Try it! It's FREE
Pricing: Free
Pros
Easy to use

No learning knowledge required
Cons
Server problems may prevail.
123 RF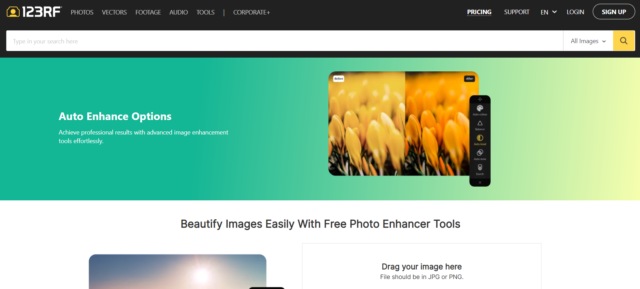 Coming up the #10, we have the simple and easy-to-navigate online image enhancer called 123 RF. This tool contains auto-enhance options to achieve professional results effortlessly. Users will be able to beauty images with just a simple uploading requirement without spending any money.
In its image enhancement editor, 123 RF has five options; Auto-Color, Balance, Auto-level, Auto Tone, and Enrich. Try uploading and clicking on each one of these options to find the perfect fit for your image.
Pricing: Free
Pros
Easy to use

No learning knowledge required

Improved end-results
Cons
Conclusion
In the end, there are not a lot of tools that are both free and powerful; you have to sacrifice one end of the puzzle in order to get the pieces straight. My recommendation includes VanceAI Image Enhancer and Let's Enhance, as they have a relatively low price range while performing state-of-the-art results for their customers.
However, if you are not interested in paying even a single penny, I would recommend using 123 RF as your last resort to getting images enhanced.
FAQ's
1. Is it secure to use Let's Enhance?
Ans: Absolutely! The company claims that it does not any user data, even from the credit card. The information always remains within the boundary walls of banks.
2. Can I enhance image with an image upscaler?
Yes, image upscalers can increase the size of an image and add detail, but the quality of the results will depend on the specific upscaling algorithm used and the original image's resolution. Check the best image upscaler we picked here.