This review introduces and compares top email finder tools, which provide advanced algorithms, bulk search capabilities, and personalized pricing plans. Using these tools can save time and help businesses make better decisions when conducting research, confirmation, and engagement.
In today's fast-paced business environment, finding the right contact information can be a time-consuming and challenging task. This article aims to address the pain points faced by users in locating and verifying email addresses by introducing and comparing the top email finder tools available in the market. These tools offer advanced algorithms, bulk search capabilities, and personalized pricing plans to cater to diverse user needs. By utilizing these tools, businesses can save valuable time and resources while conducting research, confirmation, and engagement.
In this article, we will explore the key features and benefits of these tools, helping you make informed decisions that align with your business goals, based on our experience and use.
What is
Hunter.io
Hunter.io, often known as an Email Hunter, is a tool that can assist businesses in locating contact details linked with any address. This is perfect for companies that employ unsolicited emailing to build their channel. Hunter.io may also be used to validate emails and do mass operations.
It's a simple and inexpensive HubSpot product that every company should have on hand. Hunter.io email finder can also save the time that you would generally waste manually searching for emails within web pages. Hunter.io provides more data and emails to assist you in making a much better selection while conducting your research, confirmation, and engagement.
How to use Hunter.io?
Hunter.io is very simple to use. 
Step 1:  Click on the domain search, then selects the "new bulk" button. After this, enter a list name. 
Step 2:  Join a list of domain names from where you want to extract the email addresses. You can also import a list of domain names files in a CSV file and set filters if you require. 
Step 3: If you select "Yes" to the verify email addresses option, then hunter.io will first check if the email is correct or not and then show the desired results. 
Step 4:Then, select email addresses type just like earlier. And choose a department or choose "ALL." Then, click on the upload button. This step shows that hunter.io has found all the domains' email addresses in just a single click.
Top 10 Alternatives to Hunter.io Review:
This is the preview table we created after reviewing and summarizing the top five products. Continue reading if you want to know more.
| Product Name | Price | Features | Output Quality | Platform Compatibility | Target Audience |
| --- | --- | --- | --- | --- | --- |
| Canva | Free or $9.99/month | Easy drag-and-drop interface, extensive library of images | Good, professional-looking | Web, iOS, Android | Small businesses, individuals |
| Animoto | $9-$49/month | Video templates, customizable branding options | High, polished | Web, iOS, Android | Small businesses, marketers |
| Shakr | $49-$199/month | Access to 2,000+ video templates, advanced customization | High, professional | Web, iOS | Agencies, marketers |
| Biteable | $19-$49/month | Access to video and animation templates, simple interface | Good, easy to use | Web, iOS, Android | Small businesses, marketers |
| Lumen5 | $49-$149/month | AI-powered video creation, automatic text-to-video feature | Good, high-quality | Web, Chrome extension, iOS | Social media marketers, bloggers |
1. Mails Hunt
Pricing: Mails hunt is available online for free, albeit with restrictions. The pricier versions provide you access to additional functions and searches in general. The premium version begins with the Standard account, which is $19 per month.
Notable features: Domain Check, advanced algorithms, fast results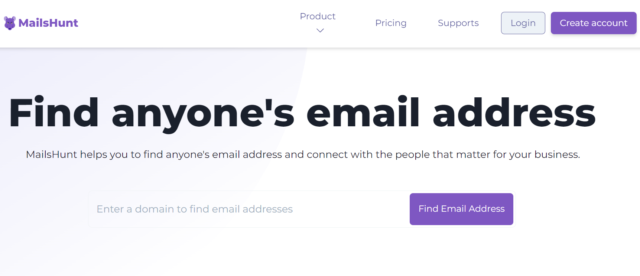 Mails Hunt is an online email finder tool that locates email addresses and connects users with important business contacts. It offers a free version with restrictions, and premium plans begin at $19 per month for the Standard account.
The platform utilizes advanced algorithms to filter relevant email addresses from a database of over 20 million addresses. The Domain Check feature displays all email addresses of employees working for a specific company, saving hours of research time.
Some drawbacks include the limited free usage and the restricted features of the Standard edition, which may not satisfy all users' needs.
Pros:
The Domain Check displays all of the email addresses of employees who work for a specific firm.

It employs advanced algorithms to filter pertinent email addresses from a database of over 20 million email addresses.

Hours of connection exploration have been shaved down to milliseconds.
Cons:
Free use chance is limited.

The standard edition is quite restricted.
2. Snovio email finder
Pricing: Customers are targeted by the premium plans, which begin at $39 per month. Higher-priced packages are geared for bigger parties. The free edition allows for approximately 50 free monthly visitors, sufficient for absolute novices or if you only wish to use the application occasionally.
Notable features: Excellent user interface, free plan, and interactive tool.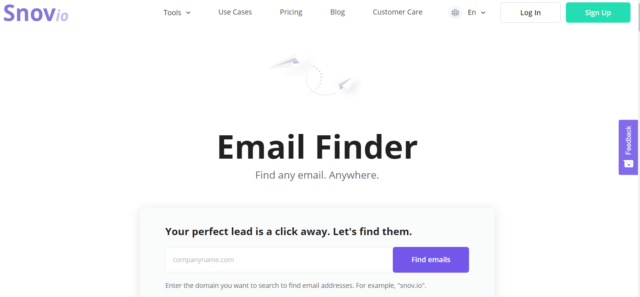 Snovio email finder is a valuable tool for marketing and business operations, with features designed to streamline communication. The free plan offers 50 monthly searches, while premium plans start at $39 per month.
The platform boasts an excellent user interface design, a generous free plan, and interactive features that make it easy to connect with new contacts.
However, the platform could benefit from additional functionalities, and the paid plans may be pricey for some users. Website stability can also be an issue.
Pros:
Excellent user interface design.

The free plan is adequate.

It is a tool that interacts.
Cons:
More functionalities could be added.

Paid plans are somewhat pricey.

The website may be unstable.
3. Anymail Finder
Pricing: The free edition of this Hunter.io replacement gives you 90 credits for confirmed email addresses and infinite points for questionable email addresses. Furthermore, the rest of the free credits will transfer over when you subscribe to any premium account start at $49.
Notable features: Cost-effective pricing, bulk search tool, educational resources.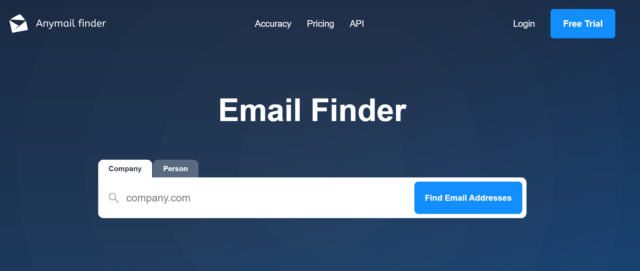 Anymail Finder is an email finder tool that charges only for confirmed email addresses, offering 90 free credits for verified addresses and unlimited points for unconfirmed ones. Premium plans start at $49 per month.
The platform's bulk search tool saves time, and its educational resources help new users learn its features. An API version is also available for advanced users.
On the downside, the platform has limited options, occasionally inaccurate results, and may take time to display search results.
Pros:
Reasonable pricing.

API version is now available.

Best meet the needs.
Cons:
There aren't many options.

Sometimes the results are off.

It may take some time for results to appear.
4. Crunchbase - Find Email Address
Pricing: You will be given 20 free credits to seek and locate email addresses. You may begin by acquiring the Basic account for $29.99 per month to access more services and search tools.
Notable features: Customized paid plans, exportable results, simple website search.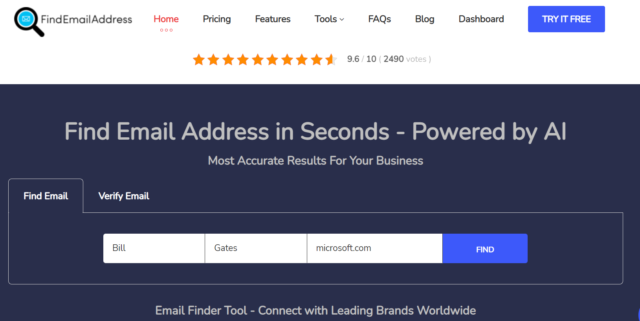 Find Email Address form Crunchbase is a user-friendly email finder with 20 free credits for searching and locating email addresses. Access to more features and search tools is available through the Basic plan, priced at $29.99 per month.
The platform offers customized paid plans, exportable results, and a simple website search function. It also provides bulk search capabilities and allows users to integrate results into their applications.
Some limitations include delayed results and the constraints of the free plan, which may not meet all users' needs.
Pros:
Customized paid plans.

Findings can be exported.

We can simply search from webpage as well.
Cons:
It may take some time to see consequences.

The free plan has limitations.
5. Skrapp
Pricing: This internet tool charges $39 per month for a thousand email id inquiries that may be used by up to two persons.
Notable features: Easy-to-use, practical site search, extension availability.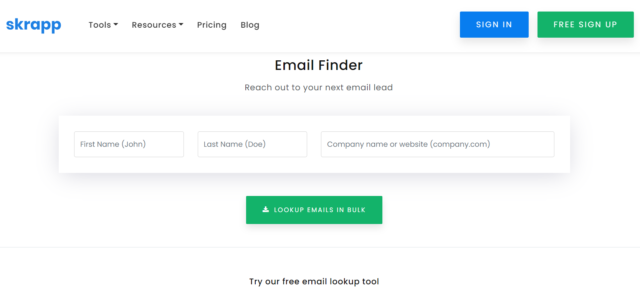 Skrapp is a straightforward online tool for quickly scanning email addresses and obtaining vital information about them. Priced at $39 per month, it offers 1,000 email ID searches for up to two users.
The platform features a practical site search function and extension availability, making it simple to use. Users can also determine if an email address has been validated and perform bulk searches.
Some drawbacks include its relatively high price, limited features, and potential delays in displaying results.
Pros:
Simple for use.

The site search function is practical.

An extension is possible.
Cons:
A little pricey.

It is deficient in characteristics.

It may take some time for findings to appear.
6. Find Emails
Pricing: The Basic subscription is $29 per month and includes up to 1000 queries, export capabilities, API compatibility and deployment, and other benefits.
Notable features: API access, online and extension compatibility, reliable results.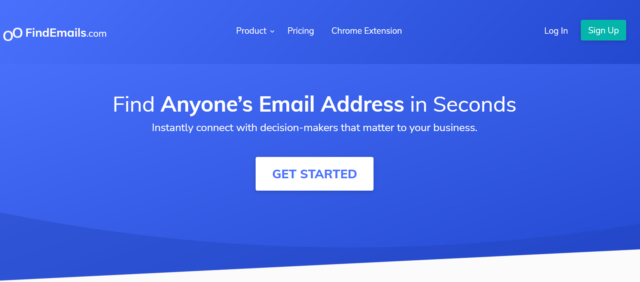 Find Emails (https://www.findemails.com/) is a versatile tool that provides online and API access, as well as a Chrome browser extension. The Basic plan costs $29 per month and includes up to 1,000 searches, export capabilities, and API compatibility.
The platform offers dependable features, making it a suitable starting point for new users. It also provides decent exporting capabilities and email support.
Some limitations include occasional website sluggishness and time-consuming API access, which may hinder the user experience.
Pros:
API is available.

Useful both online and as an extension.

Reliable outcomes.
Cons:
The website might be sluggish at times.

API access is little time-consuming.
7.

Voila Norbert
Pricing:When you begin utilizing this tool, you will be able to obtain up to 50 suggestions or searches  for free. The premium options start with the Valet package, which costs $49 a month and allows for up to 1000 monthly visitors.
Notable features: Comprehensive features, online bulk search, no charges for duplicate emails.

Voila Norbert is a capable Hunter.io alternative that offers all the standard features you'd expect from an email ID discovery tool. The Valet plan starts at $49 a month, allowing up to 1,000 monthly searches, with 50 free searches for new users.
This platform excels in its advanced features such as enhancing contacts, targeting potential marketing opportunities, and providing online bulk search services. Additionally, it does not charge for duplicate emails, which is a significant advantage.
Some downsides include a higher price compared to other alternatives and a steep learning curve for beginners.
Pros:
Excellent characteristics.

Online bulk search service.

There are no costs for repeated emails.
Cons:
Learners should avoid working on this genre.

It is expensive as compared to other alternatives.
8. 

Mine Lead
Pricing: In this hunter.io alternative pricing, users can get up to 100 complimentary searches and accessibility to the chrome extension and API—the premium version, which includes more  queries and features, costs at least $15 per month.
Notable features: Excellent features, instant free version access, API and plugin availability.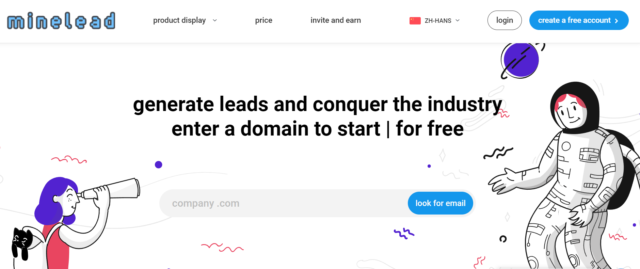 Mine Lead offers a creative and practical solution for users, with up to 100 free searches, API access, and a Chrome extension. The premium version starts at $15 per month and includes additional queries and features.
Users can start using the free version without entering credit card information. The platform offers a one-click data transfer, a massive database of email addresses, and a regular email ID generator.
Some limitations include slow exports, sluggish results, and a time-consuming Invite & Earn option.
Pros:
Has a lot of excellent features.

You may start using the free version right away.

API and plugin are both accessible.
Cons:
It takes time to export.

Results might be sluggish.

The Invite & Earn option is a little time-consuming.
9. 

Ninja Outreach
Pricing:This tool is available for a free trial on the website. The  user determines the paid alternatives. Instead of inflexible-priced plans, you may talk or email the team and design a paid package tailored to your individual needs.
Notable features: Flexible payment plans, modern capabilities, online accessibility.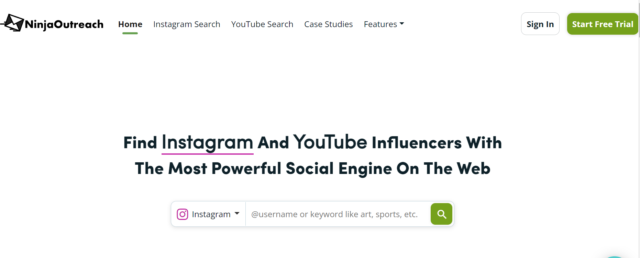 Ninja Outreach differs from Hunter.io by targeting Instagram and YouTube users, making it ideal for social media marketers and influencers. The platform offers a free trial, and users can customize their paid plans according to their needs.
The tool provides modern features and functionalities, giving it a contemporary edge over other Hunter.io alternatives. It also offers online accessibility, making it convenient for users.
Drawbacks include occasional website sluggishness, lack of email-specific features, and limited focus on social media platforms.
Pros:
Pay adaptable plans.

Has more current capabilities.

Online accessible.
Cons:
The website might be sluggish at times.

It is not intended for users who are explicitly seeking email-related functions.

More social media outlets might be targeted.
10.

Clear-out
Pricing: We can immediately set up a free membership without entering any credit card information and earn 100 free credits. Users may pay for more credits, with the lowest tier costing $21 for 3000 credits.
Notable features: Instant registration, affordable payment options, unique features.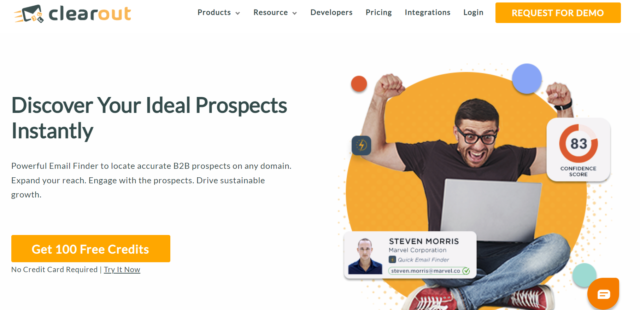 Clear-out offers a rare combination of phone verification and standard email ID verification. Users can sign up for a free account with 100 free credits without entering credit card information. The lowest tier costs $21 for 3,000 credits.
The platform enables phone number verification for over 240 countries, a unique feature among email-finding tools. It also provides affordable payment options to cater to various user needs.
Some disadvantages include a lack of typical email functions and the need for optimization in synchronizations, which can affect user experience.
Pros:
Register right away.

Paying affordable choices.

Unique characteristics.
Cons:
It lacks typical or basic email functions.

Synchronizations need optimized.
Conclusion
Even with all of the emphasis paid to social networking sites, email marketing remains a significant component of digital marketing. Emails are regarded as entirely formal ways of communication, and fantastic images allow you to provide the most critical impression to potential clients, partners, and so forth. Email is one of the most effective ways for business people to reach out to B2B and B2C prospects. You need a reliable email-finding tool if you would not want to lose out on potential chances. A formal communication tool in which the language does not need to be convenient since it is designed to be easy, as in a conversation, to ensure the organization's smooth operation. Emails may be utilized as a technique to start a dialogue since they are quick, enabling the business to function smoothly.
Also read: Top 10 AI Email Assistant Tools Review 2023.