Summary: This article presents a review of the top 10 face swap tools available in 2023, covering their features, accuracy, and ease of use. The article also provides a comparison chart and a guide on how to choose the right tool.
Have you ever imagined how you look on another's face? It's not truly impossible anymore, because you can re-imagine it by doing face-swapping. Face swap is now one of the biggest trends on most social media platforms. Users are crazy about the filters to change their own face into somebody or something else. They can make their face look younger, older, or how they would like if they turned into a baby.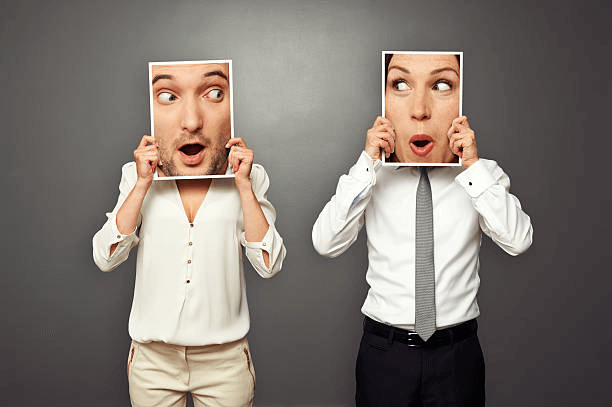 The secret behind this fun activity is the combination between AI and camera technologies. Because of the endless innovations, we can even use face changing app online. To use a reface app, you just need to choose the "face" and point the camera at your face. It's really that simple. This article lists the most useful free deepfake apps in 2023 for you. 
If you want to feel the fun experience of face changing, try these recommended face change apps below.
Top 5 Face Swap Tools Online
Here are some of the best face swap apps you can enjoy without installing any app.
Quick review
| | | | | | |
| --- | --- | --- | --- | --- | --- |
| Face Swap App | Speed | Free or Paid | AI-Based | Suitable for | Price |
| Face Swapper | ★★★✩✩ | Paid | ❌ | Personal Use, Basic Editing | |
| Face Swap - PhotoFunia | ★★★★✩ | Free | ✅ | Personal Use, Creative Projects | |
| FaceSwapOnline | ★★★★✩ | Free | ✅ | Personal Use, Various Projects | |
| Reface | ★★★★✩ | Free/Paid | ✅ | Personal Use, Social Media/Entertainment | $ 5.99 - $ 79.99 |
| Face Swap Live Lite | ★★★✩✩ | Free | ❌ | Personal Use, Basic Editing | Free with Paid features |
| Face Swap Booth Photo Changer | ★★★✩✩ | Free | ❌ | Personal Use, Basic Editing | Free with In-Purchase |
Let's go straight to the first one:
Our Pick

  Face Swapper

Price: Free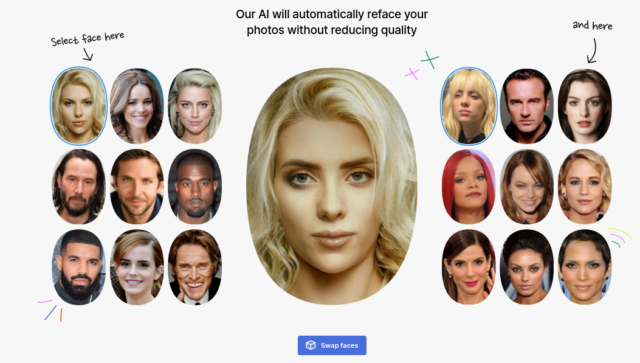 This face swap online website uses the AI technology to detect faces on the photos and will change them with any faces of your choosing. This can be a photo of another person, celebrities, and others.
Face Swapper guarantees safety for each user, making sure that your photos will stay safe and private. There's image history on this website, and you can freely clear the history anytime you want. If you clear it, the pictures of yours that are saved within the website will be deleted, leaving no trace.
+ Pros
 Easy to Use
 Convenient
 Guarantees Safety
- Cons
  The UI isn't too great
  Doesn't a good user experience value
Recommend

 Face Swap - PhotoFunia

Price: Free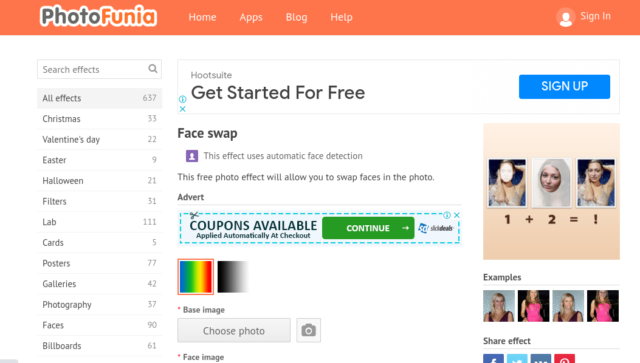 The next one on the list of Face Swap by PhotoFunia. Upon visiting the website page, you'll be greeted with a long list of presets or options you may select. There's Christmas, Halloween, Easter, and other specific themes.
Website looks pretty simple enough, with the direct button to upload your photo. It has tons of options, and is relatively easy to use, especially for the new users. Although, as you can see on the picture, the ads can sometimes be annoying.
+ Pros
 Tons of options to pick
 The program is easy to use
- Cons
  Sometimes, the ads can be intrusive
  The design isn't too intuitive
Great

 FaceSwapOnline

Price: Free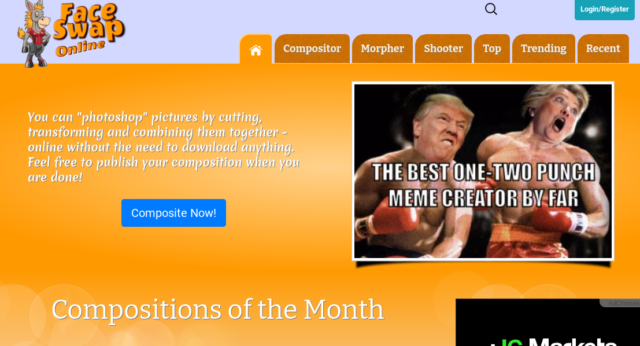 When talking about reface, this platform need a place. Just as the name implies, this free face swap app will change your face, with its easy procedure, of course. With this online website, you can easily change your face into anybody else with only simple clicks.
The site will require you to upload an image, and then enable other pretty features, like image editing, filters, and also stickers. You can basically create a meme out of your own face, within a very short time.
In order to change your face, you can use the cropping tool that's already provided by the website. After the face is changed successfully, you can add some stickers or words to beautify it.
+ Pros
 There's the community feature, which is fun to join
 The process is easy enough
- Cons
  The design is unclean
  Website interface is out-to-date
4.

  FaceHub

Price: $ 5.99 - $ 79.99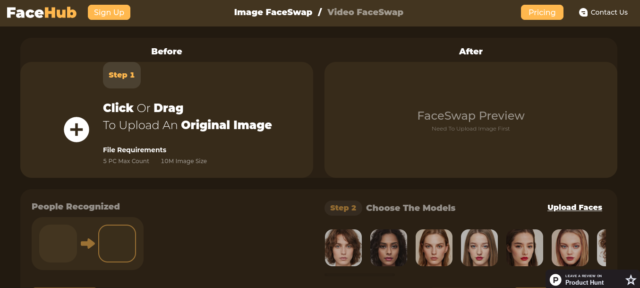 Other than the image-swapping function, FaceHub also has the feature to change your face. As you can see, there's the option to image faceswap or video faceswap. You can pick either of them. However, the function does come with a price, starting from $5.99. Their system works by Credits. If you want to swap a face, for example, you need to pay with your Credits.
To obtain the Credits, you can pay for a certain amount of money. However, the app itself claims that it can give you the best possible result with the AI technology implementation. The AI they have can be considered more accurate than the competitors.
+ Pros
 Has useful features
 Easy to use
 The great AI technology
- Cons
  The design is unclean
  Website interface is out-to-date
5.

  Lunapic

Price: Free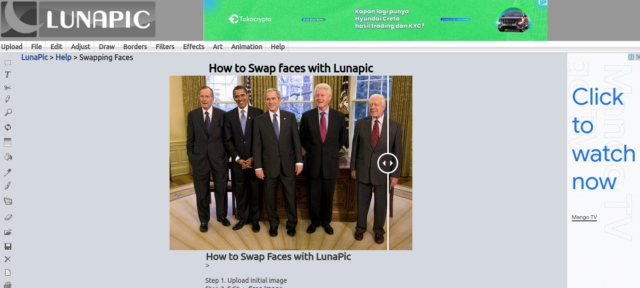 The last recommended face swap online  on the list is Lunapic. Simple, given details, everything is there. Upon opening the web page, you may think that this platform is a news or blog website or some sort since it looks pretty formal and kind of news-like. Of course, this is far from the truth.
Lunapic works differently by not offering any button on the landing page. Instead, it welcomes the users with instructions on how to do face changing with this platform. You can read the steps carefully to do so. Talking about the functions, Lunatic has a long list of features, including adding filters, effects, animations, etc.
+ Pros
 Each user will given a detail instruction to do the job
 Has great list of functions
- Cons
  The design is not intuitive
  It can be overwhelming for new users
Top 5 Face Swap Apps For Mobile
Besides using the face swap online, you can also install the face swap apps. See the best ones below:
1.

 Reface

Price: Free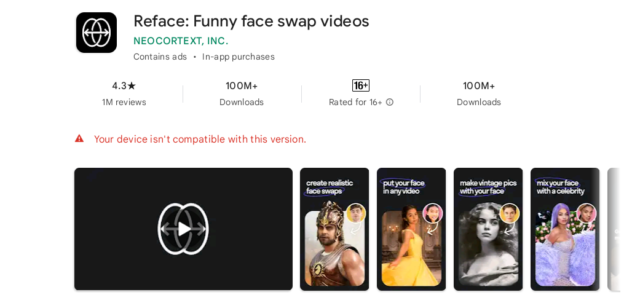 The first recommended face swap app is Reface. Well, talking about a popular face-changing app, Reface is indeed the one. It keeps the users on their seat with its captivating, modern, but simple user interface. It looks clean and really professional, despite it mostly being used for fun.
The app has a great collection of short videos taken from iconic movies. Instead of the actors' faces, you can replace them with your own. Besides the shorts, you can also select the library of GIFs, which is also abundant here. Select any GIFs you want, and put your face there.
Reface also allows users to save the results locally to their device, which is convincing.
+ Pros
 Intuitive design
 Easy to Use
 Has lots of useful features
2.

  Face Swap Live Lite

Price: Free with Paid features

If you want an app to change your face in real-time, you can also try one called Face Swap Live. This face changer app will make the process a lot easier because all you need to do is to hit up the record button to start recording a video.
Other than swapping images, you can also use this app to swap your face in movies. You can always become a celebrity in any movies you want to be in. Face Swap Live is usually available in the paid version, but there's also the Lite one.
Face Swap Live Lite will have the basic function of image-swapping but only have limited features and functionality. Nevertheless, you can still use it if you want to only change your face in an image.
+ Pros
 Easy to Use
 Intuitive Design
 Has useful features
- Cons
  Most features can only be enjoyed in Paid version
  Some users reported constant errors
  Doesn't have a good accuracy
  The design is not intuitive
3.

 Face Swap Booth Photo Changer

Price: Free with In-Purchase

Now if you want to save the face images you already created, you can try to use the app called Face Swap Booth. Just like you might expect, the app offers the feature to change your face, either manually or automatically by depending on the system's detection capability.
You can swap up to three faces at the same time, with the pre-loaded celebrity presets that are already available on the app. The app also has editing tools that may also be useful to decorate and make your images better. You can crop, add any other elements, and more.
There's the free version of this app, but you can also try the Premium version for $2.99 if you wish to have more functions.
+ Pros
 The design is quite nice
 Offers a bunch of features
 Easy to use for beginners
- Cons
  Useful features only able to use in Premium version
  There are some ads in the Free version
4.

 FaceSwap by Wombatica Software

Price: Free

The next face changer app on the list is Face Swap by Wombatica Software. The app also works really well in face swapping images. Turn your face into anything by choosing the available presets. Various templates are already offered, and you can be creative with them.
With this application, a face-changing process is made easy by how simplistic it works. There are celebrities' faces, and even animals, so you can turn your face into a cat, dog, and others. If you desire for something more unique, there are also the pictures with specific-themes, like dracula, for example.
+ Pros
 Easy to use
 The design is intuitive enough
- Cons
  Less preset choices
  Can't edit smaller pictures
  Some users reported stuck at loading screen
5.

  Snapchat

Price: Free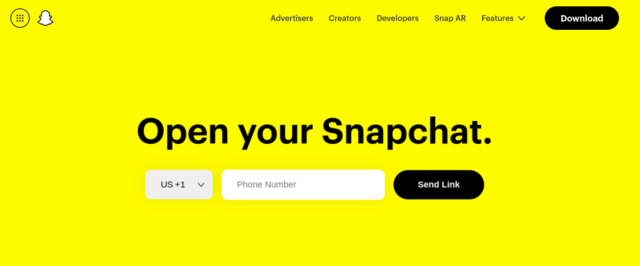 It's hard talking about the face swap app without mentioning Snapchat. Surely, most of you have been using this app for quite some time. Other than using it for communicating with others, users can also utilize its face-changing feature with the filters.
Snapchat provides a lot of filters to use, which can change your face almost immediately. In real-time, you can pick any choice of your likings, and have your face changed at the same time. You can click the Icon to use the filter, and it seems like a magnifying glass.
You can change your face, and other persons within the same frame. Take a selfie, and have a more unique look!
+ Pros
 It has intuitive design
 A large fanbase
 Offers lots of presets
 Has tons of functionalities
- Cons
  Sometimes it doesn't work properly
  Some users reported some lags and bugs when using the feature
Conclusions
And that's the list of the face changing websites and apps you can try in 2023. As you can see, most of the reface apps are free, just a few require payment. That means, you can always be creative with the face-changing feature all the time without worrying about paying anything. Beside these tools mentioned above, more deepfake software and face changer can be found on Google now.
Based on the aspects of simplicity, functionality, and of course, the price, we choose Face Swapper, Reface, and Snapchat. These three platforms are considered the top ones on the market because of how functional they are. You can always enjoy the abundant features installed there, plus, you may expect other exceptional updates in the future since they already have a huge fan base that always demands for something better in each update.
Also read about How Attractive am I AI.
FAQS
Can I Use Face-Changing Apps for Free?
Yes, and actually, there are a lot of options you can go for. On the list, there are only a multiple of them who have the prices for face-changing features or Premium version, while the rest are completely free. So, be sure to find the suitable app for you in terms of functionality and usability to help with your needs.
Are These Apps Safe to Use?
The face-changing apps and websites mentioned on the list are safe to use. They won't share your pics publicly, and they won't even ask for any private information about yourself. Since the safety issue is really important, make sure to always pick the apps or online websites that are trustable and recommended by most reviewers.
What is Deepswap?
Deepswap is a cutting-edge platform that utilizes advanced artificial intelligence (AI) technology to create deepfake videos. It uses state-of-the-art AI algorithms to produce high-quality deepfake videos that are virtually indistinguishable from the real thing.