The human brain is 60,000 times stronger than any text, which means that humans can sense a visual scene in less than a 10th of a second. It will be easier if you use artificial intelligence programming of an AI image generator to generate images online. It helps users find good quality resources with millions of options at a reasonable cost. Shutterstock is a well-known platform with the biggest royalty-free photo collection on the web.in Shutterstock review will be diving into its new feature that is recently launched, known as the Shutterstock AI image generator, what it offers, and how you can operate it.
What is Shutterstock?

Shutterstock is an online platform where you can find images that you like or are looking for just by simply typing the name. It analyses your input and provides a long list of images that are related to your text so you can choose the one that is perfectly according to your demand. It is also an American provider of stock photography, stock footage, stock music, and some editing tools. It is a leading marketplace for creativity, high-quality, royalty-free photographs, vectors, illustrations, videos, and motion graphics. If you are looking for any images, then you can use Shutterstock to instantly find any image you want and even use its tool to make one. And this tool is Shutterstock AI image generator, it is a word-to-image generator AI that converts text into images precisely. All you have to do is to provide the details of the image you are finding, in text form, and instantly get an image that is specially made for you with this new AI tool. Now let's look at this new AI image generator together.
More about the new AI Image Generator from Shutterstock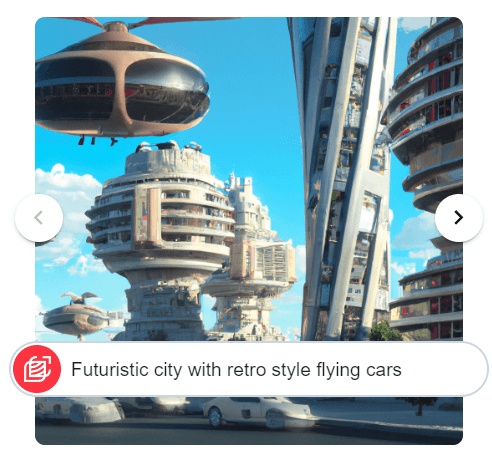 Shutterstock was famous before due to its list of big galleries where you can find any type of image you desire. And just recently, in January, they launched an AI image generator with many features you will like. On the date of 25 January 2023, Shutterstock officially launched its own AI image generator platform on the website. This new feature came out about some months ago when they partnered with OpenAI, which is the maker of the famous tool DALL-E-2. As we know that Shutterstock has a big art gallery. So unlike other AI image generator software that was trained on online images, the OpenAI trained DALL-E-2 with Shutterstock images and data. It doesn't stop here. Shutterstock is planning to make deal with the artists that are providing images to the platform and creating a cash fund by paying them royalties.
The user can unleash his or her creativity of art with the help of a powerful AI image generator. Just type the description of your artwork and convert your imagination into reality. The user can begin with a simple combo by using any noun + any verb + any artistic style, and you can have your artwork that is available to be downloaded with one click. Be descriptive about your information.
The greater the number of details you will provide, the easier it will be for an AI image generator to create images for you. Instead of typing an apple tree, you should type an apple tree on the edge of a mountain with a sunset view to find the exact image you're looking for. The user can also add emotional words, camera styles, and artistic styles to the description. 

Check these pictures shown above, they are all made by Shutterstock's new AI Image Generator. They look very realistic and exquisite. If you would like to make such pictures yourself, please keep reading the following article.
How to use Shutterstock's AI Image Generator to create stunning visuals instantly?
If you want to know that you can use the Shutterstock AI image generator, then here is a Shutterstock review to show you the method. Simply follow the steps to use an AI image generator to instantly create stunning visuals.
Step 1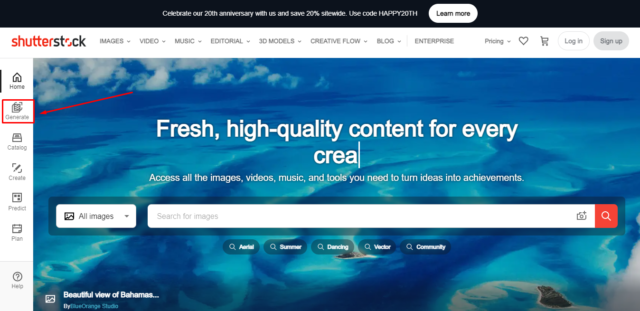 First of all, you will have to open the official website of Shutterstock on your device online. You can open the platform via the link Shutterstock AI Image Generator. After that, click on generate option to open the AI image generator of Shutterstock.
Step 2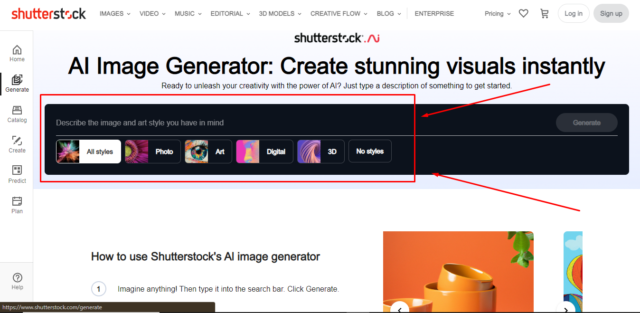 When you have opened the AI image generator then, simply provide the description of the image that you want to generate. There are also several options of styles given below the description that you can choose. You can select all styles, photo styles, Art styles, and 3D styles, or if you want it to be simple, then click on no style.
Step 3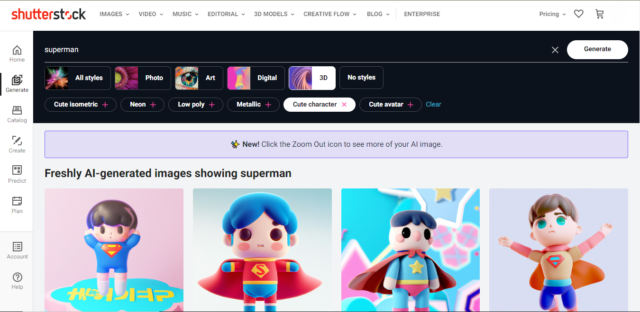 After providing a description and choosing a style, there are also some other features of your demand that are given below the styles. Choose them too, if you want,  you can generate as many images as you want with an AI image generator.
Step 4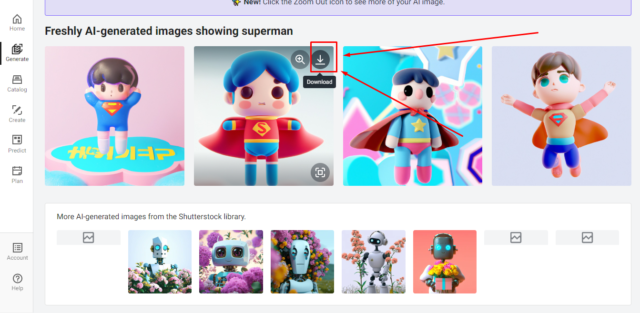 You can download the image to your device easily by taking the mouse to your device and clicking on the down arrow option. Click on it to download the image to your device instantly. 
Is Shutterstock worth it?
Shutterstock is already a famous platform where you can find as many images as you want that have no copyright issues. If you're looking for an AI image generator, the shutter stock editor is enough since it has been specializing in the picture area for many years. It is more than just worth it because of the descriptions it requires, like the details you can provide to it let you find the exact image you're looking for.
The quality of the images you find at Shutterstock is at its best, so you can provide details of your image perfectly. High-resolution images can make your work more appealing to your audience. Shutterstock is the top-ranked stock photo site and is worth a try if you're looking for a collection of stock images, videos, music, and editorial content. Subscriptions are the easiest way through which you can find images and get royalty-free stock images in no time.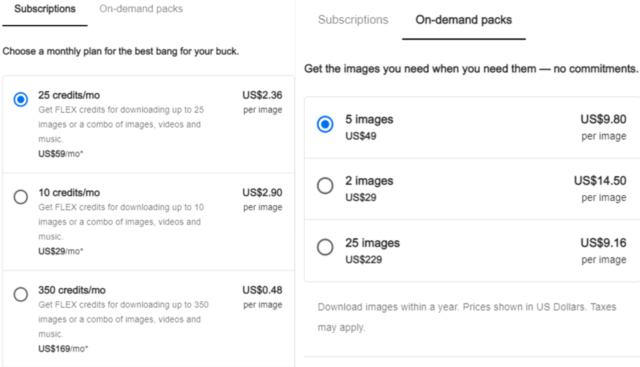 Generating image is free, but if you want to download HD images, you will need to pay. You can see the price plan on Shutterstock in the chart above. The image packs also offer a lot of flexibility by giving you a test trial for 30 days. There is no doubt that it is a super helpful platform that is worth buying if you want to create visuals online. It has a big library that is filled with all sorts of images. It has everything that a content creator could use that is going to practically help them create eye-catching and engaging visual content that makes image service perfect.
More about Shutterstock
There are some other features of Shutterstock also it is not just specified to AI image generator. There are some other features like search by image gallery. The user can freely search for any image from its gallery. There is an unlimited list of realistic images in which there is a guarantee that you will find the image you are looking for.
It helps its user convert ideas into reality without any kind of hesitation or issue. Even if you don't have any kind of skills, you can still operate it like a professional. There are about 433 million images gallery as calculated on 31 December 2022. 
Final Thoughts
It is easy to find images online, but for professional use, like when creating your own content, you need non-copyright images. Stop wasting your time manually searching images from google when you can find high-resolution images of any kind with a shutter stock editor. Make your work more unique by getting unique images that are not used by anyone and getting full ownership of the images you find with the AI image generator of the shutter stock editor. It is a famous platform that is used by soo many professional people. You can also use it just like other professionals are using it.
Read more about AI Image Generators: Top 10 AI Art Generators
FAQs
Is Shutterstock copyright free?
Shutterstock is copyright free as it provides cash funds to people who are providing their art to Shutterstock. All you have to do is to buy a subscription to Shutterstock and copyright and royalty-free images of your choice. You will have ownership of the image after you have subscribed to the platform and download the image to your device to use it for any purpose you want with one click. 
Who is suitable to use Shutterstock's AI Image Generator?
Shutterstock is suitable for those people who want to create stunning visuals in their images. Get a high-quality print of images that is free from any kind of copyright issue. The platform provides images of all types that, include images, videos, music tracks, illustrations, vector images, templates, editorial content, and 3D models. And people who want to make blog posts, some artists, anyone having an interest in filmmaking, businessmen can use it for their marketing, agencies can use it, media organizations use these tools, schools, colleges, universities, startups, hobbyists, and many more.