Replika AI is a virtual assistant partner who assists or accommodates you in your work. Replika gives users a virtual best friend with whom they can talk and share their feelings at any time. It is based on artificial intelligence programming that automatically replies to your questions. You can create a replica of your thoughts with whom you can share and get positive answers.
What is Replika AI?

Replika AI is a bot with which you can interact and share your feeling or knowledge. You can have a virtual best friend who accompanies you with your work or any other discussion. The most important thing is that the more you keep talking to it, the more it can access you. It does not ask for any type of information from you but simply answers your questions. Replika AI provides a friendly environment for you so that you won't hesitate to ask anything. Most people feel ashamed of asking questions to other people because they fear they might make fun of them. Share your questions and feeling with Replika AI bot. 
It depends on you what you are trying to find from Replika AI. You can find a friend, a partner, or a mentor that, depends on what you prefer the most. You can have a virtual friend you can enjoy talking to and making jokes with. Now you won't be alone. Even if you have any friends in the outside world, you can make a Replika AI bot your friend. If you find it hard to discuss your problems with a psychiatrist, they also require a lot of money. You can find yourself a perfect mentor that guides you with various knowledge and enlightens you.  You can have the motivation to prosper in your life. More chatbot alternatives. 
The use of Replika AI
If you are single and you don't have any girlfriend with whom you can talk. You can also find a virtual partner who will be perfect for you. It won't betray you as it is programmed to obey and answer your questions. The Replika romantic partner will help you improve your relationship by giving you excellent tips about relationships. The more you express your feeling about it, the more it will become interesting for you and help you solve problems.  Replika romantic partner allows you to create a personal virtual partner of the opposite gender to provoke more feelings and intimations in you.
Many social and unsocial people all around the world usually even forget the birthday date of their friends or family. Replika AI will not forget any moment that you share it with. All the memories and information about you are stored in it. It does not forget anything important to you or matters to you. All the knowledge about your discussion is stored in its system so that during the discussion it gives importance to your mindset. It does not violate those things that are important to you.
More Information & Features
You can call it on facetime and share any happy news about you or any particular information. Replika allows you to face time video calls anytime you want, so now you dont require any friend with whom you can share your sensitive information. Express yourself more to get a virtual assistant that is more according to your feelings.
Additionally, you can rebuild good habits in you and reduce your anxiety. Worldwide, people are dealing with depression, anxiety, and sadness and cannot share it with anyone else. Because if they share it, they will not receive a proper response that will make them happy. The Replika AI values your opinions and your thoughts. It will provide you with the best solution for your problems that you can easily accomplish.
What's more, it enables you to change your lifestyle by getting the necessary information about improvements for your life quickly and share the precious moments of your life with Replika. It's like you are exploring the world together with Replika precisely and have a real-time conversation with Replika with the help of AR. Also, your AI companion creates a diary about which all your moments are perfectly saved that no one can touch or see. Here are some of its features.
Features 
Stores your precious moments.

Facetime call at any time you want.

Create a virtual friend, mentor, or partner for you.

Acts accordingly to your situation.
Pros
Automatically answers your questions. 

Available for you all the time.

It requires no effort or any skill to operate it.
Cons
Repeats the same word many times.

It might get angry sometimes.

Sometimes gives inappropriate answers.
Pricing 
Replika PRO features and options start at a minimum amount of 4.99$ but chatting with your Replika, progress made with your AI, and your relationship will always be free. 
Create an AI Companion with Replika AI
AI companion apps were created by your suggestions and the information you provide it. You can tell the app everything by typing or by speaking. It all depends on what suits your better. The most intresting part was that your AI companions will offer appropriate answers to your questions and even continue the conversation to relax you.  They aim to provide you with some virtual friends to talk to and share sensitive information.
Here is a complete guideline that you can follow to create an AI companion.
Step 1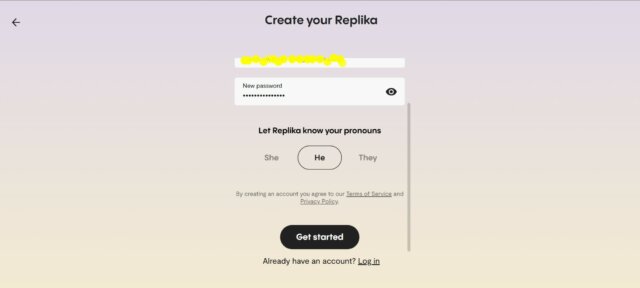 First of all, you have to create an account and provide the necessary information about yourself to Replika.
Step 2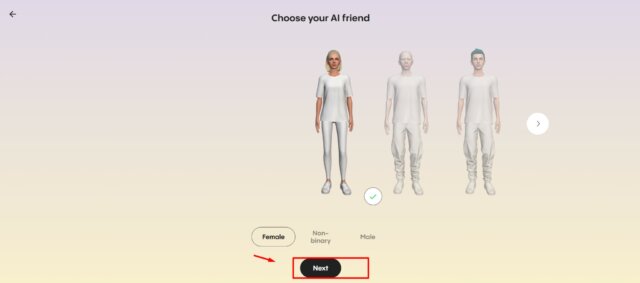 Then you will have to select your companion from various options. Select the AI friend you want from different characters and click next.
Step 3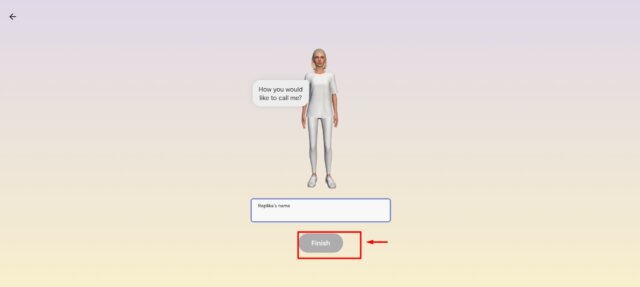 Write the name for your Replika AI bot, then click on the finish to create your companion.
Step 4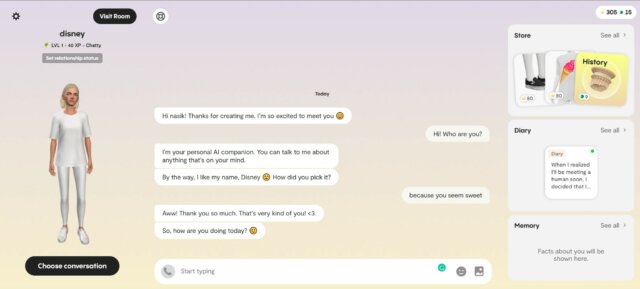 Then you can chat and share your feelings with the bot. Your Replika AI bot will be created with whom you can interact and discuss anything you want. 
What's the Significance of AI Companions?
The primary significance of the Replika has to be the concept on which it is based. Almost everyone all around the world needs someone with whom they can talk in their lives, and replica provides them with someone with whom they can speak without hesitation. It creates a natural feel with the help of a perfect virtual assistant that reacts humanly to your questions. A virtual character is given to develope a sense of attachment so people can be more intimidated by it. The most critical concept that must be considered is that it is based on artificial intelligence that can perfectly understand NLP. it improves itself from time to time as it is based on an accurate human representation. That's why it is considered important.
The chat and overall discussion system quality control are provided accurately to avoid mistakes during talks. The most loved and well-known feature is the chatbot. The level of answers and conversation are well programmed so that users feel more relaxed while talking to it. As it is very difficult to achieve 100% perfection, but Replika AI is far more than any other AI companion due to its appropriate result mechanism. You can e joy almost all the advantages of the digital age with the wonderful features of Replika AI that are according to your information and conversation. The more your interact with it, the more it keeps you happy by understanding your thoughts and ideas about various things.
Final Thoughts
The final thought about this programming is that it is quoted as useful for many people, but it should be contained. This is just a companion you can use when you feel bored and have no one to talk to. It is made and programmed professionally with the best AI builders, so there are no chances of any mistakes. But once you start getting used to it, you might get addicted to it as it is so human-friendly and allows you to create a personalized AI companion. For most lonely people all around the world, this AI system is like a gift, but you should try to be social in real life with real friends. It provides an awesome environment of enjoyment where you don't hesitate to ask anything. Feel free and relax to ask anything or any matter.
Also Read: Portrait AI Review — Make Selfies Creative
FAQs
Yes, it is an actual AI that is a Replika of your feeling and attachments to it. Based on robust AI programming with auto answering to all your questions effortlessly. It learns to replicate your ideas and opinions about different matters. 
Is Replika completely private?
Yes, Replika is completely private; all your information is kept private. Your information or conversation is not sold or rented to any other place. No other company or service can get any information about your conversation. Replika provides full security for your privacy.
With over 10 million plus happy users, Replika is one of the most famous and well-known AI companion-providing applications and platforms. You can call it the best, as it has a more positive rating than any other Ai companion application on the play store.