Avatars are one of the most entertaining parts of the metaverse if you have any knowledge about them. It is basically a mashup of the standard analogue world and the 3D digital world, as you know that the digital domain is boundless, interactive and fully immersive. You can create a 3D realm of your own where everything is at your disposal. Take a look at what Metaverse Avatar is and find crucial details on Ready Player Me.
What Is Metaverse Avatar?
Metaverse avatars are physical representations of people that they can use for whatever purpose they want. Most people create an avatar that looks just like them or has a resemblance to the avatar features. It depends on your choice if you want it to look like you, or if you want, you can create an avatar that looks like someone else. A metaverse avatar allows you to look like whatever you want in any environment you like without hesitation or restrictions. Any conditions like weather, territory or any physical aspect do not restrict you. 
Metaverse is 3D and requires a social environment in which you can represent yourself. The metaverse avatar is basically a manifestation of a person within a metaverse. The avatar or character you make can look like anything that you can imagine. There are chances that it might look just like you. Gaming companies from all around the world use the full-body character creator to use them in games. It depends on the thinking of the company and what they are demanding. They can create simple characters without any proper details, or they can make details characters for their games. More Avatar Generator.
Why Create Metaverse Avatar With Ready Player Me?
A metaverse avatar is one of the significant pieces of the virtual world. The Ready Player Me is filled with various options for user interaction. This ranges from adding various details and customisation to your character and exploring new areas. You can also use it for NFT's art gallery, where you can place your characters if you want, as social elements are a core part of the metaverse.
The categorization of the character details serves as a unique element, that why you should use Ready Player me as an avatar maker. First of all, it does not require any type of cost to create characters. You can create as many avatars as you want for free with a simple sign-in to the platform. The level of detail, like uploading your image and creating a matching character of your own image, is quite good. You can create avatars that promote high fashion and concepts right out of a fictional story or fantasy. You can use them for fun, socialisation or even for your work.
How To Create Metaverse Avatar With Ready Player Me?
If you don't have any type of knowledge about Ready Player Me and you want to create a unique metaverse avatar. Follow the steps given below so you can create a metaverse avatar of your own. As Ready Player Me is a metaverse avatar creator, so you won't have any problem creating it.
Step 1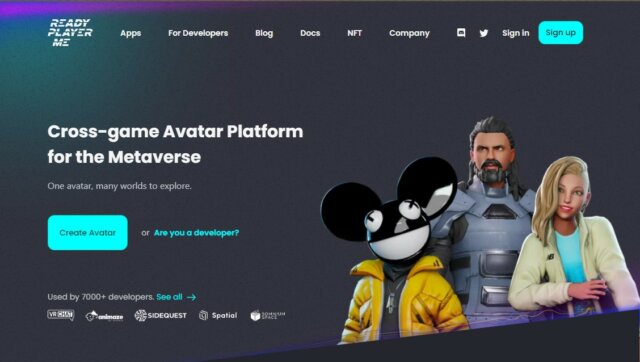 First, you should open the official webpage of Ready Player Me on your browser. If you are in a hurry, click on this link Ready Player Me to open the page directly and create your own metaverse avatar.
Step 2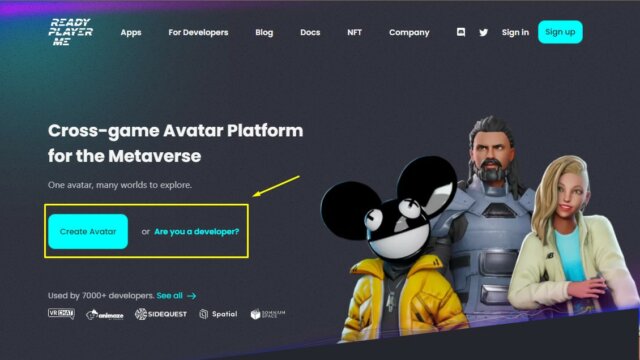 After you have opened the official platform, two options will be available for you in front of your screen. If you want to create a metaverse avatar, click on create an avatar. If you are a game developer or an experienced person, click on are you a developer option.
Step 3
After you have clicked on create avatar option, the following page will be opened in front of you with various options. If you want to create a character, choose your character's body type. You can choose from masculine, or feminine, or you cannot specify if you want to. If you already have an avatar, then click on the second option. You can also sign in to Ready Player Me if you would like to save your information.
Step 4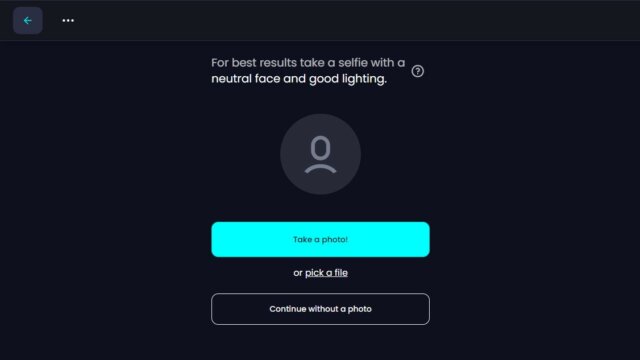 When you have chosen the body type for your character afterwards, they will demand some other things to create a metaverse avatar. You can either take a photo of yourself with your device the way you are looking right now, or you can upload a good-looking picture of yourself. If you don't want to upload your image or use your image, then continue without a photo.
Step 5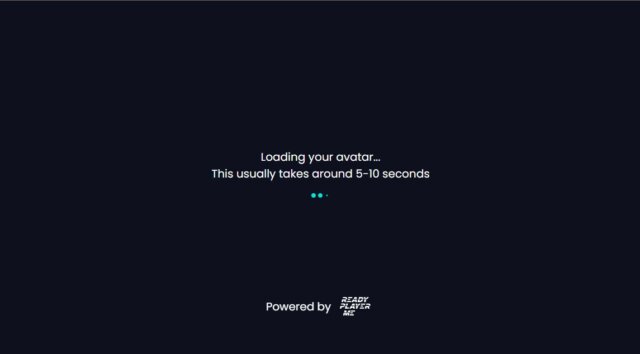 After you have uploaded your image, then, the software will start generating an avatar related to your body type and facial feature within 5 to 10 seconds of time duration. The performance system of the avatar maker is fast as it quickly analyses your details and creates a unique avatar within a few seconds.
Step 6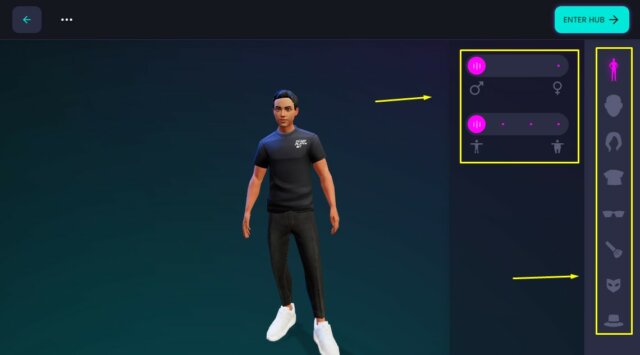 Within a few seconds of time, your avatar will be created and available in front of you. You can furthermore edit your avatar with further options given on the right side of your screen. There are a lot of customisation features that you can use to customise your avatar. You can change your avatar from head to toe completely with the editing. With the first option, you can adjust the size and gender of your avatar. If you want your character to be fat, then slide the button to right. If you want him to be fit, then slide it to the left. 
Step 7
Here is some feature of customisation given below that will help you in creating a character.
Facial Adjustment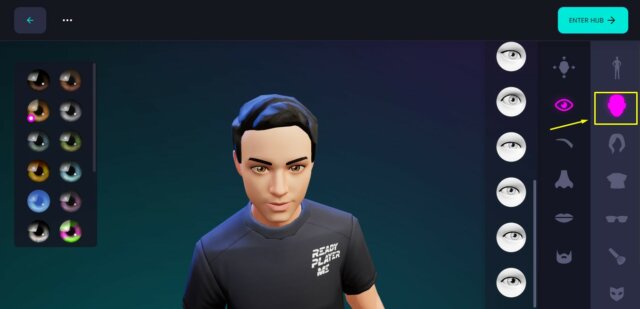 With this option, you can adjust the facial features that include your nose, eyes, the shape of your face, eyebrows, eye colour, lips shape and colour, and facial hairs.
Hairstyle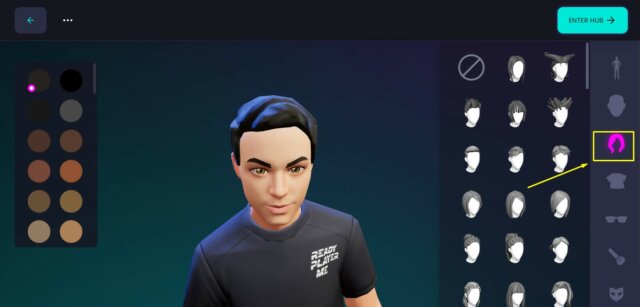 Add your favourite hairstyle among a lot of hairstyles in front of you. First, you can select the style of your hair you like then you can also colourise your hair accordingly. 
Clothing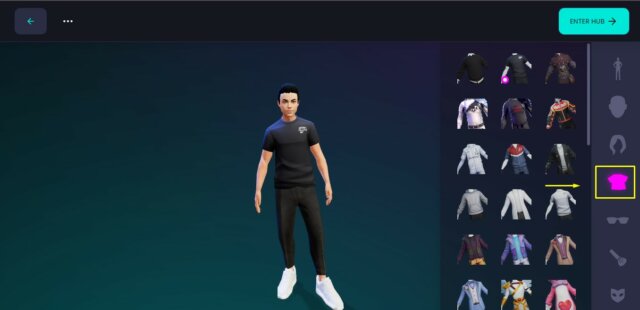 Select the dress of your avatar with this option. Customise the clothes and put on the best clothes you like for your avatar. 
Glasses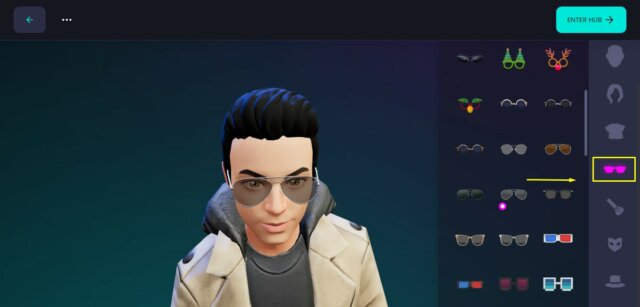 Choose the glasses for your character with this option. A huge list of various glasses options will be available in front of you. 
Makeup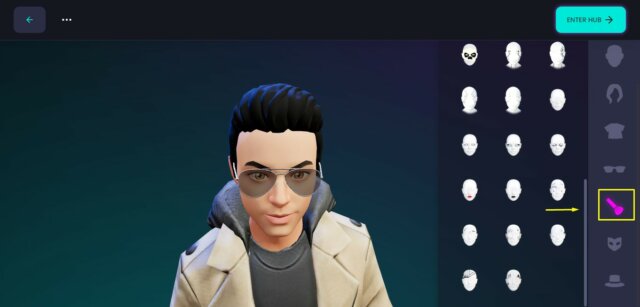 You can bring more beauty to your face by doing some makeup. 
Face Mask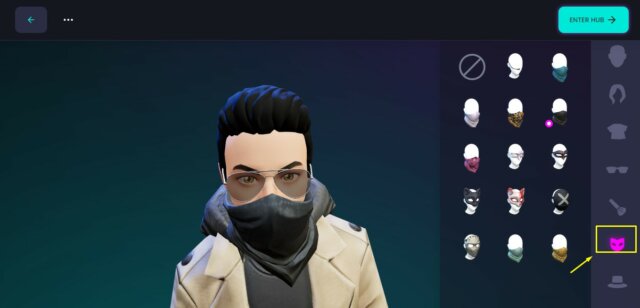 You can add a face mask of your own choice with this feature. Choose a proper mask that you love from various options. 
Hat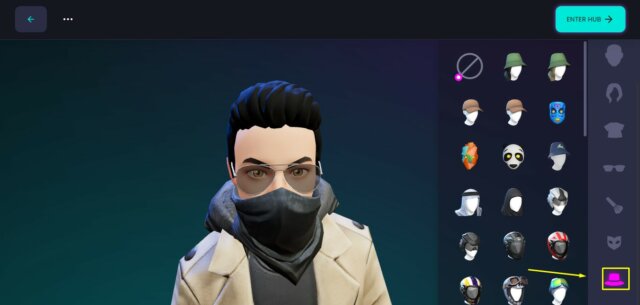 You can choose a hat of your character with this option.
Step 8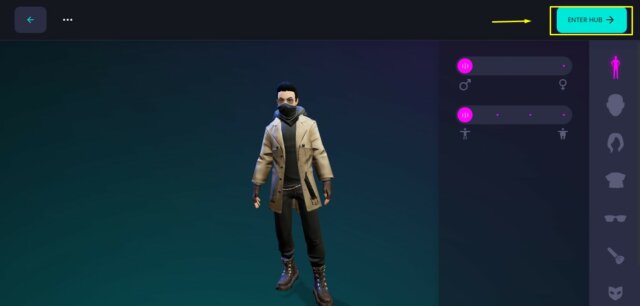 After all your character adjustments are completed, you can click on enter the hub. A proper platform where there are other characters of other people you can interact with online.
Step 9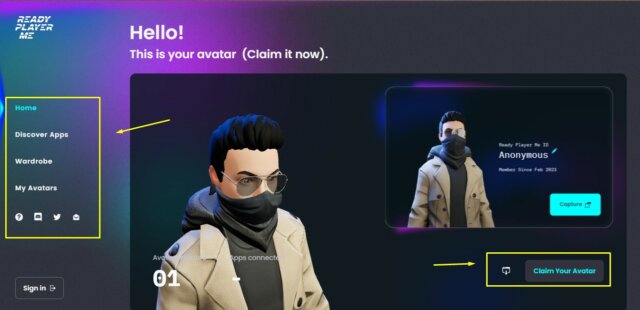 After that, you can claim your avatar if you want the character to be officially yours. Click on claim your avatar to claim it, it requires a sign-in. If you haven't signed in, you will have to sign if you want to claim it. On the left side of your screen, various options are available that you can use to modify your character, see your avatars, and discover apps.
Alternatives to Ready Player Me
If you are interested in the performance of Ready Player Me and you love creating metaverse avatar. Then there are some alternatives to Ready Player Me with similar attributes and performances.
Unity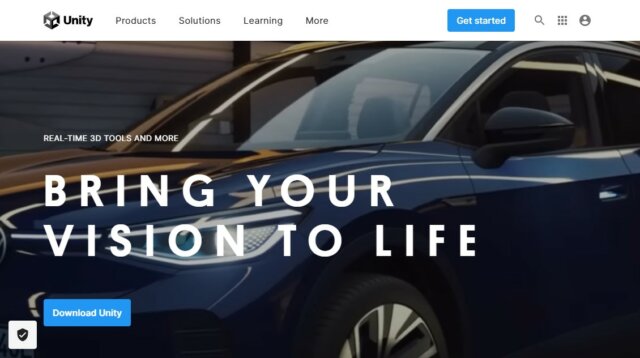 Unity is a great alternative when it comes to creating a metaverse avatar. Using this, you can create good games with high-quality graphics. Even if you don't have that much experience, it is easy to learn and understand this tool. Its rendering time is lesser than other tools. The built-in functions and plugins that are programmed in unity are also amazing. It is a super 3D tool that you can use for the development of apps and games with a lot of 3D content features. Many people have used it as an avatar creator due to its awesome performance in augmented reality and virtual reality content.
Features 
Metaverse creator.

It allows you to create games based on your requirements.

Develop a unique 3D metaverse avatar. 
Blender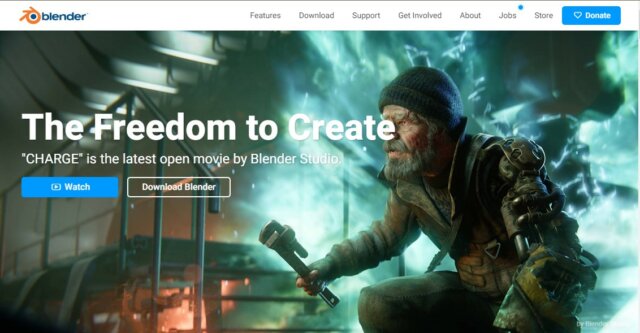 Blender is an open-source 3D creation software that supports 3D metaverse avatar. It is an amazing piece of software for building proper 3D characters. It is incredibly versatile and user-friendly. The interface of the software is quite good, and you can operate it without any extra effort. You can do complex modelling, texturing, animation, composition, simulation, FX, lighting, rendering, and even sculpting. As it is open-source, the plugins are found easily, which enhances your experience. It allows you to build excellently and smoothly within less time. This metaverse creator allows the rendering to be done quickly without errors. All the tools that you need for modelling can be found here. 
Features 
Used for modelling of characters.

Create unique animation. 

Add accurate details to your metaverse avatar.
Conclusion
Now you can convert your imagination into reality with the help of Ready Player Me. create your own avatar that looks just like you but are in animated form. Share it with your friends to create a source of entertainment. Shape your imagination by creating an avatar that suits your personality. The metaverse is filled with a land of exploration that includes other people too. You can either invite your friends to play with you, or you can meet other players from around the world. You can do anything with fully practical Virtual reality (VR) and Augmented reality (AR). These are the best ways to explore the metaverse. The Ready Player Me highlight that these technologies are intact and fully practical on a regular basis.
Recent post: Top 10 Image to Text Converter Review 2023