Summary: AI SEO software uses machine learning algorithms to automate and optimize content for search engines, such as keyword research, competitive analysis, content optimization, and link building. These tools can help improve your SEO and outrank your competitors, with options ranging from affordable to expensive.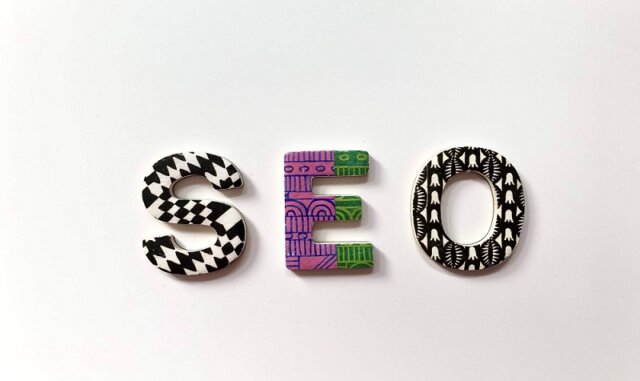 Knowing a bit about SEO is a must for any website owner in this day and age. Search engine optimization is extremely important for ensuring that your content gets indexed by search engines. Which, in turn, allows you to reach a much wider audience. But SEO can be pretty confusing for newcomers and most of the guides you find online aren't very helpful. Luckily, you don't have to spend weeks researching the best optimization practices because you can simply use AI SEO software instead. The software won't be able to do 100% of the work for you but it will take care of most of it.
What is AI SEO Software?
The name is pretty self-explanatory. We're talking automated software that uses machine learning algorithms to help you optimize content for search engines, especially Google. Automated SEO software comes in many forms, with some of the tools having vastly different features than others. But at the end of the day, all these tools have the same main purpose – to help your pages rank higher on Google.
How is AI Going to Change SEO?
The answer to that question depends on what sort of AI SEO software you're using. As hinted earlier, different tools do different things. But, generally speaking, the software will help improve one or more of the following four main areas:
AI Keyword Research
Keyword research tends to be a fairly tedious and time-consuming process even with tools like Ahrefs and SEMRush. Not only can AI SEO tools help you streamline this process, they can also provide you with features that are not available with traditional software. AI-based keyword recommendations are usually very accurate and tailored specifically to your website.
Competitive Analysis
Whether you know it or not, you're always competing with other websites regardless of what type of content you publish. The biggest problem most webmasters have is that they don't know who they're competing against. This is exactly where AI SEO software comes in. This type of software can analyze your website and your best ranking keywords and compare them to similar websites in your niche. The software will also give you useful suggestions on how to outrank the competition.
AI Content Optimization
If you're a WordPress user you're probably very familiar with plugins designed to help improve your SEO, such as Yoast for example. And, of course, there are similar plugins available for other content management systems. AI SEO software works much in the same way, with the added bonus that you can rely on machine learning to make the SEO recommendations. This obviously works better than traditional plugins because AI can learn and adapt to your specific brand of content.
Link Building
Good link building is difficult to implement, especially if you're starting out after you've already published a large amount of content. While you can do it manually by sifting through all your past posts, it's much easier to do it with the help of an AI SEO software. The AI will analyze all your content and suggest how and where to add new backlinks. Of course, this only applies to internal linking.
Top 10 AI SEO Software Tools Review
This is the preview table we created after reviewing and summarizing the top five products. Continue reading if you want to know more.
| Product Name | Price | Keyword Research | Competitive Analysis | Content Optimization | Link Building |
| --- | --- | --- | --- | --- | --- |
| WordLift | €49/mo | ★★★☆☆ | ★★★★☆ | ★★★★☆ | ★★★☆☆ |
| Alli AI | $99/mo | ★★★★☆ | ★★★★☆ | ★★★★☆ | ★★★☆☆ |
| Can I Rank? | $49/mo | ★★★★☆ | ★★★★☆ | ★★★★☆ | ★★★★☆ |
| Outranking | $39/mo | ★★★☆☆ | ★★★☆☆ | ★★★★☆ | ★★★☆☆ |
| Diib | $29.99/mo | ★★★☆☆ | ★★★☆☆ | ★★★☆☆ | ★★★☆☆ |
1. WordLift
Pricing: Starting at €49/mo
WordLift is a leading AI content optimization tool used by a number of big businesses, including the likes of Audible and The Next Web. You can integrate it into your WordPress website via a plugin or use it as a standalone if you're on a different platform. WordLift has quite a few features to look forward to, including the ability to add information to article metadata, build an internal vocabulary, marketing optimization strategies, and more. The tool works best for large teams but independent journalists or bloggers can also get a lot of value out of it.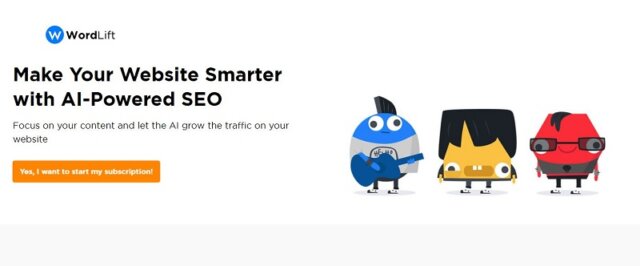 Pros:
- Easy to use
- Great for structured markup
- Good internal vocabulary building
Cons:
- May delete certain website data upon uninstall
- Customer support can be hit or miss
- No free tier
2. Alli AI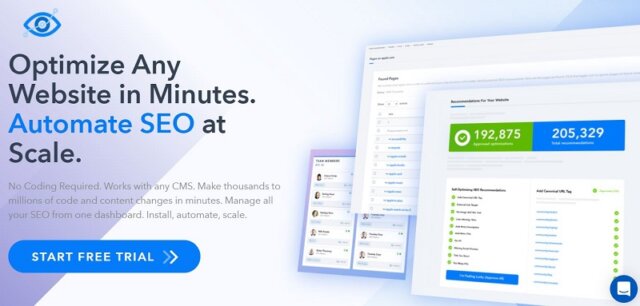 Pricing: Starting at $99/mo
Alli AI is perfect for users looking to do a lot of optimizations in as little time as possible. The Alli AI SEO tools are reliable and remarkably fast while also being designed to handle multiple websites with ease. Despite being fairly complex, the software has a smooth learning curve thanks to the integrated step-by-step tutorials that will teach you how to optimize your site's content and code. That said, if you're completely new to SEO you will struggle just a little bit at first. Then again, Alli AI is primarily aimed at companies rather than individuals, hence the price. Check the video below to learn more about Alli AI.
Pros:
- Easy to learn, difficult to master
- Good speed and performance
- Good for handling multiple websites
Cons:
- UI could use a few more ease-of-use features
- Rather expensive
- No free tier
3. Can I Rank?
Pricing: Starting at $49/mo.
Can I Rank? Is one of the most popular artificial intelligence SEO tools out there and it's easy to see why. The software has a wholistic approach to optimization, helping you improve in areas like keyword research, personalized recommendations, link building, competition analysis, and more. There's also an integrated service run by a team of human SEO experts that can help you with tasks the AI isn't quite able to handle. It also helps that the software has a free tier with no strings attached, making it ideal for beginners.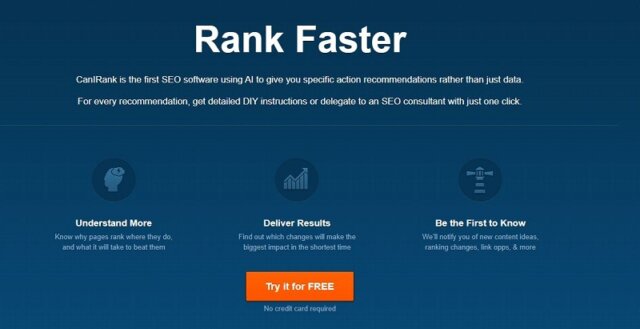 Pros:
- Great choice for newcomers
- Seamless integration of AI and human SEO experts
- Free tier, albeit with many limitations
Cons:
- Setup process takes longer than most tools
- Not ideal for those looking for instant results
- Certain paid plans limitations are unreasonable
4. Outranking
Pricing: Starting at $39/mo
Just as its name indicates, this AI SEO software is all about helping you outrank your competitors. Unlike a lot of other tools, this one focuses on content optimization as it's being written. In other words, the software works best for writers who know how to leverage the power of Outranking to create better articles. Not just that but you can also rely on the AI to automate most of the writing process, including on WordPress and Google Docs. You can look at Outranking as a hybrid between an AI writer and a powerful SEO software.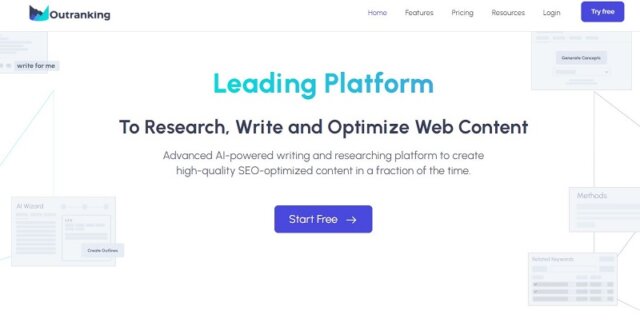 Pros:
- Optimizes content as you're writing it
- Doubles as an AI assistant that does the writing for you
- Gather in-depth SERP analysis on your competition
Cons:
- Not quite as reliable as a GPT-3 writer tool
- The UI can use some improvements here and there
- No free tier, though the paid ones are quite affordable
5. Diib
Pricing: $29.99/mo
If you're new to SEO and are looking for a cheap tool that can help you get started on the right foot, Diib might be just what you need. Not only is the base plan affordable but Diib also offers a free tier to boot. In terms of its capabilities, Diib focuses on technical SEO more than anything else, which can be a good or a bad thing depending on how you look at it. Technical SEO is great for some websites but if you're running a blog or news site, you'll also need to take user experience into account.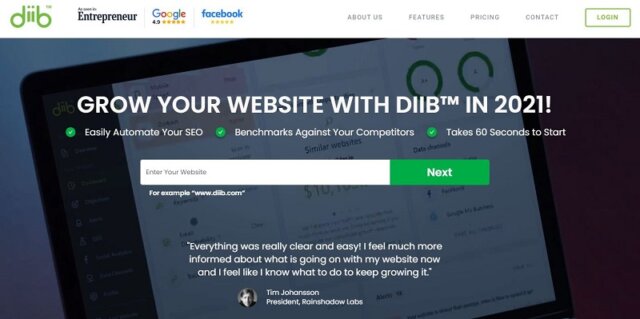 Pros:
- Great for technical SEO
- Good tools for monitoring competition
- Affordable, with free tier
Cons:
- Relies heavily on Google Analytics integration
- Full SEO service plan is too expensive for what it offers
- Could use a bit more focus on user experience
6. Jarvis
Pricing: $29/mo
If you're a fan of Marvel movies I'm sure you're already familiar with Jarvis, Tony Stark's advanced artificial intelligence that later became Vision. This Jarvis isn't quite as advanced but it is great for those looking to automate the content creation process. Jarvis is one of the best tools out there for generating unique and SEO-friendly articles in pretty much any niche. The tool works not just for articles but also social media posts, marketing copy, and more. In addition, Jarvis is great for international audiences as it can write in over 25 different languages.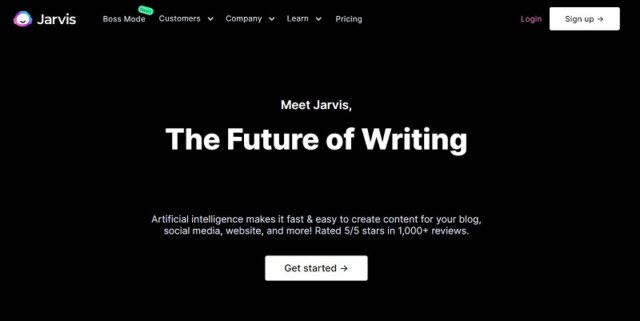 Pros:
- Fast and automated content generation
- Supports more than 25 languages
- Fair pricing
Cons:
- No long-form content with starter plan
- Requires you to pay extra for each additional user
- No free tier or trial
7. Surfer
Pricing: Starting at $49/mo
Surfer is another great AI SEO software you should consider if you're looking to increase the quantity, and quality, of you content. Primarily designed for teams, Surfer comes with a fantastic content editor that turns SEO-focused writing into an absolute pleasure. You can also look forward to a powerful SERP analysis tool along with frequent SEO audits, keyword research, content planner, and many other useful features. As an added bonus, the software supports dozens of languages.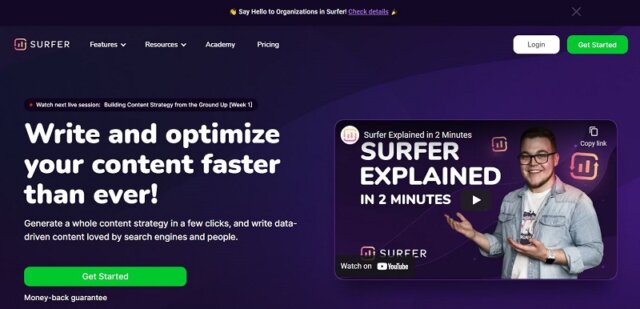 Pros:
- Makes SEO writing fun
- Great for optimizing new content
- Good language support
Cons:
- Not a fan of Surfer's credit system
- Occasional technical issues
- No free tier or trial
8. Frase
Pricing: Starting at $44.99/mo
Frase is marketed as an AI-powered end-to-end SEO content creation workflow. That's essentially a fancier way of saying that this AI content optimization tool can help you improve every step of the content creation process. From turning ideas into outlines to turning those outlines into content briefs before finally scoring your content to uncover high ranking keywords you may have missed. Frase does it all and the software also doubles as an answer engine optimization platform. That last feature probably won't be very useful for blogs or news sites but it will definitely come in handy if you're running a business.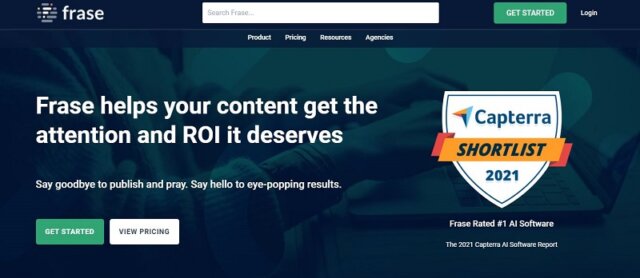 Pros:
- End-to-end content creation
- Clean intuitive interface
- Answer engine optimization platform
Cons:
- Ai can cause plagiarism issues on occasion
- Support can be hit or miss
- No free tier or trial
9. MarketMuse
Price: Starting at $149/mo
MarketMuse is one of the best SEO automation tools out there, however, it's also one of the most expensive ones. At least if you want to take full advantage of its capabilities, which include among other things AI-powered content research, intelligence, and writing. Interestingly enough, MarketMuse offers a free tier that you can use for as long as you want without having to enter credit card information or anything like that. Of course, the free tier comes with many limitations but it should still give you a good idea of what to expect.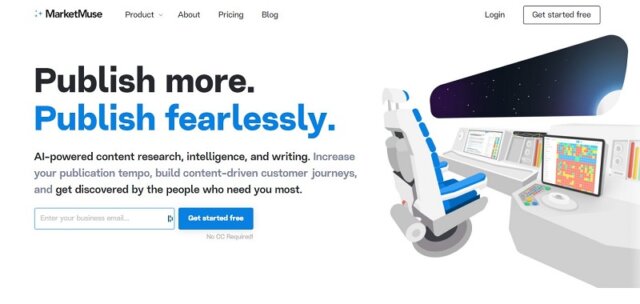 Pros:
- Good keyword suggestions
- Lots of useful features
- Generous free tier
Cons:
- Mostly aimed at enterprises and marketers
- Occasional reliability issues
- Paid plans are very expensive
10. Acrolinx
Pricing: Variable
Acrolinx is a relatively new AI SEO software designed to help improve enterprise content. As such, the tool is primarily targeted at marketing, product, and support teams. Financial services, technology firms and manufacturing companies can also get a lot out value out of it as Acrolinx excels at helping streamline terminology and documentation. Quality control is another area where Acrolinx can be of help. Meanwhile, Acrolinx also has great integrations with a wide variety of software and apps, including WordPress, GitHub, Excel, Chrome, and many others. Unfortunately, there's very little information regarding pricing on the website so you'll need to get in touch with Acronlix to get a personalized quota.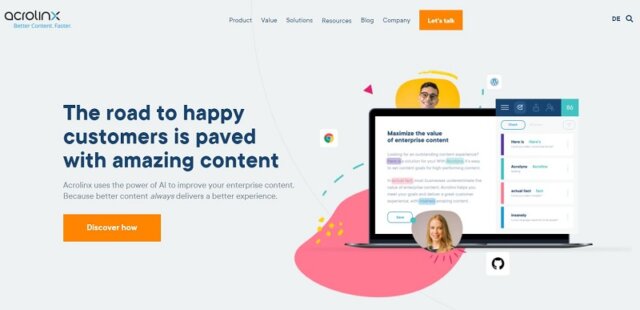 Pros:
- Great for enterprises
- Impressive integrations
- Good for technical SEO
Cons:
- Not recommended for individuals
- No information regarding pricing plans
- Occasional performance problems
FAQs
What is AI SEO?
AI SEO is a fairly new technique of optimizing content using machine learning. A lot of the time the process isn't entirely automated, working instead in conjunction with a human SEO expert. AI SEO is still considered in its infancy but the technology is growing and evolving at a very rapid pace.
What is the Best AI SEO Software?
That's very difficult to say because this category of software includes a wide range of tools, some designed for wildly different purposes than others. Having said that, WordLift, Can I Rank? and Alli AI are all very good tools that you can try if you're not sure where to start. Finding the best software for your project is all about trial and error.
How Does AI Work in SEO Content Optimization?
Some, though not all, artificial intelligence SEO tools are based on the Generative Pre-trained Transformer 3. Better known as GPT-3, this is an advanced language model developed by Elon Musk's OpenAI that uses machine learning to produce text that's very similar to that written by humans. GPT-3 is a very new model and has yet to be adopted by all AI SEO tools but it does power many of the best ones.
Will SEO Be Automated?
It's hard to say for certain but it seems pretty unlikely that SEO can become fully automated in the near future. Or ever, for that matter. AI SEO tools can automate the process to a fairly large degree but you still need actual people to make a lot of the optimizations manually.
Final Thoughts
You need to use all the tricks in the book if you want to improve your SEO and outrank your competitors. As it happens, AI-based SEO software is your best friend if you want to take things to the next level. If you're not sure if this software is really for you, we recommend checking out some of the free tools like Can I Rank?, Diib, and MarketMuse. Those will give you a good idea of what to expect. But keep in mind that if you're truly serious about SEO you will need to upgrade to a paid solution sooner or later. Also read: Top 10 AI Writer Applications Review 2023